The biosphere as part of the physical Earth System
: Just to review, we have discussed:
The origins and consequences of global climate change from a physical science perspective.
We have discussed the importance of the biosphere to human society.

The general uncomfortable relationship between human civilization and biodiversity is well known. A synopsis of major events that relationship that have unfolded in North America might include:
9,000 BCE - Pleistocene Magafaunal Extinction in which many of the largest land mammals and the predators that depended upon them became extinct at roughly the same time that humans with big game hunting technology colonized the New World. Could be a coincidence.




1492 + - The "Columbian Exchange" in which entire suites of exotic creatures were introduced to the New World, seriously disrupting ecosystems. Immense flocks of passenger pigeons (right) witnessed during the nineteenth century apparently didn't occur prior to 1492 (judging from archeological remains of Indian kitchen refuse.) Evidently some change wrought by the Columbian Exchange released them from their historic ecological limits.

18th and 19th centuries - Large-scale hunting and extinctions. E.G. the passenger pigeon, heath hen, labrador duck, Steller's sea cow, thylacine (right).

Well-intentioned folly: Deliberate introductions of exotic species, including


How are we doing? - The general picture vertebrate diversity from the World Wildlife Fund's Living Planet Report.

According to a 2008 report by the International Union for the Conservation of Nature (IUCN), 25% of known mammals are at risk of extincton.
Current special crises in biodiversity reduction: -Amphibians. We've already seen the potential uses of some of the compounds in their skin. Canaries in mineshaft because of unique physiology. and yet they are in serious decline:

According to the 2004 Global Amphibian Assessment, a vast and authoritative study , almost a third of the 5,743 known species are at risk of extinction; up to 122 have disappeared within the last 25 years.

The action plan emerging from this meeting lists six major reasons behind the decline:

chemical contamination
over-harvesting
climate change
infectious disease, notably the fungal infection Chytridiomycosis
habitat loss and degradation
interactions with invasive species
The climate change connection The last four items on this list are arguably connected. Now let's consider the effects of global change on the biosphere. Remember, the physical processes in which climate change is manifested, involve basic requirements of organisms. Thses include changing:
gas concentrations
distributions of heat
distributions of rainfall
The oceans: The most basic fact of global climate change is the accumulation of CO2 in the atmosphere. CO2 is notoriously water soluble, so the atmospheric CO2 concentration increase is followed by an increase in dissolved CO2 in the shallow oceans. Remember, deep and shallow ocean water don't mix much, so the CO2 is not making it into the deep oceans in quantity. Alas, most marine biomass inhabits this shallow sunlit layer.) What are the consequences?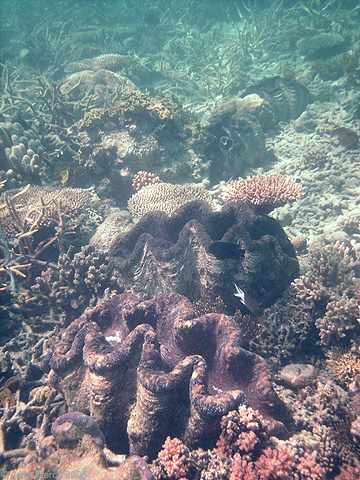 Oceanic acidification: The increase in oceanic CO2 concentration sets off a chain of consequences. The two big ones:
CO2 interacts chemically with water to make carbonic acid (H2CO3). Thus, the more carbonated the water, the more acidic (i.e. the lower the pH.)
Acidity effects the solubility of minerals made of calcium carbonate (CaCO3. The minerals are calcite and aragonite.) That is, the more acidic the water, the more difficult it is for calcium carbonate to precipitate as a solid, either inside or outside of a living body.
This is a problem because:
Most marine critters with hard skeletons make them out of calcium carbonate. The includes mollusks (snails, clams), echinoderms, bryozoans, a host of microscopic organisms, and the big one, corals, the worlds dominant reef formers. As ocean pH drops, it becomes increasingly difficult for them to form their skeletons. We particularly care about these because they are the primary reef formers of the Cenozoic. Note: there have been intervals of Earth history that were essentially reefless, including the Triassic and Early Jurassic. Reef erosion is already documented in some locations. There is concern that by 2050, net reef erosion may exceed reef deposition.
Reefs are a particularly biologically productive community, analogous to forests. The presence of reef-building organisms makes a complex community of other organisms possible. Reef reduction will result in:

Reduction in reef community biomass
Significant changes in ocean-floor topography

High CO2 concentrations directly effect organisms in other ways. Acidosis (buildup of carbonic acid in tissues) can result in a range of pathologies from reduced immune response to asphyxiation. Note: many sea creatures don't actively regulate CO2 concentrations in their bodies and are particularly vulnerable.
The microscopic carbonate-shelled algae at the base of the marine food chain are among the most vulnerable to acidification. Their reduction threatens oceanic food chains.
Observations to date include:
Drop in pH from 8.2 to about 7.7.
Significant reductions in biogeochemically important bacteria including sulfur compound metabolizing Roseobacter.
Increase in frequency of coral bleaching events, in which high temperatures disrupt corals' relationship with algal symbionts.
Laboratory exposure of carbonate secreting organisms like pteropods (pelagic snails) to projected pH of 2100 results in 30% reduction in rate of shell growth.
No feel-good solutions: One problem with acidification of oceans is that it requires a direct solution to the problem of rising CO2 emissions. Schemes to block sunlight with artificial aerosols in order to lower global temperature have no effect.

The past: We have already seen geologic records of the effects of ocean acidification:
The PETM.
The Cretaceous-Paleogene boundary, which exhibited a significant extinction event in carbonate-secreting organisms.
Looking farther back, taxonomic patterns of extinction at the end of the Permian suggest that mortality was especially high among creatures that didn't actively regulate CO2.
How does climate change effect life on land? It is tempting to think that as Earth warms and climate zones shift, critters can just follow the climate zones to which they are adapted. Sometimes, it works like that but more often not.
Lessons from the past:
Discordant Pleistocene faunas: Analysis of faunas preserved in cave deposits shows that at the last glacial maximum, faunas not merely consisted of more cold-adapted animals, but were made up of creatures that, today may live thousands of miles apart.

Migration barriers: Compare maps of Eurasia and the New World and you will note that Eurasian mountains tend to run east to west. What if you were a French mammoth at the beginning of the last glacial and wanted to follow your favored climate zone south? You would encounter the growing ice-sheet of the Pyrenees and not be able to cross.
No place to go: Organisms adapted to high latitudes/altitudes have no place to go. Those most directly effected are creatures of the arctic like polar bears, but creatures at home near the snow line of mountain slopes like the pika (right) are running out of space also.
Artificial barriers and habitat fragmentation: Organisms requiring large home ranges, lacking the ability to move long distances to new habitats, or unable to cope with human conversion of landscapes to agriculture or urbanization are unable to navigate the patchwork of natural environments left by human encroachments.
A recent analysis by Thomas et al. models the probability of species extinction based on expected changes in species ranges by 2050 and determine that depending on whether you assume minimum or maximum climate change, between 18% and 35% of species will be "committed to extinction" by 2050.

"Temperature" does not equal "Climate": But all of that that takes a simplistic view in which we talk about shifting climate zones but really mean shifting temperature zones. Climate involves the interplay of many factors. E.G. Changes in the location and timing of rainfall will complicate the climate zone picture in many cases. Current observations are consistent with predictions: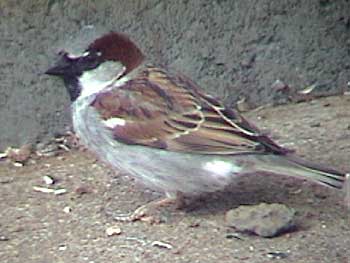 But this doesn't even consider the time scale. Evolutionary change normally occurs on the scale of million of years, ecological change on the order of millenia. Here we have a major climate change happening on an order of decades. Favors ecological generalists (i.e. weeds and pests).

The changing ecology of the human animal
Humans have the same basic needs as other animals, but most of us can't provide for those needs without the help of complex and fragile cultures, technologies, and structured societies. Thus, the consequences of global climate change for human society must take its cultural and political consequences into account. What follows is an oversimplification of diabolically complex topics that, nevertheless, sets the general tone.
Context: The food crisis
Human population is expected to top nine billion by 2050. Recent studies indicate that we will need between 70 and 100% more food than is currently harvested to feed these people. The green revolution of the 1970s addressed a similar need through the modernization of Asian agriculture, expansion of fisheries, and the bringing of more land under cultivation. Now the task is more difficult:
World fisheries are tapped out
There is very little potential new agricultural land
The rise of bourgeois life styles in big economies like China and India is accompanied by rising demand for luxury foods like meat that harvests solar energy less efficiently. (Indeed, a 2008 spike in food prices is attributed to rising demand in Asia.)
The food industries must now compete with biofuel industries for crops.
The result is a yield gap. To meet future demand:
Agriculture must become more intensive per unit of land
Waste must be reduced, mostly by improvement of infrastructures for the transport of crops to processing facilities and stores.
Dietary preferences must be revised to emphasize crops, vegetables, maybe exotic "meats" like insects.
Maintaining an efficient system of global food transport so that each region can concentrate on the crops best suited to it without sacrificing access to a varied diet.
But what that means is that agricultural monocultures have to be encouraged, despite the inherent risks. Finally, no projection of changing crop yields with the introduction of foreseeable technologies enables us to close the yield gap by 2050. Also, increasing the efficiency of global transport exacerbates the threat of CO2 production and transport of invasive species and disease.

Add to this three major components of global climate change:
1) Changing agricultural growth zones
What changes can we expect in the behavior of our crops? We have said before, agricultural technology is tied to a given region. Thus, North American wheat couldn't just be grown in the Soviet Union, and today, however much we may wish it, the green revolution technologies that revolutionized farming in East Asia don't export to Africa. When the climate zone for American wheat shifts into Canada can we expect the wheat to transplant itself nicely?
Plants are adapted to more than climate. They have specific soil requirements. In the central plains of the US, we have some of the world's best agricultural soils, combining loess, silt from glacial outwash, with copious humus. In contrast, Northern Canada's soils were largely stripped away by the glaciers and have barely recovered. Will those soils sustain our wheat yield?
Assume that every major food crop faces a similar future.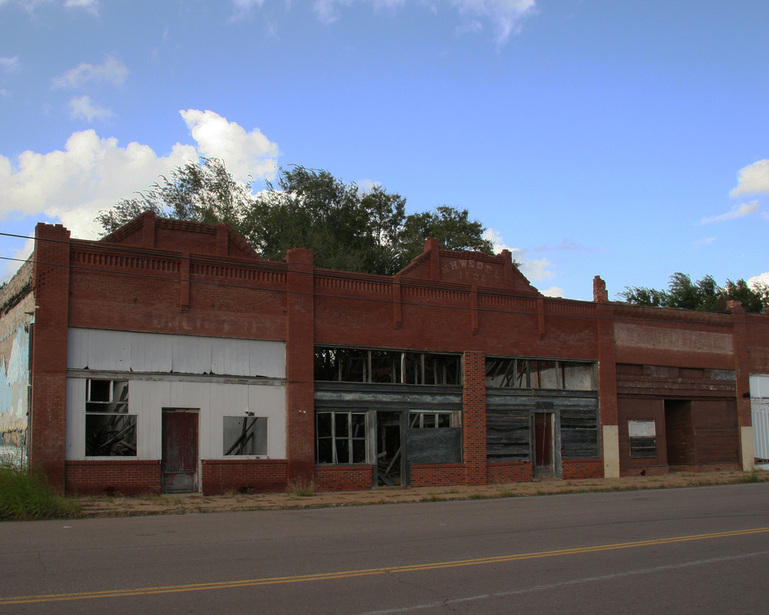 2) Changing rainfall distribution
More than plants depend on rainfall. So does human civilization. In some regions of the world, water is the limiting factor to economic growth. (Indeed, the American west is dotted with ghost towns from optimistic overreach of the mid 20th century. E.G. Gotebo, OK, Merck's mother-in-law's home town)
How is climate change expected directly to effect our access to water? We've noted changing rainfall patterns. Right now, water is the limiting factor on the increase of agricultural yield. Technical analyses suggest that 20% more irrigation water will be needed to close the yield gap by 2050 than are currently available. The projected impact of expected water resource changes by 2050 will be to double this shortfall in irrigation water. Southern China, the US southwest, and South Asia are expected to be especially hard hit. The net effect is significantly to exacerbate the future food crisis.
3) Changing health threats
Access to clean water is a major factor in world health. In some developing countries, water-born pathogens are major threats to public health. How will climate change effect this sector of human society? These issues are reviewed in 2003 by the Union of Concerned Scientists.
Global climate change has two major components:
Warming
Increased but more episodic and intense precipitation
Both factors favor increasing geographic range and longer active seasons for vector organisms that spread diseases, including: For example, mosquitoes are sensitive to temperature. Malaria-bearing Anopheles mosquitoes can't breed at temperatures below 16° C. (61° F). Dengue-bearing Aedes require 10° C (50° F). Also, mosquitoes would be more active at higher temperatures. Models indicate that a 3° C global temperature rise would increase annual malaria cases by 50-80 million. At greatest risk would be regions adjacent to current areas in which the diseases are active.

Currently, outbreaks of malaria are occurring at higher elevations in the Andes and central Africa than previously. this spread is consistent with the retreat of alpine glaciers and the upward shift (on the order of 150 meters) in the 0° isotherm.

Will it get too warm for mosquitoes? Not quickly. Recall that minimum temperatures are increasing faster than maximum temperatures. Thus, the range of Anopheles will expand faster, as a result of warmer minimum temperatures, than it will contract as temperatures approach it's maximum of 40°.

Precipitation is the limiting factor for diseases spread by small mammals and their parasites, such as plague. In New Mexico, human plague infections first appeared in the 1940s and have risen substantially due to wetter winters and springs. Moister winters seem to favor either the fleas that spread the plague or the rodents that carry the fleas.
We can expect tropical diseases and their vectors to spread into the mid latitudes. These include some of the most medically intractable diseases there are.

The Human Response
Major long-term environmental changes have been fatal to civilizations (E.G. the classic Maya, the Anasazi, and the Greenland Norse.) Modern society differs from preindustrial ones in two big ways:
We have resources that our predecessors didn't. Traditionally shortfalls in food production meant infant mortality and famine. In the age of reliable constraceptives, it may just mean that people will have fewer children
We live in a complex network of institutions and infrastructure where the failure of one component may cause widespread disruption. (Think about the consequences of some bad loan practices for the world economy in 2008.)
A 2007 review of global security threats from global climate change by the Center for Strategic and International studies, reviews the human dimension of the issues cited above in detail, but they focus on the lessons of history. Looking at previous major environmental changes and natural disasters, they note:
Natural shocks are both socially divisive (as social institutions are overwhelmed) and socially unifying (as societies recover and develop institutional responses to potential threats.)
Social conflict typically follows natural disasters. I.e. People who are struggling to put bread on the table tomorrow tend to forget about civilities.
Political reaction to natural shocks typically involves the scapegoating of foreigners and minorities (European Jews during the Black Death, Korean resident aliens in Japan after the 1923 Kanto earthquake)
Popular reactions to governmental authority during natural crisis tends to take two polarized forms:

Anger at governmental failure to anticipate and protect
Anger at governmental intrusions that are necessitated by response to the crisis.
The CSIS report examined expected, severe, and catastrophic scenarios for global change. They say:
"The expected climate change scenario considered in this report, with an average global temperature increase of 1.3íC by 2040, can be reasonably taken as a basis for national planning. As Podesta and Ogden write in Chapter III, the environmental effects in this scenario are 'the least we ought to prepare for.' National security implications include: heightened internal and cross-border tensions caused by large-scale migrations; conflict sparked by resource scarcity, particularly in the weak and failing states of Africa; increased disease proliferation, which will have economic consequences; and some geopolitical reordering as nations adjust to shifts in resources and prevalence of disease."

"In the case of severe climate change, corresponding to an average increase in global temperature of 2.6íC by 2040, massive nonlinear events in the global environment give rise to massive nonlinear societal events. In this scenario, addressed in Chapter IV, nations around the world will be overwhelmed by the scale of change and pernicious challenges, such as pandemic disease. The internal cohesion of nations will be under great stress, including in the United States, both as a result of a dramatic rise in migration and changes in agricultural patterns and water availability. The flooding of coastal communities around the world, especially in the Netherlands, the United States, South Asia, and China, has the potential to challenge regional and even national identities. Armed conflict between nations over resources, such as the Nile and its tributaries, is likely and nuclear war is possible."

"The catastrophic scenario, with average global temperatures increasing by 5.6íC by 2100, finds strong and surprising intersections between the two great security threats of the day - global climate change and international terrorism waged by Islamist extremists. This catastrophic scenario would pose almost inconceivable challenges as human society struggled to adapt. It is by far the most difficult future to visualize without straining credulity."
ANY scenario calls invokes three huge threats:
Significant increases in the yield gap.
Significant shortages of water. In the past this threat as more often been the occasion for international cooperation, but when nations are already in conflict, water becomes a weapon.
Human migrations on a larger scale than any seen in the industrial age. Something our international system, national boundaries, and sense of social order and national sovereignty is not prepared for. But at least there will be plenty of aliens and minorities to scapegoat.