Musings on Alaska during the last ice age
John Merck
April 26, 2011
The Pleistocene Epoch starting ~ two million years ago and ending 10,000 years ago, was punctuated by roughly thirty alternating glacial and interglacial intervals. Glacials were ice-ages that saw the formation of large continental ice sheets. Interglacials were warmer periods with conditions like today's. The last glacial maximum occurred 18,000 years ago. At that time:
Average global temperature was 5 deg. C cooler, however in the high latitudes, it could be as much as 10 deg.

Ice caps grew to 3x their current area and were up to 3 km thick. North America had two, the Laurentide ice sheet centered on the Hudson Bay area, and the Cordilleran ice sheet centered on the Canadian Rockies (right). At the glacial maximum, these coalesced to form a huge sheet covering most of the northern third of the continent. The largest of these covered most of the northern third of North America.




With the accumulation of all that ice and snow on the continents - sea level dropped 120 m. Some of the major geographic differences from the modern Earth (besides the presence of so much continental ice):

Australia, Tasmania, and New Guinea were one large land mass
Many of the islands of Southeast Asia were part of the mainland.
Beringia - the land bridge across the Bering straits was exposed forming a broad connection between eastern Siberia and Alaska.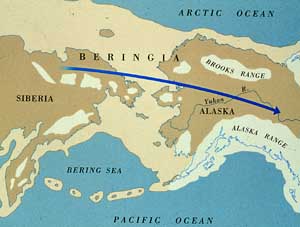 Ecology of Beringia
Continental ice sheets require both cold summers and significant precipitation. Although cold enough to support continental ice, Beringia was too dry for them to form. Beringia was bordered by:
the great ice sheets in the south and east (absolute barriers to the movement of land animals)
a moist but warmish zone in the narrow land bridge between Alaska and Siberia. (a semi-permiable barrier allowing some land animals through (e.g. saiga antelope, mammoths) but excluding others (e.g. wooly rhinoceros))
Thus, the fauna of Beringia looked more like that of eastern Siberia than that of North American "lower 48," south of the ice, but it was still distinct.
Within these boundaries was the mammoth-steppe a unique plant community, distinct from that of North America south of the ice and with no modern analog. Whereas modern central Alaska is dominated by moss and herb covered tundra or stunted taiga forest, the mammoth-steppe covering Beringia was dense grassland, vaguely similar to the prairies of great plains but colder and dotted with the shrub-like dwarf trees (e. willows) that we see today. We see evidence for it in the fossil record of land animals, pollen, and insects.
The mammoth-steppe environment owed its existence to a complex interaction of climate, physical geography, and plant and animal behavior.
Key facts:
Both now and in the Pleistocene, permafrost near the surface prevented water from draining away. Today, this waterlogged soil supports plants that can withstand the wetness and don't need deep roots: mosses, herbaceous plants, and stunted shrubs and trees.

Why was the Pleistocene different?

Answer: the presence of grasses. Grasses are much more effective at transpiration, removing water from the soil and pumping it into the atmosphere, than the other plants. Once they became established during the Pleistocene, soils became drier and more advantageous to grasses, which prefer dry environments. This created a positive feedback loop favoring the spread of grasslands.

So, why don't grasses take over today?

Something happened in the Pleistocene to tip the balance toward grasses to begin with. That, apparently was the fact that grasses respond more robustly to being grazed than other ground-cover. Modern Alaska lacks large common grazing mammals (caribou are lichen specialists, moose browse out of trees and shrubs). Beringia had them in abundance. (Incidentally, for many ancient herbivores, we infer diet by analogy with modern relatives, but for some, we know whether they preferred C3 or C4 plants by stable isotope ratios of oxygen, carbon, and nitrogen.)

The result was a positive feedback loop in which:

Grazing by mammals favored spread of grasses
Grasses transpired, drying soil
Grasses spread in these drier soils
Grazers proliferated, grazing on grass and continuing to limit rival vegetation.

With so much meat on the hoof, carnivores proliferated.

So, what happened?

At the end of the last glaciation, something removed the grazers and their predators and restricting grasses, causing the grassland ecosystem to collapse.

What removed the grazers?

A hot and frequently irrational debate focuses on two hypotheses:

Rapid climate change during the last deglaciation. Indeed, this was one of the more rapid and extreme ones on record, but it was not different in kind from the ends of earlier glacial intervals.
Overhunting by humans. The extinction of large mammals and the predators and scavengers that depended on them coincides very nicely with the arrival of humans with big-game hunting technology (both in Beringia and in North America south of the ice), and there is definite evidence that humans hunted creatures like mammoth and bison.

Of course, these aren't mutually exclusive.
Beringian bestiary
The major grazers:
| | |
| --- | --- |
| Steppe bison (Bison priscus): Ecologically similar to African cape buffalo. We have much information thanks to the discovery of Blue Babe - a well-preserved mummified carcass. Although smaller and behaviorally much different, both the American and Eurasian bison are directly descended from the steppe bison. | |

| | |
| --- | --- |
| Wooly mammoth (Mammuthus primigenius): The last elephant to enter North America (The lower 48 were already occupied by the columbian mammoth, the mastodon, and Cuvieroneus). The wooly mammoth was specifically cold adapted with dense fur and small ears. Its tusks were adapted for removing snow from forage. What most illustrations don't show is that its trunk ended in a broad flange, presumably for scooping up snow. | |

| | |
| --- | --- |
| Yesterday's camel (Camelops hesternus): Camels evolved in North America but, ironically survive today only where they dispersed to South America and Eurasia. Camelops, one of the last North American camels was common both in Beringia and the lower 48. | |

| | |
| --- | --- |
| Horse (Equus lambei): These were probably ecologically similar to Przewalski's horse and the wild asses of central Eurasia. | |

| | |
| --- | --- |
| Saiga (Saiga tatarica): Eurasian immigrants, the saiga are cold-adapted antelopes. Extingished in Beringia 11,000 years ago, they persist in central Eurasia. | |

| | |
| --- | --- |
| Helmeted muskox (Bootherium bombifrons): Somewhat taller, slenderer, and less cold-adapted than the modern tundra muskox. | |

Also present were wapiti and moose similar to modern ones
Their major predators:
Modern predators such as black bears, grizzly bears, lynx, and smaller carnivores were present during the last glacial max, but they weren't at the top of the food chain. That honor went to:

| | |
| --- | --- |
| Timber wolves (Canis lupus): Recent immigrants from Eurasia, it has recently been shown that the timber wolves of Beringia evolved into a robust bone-crushing form (reminiscent of spotted hyaenas.) In this, they resembled the even more robust indigenous American dire wolf, that haunted the lower 48 at the same time. | |

| | |
| --- | --- |
| Lions (Panthera indet.): Lions were definitely common in Beringia. Depending on your authority, these were either a beringian extension of the prehistoric range of eurasian lions (Panthera leo front in image) or the northernmost representatives of the endemic American big cat, Panthera atrox (pictured to the right behind a modern Panthera leo.) Possibly both were present at different times. Either way, they were specialists in group hunting of large mammals in open grasslands like the modern Serengeti or Pleistocene Beringia. (But, shhhhh! Current research suggests that P atrox was more closely related to jaguars than to lions.) | |

| | |
| --- | --- |
| Scimitar-toothed cat (Homotherium serum): A lion-sized solitary predator. With no living analog, it is difficult to say exactly how sabre-cats used their long canines. Homotherium ranged across Eurasia and North America south of the ice, as well as Beringia. Note: Smilodon, the endemic American sabre-cat did not inhabit Beringia. | |

| | |
| --- | --- |
| Short-faced bear (Arctodus simus): This large, long-legged bear was the top predator of both the beringian mammoth-steppe and North America south of the ice. It was ecologically distinct from other bears being a hypercarnivore and built for speed and endurance over long distances. Surely capable of attacking large prey that it encountered, it probably also stole prey from lions and smaller predators. It is shown with three minor components of the Beringian fauna, the ground-sloth Megalonyx jeffersoni, the giant beaver Castoroides ohioensis, and Homo sapiens. The bear, beaver, and ground-sloth were also common south of the ice, whereas humans, if present at all, were quite rare. | |
A final note:
Beringia was a staging-ground for the invasion of North America by several species at the end of the Pleistocene, around 11,000 years ago, when the Laurentide and Cordilleran ice separated, creating a corridor through Yukon and Alberta into Montana. Immigrants included:
Humans with big-game hunting technology. Although evidence exists for an older human presence in the Americas, they had to have been very few and lacking the abilty to hunt big game. As game-hunting humans entered the continent, upsetting an already traumatized ecosystem, they were accompanied by:
Wapiti
Grizzly bears
Timber wolves.