This is presentation one of a two presentation series I have developed for the College Park Scholars, Life Sciences program in Alaska. To learn about Alaska during the last ice age, follow this link.
Rocks:
What is a rock? A purely descriptive definition is that a rock is - A naturally occurring aggregate of minerals and other solid material. - Usually, there are several minerals in the aggregate, though some rocks may have only one. The other materials may include natural glasses, organic material, or fossils.
Geologists usually think of rocks in a second important way, however. Please and recite it like a mantra:
A rock is a record of the environment in which it formed.
Rock types:
Igneous: Rocks that form from the cooling and solidification of magma. Igneous rocks are generally have interlocking crystals that show no preferred orientation. E. G.:


Metamorphic: Rocks that form from the recrystallization of preexisting rocks under extreme heat and/or pressure. E.g.:


Sedimentary: Rocks that form from transported fragments of preexisting rocks. E.g.:

Additional information
Plate Tectonics
In the 19th century, people expected that the topography and composition of the ocean's floor should resemble that on land. The first practical test of that hypothesis occurred in 1872 when the British government sponsored the first interdisciplinary research expidition to expore the world's oceans - the four-year voyage of the H. M. S. Challenger. The deep oceans defied expecataions:
The rocks were very young compared to those on continents. None older than the Cretaceous (i.e. <=145 million years, whereas continental rocks can range up to 3.8 (or maybe 4.2) Ga.)

Bizzare mid-oceanic ridges ran down the middle of oceans. These were soon recognized to be the longest mountain ranges in the world. They are typically highly symmetrical around a ridge axis and at their crests are long rift valleys. (We can see this directly at the Thingvellir in Iceland where it extends above sea level.


Deep trenches fringe the margins of most oceans. These are parallelled by chains of active volcanoes.



Clearly the geology of the oceans was unlike that of the continents. WTF?
Answering that question took about eighty years. Many people contributed to the answer, but two major figures were:
Alfred Wegener (1880-1930) A German geophysicist and meteorologist who performed field work in Greenland, where, he had ample opportunity to observe the behavior of glaciers. Ice, when greatly compressed, flowed plasticly, allowing the ice sheet to glide slowly across the underlying rock. Did the light rocks of the continents slide across the heavy ocean floor in the same way? He noticed patterns of :




Matching shorelines across oceans.

Mountain belts are linear and tend to occur on one side of continents.

Matching rock types and fossils across oceans. (right)

Continents separated by oceans tended to have matching records of continental glaciers.

To explain this, Wegener proposed the hypothesis of continental drift: i.e. that the location of continents was not fixed, and that they had "drifted" across the globe.


Harry Hess was an igneous rock geologist (a "hard-rock" man) who had participated in surveys of sea floor magnetism in the 1950s and early 60s. These had shown:

Bands of rocks whose intrinsic magnetic fields had normal magnetic polarity alternated with parallel bands showing reversed polarity. These bands paralleled the mid-ocean ridges. Thus, bands of rock with the same polarity must be of roughly of equal age.
Furthermore, these bands formed pairs of mirror image counterparts on the opposite side of the ridge. It appeared that sea floor was forming and at the ridge crests and moving apart, as if they were being spooled out.
At the beginning of the sixties, he led a group of colleagues who finally put the pieces together: Wegener had been right to say that the continents moved, but for the wrong reasons. Hess's view is the foundation of the
theory of Plate Tectonics
, which has become the unifying theory of modern Geology. Between 1960 and 1970, the academic community was won over to it. Here is its essence:
Layers of the upper Earth:
Lithosphere: The zone in which rocks are rigid and deform brittlely. Includes the crust and upper mantle. The lithosphere is broken into distinct rigid plates.

Asthenosphere: A region of the upper mantle beneath the lithosphere in which rock is partially molten and deforms very ductilely. Plate movement occurs when lithospheric plates glide over the ductile asthenosphere.

Below this the mantle rock deforms ductilely but contains less liquid and is therefore more stiff than in the asthenosphere.

New oceanic crust is formed by frequent volcanic eruptions along the lenght of mid-ocean ridges and is pushed outward from them gradually.

Old oceanic crust is destroyed when it subducts or dives beneath adjacent plates at subduction zones. Oceanic trenches are the topographic expression of these subduction zones.

Oceanic crust behaves differently from continental crust, being denser. Whereas sea floor gets subducted, continental rock is light enough not to, although it can be profoundly deformed, when two continents (i.e. blobs of continental crust) collide above a subduction zone.

Mid-ocean ridges and subduction zones largely divide the oceanic crust and uppermost mantle into rigid plates that glide across a deeper layer of ductile and partially melted rock and move relative to one another.

Plate Tectonics in Alaska
Only two large plates, the North American and the Pacific, are responsible for the action in Alaska:
The Pacific plate moves toward the northwest with respect to the North American.
From the Alaska Peninsula all along the Aleutians, the Pacific subducts beneath North America.
The subduction zone shows up as a trench. Some sixty miles behind the trench, lines of volcanoes have built up the Alaska Peninsula and Aleutians.
Plate motion has one other consequence: In the past, small bits of continental crust (like today's New Zealand or Seychelles Islands) have been rafted northward on the Pacific Plate. They are too light to subduct. Instead, they have steadily been added onto Alaska's southern margin. (Indeed, some day Southern California will come to rest there.)

Why volcanoes?
One way to get rock to melt is to lower its melting point by adding water or some other volatile substance. The Pacific plate has been sitting under the Pacific ocean for hundreds of millions of years before it dives into the trench. Thus, it is very wet. When it reaches a critical depth, the water it carries percolates into surround hot mantle rock, causing it to melt. The magma rises and you get volcanoes.
Moreover, you get a particular kind of volcano: One that erupts a viscous magma with a relatively high silica content (Rhyolitic to andesitic, if you must know) and with lots of water vapor in solution. Thus, it tends to erupt explosively;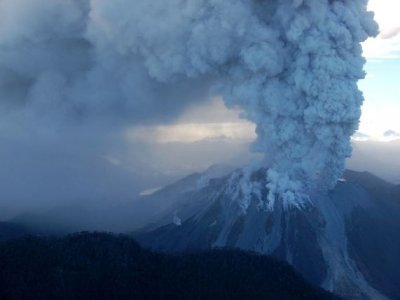 More like this:

than like this:
What force wears them down?
Erosion
In Alaska, the same agents of erosion that operate in the lower 48 are at work, but there is another we need to account for:
Glaciers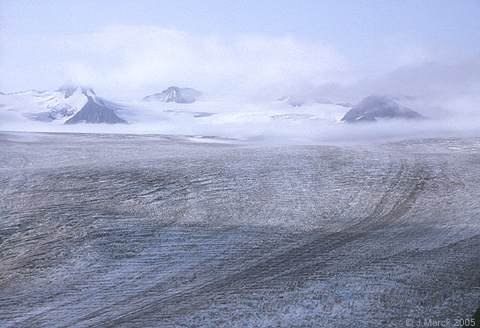 Definition of a glacier:
Large mass of land-bound ice
is composed of compacted and recyrstallized ice
flows on land under its own weight

Ice mechanics
: The ice crystals that people interact with typically are brittle. When confining pressure is great, however, they deform ductilely, like rocks in the asthenosphere. The weight of 40 m. of overlying ice is usually enough to cause ice to deform ductilely. As a result, accumulations of ice thicker than this tend to flow downhill under their own weight.
Big concept: Landmarks like the toe of the glacier may move uphill or downhill depending on climate conditions, but any given parcel of ice always moves downslope.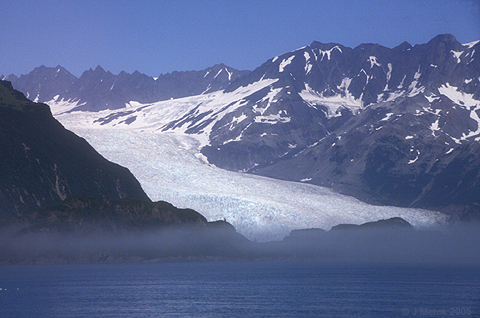 Valley Glaciers: Rivers of ice flowing down hill follow the same path that a stream would follow, in a drainage that is roughly same scale as a stream drainage.

Valley glacier profile:
Cirque: Glacial ice usually accumulates in an amphitheater-like hollow in a mountainside called a cirque.

From the cirque, if flows downhill into a glacial valley. Often they flow over an icefall at the lip of the cirque to reach the valley.

Toe: Where ablation overwhelms the flow of ice from higher elevations, the glacier ends.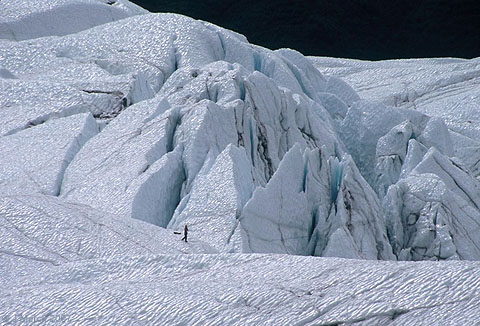 Crevasse
: When glacier turns a corner, or flows over a topographic irregularity, the brittle upper 40 m of ice breaks in deep extensional gashes called a crevasses.
Processes of Glacial erosion:
Bulldozing: Unlike water or wind, glacial ice can push very large pieces of rock along.

Plucking: For reasons of fluid dynamics, glaciers tend to pull up pieces of bedrock from their beds as they flow.

Abrasion: Lots of rock gets caught up in the boundary layer of ice next to the glacier's bed. As a result, the glacier acts like megasandpaper.

Any material that has been brought to the glacier by landslides, slumps, etc. is indiscriminantly transported by the glacier.
Erosional features
:
Striations: as pieces of rock are dragged over bedrock this creates smooth, abraded surfaces. Striations reveal the direction of flow.

Roche moutonnee: Piece of bedrock carved by a glacier. Typically, the upstream side will be smoothly abrades but the downstream side will be jagged, with pieces plucked out.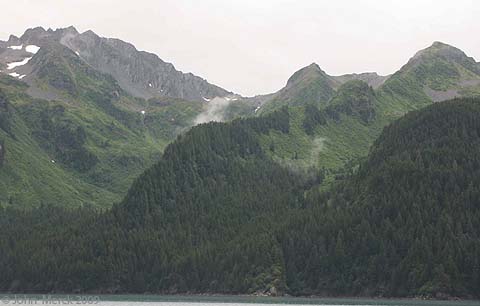 Erosional land forms that form from valley glaciers
: These are what we think of as the typical features of regions like the Alps and high mountains of western North America. They may be occupied by active glaciers or may be left over when the glacier melts.
Glacial valleys: have a distinctive "U" shape (whereas running water makes a "V"). Glacial valleys are deep, wide and straight.

Hanging valleys: With liquid water, tributaries of larger rivers tend to be at the same elevation when they flow together. This isn't so with glaciers. With them, usually, tributary glaciers empty into main valleys high up on the valley walls. Indeed, some of the world's best waterfalls are formed by streams flowing through former glacial tributaries.

Cirques: Amphitheater-like hollow in which glacier first accumulates. After glacier melts, floor of cirques are often occupied by tarns - little cold lakes.

The interaction of adjacent glacial valleys produces distinctive features:
Fjords - Submerged glacial valleys that appear as deep narrow bays.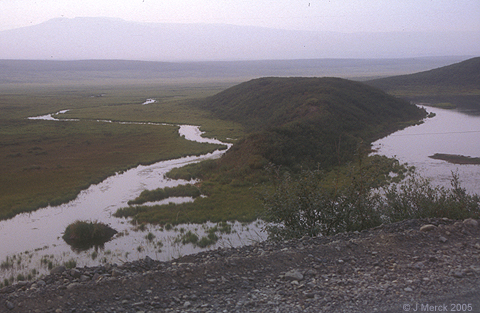 Glacial sedimentation
: Glaciers carry
copious amounts of unsorted sediment
. When the ice melts, the sediment may be:
deposited as till
carried further by glacial outwash streams


Moraines: Land forms that are composed of till. The type of moraine depends on where the till was deposited with respect to the glacier: