BSCI392
11-02-07
Calcichordates or Homalozoans?
We shift to the last major bilaterian group - Deuterostomia.
Deuterostomia

An odd group of disparate taxa, yet strongly supported by morphological, developmental, and molecular synapomorphies. Includes vertebrates and echinoderms plus minor groups.
Distinct deuterostomous pattern of development in which:

the blastopore becomes anus; mouth comes from secondary opening
Development is indeterminant: i.e. the fate of a given cell is fluid and based on inductive relationships with neighboring cells and tissues.
, Radial cleavage of embryonic cells (hence ability to twin).

Nerve chord dorsal to digestive tract in adults (as opposed to the condition in Lophotrochozoans and Ecdysozoans).
Nerve chord hollow for at least some of its length.
The major Deuterostome groups are Echinodermata, Chordata, and Hemichordata. The focus of this presentation is on a particularly enigmatic group of early echinoderms, but first, some preliminaries.
Hemichordata: Including acorn worms and pterobranchs (Remember graptilites? Ancient pterobranchs). Suspension feeders, however food capture is by means of ciliary action.
Bodies divided into proboscis, collar, and trunk:
Cilia on proboscis move food particles to mouth. Proboscis may be simple or developed into a complex set of tentacles.

Collar encircles mouth and proboscis.

Trunk contains a large pharynx with pharyngeal slits (gill slits)

Open circulatory system present, with at least some members having a heart.


Dorsal nerve cord, hollow in some parts of collar.
Ten years ago, the conventional wisdom was that the pharynx and gill slits were synapomorphies of hemichordates and chordates. Since then, several molecular analyses have strongly supported a sister-taxon relationship of hemichordates and echinoderms.

Potential morphological synapomorphies of hemichordates and echinoderms:
Molecular characters
Arms (or proboscis) containing extensions of the body cavity.
Torneria larvae of enteropneusts resemble auricularia larvae of some echinoderms.
But now, Echinoderms....
Major groups
Crinoidea (sea lilies and feather stars) (Ordovician - Recent)

Stalked or stalkless suspension feeders of reefs and deep oceans.
Formerly very common, especially during Mississippian and Pennsylvanian, but sharply pruned by Permo-Triassic extinction event.



Ophiuroidea (brittle stars) - (Ordovician Recent): predators on small things, scavengers, and suspension feeders.

Want to see a live one on campus? Go to the south elevator lobby of Cumberland Hall and look in their aquarium. It's usually hiding in the pile of rocks on the right side.



| | |
| --- | --- |
| Asteroidea (starfish or sea stars) - (Ordovician Recent): Powerful predators on anything they can "outrun." | |
| | |
| --- | --- |
| Echinoidea (sea urchins, heart urchins, sand dollars) (Ordovician Recent): Grazers and deposit feeders. | |
| | |
| --- | --- |
| Holothuroidea (sea cucumbers) (Ordovician Recent): Suspension and deposit feeders. Very common in deep oceans. | |
Echinoderm characteristics:
Exclusively marine: Echinoderms lack osmoregulatory mechanisms that might allow them to live in brackish or fresh water.

Skeleton is internal test comprised of individuals plates of porous high-Mg calcite. In life, the pores are occupied by a protein matrix and dermal cells. Such skeletal tissue is known as stereom. Carbonate petrologists typically call the pores meat holes. Calcite crystals are aligned such that optically, each skeletal element acts optically as an individual birefringent element.

One portion of the coelom (body cavity) develops into water vascular system. (Dissection)

This system is passively involved in gas exchange, maintainance of posture, and locomotion.
The latter is effected by outpouchings of the WVS that penetrate the body wall to form podia or tube feet that can be employed in suspension feeding (crinoids) or in locomotion (starfish, sea urchins, sea cucumbers), depending on the critter.
Tube feet are arranged into five double-rows termed ambulacra. Typically, these converge on the mouth and/or anus.
Muscles are used to pump water around the WVS, and each tube foot is equipped with small longitudinal muscles to help aim it, yet the the hydrolic force of the WVS is what primarily effects movement in most echinoderms.
the WVS obtains water from the outside. It is connnected by a calcite-reinforced stone canal that opens to the exterior in the hydropore. The hydropore is covered by a seive-like plate, the madreporite, that strains incoming water.
The lining of the WVS is ciliated, allowing circulation of its fluid. thus, tube-feet function as gas exchange organs.
Despite this weirdness, they are proper bilateralians with a mouth, flow-through gut, and anus.

All but most primitive have strong pentameral symmetry.
Ancestrally suspension-feeders. Living crinoids still suspension feed. Tube feet snare food particles that are then conveyed down ambulacral grooves by cilia to the mouth.
Traditionally all stemmed echinoderms were lumped into "Pelmatozoa", and all non-stemmed to "Eleutherozoa". A more cladistic phylogeny of Echinodermata:
Deuterostomia

Helicoplacoidea (Early Cam.)
Body is helically-built (hence name)
Sessile suspension feeders: ambulacral groove spiralling along body
If, in your mind, you "unroll" a helicoplacoid, you find three ambulacra converging on the mouth, which is located on the side of the body, about two-thirds of the way up. (The location of the anus is a mystery.)
Edrioasteroid: (Cam. - Penn)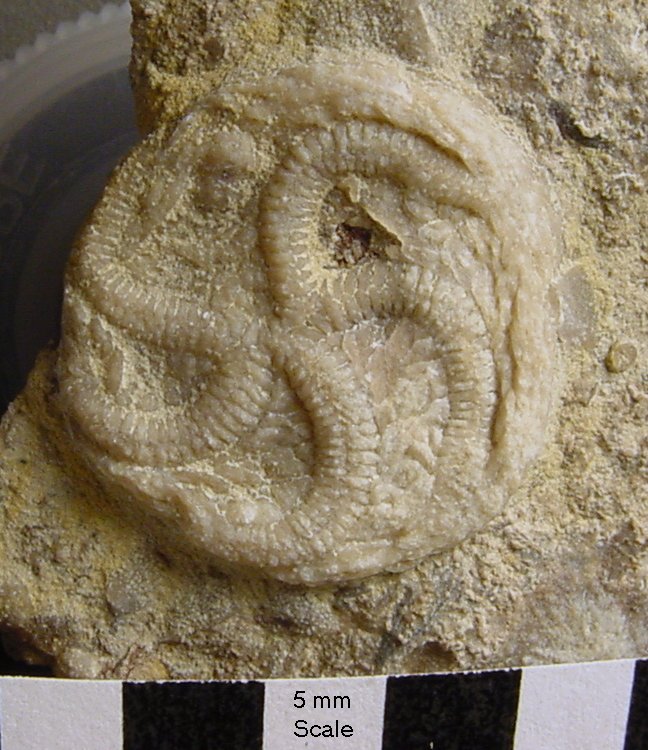 Sessile, benthic, attached to hard substrates like the surfaces of brachiopods, mollusks, etc.
The body took the form of a lens-like blister or a bulb sitting on a short broad stalk.
Have five ambulacra, like more derived forms. Close examination show that two pairs of these actually converge some distance from the mouth. Thus, only three ambulacra actually converge at the mouth. Edrios, therefore, provide a morphological bridge between the triradiate helicoplacoids and the proper, pentamerally symmetrical later echinoderms. NOTE: A line bisecting the edrio mouth and anus shows the primordial plane of bilateral symmetry that can be hard to recognize in other echinoderms.
Homolazoa: (Cam. Ord.)
Echino-uglies. A problematic group of Early Paleozoic echinoderms. True apples of discord. Mono-, poly-, or paraphyletic, depending on whom you ask.
"Includes":
Stylophora (Cambrian - Devonian). With:

flattened theca
elongate three-part "tail"
large openings to the left of the "tail" and at the opposite side from it.
Numerous small pores on dorsal side.

At most the creatures only approach being bilaterally symmetrical, and often there is nothing like an obvious plane of symmetry. Comprised of two groups:


Stylophora (Cambrian - Devonian). Similar to Stylophora but with:

an smaller appendage, the aulacophore opposite the "tail," which, to avoid ambiguity, we call the stele.
elongate "tail"
large opening near the stele.



Cincta (Middle Cambrian). Again, similar but with:

Bilaterally symmetrical ambulacra and mouth on dorsal surface opposite the stele.
Stele is short and stiff.
Some indications that the stele may have ended in a holdfast.



Ctenocystoidea (Ordovician). Strange. No stele or aulacophore. Only an approximation of bilateral symmetry, BUT...

Anterior and posterior openings.
Two bilaterally symmetrical ambulacra
Body opening that could be the hydropore.



Note that I have only described features of these critters and named a few. No homologies with other organisms have been proposed. This is where the trouble starts. Consider the solute aulacophore. It could be:
an ambulacrum bearing feeding structure like the arm of a crinoid.
a tail, used for propulsion, homologous to the chordate tail.
homologous to the "tail" of stylophorans.
Similar things could be said about any of the openings of the theca, which could be mouths, anuses, pharyngeal slits, hypropores, etc. Into this chasm of ignorance steps the human imagination.
During the 1980s, Richard Jeffries of the British Museum interpreted the various homalozoans as ancestral to the vertebrates (making vertebrates a clade within Echinodermata). This hypothesis (sort of) rests on his convictions about the homologies of the structures. Consider the stylophoran appendage.
Jeffries emphatically views it as a chordate-like tail, with room inside ofr a notochord and myotomes. He also claims to see pharyngeal slits in the openings of the theca. In some ways, these appendages function differently:
For instance, the "tail" is used to pull the theca along over the substrate.
His conclusion: Chordates are derived from these primitive echinoderms. Indeed, in his scheme, specific homalozoans gave rise to specific chordate groups. To emphasize the propinquity of the relationship, he coined the term
Calcichordate
. This hypothesis of "calcichordate" phylogeny was developed in the early days of cladistics, and Jeffries does not seem to have used a parsimony analysis.
Objections to his scheme include:
Morphological interpretation seems far-fetched.
The transition from them to chordates involves:

Reorganization of body for 180 deg. change of direction of movement.
Switch from calcium carbonate to calcium phosphate skeleton.

Even if we accept his morphology at face value, his preferred phylogeny of deuterostomes is far from the most parsimonious tree.
Jeffries, himself, seems to approach the issue with the style of a true-believer.
When you add "calcichordates" to the mix, the basic pattern of deuterostome phylogeny seems completely up for grabs.
Today's echinoderm systematists now seek to reconcile the "Calcichordate hypothesis" with the "homalozoan hypothesis" that the homalozoans are basal echinoderms with nothing particularly to do with chordates. The emerging consensus:
Jeffries' phylogeny is wrong.
His assessment of homology may, in part, be right. recent analysis of the stylophoran appendage suggests that it is, indeed, a locomotor appendage. Some phylogenetic analyses make sense of the homologies in the light of hemichordates as echinoderm sister taxa.
Adding color to this consensus are recent discover of creatures thought to be near the base of Deuterostomia from the Chenjiang and Burgess Shale faunas:
Vetulicolia: Two-part soft bodies. The front end is a cylinder with a mouth at the front and what look like pharyngeal slits. The anterior segment is armored by plates of cuticle, giving it an arthropod-like aspect. The rear is a laterally compressed segmented tail. Includes several Chenjiang forms and possibly Nectocaris from the Burgess Shale.
Vetulocystidae: Resembling Vetulicolia but emphasizing a globular anterior component. The material making up the outer covering of this section is unknown but was soft and preserves wrinkles as a fossil. The tail is short.
Sort of resembles what we might expect of a non-calcified stylophoran ancestor in which the thecal openings really are phayrngeal slits and the appendage really is a tail.