Remember the Great Leap Forward?
Approximately 40,000 years ago. Human artifacts are revolutionized. We directly see:
As opposed to a continuous variation of useful knapped rock fragments...

Distinct categories of tools (E.g.:

| | |
| --- | --- |
| Double-sided blades | backed blades |



Innovative use of materials (E.g. bone)

Representational art:

| | |
| --- | --- |
| Lascaux Cave horse | Willendorf goddess or primitive pin-up |



We can indirectly infer:
Use of boats
Cultural creativity and innovation
Cultural transmission of information
Art
In a way art seems most uniquely human.
There is at least some evidence of an asthetic sense among non-modern hominids, including this acheulian hand axe that incorporates a fossil sea urchin.

In the age of photography it has progressed from the utilitarian and representational.....

...to purely abstract. Indeed, none of the following would seem out of place in a contemporary gallery.
The artist.

The artist.
All of this makes us wonder about how widespread things like "art" and "culture" - broadly defined - are among non-humans. Consider the bowerbirds of Australasia:
The satin bowerbird shows the basic, and arguably instinctive pattern: The male constructs a "bachelor pad" (mating enclosure) that figures prominently in his courtship display, and decorates it with blue objects that amplify his own masculine indigo blue color.

Other species, such as the dull-colored bowerbird, construct much more elaborately decorated display arenas. These have been studied extensively by Jared Diamond, who reports diverse regional "traditions" and individual preferences of bower construction. Moreover, juvenile males learn the skill by observing adults, and their first attempts tend to be crude and poorly received. (Sound familiar?)
The plainer the male, the more elaborate the decoration.
The great thing is that the birds, both male and female, act as if they are appreciating a
learned
sense of artistic aesthetics, just as humans do when they visit a concert or dance, even if the
ultimate
point of the activity is to pair up with a mate.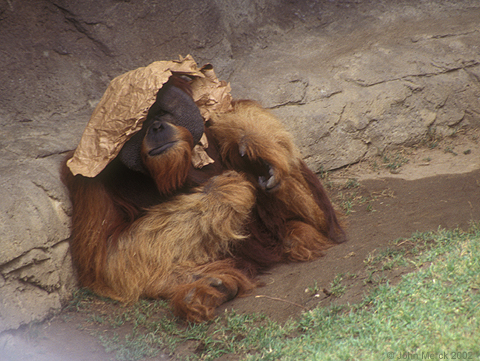 This is revealing about bowerbirds, but what does it say about the human lineage? Alas, we have very few hints of the aesthetic sense of wild non-human primates. Nevertheless, there are hints:
Orangutans, when given the chance, love to turn objects into "hats." Primitive body decoration?
Many observers have seen chimpanzees perform ritualistic displays when confronted by awe-inspiring sights, especially waterfalls and major storms. The chimpanzees are clearly reacting in a non-utilitarian manner. Primitive worship?
Language
For language, (ironically) we can say much less. Indeed, it seems plausible that the behavioral differences between pre and post Great Leap behavior is due to the acquiaition or fine tuning of language skills. [Class activity emphasizing utility of language. Audio resource]
So, what can we say about "primitive" human language? Not much directly, as no such thing currently exists. We can circumscribe it by looking at non-linguistic communication in non-humans and in humans.
Before we start, consider the checkered history of studies of animal intelligence.
Reductionism: There is a reductionist argument that if there is no direct evidence of consciousness, we must assume none. This approach was summed up by Rene Descartes, who said "the word is the sole sign and certain mark of the presence of thought." This may seem reasonable when we apply it to earthworms or crayfish, but most people become intuitively uncomfortable with it when applied to their dog. And yet, the strict "rational" application of the reductionist argument was even used in historic times to argue that deaf people had no consciousness or "soul."

Uniformitarianism: An alternative approach is analogous to Uniformitarianism in historical natural sciences. We assume by default that the type of consciousness that we experience is present in all animals unless there is positive evidence to the contrary.
Recognizibility of language: Reductionists are right about one thing: It's difficult to know if you are observing a communication system if the system is not one you understand.
Many animals use a "call system" of hard-wired gestures and utterances corresponding to emotional state or conveying simple information. Many such calls are used by many species. Humans share some call-gestures with other creatures:

Many animals, vertebrate and invertebrate, growl or buzz angrily

Most mammals have a "Play-face" expression that conveys non-hostility. (In humans this shows up as a smile.)

Most strepsirhine primates (Old-World monkeys and apes) use lip-smacking (kissy lips) as a friendly gesture.

Some systems, such as the color/skin-texture/posture-based call system of cephalopods are different, and completely enigmatic to humans.

Note: Just because the calls, themselves, are hard-wired doesn't mean they are involuntary. Animals can choose whether to growl, scream, smile, or make kissy lips.

It even took humans a while to recognize that foreign languages were proper speech. E.G.:

The ancient Greeks referred to foreigners as "Barbaros" (barbarians) - this derived from a more ancient word for "stammerer" (Cf. Sanskrit "barbara" stammerer.) (I.e. foreigners weren't really speaking, they wer just going around saying "Bar-bar-bar-bar.")
In Slavic languages, the term "Slav" means "Speaker" in contrast to "Nemets" which today means "German" but originally meant "Mute." (I.e., the ancient Slavs thought Germans couldn't talk.)

Given the difficulty of knowing whether foreigners were actually talking or chattering like monkeys, it's not surprising that we should have trouble knowing how much information is conveyed in monkey chatter.
This much we know: The call-systems of some animals can be quite sophisticated. Diamond discusses the call-system used by vervet monkeys that is capable of making fine discriminations and that young vervets must learn to use properly.
Pioneers in animal articulation: We just don't know how much information is conveyed in the call-systems of creatures like gorillas, chimpanzees, orcas, and dolphins; or whether these systems incorporate elements of symbolic language. In the laboratory, however, some non-humans have mastered some (parrots) or all (apes) elements of symbolic language. Some famous articulate non-humans include:
1950s - Vicky raised like a human child and encouraged to speak. She mastered only four words and had to manipulate her lips with her fingers in order to produce three of them.

1960s - Washoe (1965-2007) instructed in American Sign Language (ASL) by Beatrix and Allen Gardner of the University of Reno. Acquired reasonable proficiency at grammatically correct, if simple language.

1970s to present- Koko and Michael instructed in ASL by Penny Patterson of Stanford. Established gorillas' ability to use ASL at a level equal to Washoe's.

But watch out! Animal communication experiments can yield insights about what goes on in critters' minds, but are subject to human weakness. If experiments aren't rigorously designed, we end up measuring an effect that is basically non-linguistic or indulging in wishful thinking. E.G.:
At the turn of the 20th century, a horse called Clever Hans appeared to solve arithmetical problems, tapping out the solutions with his hoof. It was eventually shown that he lost this ability when his owner was not present. In fact, the horse had been responding to subconscious cues as his owner waited anxiously for him to reach the correct answer then relaxed when he did. the horse had no idea aout arithmetic. He only knew to "tap my foot until the boss relaxes."

In the 1970s and 80s, the Washoe experiment was repeated with a chimpanzee named Nim Chimpsky (after linguist Noam Chomsky). The researcher, Herbert Terrace, determined that Nim's performance was strictly imitative and didn't rise to the level of linguistic competence.

A look at the grammar of Nim's most ambitious utterance, "Give orange me give eat orange me eat orange give me eat orange give me you," indicates the cause of Terrace's concern. Nim's failure cast doubt on the achievements of Washoe, Koko, and Michael. Were they examples of the Clever Hans Phenomenon? Terrace's detractors noted:
His experimental design deprived Nim of stable human relationships.
ASL is a subtle language in which signs can be made simultaneously and vary in meaning depending on factors like facial expression. It it therefore difficult to evaluate whether syntax is correct.
The debates still rages, however Terrace's concerns stimulated more rigorous studies that avoided ASL's interpretational pitfalls:
1970s - Lana and several others mastered "Yerkish," an artificial language of visual lexigrams at the Yerkes National Primate Research Centre of Emory University. Users (chimps, bonobos, and their human trainers) type into a lexigram keyboard connected to a computer that responds only to utterances that adhere to strict rules of syntax.

1980s to present Kanzi, a bonobo - the most proficient and self-motivated animal linguist to date, learned Yerkish by observation without having been singled out for actual training. Excedes other apes in Yerkish profciency and appears to understand English.

1977 to 2007 - Alex (1977 - 2007) - trained to correctly use English words by Dr. Irene Pepperberg of the University of Arizona. Alex associated modifiers with nouns and verbs, counted to six, categorized objects, and memorized some phrases whole, and used these appropriately; but doesn't consistently connect subjects and predicates to make sentences. Thus, Dr. Pepperberg is careful not to describe his communications as proper language. Nevertheless, because he used vocal English, it is easy to test his grasp of syntax. Alas, Alex passed on at a young age, but Pepperberg continues the work with younger parrots.
So what do we actually know based on human development, animal language experiments, etc.?
In humans, the ability to connect words or gestures in meaningful ways emerges simultaneously with the ability to catagorize objects heirarchically. In other words, a baby will start stringing words together at about the same point at which it starts stacking blocks in order of size or sorting toys by some criterion. Both tasks involve "mirror neurons" - neurons that fire when a person either performs a manual or vocal task or observe someone else performing it - in Broca's Area, the region of the brain associated with language. Cf. the Great Leap Forward in which evidence of language and concepts of tool categories appeared simultaneously.
In chimpanzees, bonobos, gorillas, and orangutans, the same developmental synchrony of heirarchical thinking and the connection of words or gestures is observed, although they never achieve human proficiency at these tasks.
Monkeys have only the most rudimentary ability to connect utterances (concatenations of two at most) or group objects.
African grey parrots show the same developmental sequence and general skill as the apes, even though they don't have a Broca's area.
The punch line
All of these animals are social, tropical, long-lived, long-distance foragers that need to be aware of the locations and timing of intermittant food sources like fruiting trees in a complex three-dimensional environment. Perhaps these factors provide an evolutionary incentive for the evolution both of "proto-language" (on the level we see in apes and parrots) and hierarchical thinking. Indeed, we don't know which of these skills is initially the most important. This could be an instance of pleiotropy. Who can say which skill initially conferred the major advantage, strung-together utterances or the ability to categorize. This proto-linguistic tendency, however, would have been exapted for the evolution of proper language, possibly when combined with vocal learning facilitated by the appearance of the FOX-P2 gene. Maybe this was the innovation of the great leap forward, or maybe it had already occurred and the leap capitalized on it.
The human side
Do human languages have common features that are not inherent consequences of the concepts that it conveys?
Creoles: As Diamond describes, there does seem to be a basic, hard wired, grammatical archetype in the human mind, but it is easily overwhelmed by culture and environment. Where it appears is in creoles, languages that arise among the children raised in environments lacking proper language. Creole languages may have vocabulary drawn from different sources, but contain the following common features:
Subject - Verb - Object sentence order
Double negatives
Lack complex verb tenses and noun declensions
Use of prepositions to indicate grammatical relationships of words, and prefixes to verbs.
Indeed, children must often be specifically taught not to use these constructions in languages that lack them (like double-negtives in English).
Thus, a kind of primordial grammatical template seems to exist, but is often overridden by derived grammatical rules of normal languages.