Agricuture and Disease as Evolutionary Biology Issue
Plants
Naturally occurring variation selected from by humans - artificial selection.
What does a plant see in humans? - A seed dispersal mechanism.

Are adaptive traits in wild plants necessarily those that we value in crops?

Bitterness
Tendency of cereal grain heads to shatter.
Small seeds that pass, intact, through the gut.
Legumes (peas, lentils, etc.) with

Humans typicaly select for traits in domesticity that would be deleterious or lethal to wild plants.

Are all regions created equal in terms of distribution of potential crops? No. Consider the happy Fertile Crescent

Many desirable mutant crops (wheat, barley, peas, olives, almonds)
Broad latitudinal zones across which those crops coud spread w/o major modification.

In stark contrast, we have Australia with only macadamia nuts.

What's the big deal about gene modified organisms?

All domestic plants are "gene modified." Indeed, corn is a bizarre mutant of teosinte in which the male and female organs switch places.
Having been burned by eursaian starlings, we reasonably fear the unexpected ecological effects of the inadvertant release of new organisms into the environment.
But remember, we are talking about traits that by high-tech or old-fashioned means have been modified to succeed by pleasing humans.
Animals
For potential domestic animals, we see a suite of deisrable traits.
High growth rate and short generation span - thus cattle are better than elephants.
Diet: Ability to eat a wide variety of available foods - a koala may be cute, but unless you are prepared to give it bales of eucalyptus leaves, a goat (that can eat the labels off of tin cans) will be easier to keep.
Willingness to breed in captivity (horses good, rhinos bad.)
Disposition - Zebras ought to be ridable, but they don't tolerate riders and bite and hold on.
Tendency to panic - the downfall of deer (an otherwise good meat animal)
Social structure: Packs/herds, comprehension of dominance hierarchy - why the wolf was tractable in captivity and the fox was not.
The winners:

Once animal is under domestication, its traits can be modified by artificial selection. - Paedomorphic traits favored to promote tractability. Consider the half-century old effort in Russia to develop pet silver foxes Tractable foxes have reduced production of adrenaline. Selecting for this requires selecting higher up on a biochemical cascade that also produce a cascading phenotypic effect that seems strangely familiar.

But domestic animals come with a down-side. Living in close association with them has provided a splendid evolutionary opportunity to their pathogens.

Disease

What are disease organisms? Pathogenic organisms in humans

Origins in domestic animals
Measels from rinderpest in cattle
Tuberculosis from cattle
Smallpox from cattle
Enfluenza from pigs and poultry
Evolutionary biology of symtoms - pathogen seeks optimum transmission strategy
Passive transmission through ingestion
Injection of body fluids (mosqite saliva, semen, etc.)
Modification of host to facilitate transmission (sores, inducing coughing/sneezing, dirrhea)
Avoidance of infection provides the adaptive evolutionary basis for our (and many animals') taboo on cannibalism. One is more likely to get sick ingesting germs contained in the body of a member of one's own species than those infecting a distantly related one.
Virulence: Microbes optimize their dispersal strategy. Under some circumstances, preserving the host organism is optimal. Under others, allowing the host to die maybe optimal. E.G.:
However deadly, HIV is transmitted rarely, through blood and semen. Thus, it keeps its host alive for years.
Spanish Influenza of 1918 developed in the trenches of WWI, where crowded men faced wounds, corpses, and poor sanitation; and had a poor chance of survival, anyway. The influenza, therefore, evolved a virulent mode that emphasized rapid transmission at the expense of a healthy host.
Crowd diseases
Settled agriculture and the rise of cities encouraged evolution of pathogens that dispersed quickly - crowd diseases. (measels, small-pox, etc.) In large enough populations, these can continue propagating and never entirely "burn out".
Many modern crowd diseases are sufficiently modified for human infection that they can't back propagate to animal hosts.
Others can lie dormant in animal reservoirs (SARS, Ebola)
Consequence: People regularly exposed develop immune resistance. When these people come in contact with those who aren't there are devastating results, as in the great New World epidemics following the European discovery of America.
Microbial evolution:
With their short generation spans, viruses and bacteria have extremely high rates of evolution.
Combine that with constant selection pressure from antibiotics, and the predictable result is the evolution of antibiotic resistant disease strains of bacteria (E.G.: tuberculosis).
And remember plasmids? Bacteria trade them permiscuously between species.
With viruses, the speed of evolution sometimes outpaces the development of therapies. Indeed, with HIV, rapid mutation is key to its survival in the host body, as this prevents the immune system from learning to identify it. This has made the development of a vaccine diabolical difficult.
Of course, we currently monitor the evolving genome of the extremely virulent avian influenza watching anxiously for the appearance of genes that would facilitate its transmission between humans. (Did you know that the University of Maryland has a contingency plan in the event of an outbreak?)
Biodiversity as a threat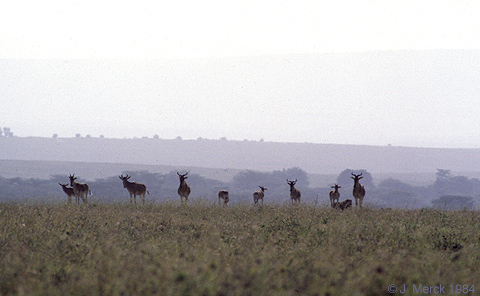 Last week we discussed natural biodiversity as a reservoir of useful resources. Note that it is not to be taken lightly. Every time we leave the environments to which we are adapted by evolution and culture, we are going somewhere where we don't really belong. As humans expand into new habitats, we encounter new pathogens and disease vectors and take the process of transmission of diseases from animals to a new level.
Diseases like HIV, Marburg, and Ebola are recent human "discoveries," made as we push into the pristine environments of Central Africa and encounter their natural populations. In the case of HIV - chimpanzees in Cameroon.
As mass communications and travel becomes more prevalent, it becomes more difficult to isolate diseases. HIV may have been present in small human populations in Central Africa for centuries, but the advent of large-scale travel enabled it to spread across the world.

Reasons for fear: We haven't seen the worst case scenario. Maybe out there is a version of HIV that can actually spread by casual contact.