Metamorphic rocks - definition
: Rocks that have, in a solid state, undergone changes in minerology, texture, or chemical composition as a result of heat or pressure.
Terminology:
The original rock that altered to make a metamorphic rock is called the protolith.
Sources of heat and pressure
:
Internal heat of the Earth: Different minerals crystallize and remain stable at different temperatures. Thus, mineral content of a metamorphic rock indicates its thermal history.

Burial - Uniform stress from the weight of overlying rock: Different minerals crystallize and remain stable at different pressures. Thus, mineral content of a metamorphic rock indicates its barometric history.

Differential stress developed as rocks deform as a result of movement in the crust. Recrystallizing platy minerals tend to crystalize perpendicular to direction of directed pressure. Orientation of crystals thus provides info about directions of deformation and rock movement.
Temperature, pressure, and depth
: All other things being equal, standard relationships exist between temperature, pressure, and depth in the lithosphere:
Tempeature increases on avg 30 deg C with every km of depth.

Pressure increases on avg 300 atmospheres with every km of depth.

In the graph above, different combinations of heat and pressure correspond to four general realms. Remember that they really represent a continuum of variation and the dividing lines are somewhat arbitrary:

The realm of diagenesis: Below 150 deg. C at surface. This is the realm of chemical changes normally occurring in sedimentary rocks.


A common and interesting example of diagenesis is a stylolite - a feature caused by the pressure solution - the situation in which pressure alters (increases) a mineral's solubility.


The realm of low-grade metamorphism

From 150 - 500 deg. C. at the surface. Minor recrystallization that is visible mostly as altered rock texture rather than conspicuous changes in mineralogy.




The realm of high-grade metamorphism:

Major recrystallization and changes in visible texture.




The realm of magmatism: Rocks melt to form magma.

The role of fluids
: The chemical transformation of metamorphic rocks is
accelerated
by pore fluids which act as medium for chemical reactions and avenue for migration of ions.
Fluids typically consist of water with CO2, dissolved gasses and various ions.

Water comes from two general sources:

Water in pore spaces between mineral grains. This is mobilized quickly as temperature and pressure increase.
Water that is bound chemically in clays and hydrous minerals (like gypsum (CaSO4.2H20) or opal (SiO2.nH2O)), mobilized at higher temperatures and pressures.

At any metamorphic grade, the pore fluid acts as a conduit for dissolved ions. As higher grades of metamorphism are reached, the water, itself, may react directly with remaining minerals.

Metasomatism: Fuids rich in dissolved ions may actually migrate into adjacent rocks, causing reactions that change the rock's bulk composition. Common examples of this are seen in metamorphic rocks that are cris-crossed by veins of quartz. This quartz originated as silica dissolved in pore fluid precipitated inside fractures. The silica originated in the surrounding rock but migrated out with pore fluid during metamorphism. Note: metasomitism is an important process by which deposits of metals and metal ores are formed.
The role of time
: The chemical reactions resulting in metamorphism progress slowly. As a result, the highest grades of metamorphism are reached in rocks that were subjected to extreme conditions for the longest time. Indeed, rocks subjected to extreme conditions for a short time may only show a low metamorphic grade.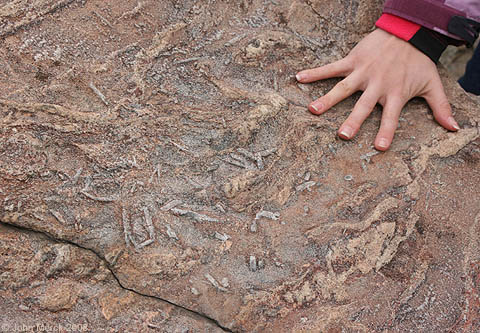 Complex histories: In all metamorphism, rocks are reequilibrating with the conditions of their surroundings. In fact, it is possible for a high-grade metamorphic rock to reequilibrate to lower temp and pressure conditions by re-metamorphosing into low grade metamorphic rocks. This is retrograde metamorphism.
The kyanite ghosts seen on last year's Great Falls field trip are examples. The rocks of Great Falls originated as sediments deposited on the surface, were submerged to great depth and subjected to terrific differential pressures, causing the formation of the high-grade metamorphic mineral kyanite, then tey were exhumed as erosion removed overlying rock. As pressure diminished during exhumation, the kyanite recrystallized into minerals characteristic of lower grades of metamorphism, leaving "ghosts," - arrays of the new, lower-grade minerals clumped together in the shape of kyanite crystals.
Kinds of metamorphism: Your book discusses seven.
Regional metamorphism:

Cause: Where high temperature and pressure are imposed over broad belts of crust. EG subduction zones, volcanic arcs, and regions of continental crust collisions.
Effects: Destroys original textures of both igneous and sedimentary rocks through growth of new minerals.


Contact metamorphism:

Cause: Transformation of rocks by heat in immediate vicinity of igneous intrusions.
Effects: Thin aureoles of metamorphism adjacent to intrusions.


Burial metamorphism:

Cause: Gradual tectonic subsidence of buried sedamentary rocks causes them to be altered by heat and confining pressure.
Effects: Low grade metamorphism that preserves bedding and sedimentary structures.


Dynamic (or deformational) metamorphism:

Cause: Movements of blocks of crust along fault planes imparts mechanical shear forces.
Effects: At shallow depths, breccias of broken rock fragments called fault breccias (sometimes called cataclastics) result. As great depths, rocks are sheared rather than broken, yielding mylonites. Often found in association with regional metamorphism




Hydrothermal:

Cause: Interaction between mineral rich water and igneous intrusions.
Effects: Common at mid-oceanic ridges where sea water interacts with hot basalt to form minerologically altered basalt called greenstone. Also when fluid from igneous intrusion percolates into surrounding rock, altering minerology. (Note: this is the primary source of metal ores.)

Note: With hydrothermal metamorphism, mineral rich water is the cause of metamorphism. Don't confuse this with metasomatism, in which the bulk transport of minerals is a result of metamorphism.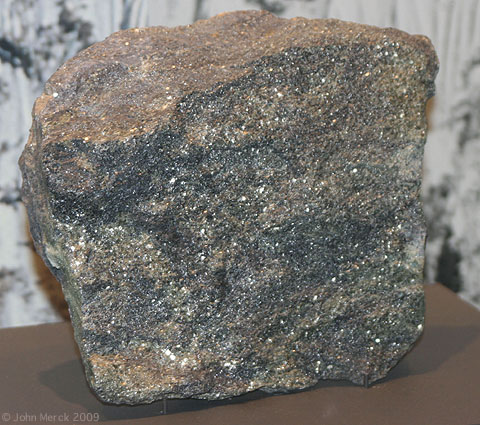 Subduction Zone:
Cause: Effect of terrific burial pressure and relatively low temperature.
Effects: Common in subducting slabs where basalt and greenstone are transformed into blueschist (right) then into eclogite.
Note: Blueschist and eclogite are much denser than basalt. The "slab-pull" resulting from this density is thought to help drive plate tectonics.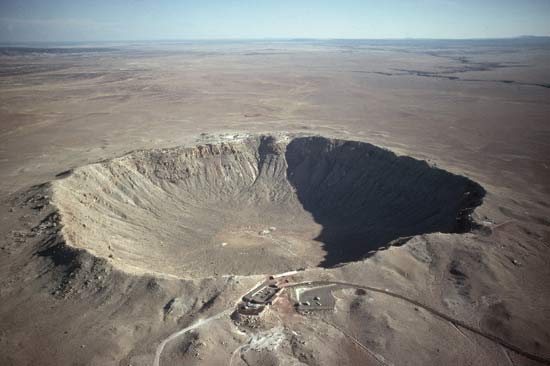 Impact:
Cause: The instantaneous heat and pressure generated by major impacts.
Effects: Characteristic pattern of "shocked" minerals, including quartz.
---
Key concepts and vocabulary:
Metamorphic rock
Metamorphism
Protolith
Burial
Differential stress
Metamorphic grades

Diagenesis
Low-grade metamorphism
High-grade metamorphism
Magmatism

Stylolite
Fluid sources

Pore fluid
Fluid locked in crystal

Metasomatism
Retrograde metamorphism
Varieties of metamorphism

Regional
Contact
Burial
Dynamic
Hydrothermal
Subduction
Impact