Earthquakes: Sudden
movement of the earth resulting from
release
of
energy
when rocks that have been under
stress
break or move.
Earthquake practicalities: Earthquakes are not common, but when they do occur they can be very disruptive to humans, for example, in the years 1900-1989 1.3X106 people killed in earthquakes. That's 14,000 people per year - lot of people.
The largest of the last century occurred in T'ang Shan, China 1976 250,000 people killed
Elastic rebound: We've briefly discussed brittle and ductile deformation. What do these terms really mean?
Elastic deformation: Generally, when a solid is strained, it will return to its original shape when the stress is removed. This is because its chemical bonds, although stretched, have not broken. E.G. stretch a piece of nylon and its shape changes as chemical bonds are stretched, storing energy, but when you stop pulling, the energy is released in the form of the work needed to restore the solid to its original shape.

Ductile deformation: (A.k.a. "plastic" deformation) A solid that is strained past its zone of elastic deformation retains its new shape. This is because it has been strained to where chemical bonds have begun to break. In the Earth, we see ductile deformation manifested as folds. E.G. Silly-putty, when pulled, quickly loses its elasticity and deforms ductilely. In this case, energy is released in small increments on a microscopic scale as bonds are broken.

Brittle deformation: Break enough chemical bonds, and the entire object breaks on a macroscopic scale, releasing large amounts of energy. In the Earth, we see breaks physically manifested as faults. The released energy is perceived as an earthquake.
Deformation in the Earth:
In the lithosphere, rock primarily deforms elastically or brittlely.
Below the lithosphere, it primarily deform ductilely.
How an object deforms depends on:
Composition: Different materials have different degrees of stiffness and strength.
Temperature: The hotter a material is, the sooner it starts to deform ductilely.
Pressure: The greater the pressure, the more likely a material is to deform ductilely.
Rate of deformation: The deformational behavior of many solids is rate-dependent. Silly-putty will deform ductilely if deformation is slow, but brittlely if it is deformed very quickly.
Energy in elastic deformation
: When an elastically deforming object bends, energy is being stored in it. Thus, as a pencil bends until you hear it break, the sound you hear is caused by the energy being released. Stresses in the lithosphere bend rocks, storing energy in them. When they break, that energy is released and propagated as waves. In an earth quake you can hear sound and feel waves moving through the Earth
Faults: It goes without saying that when a mass of rock breaks, a fracture forms within it. Fractures along which rock masses move relative to one another are called faults. We will have more to say about them in later lectures. For now, understand that most earthquakes occur when:
New faults form.
Sudden movement occurs along old faults.
Earthquake location terms:
Focus - point where rock breaks and energy is released - "shallow focus or deep focus" depends on where in the lithosphere they occur

0-70 km(shallow)
70-300 km (intermediate)
300-700 km (deep)

Epicenter - point on the earth's surface immediately above the earthquake focus

Types of energy released when earthquake occurs - waves
Body waves: Earthquake occurs at the focus, causing energy to propagate outward as body waves - waves that move through solids in three dimensions. There are two types:

P-waves: Primary or pressure waves. As the wave passes, each particle of the substance it's passing through moves forward an back in line parallel with the direction of the wave's propagation. These can be thought of as push pull waves.
S-waves: Secondary or shear waves. As the wave passes, each particle of the substance it's passing through moves forward an back in line perpendicular to the direction of the wave's propagation. - shake waves, if you will.

Surface waves: Waves that propagate only along a surface or interface. Again, there are two types:

R-waves: Short for Rayleigh-waves. Surface waves that cause particles on a surface or interface to oscilate up and down. The waves that cross the surfaces of bodies of water are Rayleigh-waves.
L-waves: Short for Love-waves. Surface waves that cause particles on a surface or interface to oscilate from side to side.
Wave speed
: Each wave type travels with a characteristic speed.
P wave: fastest
S-wave: somewhat slower
Surface waves: Slowest.
Thus, if you stand some distance from an earthquake epicenter, you feel P waves first, then S waves, then surface waves.
The farther away you are, the longer the lag time
between these waves. This lag can be used to locate the epicenter, provided three observers at separate locations keep track.
When an earthquake occurs, observers at seismic stations note the lag time between arrival of P and S waves. From this, they can determine the distance to the epicenter. Seismologists then plot circles with radii of these distances from each station. Their intersection is the epicenter.
Methods for measuring earthquakes
Mercalli Intensity Scale: Developed by Giuseppe Mercalli in 1902, it is based on description of sensations experienced by witnesses. Mercalli scale measurements are reported in Roman numerals from I (minor) to XII (catastrophic).

Richter scale: Developed in 1935 by Charles Richter, it is based on the amplitude of seismic waves. A strictly quantitative way of measuring earthquake intensity. In this table, the energy released by earthquakes of a given magnitude are related to tons of TNT

| | |
| --- | --- |
| 4 | 100 (blow up a building) |
| 6 | 100,000 (early atomic bomb) |
| 8 | 100,000,000 (hydrogen bomb) |
| 8.9 | 3,000,000,000 |
| 10.1 | 1,000,000,000,000 (Chicxulub asteroid impact at end of Cretaceous) |

Not a linear scale: Each step represents a tenfold increase in amplitude. This roughly corresponds to a thirtyfold increase in energy released. Diagram showing magnitude and energy released:

There are lots of magnitude 4,5 and 6 earthquakes but very few at magnitude 8 earthquakes -> loss of life and property.

Moment magnitude: A scale preferred by geologists that is based on average ground displacement at site.

Seismic moment = (amount of slip) * (length of rupture) * (depth of rupture) * (rock strength)
Causes of earthquake damage
Ground movement: This causes buildings and other infrastructure to collapse. This engenders a host of secondary hazards:

Gas and water lines break, igniting fires that can't readily be put out.
Sanitation systems fail, putting people at risk of disease.

Mass wasting: Downhill movement of rocks and soil.

Liquefaction: Water-saturated soil will liquify when shaken up. On a small scale, we experience liquifaction when we step on jiggly beach sand immediately after a wave recedes. E.G. The Marina District of San Francisco was built on 1907 World's Fair grounds. These were reclaimed from the bay as a slurry of water and bay sediment pumped onto land. The 1989 Loma Prieta earthquake inflicted extensive damage on buildings, most of which had to be demolished (except, thankfully, for the Exploratorium.)

Tsunamis: Seismic sea waves that are stupidly called "tidal waves" in English. Dumb name because they have nothing to do with tides. These are destructive huge waves that can can travel long way across the ocean. Typically, the arrival of a tsunami is heralded by the sudden receeding of water from the shore. If you witness this, get to high ground as fast as possible.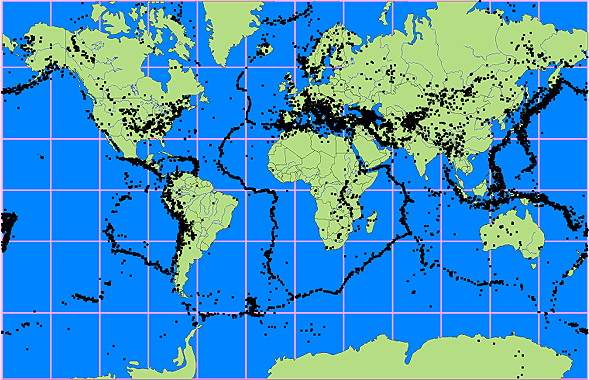 Where do earthquakes occur
: We've already observed that roughly 90% occur along plate boundaries
Mid - ocean ridges

Transform margins: E.G. the San Andreas fault system in California.
.

Along margins of the pacific ocean: Subduction zones and transform boundaries. Not surprisingly, earthquakes occurring closest to the trench are shallow focus. Farther away these give way to medium and deep focus quakes. These give rise to the extreme earthquake hazards in southern Mexico, the Pacific Northwest, southern Alaska, and the Aleutians.
As this earthquake hazard map of North America indicates, some earthquakes originate in less obvious places:

Failed rifts: Earthquakes mark a zone of weakness in the continent stretching from Charleston SC to Memphis TN. This is a failed rift - a place where, in the Triassic, the continent thinned but never properly rifted. Note: the Mississippi embayment, stretching from Louisiana to near Memphis, is a second failed rift. Where these two meet, we see a particular earthquake risk. In fact, the most violent earthquake in US history hit this region at New Madrid, MO in 1811.

Isostatic rebound of crust: Quebec and the maritime provinces experience earthquakes because of adjustments of the lithosphere to the sudden and recent removal of continental ice sheets.

Where is it safe? In the tectonically stable regions of the continental interior, from Texas to the prairie provinces.


Earthquake prediction Premonatory indicators of major earthquakes include

Swarms of small earthquakes
Ground surface deformation (easy to assess with GPS technology)

Appropriate precautions primarily concentrate on mitigating damage from earthquakes through means like Appropriate construction codes.

Actually acting on warnings of impending earthquakes is very difficult for a democracy because earthquake prediction is very uncertain. How likely are schedule-driven Americans to patiently camp out in the streets waiting for a possible earthquake that might not actually arrive? No politician wants to evacuate a city only to look foolish two months later when nothing's happened.

It's easier for authoritarian countries with good geological sciences to act on earthquake warning signs, since they can tell their citizens to go camp out in the parks and they'll actually do so. The Chinese success in predicting Haicheng (1975) earthquake may have saved up to 10,000 lives.


---

Key concepts and vocabulary:

Earthquake definition
Deformation

Elastic deformation
Ductile deformation
Brittle deformation

Factors controlling deformation

Composition
Temperature
Pressure
Rate

Fault
Focus
Epicenter
Waves

Body waves
Surface waves
P waves
S waves
Rayleigh waves
Love waves

Relative wave veolcity: P, then S, then surface
Method for locating epicenter
Earthquake intensity measurements

Mercalli scale
Richter scale
Moment magnitude

Seismic moment
Earthquake damage

Ground movement
Mass wasting
Liquifaction
Tsunami

Relationship between earthquake foci and plate boundaries
Relationship between focus depth and subduction
Failed rift
Isostatic rebound
Methods (ha!) of earthquake prediction
Political issues of earthquake prediction