Reconstructing past plate movements:
The sea floor record: Inferring the recent movements of plates and continents is relatively easy. Just "rewind" the paleomagnetic and geochronological record of sea floor spreading until all of the continents are together in Pangea.

Piecing together the Plate movements prior to Pangaea, by comparison, is difficult and relies on much speculation because we don't have a clear record of sea-floor basalt to go by. And yet, geologists have reconstructed the general outline of two supercontinents, Rodinia (right) and Pannotia, prior to Pangaea. How? Obviously they didn't use the sea floor record. No sea floor is that old. To do this, they matched up continental rock assemblages and interpreted the continental paleomagnetic record.
Rock assemblages: Nevertheless, under favorable circumstances, ancient plate boundaries leave tangible records in identifiable regional assemblages of specific types of continental rocks. For example, the rocks of the Grenville Orogeny (orange) record similar conditions at roughly the same time during the assembly of the supercontinent Rodinia.


Clearly, the identification of such rock assemblages is a powerful tool in reconstructing the ancient Earth, but these assemblages don't just jump up and lick you in the face. In the following lecture, we review the major types of rock assemblages that might be found on continents.
Ancient Divergent Boundaries
Ophiolite suites - Oceanic divergent plate boundaries:
Every piece of oceanic crust is a record of a divergent plate boundary because all sea-floor bedrock was formed at such a boundary. Ophiolites are pieces of oceanic crust that have been thrust onto the continents. They have usually been altered by hydrothermal metamorphism and are important sources of metal ores. (Remember, Cyprus gets its name from the metal mined in its extensive ophiolites.)
Ophiolites preserve the features we see in mid-ocean ridges, and this is how we recognize them:
Vertical dikes of gabbro extend upward, parallel to boundary, like a deck of cards.
pillow basalts form.
Through it all hydrothermal metamorphism occurs.
As it sits on ocean floor, a thin sediment drape forms.
Remember, at mid-ocean ridges, mantle peridotite is close to the surface. Sometimes, small slices of mantle are preserved in ophiolites. In this case, it is possible for a geologist to walk across the MOHO.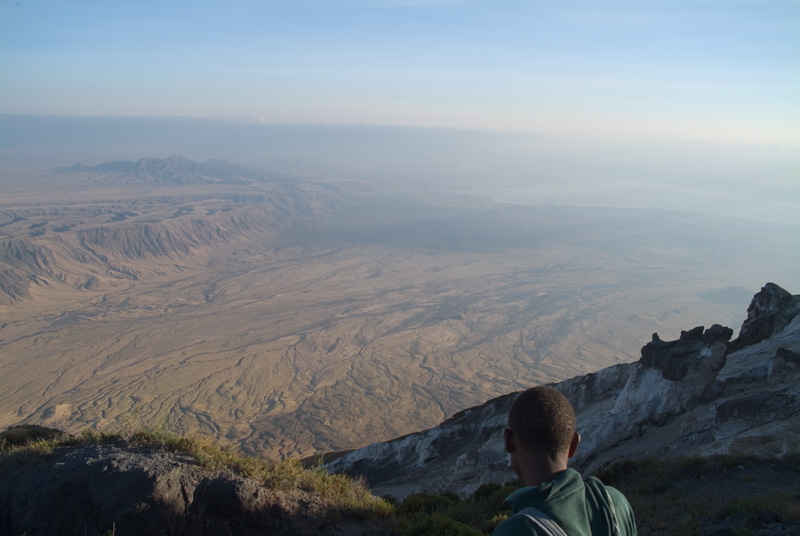 Intracontinental rifts - Continental divergent boundaries:

Divergent boundaries, by definition, separate plates of oceanic lithosphere, however they can originally form as a continent is stretched and rifted apart. In this case, a new sea floor spreading center and new oceanic crust ultimately forming between the resulting pieces. Our concern here is what happens to the continental crust. Typically, as a continent begins to stretch prior to rifting, "stretch marks," clusters of roughly parallel rift valleys (like the Tanzanian Rift Valley at right) form. Only one will eventually become a new sea-floor spreading zone. The rest - the failed rifts - will be preserved as elongate troughs that eventually fill with continental sediment.

Continent is stretched, causing massive normal faulting.
A normal fault-bounded rift valley appears.
Basaltic eruptions occur in the rift valley. (The image above is from the summit of Oldoinyo Lengai, an active composite volcano in the Rift Valley of Tanzania.)
At the same time, continental sedimentation fills the rift valley (E.G. East African rift Valleys)

In ancient rocks, we recognize failed intracontinental rifts by ancient parallel rift valley deposits. EG. Newark Supergroup of Eastern North America. Newark Supergroup outcrop

Ancient Convergent Boundaries
Oceanic - Oceanic convergences:
The image at right is of Mt. Redoubt, one of the four major island arc volcanoes of the Alaska Peninsula. (We still call them part of a volcanic island arc, even though they slightly overlap the continental mainland, because they are cause by subduction melting in which magma rises through oceanic crust.) In the modern world, such active arcs are easy to recognize. Millions of years from now, after this subdiction zone shuts down, they will remain recognizable as the traces of an oceanic - oceanic convergence.

What's new here:
Subducting slab releases water.
The water induces melting of mantle peridotite, yielding ultramafic magma.
Fractional crystallization and assimilation of crustal rock transforms this to mafic to intermediate magma.
Intrusions and volcanic eruptions occur, forming an island arc.
Where the slab subducts, it is topographically expressed as a trench.
What's new here:
Overlying sediments from subducting slab are sheared off to form an accretionary wedge which shows up topographically as a ridge.
The accretionary ridge and Island arc form a forearc basin that accumulates sediment from the island arc.
The magic: The forearc basin and island arc are recognizable in the rock record, even long after the subduction zone shuts down.
In ancient rocks, we recognize oceanic - oceanic convergences by the parallel juxtaposition, in map view, of:
mafic volcanics
deformed marine sediment
forearc sediment consisting of material derived from the (mafic - intermediate) island arc.
Oceanic - Continental convergences:
In this case, the situation is complicated by interactions between rising ultramafic magma and rocks of the thick continental crust and by the much greater amount of sediment being shed from the continent into the forearc basin. The scene above is from the Cascade Range, a volcanic - magmatic mountain belt (as opposed to a volcanic island arc) formed by the subduction of the Juan de Fuca Plate beneath North America. As before, the traces of such convergences are preserved long after the subduction zone ceases to be active.

Review:

Subducting slab releases water.
The water induces melting of mantle peridotite, yielding ultramafic magma.
Fractional crystallization and assimilation of crustal rock transforms this to anything from mafic to felsic magma.
Large intrusions and volcanic eruptions produce Volcanic - magmatic mountain belt Accompanied by high temperature low pressure metamorphism. (Hornfels facies)

What's new here:

Consider that on the small islands formed by oceanic - oceanic convergence, rivers can't be that large or drain an extensive watershed. (E.G. Shinano River, largest in Japan). On continents, large rivers (E.G. Nile) drain huge watersheds and transport copious sediment.
Copious sediment from continent fill the forearc basin.
These thick continental sediments mix with those scraped off of the subducting slab to form subduction melanges - chaotic mixtures of rock types. These can show low temp high pressure (blueschist facies) metamorphism.

In ancient rocks we recognize parallel remnants of volcanic-magmatic mountain belts and subduction melanges. E.G. Jurassic - Cretaceous Sierras parallel the subduction melanges of the Coast Range in California.

Continental - Continental convergences:

Now imagine we take the situation described, and try to jam a continent down the subduction zone.