In the previous lecture, we discussed the shoreline, where the action of waves and tides predominated. This lecture, instead, will be concern environments that are
below wave base
. Down here, energy to move sediments comes from
gravity
(in the form of landslides - strong.)
General topography of ocean floor: This has been worked out by echo sounding and gravitational anomaly techniques, and is best expressed by schematic profiles.
A passive margin: We recognize five general regions:

Continental shelf - down to ~120 m. The bedrock of the shelf is continental crust. Remember, in the distant past, when the ocean basin was new, the shelf would have stood up above sea level, but has subsided as the crust cools.
Continental slope - up to 4 deg.: The major topographic break between the continental and oceanic crust. Not a precipitous slope, but enough that, were it feasible, you could coast downhill on a bicycle.
Continental rise: The region characterized by lower angle slope in which the continental slope grades into the abyssal plain.
Abyssal plain: The true ocean bottom. The flattest and arguably dullest place on Earth.
Mid-ocean ridges: The topographic expression of sea floor spreading centers and divergent plate boundaries. They rise above the abyssal plain because they are made of rock that is still relatively warm. The top of the ridge bears a rift valley - the site of spreading.
Seamounts: The ocean floor is punctuated by hot-spot volcanoes. When these rise above sea level they are islands. It they don't they are seamounts.


An active margin: Similar to passive, with these contrasts:

Continental shelf: Narrow, uneven, or downright nonexistent. Instead the continental slope begins directly off shore.
Trench: The topographic expression of a convergent margin and subduction zone. The lowest elevations on Earth occur in oceanic trenches.

We will consider the geology of these regions in order of increasing depth:
Continental shelf and surroundings: Shallow ocean waters roughly correspond to the photic zone - the region penetrated by sunlight. This extends from 50-200 m. depending on the clarity of the water.
Note: "Continental shelf" may be a useful term to describe topography, but from the standpoint of geologic processes, the photic zone is more important because the major depositional processes in this depth zone are mediated by living things.
Clastic deposition: Sediment rich (i.e. muddy) waters and marine organisms don't mix well. For this reason, shelf environments are typically biogenic. Generally sediments shed into the water by rivers are spread up and down adjacent shorelines and don't make it into the shelf environment proper. The muddy environments around the mouths of rivers are considered part of the deltaic environment.

One exception: Because sea levels change over time, however, clastic sediments can find their way to lower depths. For example, off the east coast of North America at about 80 m. depth are deposits of sand that parallel the shore. How did they get theree? During the last ice age, most continental shelf was exposed above water. These sands are the drowned remains of Pleistocene low-stand age beaches.


Biogenic deposition: In clear sunlit water, organisms are the primary source of sediment. Major sediment producers include:
Such organisms encrust and build up on any stable surface. This invariably results in the deposition of layers of limestone. The remains of the
Central Cretaceous Seaway
in the Interior Plains of North America, for example. Sometimes, organisms build impressive piles of biogenic sediment that stand out topographically. These take two forms:
Mudmounds: Piles of loose, unconsolidated, skeletal material and sediment that stand above their surroundings. E.G.: The Muleshoe Mudmound near Alomogordo, NM.

Reefs: Piles of intergrown organismal skeletons and sediment that form a rigid framework. E.G.: MacKay Reef, part of the Great Barrier Reef comples, QLD, Australia. Images of contemporary reefs often don't give a sense of a reef's potential scale. For that, see the ancient Permian Guadalupe Reef, at Guadalupe Mountains National Park, TX.


Reef builders: Reefs have been around since the Cambrian. Major reef builders throughout the Phanerozoic include.


Early Cambrian: Archeocyathids (shelled sponges, in essence)

Middle Paleozoic: Primitive corals.

Late Paleozoic: Sponges.




Late Mesozoic: Rudistid clams




Cenozoic: Modern corals.

Reef development: Many reef building critters, including corals, contain photosynthesizing symbionts. As a result, they thrive in sunlight and grow right up to the water's surface. In fact, if sea level rises too quickly for the reef-builders to keep up, a reef can "drown." (Actually, it dies for lack of sunlight.) These facts constrain the manner in which reefs grow.

Barrier Reefs: Large land masses in the tropics are often fringed with large reefs that parallel shore in shallow water.

Atolls [Malaysian Atolu - "reef"]: In some cases, however, they form circles called atolls, where the reef fringes a lagoon. Charles Darwin first recognized that these form from reefs fringing a volcanic island.
The island erodes away, but the reef continues to grow up to sea level.

Guyots [After physical geographer Arnold H. Guyot - pronounced Gee-yo]: Of course, a reef can be "drowned" when rapidly rising sea level deprives it of sunlight. When this happens, it erodes into a flat-topped seamount called a guyot.

Planktonic microorganisms: Reef-builders are rooted to the bottom, however many microscopic critters float freely in photic zone waters throughout the ocean. When they die, their remains rain downward in shallow and deep water alike. Important ones include: Continental slope and rise: Below the photic zone living things typically become scarce and aren't major factors in deposition. This is the realm of gravity-driven deposition.
Turbidity currents: major movers of sediments.

Earthquakes trigger slumps or other mass wasting events. These kick sediments up into the water.
The resulting mixture of water and sediment is much denser than plain water, and goes roaring off downslope. This is a turbidity current. It has a life of its own, separate from the landslide that started it. Turbidity currents appear to be capable of carving canyons in deposits of unconsolidated sediments.
After flowing downhill onto the continental rise - perhaps 100s of km, the current slows and heavier clasts start to fall out, followed by lighter ones and finally including clay particles.
The result is a sediment layer called a turbidite. These show a fining upward sequence that grades from conglomerate to mud. (Compare with point bar deposit, in which the finest sediment is sand.) Turbidites can be up to 10 m thick, however most are much smaller. They often show sedimentary structures indicating current direction, such as sole marks and flute casts.


Large-scale continental slope/rise deposits are called flysch. These consist of many superimposed turbidites.

Submarine canyon: Continental shelves, be they narrow or wide, are characterized by these enigmatic features. These canyons typically start on the continental shelf above 120 m but may extend 3000 m deep. No consensus on their origin. Perhaps they originated as river canyons when the shelf was exposed during the ice age but now act as conduits for turbidity currents.

Submarine fan: Because turbidity currents seem to be channeled through submarine canyons, turbidites are often deposited at the base of the continental slope at these canyons' mouths in a manner resembling alluvial fans. Submarine fans are often bisected by extensions of submarine canyons.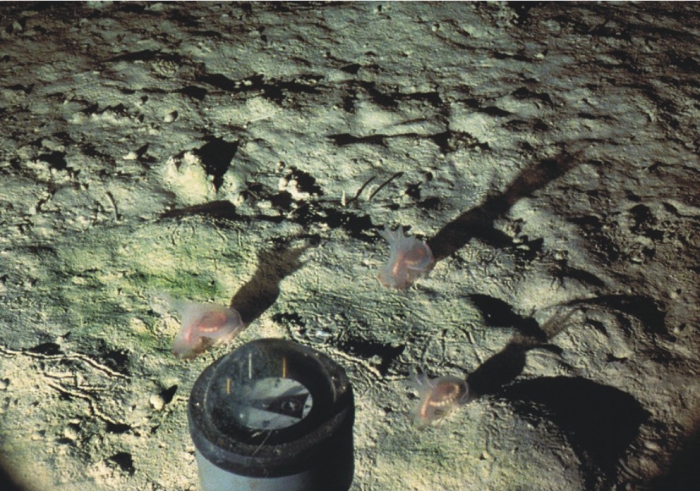 The abyssal plain: Even turbidity currents only reach the edges of the abyssal plain. Sediment here exists as a thin drape of material that has rained down from above. Three major sources:
Wind: blows light particles all across the globe.

Clay particles: Picked up by wind on continents.
Pyroclasts: Fine volcanic ash can be deposited anywhere.


Icebergs: Many icebergs form by "calving" off of glaciers. Such ice is usually full of clasts of all sizes. Dropstones are large clasts that make their way into deep ocean deposits by being rafted out on glaciers.

Photic zone: Sunlit waters in the upper layers of the ocean support planktonic microorganisms. When these die, their bodies rain down. Depending on the materials of which their skeletons are made, they yield:

Foraminiferal oozes
Silica oozes: Primarily from diatoms and radiolarians. Dissolved silica from often cements these together as chert.
Carbonate compensation depth: Remember carbonic acid?
Here are some interesting facts:

Cold pressurized water can hold more CO2 in solution than warm water.
Consequently, deep ocean water has more CO2 in solution.
This recombines to form carbonic acid.
The effect is that, below a certain depth (typically around 3.5 km.) carbonates dissolve. Foraminiferal oozes can't exist because falling foraminiferan shells never make it to the bottom. This is the carbonate compensation depth (CCD).


Thus, if you find calcite in deep ocean sediments, you know that they were deposited above carbonate compensation depth. A powerful concept.
---
Key concepts and vocabulary:
Passive margin
Active margin
Continental shelf
Continental slope
Continental rise
Abyssal plain
Seamount
Photic zone
Clastic ad carbonate sediment mostly mutually exclusive
Biogenic sediment makers

Algae
Sponges
Corals
Bryozoans
Mollusks
Echinoderms

Mudmounds
Reefs
Reef builders over time

Archeocyathids (Cambrian)
Primitive corals (Middle Paleozoic)
Sponges (Late Paleozoic)
Rudistid clams (Late Mesozoic)
Modern corals (Cenozoic)

Reef development

Barrier reefs
Fringing reefs
Atolls
Guyot

Microscopic sources of biogenic sediment

Foraminiferans
Radiolarians
Diatoms

Turbidity current
turbidite
Sole mark
Flute cast
Flysch
Submarine canyon
Submarine fan
Icebergs
Dropstone
Foraminiferal ooze
Silica ooze
Carbonate compensation depth (CCD)