Atmospheric composition:
Variable components:

Aerosols: including water droplets, ice crystals, smoke, clay mineral dust, volcanic ash. In each case, the amount in suspension depends on local and variable conditions.
Water vapor: Concentration varies greatly from 4% in tropical summer to .3% in cold winter.

Stable components: Reported as if the variable components were absent.

Nitrogen - 78%
Oxygen - 21%
Argon 0.93%
CO2 0.035%
All others - 0.005%
Atmospheric stratification
: In terms of pressure and composition, the atmosphere grades upward without obvious breaks, however considered in terms of temperature, the atmosphere has four distinct zone, each characterized by a distinct thermal gradient:
The layers:

Troposphere
Stratosphere
Mesosphere
Thermosphere



Troposphere: (0 - 15 km.)

Most of the atmosphere visible from space.
Most weather phenomena originate in the troposphere.
Importantly, the troposphere contains most of the heat retaining gasses (especially CO2 and H2O) that contribute to the greenhouse effect.

Greenhouse effect? Solar energy usually reaches the Earth's surface in the form of visible light. The Earth absorbs about 70%. This energy:

Is captured by photosynthesizers
Heats what it strikes.
Hot objects reradiate energy as infrared radiation, however greenhouse gasses including CO2, H2O, and CH4 that are transparent to visible light (allowing the energy in) are opaque to infrared, preventing energy from radiating back into space. The result is that heat is retained and the Earth's surface is warmer than it would be otherwise.
(There can be too much of a good thing. Venus owes its hellish conditions to an extreme greenhouse effect.)



Stratosphere: (15 - 50 km) Solar ultraviolet radiation impinges on the stratosphere. This radiation causes the dissociation of O2 molecules which recombine as O3, ozone, which forms an ozone layer. Happily, ozone is opaque to ultraviolet light. As a result, the biosphere is protected from ultraviolet radiation that would otherwise render Earth's surface sterile. However, as ultraviolet light strikes the stratosphere, its energy is absorbed by the ozone, which heats up. At higher elevations, there is more UV radiation.
Atmospheric circulation
: Atmospheric circulation is primarily driven by two things:
Solar energy
and the
Earth's rotation
.
Latitudinal differential in incoming sunlight: The amount of solar energy received per unit area of Earth's surface is a function of the angle at which the light strikes. The most concentrated energy is delivered to equatorial regions whereas polar regions receive very little. Resulting circulation is, in part, the atmosphere's attempt to equalize that heat distribution.


Coriolis force:

If the Earth didn't rotate, air and water currents would travel in straight lines. The combination of rotation and inertia, however, causes currents to veer onto circular courses.


Global convection cells:

The interaction of the latitudinal differential and Coriolis force breaks global circulation into three cells per hemisphere. These meet either in belts of descending or rising air:


When we translate the schematic above into three dimensions, we see that on Earth's surface we perceive the atmospheric circulation cells as latitudinal wind zones, with easterly trade winds at the bottom of the Hadley cells, westerlies with the Ferrel cells, and polar easterlies at high latitudes.


What is being moved by these currents?

Air (duh)
The heat that it carries
Water vapor.
Belts of rising air begin with much water vapor. As it rises, it condenses and rains out, yielding damp climatic belts. Location: near the equator and in higher latitudes (around 60 deg.). We get tropical forests and moist temperate zones. Note: the equatorial belt is called the intertropical convergence zone (right).
Belts of descending air have long since lost their water vapor. Cause arid regions at around 30 deg.:
On more local scale, rain shadows cast by mountains may be deserts: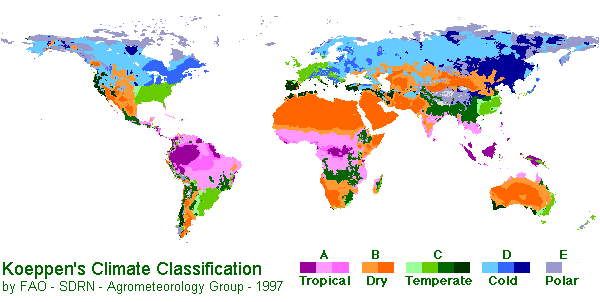 Climate vs weather
:
Weather: Local atmospheric conditions at a particular time. E.g.: rainy, foggy.

Climate: Weather patterns averaged over a long time. E.G. Arid, cold.
Climate zones
: Large regions with characteristic climates. If there were no continents, Earth's geographic climate zones would be simple. Actual climate zones represent interaction between atmosphere, ocean, and land masses of varying elevation, heat, and reflectivity.
Oceans:
World's primary reservoir of water, dissolved ions, and heat.
Composition: Ocean salinity is measured in parts per thousand (per mil). Varies between 33 per mil and 37 per mil. Solutes are generally ions. When you evaporate sea water, typical evaporites include:
Halite (NaCl)
Calcite (CaCO3)
Gypsum (CaSO4 . H2O))
Salinity
: The concentration of ions in water at a given time and place.
Processes that increase salinity:
Evaporation: removes water.
Freezing of sea ice: removes water.
Formation of glaciers: reduces runoff.
Processes that decrease salinity:
Precipitation: adds water.
Runoff from land (including from melting glaciers): adds water.
Melting of sea ice: adds water.
Ocean water density distribution:
Two factors control water density:

Salinity: the saltier, the denser
Temperature: the colder the denser.

Stratification: However it gets to be that way, denser water tends to sink and less dense water to rise. The result is a stratified ocean:

Mixed (surface) layer: Warm and light water. Global average depth is 70 m. Up to 200 m depth at equator. May not exist at all in very cold polar waters.
Deep zone: 500-900 m to bottom. Very cold water (2 deg. C)
Thermocline: Zone of mixing and rapid temperature change. 100 m to 900 m.

But note: Cold water is closer to surface at higher latitudes. Indeed, in polar regions, there is no surface layer or thermocline.
Note: except for a few limited regions, there is no significant mixing of surface and deep waters. Those places are:
The North Atlantic
Near Antarctica
In both regions, surface water chills and sinks, spreading out in the deep oceans.
Currents: In today's world, ocean circulation is mostly driven by temperature gradients. At the poles, water is chilled and sinks into the deep layer, then spreads along the ocean floor toward equator. There it rises, warms, and moves toward poles. Thus, at any region, there are cold deep currents and warm surface currents flowing in roughly opposite directions. This is an ice-house world that tends to confine heat to the tropics.
Greenhouse vs. Ice-house worlds: Fossil record shows that in the Cretaceous, the north slope of Alaska (which was at about the same latitude as now) had climate like that of New England. At this time, ocean circulation seems to have been driven by salinity. In it, equatorial waters evaporated, leaving warm but very saline surface layers. These would sink and spread toward the poles, carrying heat with them. Thus, heat was more evenly distributed and polar regions had warmer climates.

The changeover occurred at the end of the Eocene. Facilitated by two changes in plate arrangements:

In Cretaceous, North and South America were separate, as were Africa and Eurasia. Thus, warm equatorial water could flow freely around globe. Indeed, global circulation absolutely required water to circulate through the tropics.
By the end of the Eocene, about 38 M.a., epoch of the Cenozoic, Gondwana broke up, allowing a circum-Antarctic current of cold water to flow freely. Finally, waters had the option of remaining near the pole as it flowed around the world.
With the appearance of the Isthmus of Panama, starting 5 M.a.m the pathway of tropical global circulation was closed off. Now, water was required to visit the polar regions during the course of its circulation. As a result of these changes, all ocean waters must pass through high latitudes during their normal circulation. When they do, they are refrigerated. Soon afterwards, Earth entered the Quaternary, a period of recurrent ice-ages.
Some oddities
:
The Gulf Stream.
Circulation in the North Atlantic is dominated by the Gulf Stream, a surface current that brings warm waters of the Caribbean northeastward to bathe the coast of Europe. Because of this, Western Europe is much warmer than other parts of the world at the same latitude. E.G. in London, it almost never snows, yet London is farther north than Halifax, Nova Scotia or Calgary, Alberta. (In fact, Washington DC is at roughly the same latitude as Lisbon, Portugal and Palermo, in Sicily.) How does this happen?

Atlantic circulation is driven by cold saline arctic waters. (Cold because of location, saline because salt will have been concentrated by the freezing of ice.)
These spill off the floor of the shallow Arctic Ocean into the basin of the deep Atlantic, sinking rapidly and creating "suction" at the surface.
When they do this, warm surface waters from farther south rush northward to fill the space left by the cold arctic waters.
By this means, the warm tropical Gulf Stream is pulled north.

This process is known as The North Atlantic thermohaline escalator.

Today, climatologists fear that the warming of the arctic will result in the melting of arctic ice, causing arctic water entering the Atlantic to be both warmer and less saline - considerably less dense. If this happens, then instead of plunging down into the deep Atlantic, they would "hang out" at the surface and the Gulf Stream would stay in the tropics. The net result is a paradox: Global warming would cause the North Atlantic region to become colder.

: Climate records preserved in the Greenland ice sheet indicate that this has happened very quickly in the past (time scale of ten years.) You may actually live to see it. It will NOT be anything as rapid or extreme as in "The Day After Tomorrow." THAT was a Hollywood fantasy.


El Niño.

Normal trade winds near equator blow to the west. Thus:

warm surface water piles up in west Pacific
cold nutrient-rich water wells up in the east Pacific.
Rainfall in west Pacific

El Niño occurs when trade winds are slackened or reversed

warm surface waters remain in East Pacific.
Disaster for sea life who depend on nutrient upwelling and on animals that feed on them.
Fat city for land plants and animals in East Pacific, who get lots of rain.
Worldwide climatic ramifications.


Asian Monsoons:

The intertropical convergence zone moves with the seasons. It moves slightly into the summer hemisphere. Thus, ....:

During Sothern Hemisphere summer (Northern Hemisphere winter):

The intertropical convergence zone crosses the Indian Ocean south of the equator.
The northern hemisphere Hadley cell pulls dry winds from the northern Asian mainland across south Asia.
During Nothern Hemisphere summer:
The intertropical convergence zone moves north, crossing India and Southeast Asia.
Southern Asia gets moist winds from the Indian ocean and South Pacific, pulled in by the southern hemisphere Hadley cell.
---
Key concepts and vocabulary:
Stable components of atmosphere
Variable components of atmosphere
Atmospheric stratification

Troposphere: site of weather and greenhouse gasses
Stratosphere: site of ozone layer
Mesosphere
Thermosphere

Relationship of atmospheric stratum and temperature gradient
The Greenhouse effect
Factors of global atmospheric circulation:

Latitudinal solar energy differential
Coriolis force

Atmospheric convection cells:

Hadley cell
Ferrel cell
Polar cell
Intertropical convergence zone

Deserts caused by:

Downwelling of dry air at 30 degrees latitude
Rain-shadow effect

Weather vs. climate
Ocean salinity caused by:

Halite
Gypsum
calcite/aragonite

Ocean salinity influenced by:

Evaporation
Precipitation
Runoff
Freezing of sea ice
Formation of glaciers

Ocean circulation driven by density contrasts caused by:

refrigeration near poles
salinity

Ocean stratification:

surface layer
thermocline
deep layer

Ice-house vs Greenhouse world
Ice-house:

Circulation driven by refrigeration near poles
High latitudinal temperature gradient - high latitudes cold
Arrangement of continents and ocean circulation brings water near poles
Commenced about 38 million years ago in late Paleogene

Greenhouse:

Circulation driven by salinity of tropics
High latitudinal temperature gradient - high latitudes temperate
Arrangement of continents and ocean circulation confines global circulation to tropics
Characterized Cretaceous and early Paleogene

Gulf stream driven by sinking of cold waters of north Atlantic
Gulf stream makes Northwestern Europe anomalously warm.
El Niño: Failure of Pacific westerly winds halts upwelling of deep waters in east Pacific. Sea life starves. Land creatures thrive in unusual rains.
Asian monsoons: Seasonal movement of intertropical convergence zone brings either heavy rains (summer) or dry winds (winter) to south Asia.