General orientation to the Solar System VI
The Saturn system
Saturn from
NASA
.
Saturn:
Items of interest:
Second gas giant and second largest planet in Solar System
Average distance from Sun: 9.582 AU.
Density: Saturn's radius is about 8.5 times that of Earth and mass is 95.2 times that of Earth. Density, therefore, is 0.69 kg m-3. That is considerably less than liquid water, making Saturn the least dense planetary body.
Saturn rotates at different rates at different latitudes, but overall roughly once every 10.5 hours.
Weather: On average, Saturn displays the same general weather patterns as Jupiter, although they are less visibly pronounced.
Oblateness: Like Jupiter, Saturn rotates fast enough that it is slightly flattened at the poles.
Composition: Broadly similar to that of Jupiter. Much of its mass takes the form of metallic hydrogen.
Rings: Saturn has the most extensive ring system, clearly visible from Earth through a small telescope. Consist of small icy particles. Their width is 73,000 km but thickness ranges from tens to a few hundred m. Gaps in the rings are occupied by small shepherd moons.
The major satellites
Mimas, Enceladus, Tethys, Dione, Rhea, Titan, Hyperion, Iapetus, Earth, and the Moon to scale.
Saturn has 62 known named satellites. Unlike Jupiter, with its four large moons, Saturn has one large moon, Titan, six small icy ones, and a vast collection of minor bodies whose orbits extend to 0.17 AU. All of the major moons are icy in composition. They mostly resemble small versions of Callisto with crater-saturated surfaces covered by impact craters and cut by rift valleys where the crust seems to have pulled apart. (E.G. Dione). They are:
Mimas
Enceladus
Tethys
Dione
Rhea
Titan
Hyperion (a large "potato")
Iapetus
Three, however, deserve special mention:



Iapetus from

Enterprise Mission

.

Iapetus:

Physical specs:

Radius: 718 km (compared with 1738 for the Moon)
Density: 1.02 x 103 kg m-3 (compared with 3.34 for the Moon)

Orbital specs:

Distance from Jupiter: 3,560,820 km (0.0238 AU)
Orbital period: 79.3 days

Geology: Iapetus has the highest albedo (brightness) contrast of any planetary body, being either icy white or almost black. It now seems that the dark material comes from Saturn's outer minor moon Phoebe.
Iapetus has an enigmatic equatorial mountain range. How did it form?


Titan in visible light from

Astronomy Picture of the Day

.

Titan:

Second largest moon in the Solar System and the only one with a substantial atmosphere.

Physical specs:

Radius: 2575 km (compared with 1738 for the Moon, 2439 for Mercury)
Density: 1.88 x 103 kg m-3 (compared with 3.34 for the Moon)

Orbital specs:

Distance from Saturn: 1,222,000 km (= 0.0081 AU)
Orbital period: 15.95 days

Atmosphere: Titan's dense atmosphere (mostly nitrogen) is 1.5 x as massive as Earth's. Unfortunately, it contains a complex photochemical smog that makes it opaque in visible light. Thus, the Voyager spacecraft saw a featureless orange ball (right). With its infrared camera and synthetic aperture radar, the Cassini probe has shown that Titan has a complex geology featuring a hydrologic cycle based on liquid methane and ethane, including:

Geology: Features of Titan's solid surface:

Vast "seas" of dunes. What are they made of? Some unfamiliar hydrocarbon compound similar in consistency to coffee grounds.
The occasional impact crater. Their rarity leads us to think that Titan is actively geologically resurfacing itself. For fun, watch two of NASA's Cassini mission videos:

All in all, Titan seems like an odd reflection of Earth, but a few "octaves" lower - i.e. at a temperature (-94 K (-179 deg. C)) where water is a rock and methane and ethane flow as liquids.


Enceladus from

Fundacion Etico Tako

.

Enceladus:

Big surprises from a small world.

Physical specs:

Radius: 249 km (compared with 1738 for the Moon)
Density: 1.21 x 103 kg m-3 (compared with 3.34 for the Moon)

Orbital specs:

Distance from Saturn: 238,000 km
Orbital period: 1.37 days

Geology: Although very small, Enceladus is geologically active.

Like a tiny Ganymede, its surface is divided between heavily cratered ancient terrain and grooved recent terrain.
It's albedo (ability to reflect light) is the highest of any known planetary body, as if it were covered with fresh snow. (Which, in fact...)
The amazing thing: Cassini has seen that geysers of water vapor shoot hundreds of kilometers from the grooves in its southern hemisphere. This ice is the source of Saturn's tenuous E-ring.
As with Io, we ask where the energy comes form to power this activity.



The ice giants
Uranus from
University of Hawaii - Astronomy 110
.
Uranus:
Orbital Specs:
Semimajor axis: 19.21 AU
Orbital period: 84 yr.
Rotational period: 17 hr. 14 min. Retrograde!
The closest major planet that is not visible to the naked eye and, hence, unknown in antiquity. Discovered by William Herschel in 1781. Visited by only one spacecraft, Voyager 2 in 1986, Uranus is a nondescript greenish sphere with an interesting history.
Items of interest
The smallest jovian planet: A mere 14 Earth masses.
Ice giants: Uranus and Neptune appear to be made of denser material than Jupiter and Saturn. Although hydrogen and helium make up their outer atmospheres and they probably have metallic/rocky cores, they seem, primarily, to consist of ices (water, ammonia, etc.) in exotic physical states caused by great pressure and heat. Some call them "ice giants" to distinguish them from the "gas giants" Jupiter and Saturn, with their liquid hydrogen.
Axial inclination: Uranus' equator is inclined 86 degrees from the ecliptic, and its rotation is retrograde. An observer standing at Uranus' north pole would experience 42 years of night, followed by a gradual sunrise as the sun circled the horizon, gradually getting higher in the sky. After 21 years it would spiral to the zenith, hang there, then begin spiraling down to the horizon again in another 21 years. Strange. Suggests that early in its history, it was involved in a gigantic collision.
Satellites: But if there was an early collision, it occurred before the formation of Uranus' moons and rings, because their orbits conform to Uranus' rotation.
Rings: after Saturn, Uranus has the most extensive ring system, however its rings are composed of very dark particles, making them difficult to see.
Miranda, Ariel, Umbriel, Titania, Oberon, Earth, and the Moon to scale.
The major satellites
Uranus has 27 known satellites of which five are proper icy worlds, similar to the major moons of Saturn (minus Titan, which is unique in the Solar System). Titania, the largest, is typical. Like Saturn's moons, they show subtle contrasts of ancient terrain and more active regions of parallel faults and lines. They are far enough from the Sun, however, that methane, like water and CO2 would be exist as a solid. Although icy, their surfaces are darkened by space weathering (for later discussion.) They are:
Miranda
Ariel
Umbriel
Titania
Oberon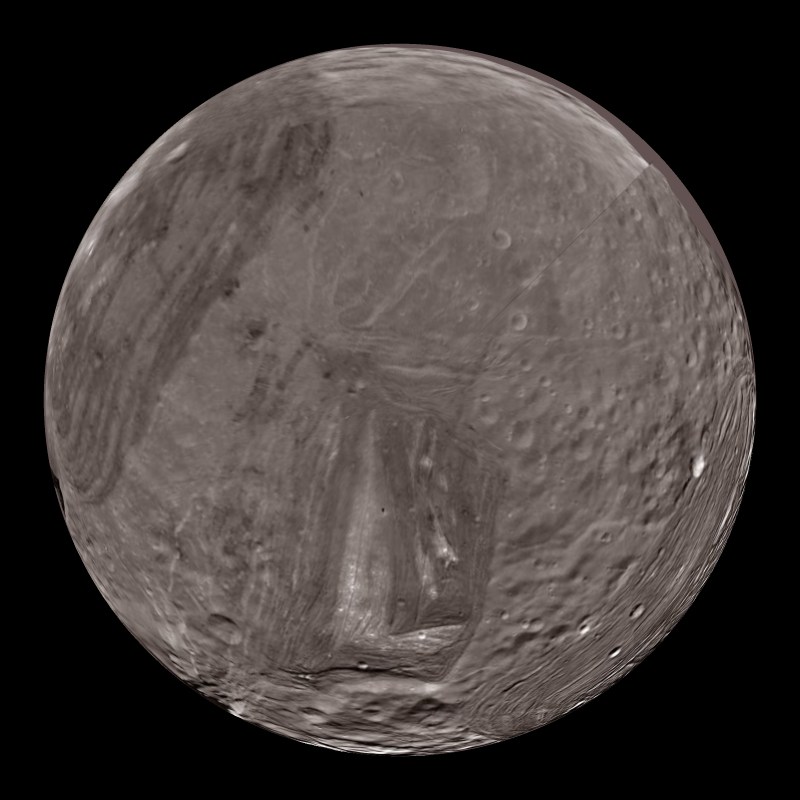 Miranda from
NOAA
.
Miranda:
Actually smaller than Enceladus with radius of 236 km, shows bold stripes reminiscent of Enceladus and an enigmatic distinction between ancient and striped terrain. Its topography features the tallest cliffs in the Solar System (See also an artist's imagining). Might it also have active geysers? The answer awaits a future generation of high-end planetary missions.
Earth and Neptune to scale from
Wikipedia
.
Neptune
Orbital Specs:
Semimajor axis: 30.33 AU
Orbital period: 164.8 yr.
Rotational period: 16 hr. 16 min.
When Galileo discovered the moons of Jupiter in 1613, Jupiter and Neptune were close together in the sky. Neptune appears in his notebooks in a different color ink from the background stars. Galileo seems to have recognized that it was something different but failed to grasp that it was a planet. Its proper discovery came in 1846 after a search prompted by observations of perturbations of Uranus' orbit by the gravity of some unseen body. Visited by only one spacecraft, Voyager 2 in 1989. Even though its cloud-top temperature is a mere 54 K, it is surprisingly lively.
Items of interest
The largest "ice giant": Neptune has 17 Earth masses (vs Uranus' 14) Their compositions are similar.
Weather: Neptune's atmospheric circulation resembles that of Jupiter or Saturn more than that of Uranus, with latitudinal bands and cyclones. The "great blue spot" observed by Voyager 2 seems to have dispersed, judging from Hubble images.
Rings: Neptune has a system of three faint thin rings first reliably observed by Voyager 2. If their mass was gathered in a single body, it would have a diameter of only 5 km.
Proteus, Triton, Earth, and the Moon to scale.
The major satellites
We know of thirteen moons of Neptune. Unlike the moons of Uranus, those of Neptune have wide range of orbital inclinations (they don't all orbit in a single plane.) Four have retrograde orbits. Some orbit very far from Neptune. Only one, Triton, is a world of any size. Proteus, the next largest, is just barely unable to pull itself into a spherical shape.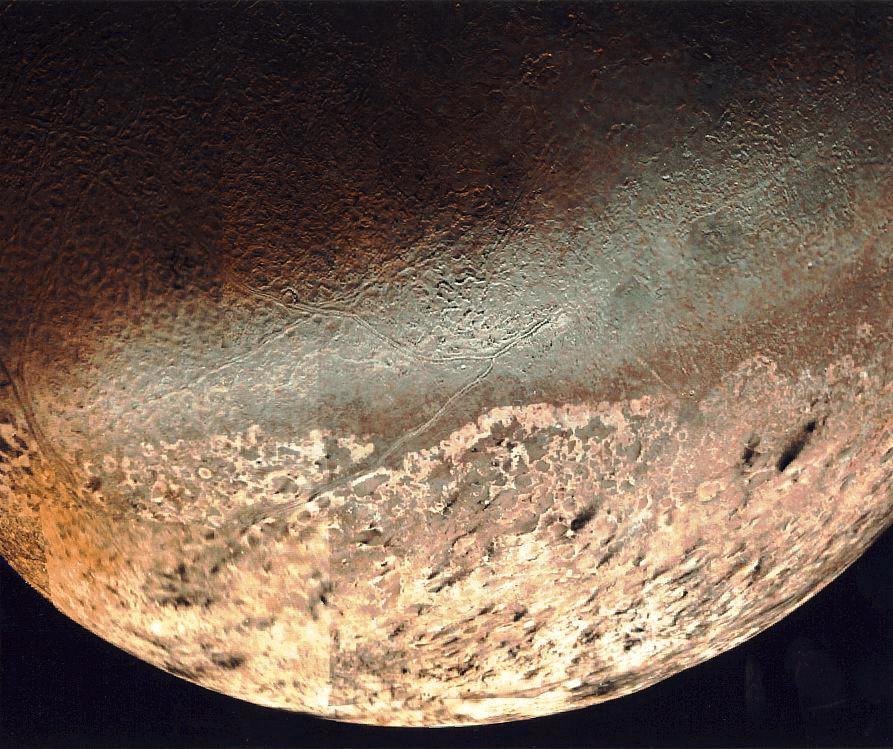 Triton from
Astronomy Picture of the Day
.
Triton:
Physical specs:
Radius: 1353 km (compared with 1738 for the Moon)
Density: 2.061 x 103 kg m-3 (compared with 5.43 for Mercury, 3.34 for the Moon, 1.85 for Callisto)
Orbital specs:
Distance from Neptune: 354,759 km (0.002 AU)
Orbital period: 5.87 days
Triton's orbit is retrograde!
Geology:
Unlike the icy worlds closer to the sun, Triton inhabits a region cold enough to allow nitrogen, carbon monoxide, and methane to condense as solid ices. Triton's surface shows almost as much evidence of geologic activity as Io's, but based on cryovolcanism.
The dark streaks in the image are material emerging from cryovolcanoes ejecting nitrogen vapor.
This gives rise to a tenuous nitrogen atmosphere with a surface pressure of 14 microbars - 1/70,000th of Earth's surface pressure.
Triton is the only large moon with a retrograde orbit. Triton could not have formed in orbit around Neptune, but was an independent body that was captured in Neptune orbit. Triton's orbit is slowly decaying. In some 3.6 billion years, Triton will be torn apart by Neptune's tides.
Pluto as seen by New Horizons in 2015 from
NASA
.
Trans-Neptunian Objects:
The region beyond the orbit of Neptune (30 AU) is inhabited by untold numbers of icy minor bodies. Most reside in the Kuiper Belt (trans-Neptunian objects with low orbital inclination and eccentricity.) Others have more irregular orbits that carry them beyond the Kuiper Belt. These are sometimes deflected into the inner Solar System where we see them as comets. We currently know over 1000, but speculate that there are many times this number.
Items of interest:
The first discovery was Pluto in 1930, long considered the ninth planet. Observational difficulties made it impossible to distinguish Pluto from its large moon Charon until 1978, resulting in overestimates of its size. In 2002, two more small moons, Hydra and Nix were discovered. In summer 2011, yet another (unpoetically termed P4) came to light. Followed in 2012 by P5. In 2013 these were named Kerberos and Styx, respectively.) Pluto's highly eccentric orbit sometimes takes it inside the orbit of Neptune, causing it to experience a range of temperatures leading to the seasonal sublimation of nitrogen, forming an atmosphere that then precipitates as nitrogen snow.

Pluto's bedrock is made of water ice (a robust solid at Pluto's temperatures.) Nitrogen and carbon monoxide ice make up ductile glaciers such as Sputnik Planitia.

Pluto physical specs:

Radius: 1137 km (compared with 1738 for the moon)
Density: 2.1 x 103 kg m-3

Charon physical specs:

Radius: 586 km (compared with 1738 for the moon)
Density: 2.2 x 103 kg m-3
Major Trans-Neptunian objects from
Wikipedia
.
New discoveries
:
The Kuiper Belt: 1992: (15760) 1992 QB1, a minor body orbiting from 40 - 46 AU, was discovered - the first (or second) of many in the Kuiper Belt, a region that had previously been only hypothetical. Known Kuiper Belt objects orbit near the plane of the ecliptic. In 2004, two dwarf planets turned up among the new Kuiper Belt discoveries: Makemake, Haumea
The Scattered Disk: Eris was discovered in 2005. Eris is thought to be more massive than Pluto, albeit slightly smaller. Indeed, announcements of the discovery of the "tenth planet" in part sparked the IAU's redefinition of the word "planet." Eris is the largest of the "scattered disk objects," that orbit farther from the Sun than the Kuiper belt, and with more extreme orbital inclination.
The most distant know scattered disk objects, Sedna and 2012VP, are strange:

They have very eccentric orbits that can't be explained by gravitational interaction with the giant planets
Their orbits display a surprising resonance

This has led to speculation (Batygin and Brown, 2016) of a "Planet Nine" - ~10 Earth masses and whose orbit has a semi-major axis of 700 AU, whose gravity controls the smaller object. So far speculation only. Seeing is believing. Stay tuned.
Asteroid 2015 BZ509 from
Wikipedia
.
Interlopers: Interstellar Objects
Finally, 2018 has seen the identification of two interlopers from beyond our Solar System:
Oumuamua, an infinitely long period comet that sliced through the Solar System on a hyperbolic trajectory in 2018. Definitely originated outside the Solar System.
Asteroid (514107) 2015 BZ509, discovered in 2015, which orbits the Sun in a resonance with Jupiter but in a retrograde direction! Appears to have been captured from the interstellar medium at some point in the past. Link to animation.
---
Key concepts and vocabulary
.
General knowledge of all planetary bodies described

Saturn
Iapetus
Titan
Enceladus
Uranus
Miranda
Neptune
Triton (as opposed to Titan!)
Pluto
Charon
Eris

Rift valleys
Hydrologic cycle
Shepherd moon
Albedo
Iapetus albedo contrast
Iapetus circumequatorial mountains
Titan atmosphere
Titan "hydrologic cycle" based on methane and ethane
Enceladus geysers
F ring source
Ice giants
"Ice" in the sense in which it is used to describe the composition of the ice giants
Uranus axial tilt
Miranda grooves
Triton composition - Nitrogen, CO, and methane ice
Triton retrograde orbit
Trans-neptunian object (TNO)
Interstellar objects
Additional reading:
Konstantin Batygin and Michael E. Brown. 2016. Evidence for a distant giant planet in the solar system. The Astronomical Journal, 151(2).

Lucas A. Cieza, Simon Casassus, John Tobin, Steven P. Bos, Jonathan P. Williams, Sebastian Perez, Zhaohuan Zhu, Claudio Caceres, Hector Canovas, Michael M. Dunham, Antonio Hales, Jose L. Prieto, David A. Principe, Matthias R. Schreiber, Dary Ruiz-Rodriguez, and Alice Zurlo. 2016. Imaging the water snow-line during a protostellar outburst.Nature 535, 258-261.