The Natural History of Meteorites

A member of the Perseid Meteor Shower from
National Geographic
Information about the formation of the Solar System comes from two general sources:
Mathematical models based on the principles of physics
Chemical/mineralogical information from:

Precious rare scraps of material derived from sample-return missions
Precious remote data from robot spacecraft
Abundant information from meteorites
The purpose of this lecture is to add depth to your knowledge of the last source,
meteorites
and provide a sense of the kind of Solar System data they supply.
Meteorites in Nature: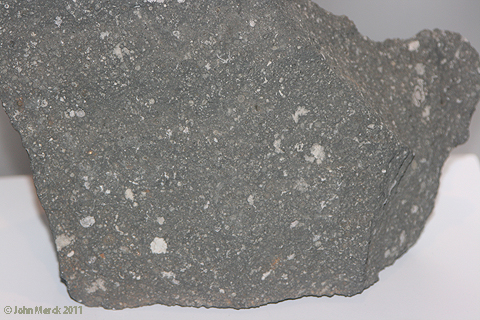 The Allende meteorite
Basic terminology
Meteor: The incandescent streak caused by a meteoroid encountering Earth's atmosphere.
Meteoroid: A small celestial object that might possibly fall as a meteor, but when it is still in space.
Meteorite: A "meteor rock" - a meteoroid after its passage through the atmosphere as found on a planet's surface.
The Bovedy meteorite from
Michael Blood Meteorites
Fusion and Ablation
: Meteoroids are transformed by their passage through the atmosphere:
Fusion rind: Frictional heating begins at an altitude of ~120 km (in the thermosphere). If it is over 10 mm in diameter, only the outer surface will be melted to form a fusion rind.
Ablation: During the fall, molten material is shed through the process of ablation


Cosmic spherules from

Planetary Sciences Research Discoveries

Micrometeorites: Smaller meteoroids (mm scale and smaller) are micrometeoroids, which become micrometeorites. Typically, these are completely melted during their atmospheric passage. Those that don't vaporize survive to form cosmic spherules. These are impossible to collect on land, but can be concentrated in the sparse sediment of the deep ocean, where they can be collected.
How would a molten micrometeoroid survive? Remember terminal velocity. Very small particles with high surface to volume ratios can be slowed down rapidly, then fall at a low terminal velocity.


Tektite from

Wikipedia

Tektites: Not really meteorites. Beads of glassy material formed from molten ejecta of large impacts.
Discovery: We obtain access to meteorites in two distinct ways.
Meteorite from

Meteorite Hunting

Meteorite finds: Recognition of a meteorite on the surface. In this case, the meteorite is recognized as such by its unusual characteristics (if it has any.) Good places to find meteorites, therefore, are places where:

They are readily visible. Thus, forests are not conducive.
They aren't likely to be confused with anything else. Thus, slopes where rocks of all sizes have been transported are no good.

Flat desert plains where meteorites would stand out are better, thus, places like the Arabian Peninsula, the Sahara, and the Australian outback are good. The ideal setting: continental ices sheets like Greenland or Antarctica, where the only way a rock could come to be sitting on the surface is if it fell from the sky.


The Chelyabinsk meteor, 2013

Meteorite falls: The observation of a rock actually falling from the sky. The meteorite is recognized by being caught in the act of falling, regardless of its intrinsic properties. (E.G.: the spectacular 2013 Chelyabinsk meteor - right)

Meteorite trajectories from
NASA's Cosmos
Origins:
We have discussed the origin of many dust grains that are vaporized in the atmosphere as meteors - cometary dust. Most meteorites, however, originate in the asteroid belt. Indeed, in cases where meteorite falls have been tracked by multiple cameras, it has been possible to calculate the meteoroid's orbit, confirming their asteroid belt origins.
General meteorite types:
Iron meteorite from

Arizona Skies Meteorites

Iron meteorites: Metallic, predominantly iron - roughly 5% of meteorites.


Achondritic stony meteorite from

Arizona Skies Meteorites

Achondrites: Stony (silicate) material lacking chondrules - roughly 9% of meteorites.


Stony-iron meteorite (pallasite) from

Meteorites Australia

Stony-Iron meteorites: (a.k.a. pallasites) Combinations of metallic (iron) and silicate material - roughly 1% of meteorites.


Chondrite from

Guy Worthy Washington State University

Chondrites: Stony and metallic material containing chondrules - roughly 85% of meteorites.

Note: To assess these percentages, we count only meteorite fall discoveries. This is to counter the collecting bias that favors the finding of iron meteorites because they just look so different. If we were to base percentages on finds, then iron meteorites would make up 40%.
Origins:
Iron, stony, and stony-iron meteorites are considered remnants of differentiated bodies that were subsequently fractured by collisions. They enable us to sample regions of ancient planetary bodies that we could never reach in intact ones.
Chondrites, the most common, are considered never to have been part of a differentiated body, and thus, represents relatively pristine Solar System material. They enable us to understand the chemistry of the raw material from which the Solar system was made.
Chondrules from
Wikipedia
Chondrules
: Beads of silicate material containing up to 15% iron that have undergone melting prior to being incorporated in the meteorite. Previously we learned about the
condensation
of vaporized material in the inner protoplanetary disk - the likely origin of most chondrules. The diversity of chondrule chemistry tells us that condensation proceeded differently in different regions.
Interpreting this history based on meteorite chemistry is a primary goal of meteorite studies
.
Specimen names: Individual meteorites are named after the localities in which they were discovered. Thus, the Allende meteorite was discovered in Pueblito de Allende, Mexico.
Chondrite types:
Geochemists have developed a complex taxonomy of meteorites. A typical meteorite type designation might look like this: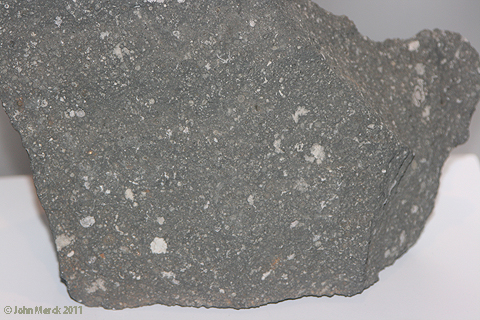 The Allende meteorite - a CV3 chondrite
CV3
Separating the elements, this tells us that the following:
C: Major group - The meteorite is a chondrite
V: Subgroup - The meteorite resembles the Vigarano meteorite in its chemical composition. (Vigarano is the type specimen for the subgroup.)
3: Petrologic type - This indicates the type and degree of metamorphism (solid-state transformation) the meteorite underwent since its formation, regardless of its chemical composition. Petrologic type 3 means that it is largely unaltered. Sources of alteration might include:

Heat
Hydrothermal alteration through interactions between minerals and water originally incorporated in the meteorite.
The Allende meteorite (right) is a type CV3.
Learning all of these types is beyond the scope of this course, but here are some examples: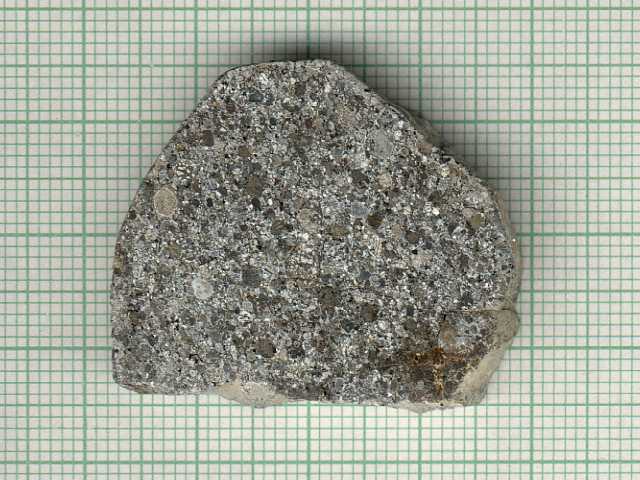 A Type-C ordinary chondrite from
Guy Worthy Washington State University
Type C - Ordinary Chondrites: Containing 5 - 15% iron and nickel.


A Carbonaceous chondrite from

Wikipedia

Types CI, CM, and CV - Carbonaceous Chondrites: Containing significant quantities of organic (carbon) compounds, including amino acids.


An enstatite chondrite from

The Worlds of David Darling

Type CE - Enstatite Chondrites: Containing significant quantities of Enstatite (a pyroxene mineral). This should have formed in the inner Solar Ssytem. Note: the Rosetta spacecraft's observations of the asteroid 21 Lutetia indicate that it is made of CE material. (Indeed, analyses of Messenger data is converging on the idea that Mercury may have formed primarily from enstatite chondritic material. ((Vaughan et al., 2013, Namur et al., 2016, Charlier et al., 2016))
Sound familiar? These chondrite types largely match up with asteroid types described previously, but not entirely. Type C asteroids resemble carbonaceous chondrites, but not ordinary ones.
Primitive meteorites: By primitive we mean "unaltered since the beginning of the Solar System." The most primitive meteorites are those whose elemental concentrations most closely resemble those of the Sun. These are type CI carbonaceous chondrites. Remember from early in the semester that the relative concentrations of refractory elements in type CI chondrites are the "chondritic concentrations" that are the standard against which we compare other objects using spidergrams.

Meteorites as forensic evidence for the early Solar System
Consider some examples of the application of different methods of geochemistry to meteorites to help us answer questions about the Solar System's history:
The first condensation: Recall that as the protosolar nebula first formed, much (if not all) of its material was vaporized, then recondensed from that vapor. What were the first solid objects to condense?
Chondrules and CAIs from
Joe Orman
The Allende meteorite, among others, contains
Calcium-aluminum-rich inclusion - CAIs
- little giblets of refractory material that are
not
chondrules.
How did they form?
There are two hypotheses:
Their highly refractory composition is what we would expect of the first materials to condense in a condensations sequence, so they represent the first material to condense from vapor in the Solar Nebula. But were they ever really in a vapor state?

They are so refractory, so maybe they are pre-solar grains - fragments formed in older solar systems that found their way into the protocolar nebula), but never vaporized.
Fortunately, meteorite geochemistry enables us to choose the more reasonable hypothesis:
If CAIs formed during the first condensation of the early Solar Nebula, we would expect their ages to be similar and uniform. If they originated in older solar systems, there would be no reason to expect them to have similar ages.
Radiometric dating:
Several radiometric systems can be used on CAIs, including:
the 53Mn - 53Cr system
the measurement of the concentration of 26Mg, the product of the breakdown of the short-lived 26Al.
Both systems indicate that CAIs began forming roughly two million years prior to chondrules (at roughly 4.571 ga). But note: The uniformity of these ages implies that they formed through the same underlying process. The only reasonable hypothesis is that they condensed from the Solar Nebula.
As nice as this sounds, we need confirmation from independent lines of evidence.

Stable isotope analysis:
Recall that a given element may have several stable isotopes (i.e. non-radoactive). Natural processes tend to sort or
fractionate
such isotopes in distinct ways. Consider the example of oxygen: Oxygen has three natural stable isotopes,
16
O,
17
O, and
18
O. Their concentration ratios show meaningful patterns.
First, a convention: Rather than using absolute concentrations, it is customary to plot stable isotope ratios with respect to a standard. If:
a sample has 18O/16O ratio of Rs and
a standard has a 18O/16O ratio of Rr
the sample ratio will be expressed as:
δ
18
O expressed all pretty from
Alessondra Springmann
1000*((Rs/Rr) -1)‰ = δ18O
Three things to note:
The ratio is expressed as parts per mil (‰)
If the sample ratio is identical to the standard, then δ18O = 0
δ18O could be positive or negative depending on whether the sample is enriched or depleted in 18O.
Consequences of fractionation:
Imagine a group of samples of a substance that formed at different times, under different conditions. We would not expect their isotope ratios (E.G. δ18O or δ17O) to plot in the same region of a graph of these values. If they do plot in the same place, that tells us they formed at the same time, through the same processes (Time 1 - right).
If we now subject these samples to a fractionation process of some sort, they will:
fractionate similarly, because they are in the same environment experiencing the same process
but at different rates, because of differences in things like surface/vol ratio.
Eventually, they will fall on a
fractionation line
. The fact that they line up says that had a common origin and have been subject to the same general processes.
So, how do true premolar grains differ from CAIs when we plot their isotope ratios?

Presolar grains: The ratios of 17O/16O and of 18O/16O from unambiguously genuine presolar grains shows substantial variation. Thus, if CAIs are presolar grains, we would expect them to show considerable variation in oxygen isotope ratios.

CAIs: In fact, they don't. Samples of CAIs from the Allende meteorite plot along a clear fractionation line. (For comparison, samples of Earth rocks tend to plot along the terrestrial fractionation line. that is different but represents the same process.) Different meteorite types, likewise, plot along their own sloping lines. The CAIs of the Allende meteorite are similar, plotting in a simple linear manner. Like the radiometric dates, this strongly suggests that they formed similarly and in the same environment from the material of the solar nebula, not previously, in different stellar environments. (Remember, when they formed the protoSun probably resided in an open star cluster near other stars.)

---
Key concepts and vocabulary
:
Meteor
Meteoroid
Meteorite
Fusion rind
Ablation
Micrometeoroid / micrometeorite
Cosmic spherule
Tektite
Meteorite finds
Meteorite falls
Major meteorite types

Iron meteorites
Stony-Iron meteorites
Achondrites
Chondrites

Meteorite naming convention
Chondrite type convention

Major group
Subgroup
Petrologic type

Chondrite types

Ordinary chondrite
Carbonaceous chondrite
Enstatite chondrite

Primitive
Calcium-aluminum-rich inclusions
Pre-solar grains
Radiometric dating
Stable isotope analysis
Isotope fractionation
Terrestrial fractionation line
Additional reading:
Bernard Charlier, Timothy L. Grove, and Maria T. Zuber. 2016. Phase equilibria of ultramafic compositions on Mercury and the origin of the compositional dichotomy. Earth and Planetary Science Letters 363, 50-60.

Olivier Namur, Max Collinet, Bernard Charlier, Timothy L. Grove, Francois Holtz, Catherine McCammon. 2016. Geoscience: Earth's patchy late veneer. Earth and Planetary Science Letters 439, 11-128.

William M. Vaughan, J. W. Head, S. W. Parman, and , and J. Helbert. 2013. What sulfides exist on Mercury? Mainly CaS and FeS. Abstracts of presentations for 44th Lunar and Planetary Science Conference.