Introduction to Sedimentation and Stratigraphy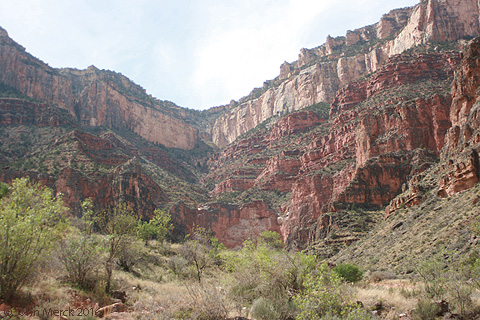 The sedimentary record at the Grand Canyon
Course goals:
Sedimentary rock -
rocks that form from the transported remains of preexisting rocks
- constitute the majority of rocks occurring at Earth's surface. Indeed, although they may comprise 10% of the upper crust, they cover 90% of the surface. Also, because they form at or near the surface, they contain the most complete geologic record of ancient surface environments. Thus, their study reveals unique insights into:
Ancient climate regimes and climate change
Changes in the character and diversity of living things over time revealed in fossils (with connections to environments, migrations, and evolution.)
Formation and location of economic resources including:

Placer mineral deposits
Fossil fuel sources and reservoirs
Arguably, sedimentary rocks have the greatest practical utility to humans of any geologic resource.
The goal of this course is to provide the student with the opportunity:
To explore the origin and evolution of sediments and sedimentary rocks
To examine the nature of sedimentary deposits across all scales of time and distance
To provide the tools necessary properly to describe features of sedimentary rocks
To provide practical laboratory and field experience in the description of sedimentary deposits in order to interpret Earth's long history
To integrate aspects of sedimentation and stratigraphy into other aspects of the earth sciences
Above all, at the end of this course, when you are handed a sedimentary hand sample or shown a sedimentary outcrop, you ought to be able to say something intelligent about the environment in which the sediments were deposited.
Rock du jour
Rocks du jour: Unlike hard rocks, so many variables go into sedimentary rocks that each rock is, essentially, an individual. Thus, sedimentology is fundamentally descriptive. Thus, to develop your descriptive skills, each lecture will highlight either a rock du jour (rock of the day) that will be described and used to illustrate important concepts in sedimentary geology, or a link to a photograph of an outcrop du jour. These may show up on later tests, so make sure to take notes on their characteristics and the discussion issues they highlight. Unless otherwise indicated, current rocks du jour will be available for study during business hours in the lab room.

Analysis of Sedimentary Rocks: We approach sedimentary rocks in two sequential stages:
Description
Interpretation
Description of sedimentary rocks:
This comes first, establishing the basic physical facts about the specimen before interpretation is attempted.
Color

Composition: In contrast to igneous and metamorphic rocks where compositions can usually be characterized by elemental abundances, sedimentary rocks are most often characterized by their mineralogy. Describing the composition of a sedimentary rock by bulk chemistry is misleading because it obscures important genetic distinctions. E.G: compare: If necessary, review the characteristics of minerals introduced in Physical Geology.

Texture: Texture refers to the size, shape and arrangement of grains that make up a sedimentary rock, of which there are two fundamental types: clastic and crystalline:

Clastic: When rocks contain clasts - fragments of pre-existing rocks or minerals that were transported as discrete solid particles they are known as clastic [from klastos, Gk. For broken].

Crystalline: On the other hand, when sedimentary grains are interlocked or intergrown the texture is called crystalline.


Textural characteristics:

Quaternary conglomerate - Big Bend National Park

Grain size of clasts or crystals are characterized by maximum grain diameters. Particle size is the primary basis for classifying clastic sediments and sedimentary rocks, regardless of the mineralogy of the clasts.


Sorting: The distribution of grain size. The degree of sorting is often a function of the mode of transport of the materials.


Grain shape: can also be a diagnostic tool (e.g. sphericity, roundness or angularity), which usually implies something about the distance and mode of transport.


For example:

University of Maryland student with till from Exit Glacier, AK.

Glacial ice flows ductilely, it has little ability to sort or round the particles it transports, so a glacial deposit generally has poorly sorted, angular clasts.


White Sand National monument, NM.

Eolian sandstone consists of wind-transported and deposited grains. Thus, these have a very narrow size range and, having been sand-blasted, are highly rounded.


Finally, the degree of packing and cementation of a sedimentary rock are important textural characteristics.

Fossil content: Fossils are any record of ancient life that becomes incorporated into the rock record. We separate:

Spiriferid brachiopod body fossils

Body fossils: Physical remains of the organism, typically hard or robust substances including shells, bones, wood, or their replacements.


Theropod dinosaur footprint - Kayenta Formation near Tuba City, AZ

Trace fossils: Records of organisms' behavior, including:

Ichnofossils: tracks, trails, and burrows (right)
Bromalites: Fossilized material from digestive system, including: regurgitites: Fossilized vomit (M'mmmmm!), coloites: Fossilized casts of interior of intestine, coprolites: Fossilized poop.
Fossil Nest sites




Cross beds in Supai Group - Grand Canyon

Sedimentary structures: Various sedimentary structures in hand sample and outcrop yield clues to the origin of the rock and its depositional environment.


Redwall Formation - Grand Canyon

Bedding and stratification are the hallmark of sedimentary rock. The layers, or strata, are built up from the accumulation of particles of various sizes and arrangements. These particles formed during the breakdown and transport of pre-existing rock, or by precipitation from ions in solution.


Sedimentary rock interpretations:

These go beyond the rock, itself, to establish its connections to a broader geologic picture. This invokes a number of key concepts.

History: When was it deposited?
Stratigraphy: What is its lateral distribution and superpositional relationship with other rocks?
Correlation: What other rocks were deposited at the same time?
Provenance: What were the sediments source rocks and how far away were they?
Weathering and transport: How was the source material transformed into sediment and moved to its depositional setting?
Depositional setting: In what environment was the material laid down?
Diagenesis: What has happened to the sediment since it was deposited?