Soils
But first, a time-honored hazing ritual.
Soils:
An important consequence of the factors we just listed is that in some regions, weathering products hang around and continue to interact with weathering agents and parent material. The result is soil. Terms:



Apollo 11 bootprint in lunar regolith from

Wikipedia

Regolith [Greek: Rhegos - "blanket" + Lithos - "rock"]: The blanket of unconsolidated particulate material lying on top of bedrock. Regolith need not necessarily contain any organic content.


Humus

Weathered rock



Soil


Definition - That part of the regolith that consists of weathered rock, water, air and humus, organic matter derived by decay of plant material, that can support rooted plants. (They need nutrients moisture and mechanical support.)

Major attribute
-soil is the link between the realm of the solid Earth and the biosphere.

Soil horizons from

Geosciences Libretexts

The ideal (i.e. generic) soil profile -the succession of distinctive horizons from the surface down to the bedrock (unaltered parent material). All soil profiles contain the following, in some form or other:


O horizon - the zone of humus - i.e. decaying organic (plant, fungus, and animal) material.

A horizon - (A1 horizon of earlier authors) decayed humus mixes with minerals derived from bedrock. The O and A horizons together typically form dark topsoil.

E horizon - (A2 horizon of earlier authors) zone of leaching - the washing out of soluble materials and small particles, such as clay minerals. Typically lighter colored.

B horizon - the subsoil is the zone of accumulation for both clays and soluble substances.

C horizon - Weathered and broken bedrock material.

Finally, unweathered bedrock.
In the real world, soil profiles are influenced and constrained by their environments.
Soil depth varies with:

Topography: soils will not form on steep surface.

Climate: Rainfall accelerates chemical weathering and plant growth.

Age: The longer conditions have been favorable for soil formation, the thicker the soil.

Vegetation type: The more organic input, the thicker the soil.

Bedrock type: Thinner soils where bedrock resists weathering.
Soil types
- Soil scientists have a complex soil taxonomy. For us, three major types will suffice:
Pedalfers - develop in humid temperate regions such as the eastern United States.


Well defined horizons

Humus rich A horizon

Moderate accumulation of precipitates in B horizon




Pedocals - develop in dry warm regions like the western U S.


A and E horizons thin.

B horizon is contains minerals such as calcite that would never precipitate in moister environments. These form nodules of caliche




Laterite - soil formed in the tropics where rainfall is so intense that all soluble minerals are completely leached even silica


Rainfall is so heavy, and decomposition so fast that there is no significant O horizon.
E horizon may be thick, but is lacking in soluble materials. What's present is typically rich in the most insoluble iron and aluminum oxides, including bauxite (aluminum ore).

B horizon is absent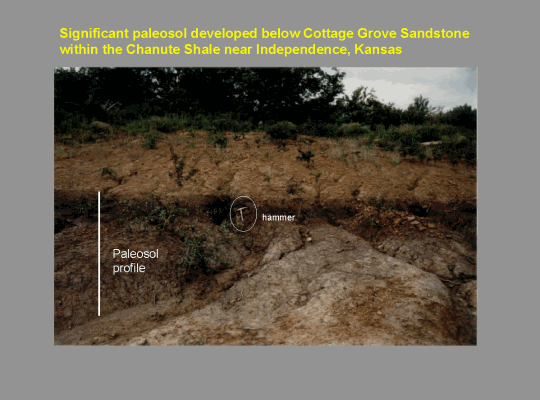 From
Kansas Geological Survey - Sequence Stratigraphic Framework of Incised Valley Systems - W. Lynn Watney
Paleosols:
A soil requires the constant input of organic material, so it can be "killed" if it is deprived of this. Climate change and burial by sediments can both kill soils. Buried ancient soils are called
paleosols
. These can be used to reconstruct ancient environments. Laterite paleosols can be commercial sources of aluminum. The study of paleosols is
paleopedology
.
Identification: Ancient paleosols typically show:
enrichment in organic material and iron oxide, characterized by a reddish color that become more intense toward the top.
Decrease in weatherable materials near the top.
Disruption of bedding by root traces and burrows.
Categories of sedimentary rocks - a review:
As a first level of interpretation we assign rocks to categories based in part on conclusions about how its material was transported. Sediments and sedimentary rocks are classified into three groups based on the types of particles they contain. These groups include:

Clastic sedimentary rocks:

Rocks composed of solid fragments of preexisting rock. Clast: a single such fragment. Fragments may be rock fragments including several minerals or individual mineral grains.


Pisolites in backreef facies of Guadalupe Mountains - Carlsbad Caverns National Monument

Chemical sedimentary rocks:

Rocks composed of material that was transported in solution and directly precipitated from solution.


Quaternary reef rock - Quintana Roo, Mexico.

Biogenic (AKA "biochemical") sedimentary rocks:

Precipitated first in the tissues of organisms, then deposited when the organism dies. E.G.
Stylolites - US National Air and Space Museum
Diagenesis:
We can also interpret the history of changes that the sediment has undergone since deposition. Loose sediments are transformed into rock, that is they are lithified, by compaction, recrystallization, and cementation. Together, these changes are commonly referred to as diagenesis. The concept also encompasses the changes that sediments undergo after lithification has happened, including mineral replacement and dissolution (right).
Sedimentary depositional environments:
Depositional environments include a set of physical, chemical, and biological processes, acting at a certain time, place, and intensity, preserving recognizable set of geometric and physical attributes. These commonly correspond to some geomorphic entity (e.g., a river) These include:

Kayenta Formation near Cameron, AZ

Continental: Deposited on land or in fresh water.

Examples:




Aguja and Javalina Formations - Big Bend National Park

Transitional: Deposited in an environment showing influence of both fresh water or air and marine water.

Turbidites - Kenai Peninsula near Homer, AK

Marine: Only influenced by sea water.

In a more specific sense, we recognize several distinct major associations of sedimentary rock features associated with depositional environments:
Sedimentary facies: A characteristic association of sedimentary rock features linked to a distinct sedimentary environment. In a given location, one sedimentary facies tends to grade laterally into others. For example, beach rocks from a barrier island may grade into lagoonal rocks which can grade into delta deposits.

Walther's Law:. Don't forget that in conformable deposits (no unconformities), the environments that would be laterally adjacent to one another are also superposed on top of one another.

We can also consider by rock type.