Sedimentary structures I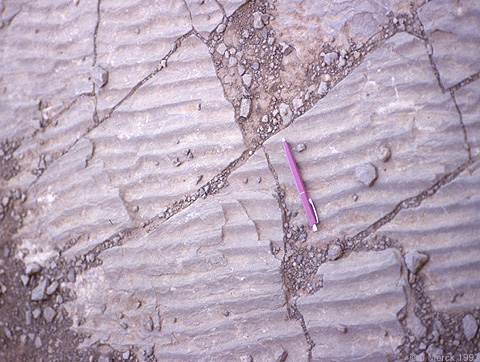 Wave ripples in Triassic Moenkopi Fm., Wupatki National Monument
Sedimentary structures:
Macroscopic three-dimensional features of sedimentary rocks recording processes occurring during deposition or between deposition and lithification. They are probably the most critical means of interpreting sedimentary and post-depositional processes. Their recognition and application are key to defining depositional environments, geological history, and surface processes.
Sedimentary structures function as:
Geopetal structures: indicators of original verticality
Directional structures: indicators of current direction
Identifiers of the agent of transport.
Types of Sedimentary Structures:
We recognize two principle types:
Primary sedimentary structures: occur in clastic sediments and produced by the same processes (currents, etc.) that caused deposition. Includes plane bedding and cross-bedding.
Secondary sedimentary structures: are caused by post-depositional processes, including biogenic, chemical, and mechanical disruption of sediment.
As sedimentologists, we care about sedimentary structures because of their wealth of information about the environment of deposition. We will focus on primary sedimentary structures in this lecture; later, we'll go into depth about some chemical and biological structures.
Primary Sedimentary Structures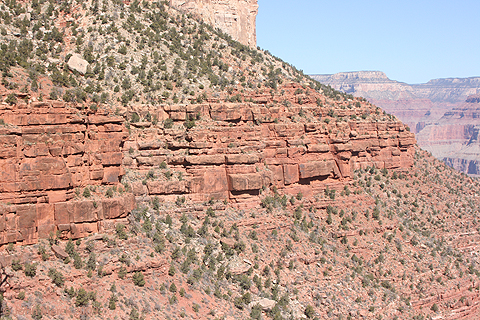 Plane bedding:
Bedding forms as a direct consequence of Steno's law of lateral continuity, that holds that a unit of sediment will extend laterally to the physical margins of the basin it is filing:

"Material forming any stratum were continuous over the surface of the Earth unless some other solid bodies stood in the way."

We perceive plane beds because of changes in the composition or grain size of sediment during deposition. This, in turn, reflects changing rates of deposition. Three basic mechanisms can form plane bedding:

Our perception of bedding is a function of scale. At the largest scale, successions of undisturbed formations may appear as superposed beds, however at finer scales, these resolve into other sedimentary structures that may not be strictly planar.

Laminations:
When bedding persists at fine scale (< 1cm) is called lamination.

In what depositional environment would one most likely expect to find plane bed laminations?




Trace fossils in Tuscarora Fm. near Carlyle, PA

Factors might disrupt fine scale laminations even in these settings include:

Flocculation of clays - clumping before particles settle resulting in clumps that behave like larger clasts.
Bioturbation - disturbance by organisms (right)
Bedforms
Stream ripples, Big Bend National Park, TX
Bedforms generated by unidirections currents
As soon as flow attains a force sufficient to erode particles, sediments are transported in a set of structures on the surface of beds called bedforms.

There is a predictable sequence of bedforms that depends on velocity, grains size and depth of flow.
Temperature and viscosity (clay content) can also alter bedforms.
Unidirectional bedforms are generally assymetrical.

Ripples:

In sand finer than 0.7mm the first features to form are ripples (right). Generally their height is 10-20 mm or less, and their spacing is a few centimeters. As flow velocity increases the ripples enlarge to form sand waves and then dunes, which have spacing from 0.5 to 10m and heights of tens of centimeters to a meter or more.




Bedform deposition and erosion:

Small irregularities in the bottom cause a slight turbulence as flow is diverted up and around them such that the flow over an obstacle no longer hugs the bottom, but separates from it at the point of flow separation (analogous to a stall in an aircraft wing). This flow separation creates a zone of reverse circulation downstream of the obstacle. The zone of reverse circulation is an area of turbulence and backflow. The point of flow reattachment is where most erosion occurs often forming troughs with long axes parallel to current flow.

Sediment migrating up the stoss face (upstream face) of a ripple avalanches down the lee face to produce inclined foreset beds. When buried, these are preserved in the rock record as cross-bedding. Ripples, sand waves, and dunes migrate downstream.

The shape of the ripple depends on a balance between the bedload and deposition of suspended load.

In a simple case where all of the load is bedload, foresets are relatively steep and planar. E.G. a subaerial eolian dune deposit.
If suspended load is also being deposited, the foresets will be curved and contact the bed tangentially. E.G. fine clastic stream deposits of Sideling Hill, MD.

We only see simple tabular cross-beds in outcrop when the rock surface is exactly parallel to the paleocurrent or in the rare instance that cross-beds were formed by bedforms with linear crests. When the crests are sinuous and the rock surface is oblique to the ancient current, we see trough cross-beds (outcrop.)


Plane bed deposition:

When current velocities are sufficiently high that Froude number (FR) > 1, erosion overwhelms deposition and sediment is transported as plane beds. (Animation.)




Antidunes from

Wikipedia

Antidunes:

Formed by even higher velocities - bedform in phase with surface waves and so they migrate by accretion on the upstream side. In the rock record, antidunes are recorded as low angle (<= 10 deg.) cross beds. Whereas typical cross-beds dip in the direction of current flow, those formed by antidunes dip upstream. Antidunes can positively be identified when other current direction indicators are present.

Upper plane bed:

When current velocities are even higher, erosion again overwhelms deposition and sediment is again transported as plane beds.

So far we have discussed the variation in bedforms strictly as a function of FR. In fact, clast size is also an issue. (Recall what the Hjulstrom diagram says about the relationship between clast size, entrainment, and deposition.) Thus, at higher FR we begin to see the transport and deposition of coarser clasts.

To review:
Aggradation:
So far we've considered bedforms consisting of moving bed load. If, however, we were suddenly to shut off the spigot:

bedforms would quit migrating
suspended load would gradually settle over bedforms.

Then if:

Sediment supply is sufficient
Accommodation space (the space between the stream bed and surface available for sediment to fill in) is present

deposition can occur. Thus ripples (for example) aggrade - build upward to form climbing ripples. Note: In the real world, current flow doesn't stop abruptly, but its speed does vary. Thus, a given depositional setting might record different flow conditions at different stages of, say, a flood.

Reactivation surfaces:
Often the migration of a ripple is interrupted and the ripple is eroded back and then buried by a new advancing bedform. Such an interruption produces a tiny erosional surface between cross-strata known as a reactivation surface. Erosion can be caused by:

Alternating current direction
Variations in flow conditions, especially the lowering of discharge. (Remember, channel depth is also a factor in FR.)




Test your comprehension. How did flow conditions change during the deposition of the sediments shown below.



Bedforms generated by multidirections currents
Wave ripples:
On beaches these are formed in a similar manner to current ripples - a rotating eddy precedes a wave as it moves onshore, precipitating the sand load into troughs and ripples. As the wave crest passes, the eddy rises with the crest and disperses into the backwash. However, because of the bi-directional flow, wave ripples are often symmetrical with sharp peaks and broad troughs in contrast to current ripples. (As in the Triassic Moenkopi Fm., right.) Cross-beds dip toward shore, reflecting the relative strength of swash over backwash. (Animation.)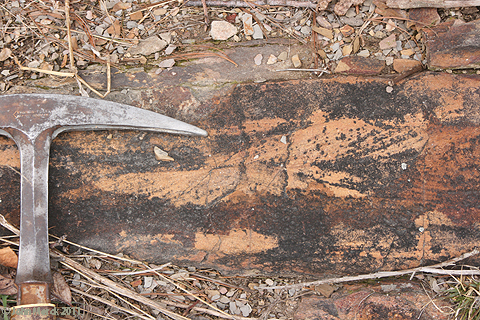 Tide dominated environments:
Are also characterized by alternating currents, but over larger intervals. We tend to see:

Herringbone cross-bedding (right) indicative of aggradation during alternate tidal flow.

Interference patterns in ripples formed during alternating flow conditions. In some cases, distinct ripple sets are identifiable. In other cases, a distinctive "tadpole nest" pattern occurs.
Sand and mud proportions:
Muds (clay and silt sized sediment) are usually carried as suspended load, and are deposited only under low-flow conditions as
mud drapes
over coarser clastic bedforms. The alternate deposition of sand (transported as bedload) and mud (settling from suspension) during different flow conditions creates distinctive patterns in which sand and mud are segregated. These are distinguished by the relative proportions of the two clast sizes:



Flaser bedding

Flaser bedding: Sand alternates with small drapes of mud.


Wavy bedding: Roughly equal volumes of sand and mud.


Lenticular bedding: Lenses of sand in a muddy matrix.
Although these can occur in many subaqueous environments, they are particularly characteristic of tidally dominated ones, where there is daily variation in flow regime.
Secondary Sedimentary Structures
Bedding plane structures
Another class of sedimentary structures form on the interface between beds, usually on the exposed surface of a recently deposited bed before it is buried. These features are useful because they indicate current direction and post-depositional deformation of the sediment.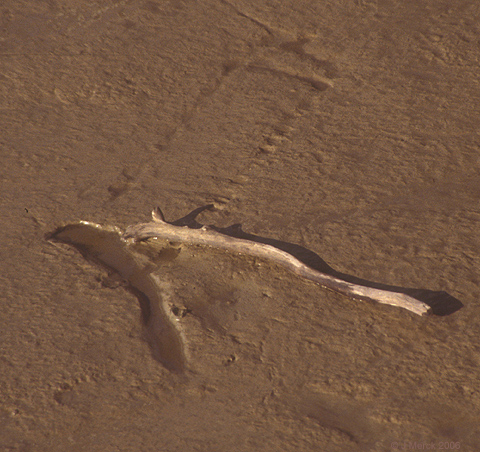 Tool mark caused by floating branch, Roosevelt Island, DC
Sole marks
are formed by currents acting on sediment.
Flute casts: Elongate teardrop shaped depressions that taper upstream. Caused by the scouring action of turbulent flow, common in turbidity currents.
Tool mark: Indention of the cohesive mud bottom by a "tool," and object dragged across sediment by current (right).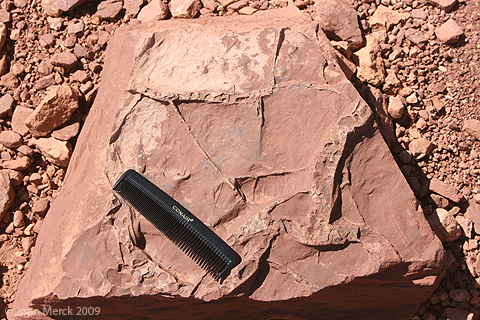 Mud crack in Moenkopi Fm. Barringer Crater, AZ
Mud cracks
Indicate subaerial exposure.
Recent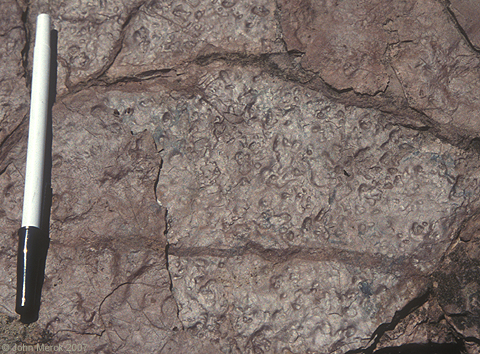 Rain drop casts in Gettysburg FM, Rocky Ridge, MD
Rain drop prints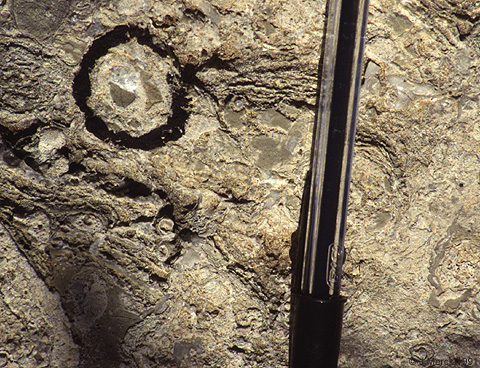 Vug partially filled with sediment, Guadalupe Mountains National Monument, TX.
Geopetal structures:
These indicate the up direction of beds, and can be found as:
Infilling of fossils or vugs (right).
sole marks
Soft Sediment Deformation:
Pseudonodules along Corridor H, WV
Soft sediment deformation structures
result from movement of sediment after deposition but prior to cementation. Sometimes this is due to the application of some sort of external load (e.g.
soft sediment faulting
) but are usually due to a density instability between different sediments layers. The most common are
load structures
, irregular bulbous features formed when a denser material has sunk into a less dense material (right). In some cases, denser material pinches off to form
pseudonodules
(a.k.a.
ball and pillow structures
).
Tongue like protuberances of mud into overlying soft sediment are known as
flame structures
.
Finally, deformation of soft sediment leads to
convolute bedding, suggesting intense structural deformation.