Clastic rock types in detail: Conglomerates
Because of their formation requirements (coarse detritus, strong current transport) and their physical properties (high porosity and permeability), the majority of sedimentary research has focused on sandstones and conglomerates. This is even though they represent, at most, 25% of the stratigraphic record. Below are sets of criteria and classifications that are handy in describing these lithologies.
Review clast characteristics and the clastic rocks they form:
| | | | | | |
| --- | --- | --- | --- | --- | --- |
| Clast diameter (mm): | Clast name: | If rounded to subangular: | If angular: | Rock type if rounded to subangular: | Rock type if angular: |
| >256 | Boulder | | | | |
| 64 - 256 | Cobble | Gravel | Rubble | Conglomerate | Breccia |
| 4 - 64 | Pebble | | | | |
| 2 - 4 | Granule | | | | |
| 1/16 - 2 | Sand | Sand | Sand | Sandstone | Sandstone |
| 1/256 - 1/16 | Silt | Mud | Silt | Mudrock | Siltstone |
| < 1/256 | Clay | Mud | Clay | Mudrock | Claystone |
Conglomerate and Breccia
Lithified gravel and rubble are called conglomerate and breccia, respectively. Conglomerates are very special in the sedimentary record for two reasons:
They are always associated with high energy systems.
They bring large chunks of material right to your feet. Thus, they more often preserve properties of bulk source rock, in addition to the minerals of which it consisted.
As such, they are very helpful in reconstructing provenance of the hinterland, as they consist of sediments that generally have not been transported far, and are often linked to nearby tectonic activity.
Together these comprise 1 - 2% of sedimentary rocks.
Breccia
(right)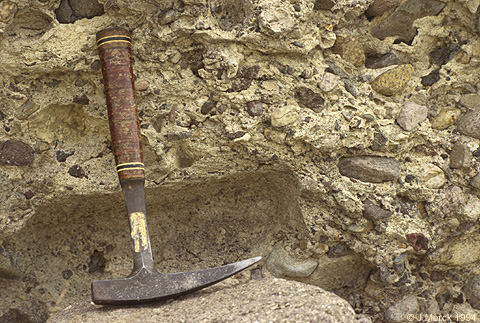 Conglomerate
(right)
For now, we will treat conglomerates and breccias together as "conglomerates." Remember, though, that if the major clasts are angular, the rock must be described as a breccia. This fact is significant when considering its origin,as breccias are not necessarily sedimentary.
Parameters of conglomerate composition
Grain size: Conglomerates (and breccias!) typically display two grain size classes:
Framework: large clasts, diameter >2mm
Matrix: smaller clasts filling in the gaps between framework clasts.
Compositionally, we distinguish:
Mineral components: Fragments consisting of single mineral crystals. Usually in low abundance.

Most common are quartz and feldspars
Less common are micas, olivine, pyroxene, amphibole, and others

Rock fragments: Multigrain fragments of whole rock. More abundant can be any rock type and provide info on provenance.
Clast stability:
Oligomict: >90% of framework clasts consist of resistant rocks and minerals. E.G.: Quartz, quartzite, chert. Implies that sediment underwent intense chemical weathering prior to deposition, leaving only the most durable weathering products.
Petromict: Clasts of metastable and unstable rocks and minerals are abundant. E.G.: Basalt, slate, limestone.
Clast origin: Finally, we distinguish clasts depending on their origin as:
Intraformational: Clasts are eroded from the same sedimentary rock unit of which they are a part. Dead giveaway: Framework and matrix composition are the same. E.G. intraclasts (AKA rip-up clasts) (right).


Extraformational: Clasts are derived from source areas outside the depositional basin. Framework and matrix composition differ.
Using this information, we can begin to classify conglomerates according the classification scheme provided by your text:
When clasts are extraformational, we have two general categories:
Orthoconglomerates: consist primarily of framework grains and <15% matrix. The framework is grain-supported (i.e. the framework grains contact and support one another). Orthoconglomerates can be further classified as:

Oligomict orthoconglomerates
Petromict orthoconglomerates




Paraconglomerates: have a matrix of sand and finer clasts and are matrix-supported.
Paraconglomerates are further broken down based on the internal structure of the matrix:
Laminated conglomeratic mudrock: if matrix is laminated. Laminations imply that the framework clasts were dropped into preexisting laminated deposits of the matrix material as dropstones. These usually result from the rafting of large clasts into the ocean on icebergs, although other transport mechanisms are possible, including rafting in torn-up tree roots, or deposition of volcanic clasts.


Unlaminated paraconglomerate matrices imply two possible origins:

Tillite: Glacially transported sediment (right). Notoriously poorly sorted sediment.


Tilloid: Sediment transported by subaerial or subaqueous debris flows (right), turbidity currents, and subaqueous grain flows.
Textural issues:
Sorting and modality: Conglomerates are very poorly sorted. We see two general classes:
Bimodal: 2 dominant clast sizes. Typical of orthoconglomerates and sediments deposited by rivers.
Polymodal: >2 dominant clast sizes. Typical of paraconglomerates and sediments deposited by glaciers, mass wasting, or turbidity currents.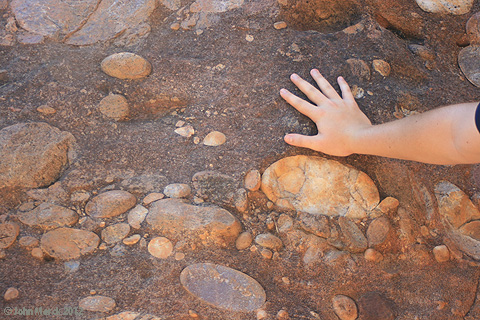 Imbrication:
The systematic orientation of clasts in a conglomerate is termed imbrication. (A common example is
overlapping
.) This usually indicates stream or glacier transport in which grains are aligned with current.
Still confused about the agent of transport for your conglomerate?
Look for hints such as sedimentary structures, or the texture of clasts. Basal flute casts indicate a turbidity current. Parallel striations of clasts (right) suggests they came in contact with a glacier.
Note: Diamictite is another term for a paraconglomerate, and is often used to denote glacial rocks.

Finally, in addition to the foregoing, breccias can form through exotic processes unrelated to weathering and erosion including: