Clastic rock types in detail: Sandstone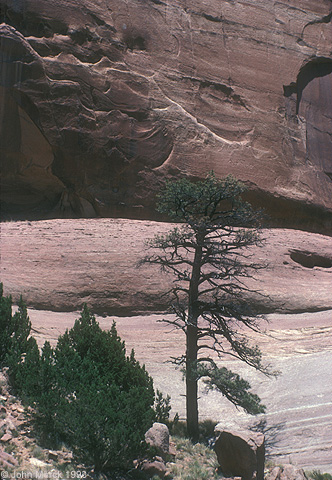 Sandstone
Sandstone is the indurated equivalent of unconsolidated sand containing clasts between 2 and 1/16 mm. They make up between 10% and 20% of sedimentary rocks. Interesting to sedimentologists for the information they contain about the provenance of sediment and depositional environments. For the practical person, they are important as fluid reservoirs (aquifers and petroleum reservoir rock). Indeed, sandstones hold over 1/2 of the worlds oil reserves.
Sandstone classification:
There are MANY different classification schemes for sandstones, but the two defining parameters are:
the relative abundance of:

Framework (sand grains)
matrix (mud)

the composition of sand framework grains.
These are refined by consideration of
texture
, including:
grain size and distribution
sorting
rounding,
fabric
Taken together, these factors can be encompassed in the broad concept of
maturity
(see below).
Framework composition:
Framework grains can consist of
any
rock or mineral, but for practical purposes, we reduce these to the common ones:
Crystalline quartz: Generally abundant because of its resistance to weathering.
Feldspar: Both K-spar and plagioclase are more susceptible to chemical and physical weathering, so they are less abundant in sediments, even if they are common in source rock. Their presence implies minimal chemical weathering or a nearby sediment source. This can be due to:

Environmental conditions that minimize chemical weathering such as aridity or extreme cold.
High topographic relief in the source region, so that it is eroded before it is chemically transformed.

Rock (lithic) fragments: Fragments of whole rock containing more than one mineral grain. These provide information on sediment provenance.
Matrix: Fine grained matrix (<30μm), can be detrital or products of in situ feldspar diagenesis. Depending on the percentage of matrix, a sandstone can be a:
Arenite: [Latin arena=sand]. 0% - 15% matrix.
Wacke: (A.K.A. "graywacke.") 15% - 75% matrix. I.e. significant matrix by volume.
Any more matrix and the rock is regarded as a mudrock.
We use the classification system of
Dott, 1964
that can nicely be summarized by a ternary diagram showing relative volume of quartz, feldspar, and rock fragments, with an extra dimension for matrix volume.
Depending on the predominant framework composition, arenites are broken down into:
Wackes, similarly break down into:
Quartzwacke
Feldspathic graywacke
Lithic graywacke
We will return to these. First...
Quantifying texture
Φ notation:

To minimize inconvenience, sedimentologists use Φ notation to record grain size, where Φ = -log2 grain diameter in mm. Thus:

1 mm = 0Φ
1/2 mm = 1Φ
1/4 mm = 2Φ
1/8 mm = 3Φ
2 mm = -1Φ
etc.




Grain size distribution:

Described by variations on the theme of size distribution histograms. Above are

a simple non-cumulative histogram (left)
a non-cumulative size frequency curve fitted to the same data.

These graphically display:

Sorting
Skewness: Degree of asymmetry. The positive skew above demonstrates that coarser sediments (negative Φ) are better sorted than fine grains.
Kurtosis: The "peakedness" of the distribution.

(Formulae for the calculation of numeric values for these are given in the textbook.)


Often, we use a cumulative size frequency histogram or curve (left) instead. When plotted on probability paper (right), we can easily see:

The degree to which the distribution deviates form a normal distribution (which appears as a straight line)
The degree of sorting (curve steepens with improved sorting)

Implications of sorting:

Transport agents have different viscosities and different energies that sort grain sizes differently
Wind transport - fined grained and well sorted
Ice transport - coarse to fine grains, poorly sorted
River transport (high gradient) - coarse grains deposited
River transport (low gradient) - finer grains deposited
Beach transport - well sorted, unimodal size
Density currents (debris flows) - bimodal or polymodal

Sedimentologists seek to identify agents of transport and depositional environment through quantitative analysis of grain texture:




Shape and rounding:

Shape: is a product of mineralogic characteristics - crystal habit, cleavage, etc.
Roundness: is a product of clast size, mineralogy, transport agent.

Larger size --> more grain-to-grain impacts.
Softer minerals are more easily rounded
Transport in more turbulent flow (higher Re) yields more frequent collisions, thus:

Wind and beach transport: Low viscosity fluid, high Re, high turbulence --> more impacts of higher intensity
Ice transport: low Re and high viscosity --> fewer and less intense impacts
River transport is variable and intermediate.

Fabric: The orientation and packing of grains.

Imbrication: Grains can line up in the direction of current flow
Packing: Mutual spatial relationships between grains. Can be described as:

Proximity: how many grains a clast touches
Density: cumulative number of grains intercepted by a random line through the volume

These ultimately control porosity and permeability.

Porosity: % empty space.

P = (bulk volume - grain volume) / bulk volume

Typically:

Well sorted sandstones have higher porosity - fewer relatively small grains to fill empty spaces (see example at right)
Finer grained sandstones have higher porosity (because finer sands are rare.)




Permeability: The "flowability" of fluids within a volume of rock and is expressed in Darcy units (cm/s). Permeability is STRONGLY constrained by geometry. The governing parameter is pore-throat diameter, or the size of the minimum space between grains. As such, permeability is affected both by:

sorting (better sorted = higher permeability.)
mean grain size (larger grains = wider pore throats.)




A heterogeneous fabric (right) diminishes permeability by increasing the tortuosity (twistiness) of the pore system (lengthening the paths that fluids must travel to pass through the rock). Permeability is not flow rate, which varies as a function of viscosity, temperature, and pressure as well.


The relationship between porosity and permeability isn't straightforward. Depending on clast size and shape, porous sediment can be relatively impermeable.
Textural maturity
Much of the foregoing can only be assessed meaningfully in thin section. Maturity , however, is a convenient general description that encompasses proportion of matrix, sorting, and rounding and can be approximated in the field:
Immature: >5% clay (sorting and rounding not considered), often high in feldspars and rock fragments.
Submature: <5% clay, moderately sorted, slightly more rounding than immature, feldspars and rocks fragments still common.
Mature: <5% clay, well sorted, sub-angular to sub-round, few if any feldspars or rock fragments.
Supermature: <5% clay, very well sorted, round to sub-round, few if any feldspars or rock fragments.
Maturity has implications for depositional environment.
With all of this in hand, we can describe the major sandstone types.
Quartz arenites
:
Typically deposited in stable cratonic environments such as eolian, beach and shelf.
They are generally well lithified and well cemented
Texturally mature to supermature.
These sediments are most likely the product of multiple recycling of quartz grains (polycyclic). If they are first generation it suggests an intense weathering environment.
Feldspathic arenite:
A
medium to coarse grained arenite with >25% feldspar
is also known as an
arkose
. These sandstones form from the rapid disentigration of granite to form
grus
, which is rapidly deposited, most often in
alluvial fan deposits
. They originate either:
in cold or very arid environments where chemical processes are inhibited, or
in warmer, humid environments where marked relief or local uplift allows rapid erosion of feldspar before they can be decomposed. A good nearby example is the Newark Supergroup sandstone lining the locks at the C & O canal at Great Falls.


Lithic arenite: Arenites containing significant lithic fragments:

Submature to mature
Characteristic of river deposits that interfinger with conglomerates or
in cold or very arid environments where chemical processes are inhibited, or floodplain mudstones, or of turbidites
Often occur at the base of recent uplift where rock fragments are plentiful
Often in the wedges of subduction zones and arcs, or in collision zones




Wacke (graywacke): Arenites are differentiated from wackes by the percent of matrix grains. Wackes have between 15% and 75% matrix.

Immature
Characteristic of submarine fan, slope, and abyssal deposits