Mudrocks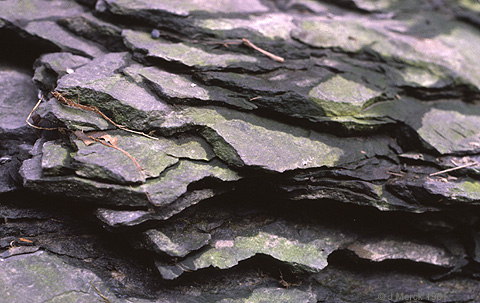 Ithaca, NY
Mudrocks
are rocks formed primarily from silt to clay-sized clasts. Fine-grained quartz and feldspars and various amounts of carbonates, sulfides, iron oxides, heavy minerals, and organic carbon can be present as minor components.
Whereas the composition and provenance of conglomerate framework clasts can be assessed in hand sample, and sandstones can readily be assessed in thin-section, if not in hand samples, mudrocks, because of their extreme fine grain size resist easy interpretation. Even a mass spectrometer only gives us information on bulk composition. Alas, we would really like to know more because:
They represent roughly 75% of the stratigraphic record.
They contain a record of climatic change, biological activity, and paleogeography.
They are the source rock for petroleum and natural gas,
They have played an enduring role in human technology, from the dawn of history to the present as the source of ceramics
If we trust researchers like A. G. Cairns-Smith, who in 1985 observed that RNA nucleotides can bind to the edges of clay minerals like smectite to form RNA-like polymers, clay minerals were crucial in the origin of life. (See Genetic Takeover: And the Mineral Origins of Life by A. G. Cairns-Smith for the full scoop.)
As Dr. Kaufman says,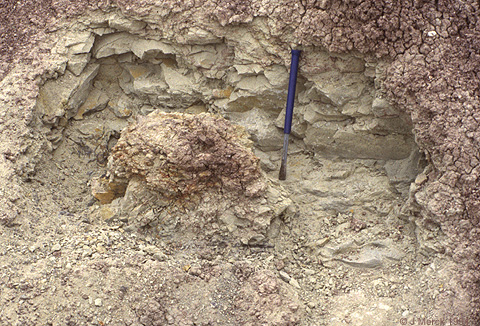 Recovery of Cretaceous turtle from Aguja Fm. Big Bend National Park
"Give them love, since they surely deserve it."
But alas, they are difficult to love:
They tend to look the same in the field.
Assessment of composition requires expensive machinery.
They are vulnerable to weathering, thus they don't stand out topographically and a fresh exposure is hard to find.
But mudrocks are beloved of:
Paleontologists because of their fine-resolution preservation of fossils and the relative ease of prepping them out.
Paleclimatologists because of their fine-resolution stratigraphic resolution and record of microfossils.
Magnetostratigraphers, who can extract information on remnant magnetism from them.
Mudrock Classification:
There is no standard classification for mudrock and shale. This is because:
There is a great diversity of clay minerals
The rocks containing them are understudied because of their intractability.

Nevertheless, the following major rock types are generally recognized:
Siltstone: Composition > 66% silt (Grain size 64-4 μm (4-8 Φ))

Claystone: Composition > 66% clay (Grain size 4-0.05 μm (8-11 Φ)). Claystones tend to have low permeability and to form effective aquicludes.

Mudstone: Composition > mixture of clay and silt with neither clearly predominant (Grain size 64-0.05 μm (4-11 Φ))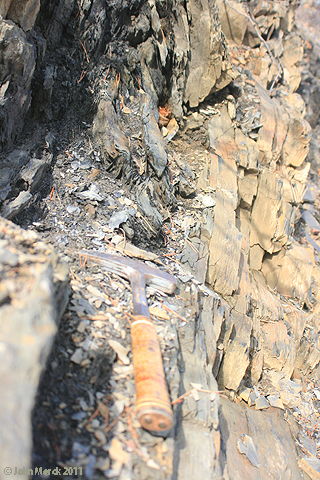 Shale and Sandstone, Purslane Fm. near Hancock, MD

Shale: Mudrocks can be completely structureless. Sometimes, however, they display fissility: thin lamination and a tendency to break along parallel laminations cause by the alignment of platy clasts. Any highly fissile mudrock is termed shale (right).

Mudrock composition:
The same components used to classify sandstones are present in mudrocks:
Quartz
Feldspars
Lithic fragments
Clay
The difference is in the proportion of clay minerals, which make up >75% of volume. We therefore focus on them.

Clay minerals are phylosilicates - sheet silicates, whose fundamental components are:
Silicate tetrahedra: bound in two-dimensional sheets.


Gibbsite: Al(OH)3. Octohedra of hydroxyl groups surrounding a cation (typically aluminum, but sometimes iron or magnesium) bound in two-dimensional sheets.
From these layered components, along with ions or molecules included in interlayers, clay minerals are formed.
These combine to make "open faced" and "close faced" sandwiches of clay layers between which various cations can be sandwiched. Principal groups of clay minerals are defined by their structure. The four primary groups of clay minerals are kandite, illite, smectite, and chlorite.
1:1 clay:
Kandite (including kaolinite - Al2Si2O5 (OH)4)
. "Open faced" with single layers of gibbsite and SiO2. (This proportion of compositional layers makes kandites "1:1" clays.) In the interlayers between these sandwiches are H+ ions. This leaves no room for the adhesion of larger ions. Consequently, kandites are chemically inert.

Most stable clay at earth's surface
End-member weathering product, especially of feldspars
Can function as a cement
Kaolinite is significant as a component in ceramics.

Links to:
2:1 clays:
Illite
Composition: "Closed face sandwiches" of gibbsite between two SiO2 layers. In the purest form - muscovite - these alternate with cation interlayers of pure K+. In proper illite, there is up to 30% less potassium in the interlayer, and occasionally Si substitutes for Al.

K+ interlayer yields strong ionic bonds, so H2O and OH are excluded from the interlayer. Expansion and contraction with hydration/dehydration is minimal
Some Al substitution for Si in tetrahedra
The most common clay mineral.

Links to:


Smectite (including Montmorillonite)
Composition: A 2:1 clay generally similar to illite - a "closed face sandwiches" of gibbsite between two SiO2, however some substitution of Mg2+ for Al3+ in the gibbsite layer creates a slight negative charge. That causes water or OH- to substitute abundantly in cation interlayer, along with Ca2+, K+, and Na+.

The ability of clays like montmorillonite to absorb hydroxide ions causes it to expand significantly when hydrated. Thus, it is a hazard to building foundations.

Links to:


Chlorite
Composition: "closed face sandwiches" of gibbsite between two SiO2 layers alternate with cation interlayers composed of (Mg, Fe)(OH)6 octahedra. This interlayer compositionally corresponds to brucite and is called the brucite layer.

Present in low-medium grade metamorphic rocks.

Links to:


Vermiculite:
Another 2:1 clay. Whereas montmorillonite incorporated OH- in its interlayer, vermiculite accommodates oriented water molecules. This makes it extremely expandable. Consequently, it is used in agriculture and horticulture specifically for water retention in soil.

Utility of clay minerals:
Clay minerals as indicators of source material:
Feldspars and micas (from igneous, metamorphic, or sedimentary rocks) can form most types of clay
Weathering of shale usually produces illite
Basalts and gabbros (mafics) weather to smectites or chlorites (high Fe and Mg content)
Clay minerals as indicators of weathering:
Kaolinite indicates extensive alteration and prolonged leaching in a humid environment - all interlayer cations except Al have been leached away. It tends to be deposited in tropical waters.
Illite indicates alternating wet/dry conditions in a slightly alkaline environment (K is an alkali element). Typical of middle latitude oceanic sediment.
Chlorites indicate little chemical weathering (prevents Fe2+ from oxidizing)
Caveat: You would think from the last two observations that clay mineral composition would be a good indicator of depositional environment character and sediment provenance, but alas, no: Clay minerals tend continuously to equilibrate with their current environments, so chemical alteration is ongoing. Thus, any chemical record of depositional environment tends to get erased.
Green River Fm. lacustrine sediments and fossil from

Stephen Hui Museum

Energy of depositional environment: One thing we can tell, assuming that clay minerals were deposited as clasts (and weren't secondary digenesis products), is that Stoke's Law dictates that the depositional environment had very low kinetic energy, or else the clasts would never have settled. Usually:

Special fine-grained siliciclastic rock and sediment types:
Glauconite from

Oxford Earth Sciences Image Store

Glauconite: ((K,Na)(Fe3+,Al,Mg)2(Si,Al)4O10(OH)2) An iron-rich clay mostly found in sand-sized aggregates (usually by replacement of fecal pellets). This mineral only occurs in open marine conditions in aerated water. The big thing: It forms very slowly (~1000 years) at the sediment/water interface. Thus, it forms during episodes of sediment starvation or major transgression. The really big thing: Glauconite is the only clay mineral that is chemically stable. Thus, it the ONLY clay mineral that faithfully records its depositional environment - shallow, sediment-starved marine environments.

Bentonite

Bentonite: Mostly montmorillonites and other smectites. Commonly form from chemical alteration of volcanic ash. Very high electrical conductivity. Very high water expansion. Many agricultural industrial uses, including construction and drilling.

Because bentonites result from one-time widespread depositional events (ashfalls) they facilitate stratigraphic correlation. Rarely, they preserve sufficient radiometric signal to allow numerical dating.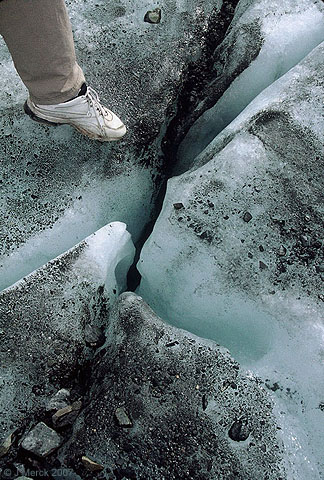 Rock flour on Matanuska Glacier

Rock Flour: Glaciers relentlessly grind their bed load against the bedrock, reducing it to clay sized lithic fragments called rock flour. These are not clay minerals. Could be anything, but are commonly ground up feldspars and quartz.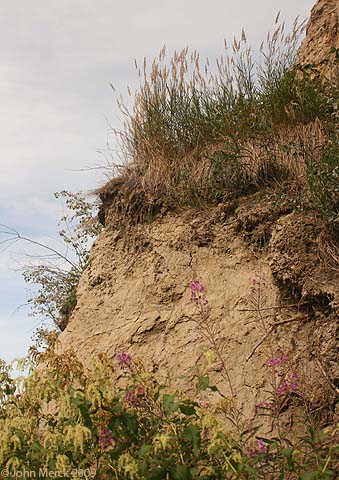 Loess near North Pole, AK

Loess: What happens to silt-clay sized glacial sediment? It gets picked up by wind and water. Wind-blown silt particles typically settles out within a few hundred km of the glacier, accumulating in thick deposits. Loess deposits from the last glaciation contribute to some of the world's best agricultural soils.

Examples of loess dominated regions:



Marl: A rock that only a paleontologist would love. A mixture of siliciclastic and carbonate materials (Usually 10-50% carbonate) that can form in many marine environments, but are commonly deep-water. (For biological and hydrodynamic reasons carbonates and clastics tend not to mix in shallow marine environments.)

Oozes: Extremely fine-grained rocks with a very large component of mcirofossils, chiefly:
Silica oozes: The skeletons of diatoms (Jurassic - recent) and radiolarians (Cambrian - recent). Can be deposited at any depth. Dense deposits of unaltered diatom skeletons are called diatomaceous earth. In deep ocean sediments, these dissolve and reprecipitate as chert or porcellanite (a chert-clay mixture)
Calcareous oozes of calcium carbonate. Deposited above carbonate compensation depth. Major contributors include:

Foraminiferans (Cambrian - recent) with fine-sand sized shells.
Coccolithophorids (Triassic - recent) with shells of separate clay-sized coccoliths that fall apart when the animal dies. Thick deposits of coccoliths are called chalk.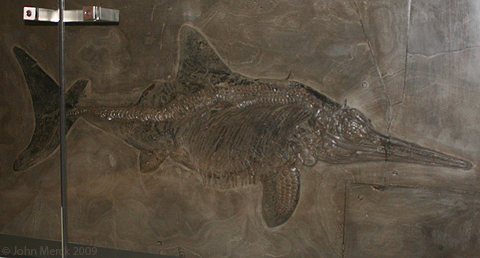 Stenopterygius

with soft-tissue preservation in Early Jurassic Posidonienschiefer

Organic-rich mudrocks: (A.k.a. black shales or euxinic shales) These can be silt or clay dominated, but always have > 0.5% total organic carbon content (TOC). These form petroleum source rocks and oil shales during burial and graphite beds at greater depth. Organic material is commonly preserved under two conditions:
anaerobic (<0.1 ml O2/liter seawater): Only anaerobic bacteria survive. organic material from higher levels is largely untouched.
dysaerobic (between 0.1 and 1.0 ml O2/liter seawater): A small number of dysaerobia-tolerant metazoans survive. Net accumulation of organic material.
Note: In today's world, only the Black Sea (from whose Greek name Euxeinos Pontos we get the term euxinic) has conditions favorable to the formation of black shales. It is not clear that it is a good model for the depositional environment of ancient black shales, however.