Terrestrial sedimentary environments I - alluvial fans
Facies Models:
When sedimentologists interpret rock units, they do so using a genetic approach based on characteristics of depositional environments, as opposed to simple descriptions of rocks. This viewpoint allows us to predict what types of sediments and stratigraphic sequences would be formed in a given depositional setting. It is important to ask what processes are involved in depositional systems. On a global scale, facies models generalize sedimentary features in modern depositional systems, but distill out local variability.
We begin our survey of depositional facies:
Non-marine environments are poorly preserved because they sit above the base level (usually sea level) of streams flowing across them and often above their graded longitudinal profile, the level on Earth's surface above which sediments must eventually erode, and below which they are deposited. Major continental environments include:
Alluvial fans
Fluvial
Eolian (also "aeolian")
Lacustrine
Glacial
Q: What environments are thus preferentially preserved in the geologic record?
Q: How are terrestrial environments then preserved at all?
Alluvial fans
The most
proximal
(close to sediment source) and
coarse grained
of water-transported sedimentary environments is the alluvial fan. These
cone shaped deposits
form where high gradient narrow canyon streams disgorge onto flat plains at the mouths of canyons. At this point, streams typically lose the
competence
to transport framework clasts. Note, when applied to a stream:
Consequently, the sediment they contain is recently derived from local sources. Alluvial fans are generally restricted in area, typically being no more than 1-10 km from their sediment's source rock.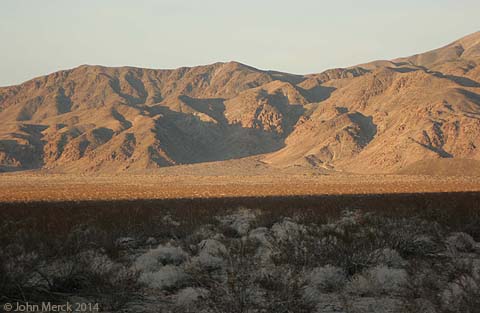 Joshua Tree National Park, CA
These are found next to mountain belts and are the products of two main depositional processes:
Sheet-flow: Shallow water that is not confined to a stream bed, moving across a shallow incline.
Secondary processes include:
Mudflow: Dominated by matrix particles saturated with water that move en masse and rapidly deposited.
Stream flow: Across the surface, usually as braided streams.
Flow regime:
In the modern world, alluvial fans are bodies of very course grained sediment. They have steep upper surfaces, ranging from 16 deg.- 1.5 deg., with the slope decreasing towards the basin. Slope angle increases with sediment size. Thus, the slope magnitude depends on:
the fan's source material (with coarser clasts yielding steeper slopes)
tectonic setting.
Due to this steep slope, alluvial fans are always upper flow regime (i.e. turbulent - R
e
> 2000) and commonly supercritical (i.e. rapid - F
r
> 1). In contrast, river (fluvial) environments have gradients of 0.5deg.- 0.01.
Tectonic setting: Because they typically form so far above the graded stream profiles of the streams that form them, it is a wonder that any alluvial fans make it into the rock record. The ones that do form adjacent to regions undergoing rapid uplift. We tend to see them in:
Foreland basins
Collisional overthrust mountain belts
The edges of actively rifting graben valleys. (Indeed, most classic textbook illustrations are from the Basin and Range Province.)
Fan deposit types: Depositionally, alluvial fans are complex, and their character changes over time. First, we consider the major deposit types that make them up:
Debris flows: A debris flow occurs when all sizes of sediment ranging from boulders to clay that is saturated with water move en masse and are rapidly deposited as paraconglomerates with little to no stratification.


Characteristic of the proximal (upper) to middle fan.

Debris flows occasionally preserve reverse grading (coarsening upward), especially near their bases. In the upper reaches of the fan they form bodies that are:

lobate in map view (right)
tabular and of uniform thickness (above) in cross section.

A mudflow: is a class of debris flow with mainly fine-grained particles that can move at rapid rates (up to 10 km/hr) also forming narrow lobes of matrix-supported sediment.


Sheet flows: Shallow water that is not confined to a stream bed, moving across a shallow incline. Recall that in arid environments, rain tends to come as large intermittent cloudbursts. Thus, although braided stream channels may cross the fan surface, these are usually dry. When flow occurs during flash floods, it soon overtops the channels and floods the fan surface as sheet flow. Sheet flow deposits (right) are usual stratified and well sorted with sand ripples and cross beds, and basal conglomerates (known as fanglomerates).

Characteristic of the medial to distal (lower) fan. Note: the transition between the canyon stream bed and the fan is the intersection point of the stream channel and the fan surface




Sieve deposits: Sediment laden water flowing down the steep gradient of the fan surface doesn't deposit fine sediment. Indeed, this tends to wash through the pore space between large clasts. Instead only other large clasts are captured in orthoconglomerates termed sieve deposits.

Characteristic of the proximal (upper) to middle fan.




Braided stream deposits: The upper surface of an alluvial fan is dominated by braided streams, which typically have wide and shallow anastomosing channels that form in the upper reaches of streams where slope is greater and where flowing water is often choked with more sediment than the fluid can carry. During the highpoint in a flood water escapes the main channel and creates a sheet flood of well-sorted sand or fine gravel with little or no silt or clay (midfan sheets are typically well-sorted, well stratified, and cross-bedded). During low flow or the waning stages of flash floods when water is confined to stream channels, braided stream deposits are laid down.
Alluvial fan sedimentation model:
The schematic above shows the distribution of the four fan deposits in plan, longitudinal cross-section, and transverse cross-section.
The thing to note
:
This simpler schematic shows how the fan tends to:
Aggrade upward, becoming steeper as it does so
Prograde outward into the basin.
As a result, at any given locality, there is a general coarsening upward trend.
Why do we care? Three reasons:
Alluvial fans are always near the rangefront. Thus, they sample sediments very near their source.
Their sediment is coarse making source rock description very easy.
Since they're near the rangefront, they usually reflect nearby tectonic uplift. They also are very strong indicators of what portions of the adjacent basement were exposed at a given time.
On a practical level, alluvial fans represent a high risk of natural hazards in the form of landslides and debris flows and are studied for this reason.
Variations:
Mescal Bajada, Anza Borrego State Park, CA
Bajadas:
In arid regions, alluvial fans covering the pediments of mountain ranges can coalesce to form
bajadas
, broad aprons of alluvial sediment.
Fan deltas:
Typically a fan forms when a canyon stream loses competence by flowing onto a plain. In some cases, the deltas formed by high-gradient stream abruptly reaching a body of water take on many of the characteristics of alluvial fans.
Identifying alluvial fans in the rock record:
The formation and burial of alluvial fans requires rapid uplift (rising fault scarps, for example) in tectonically active areas.
The sequence of coarsening upward cross-bedded sandstones, conglomerates, and unsorted debris flow deposits occurs due to progradation of the fan out into the distal valley.
Fan deposits are generally limited in lateral extent, but their thickness can be considerable (up to 1000s of m in some basins if subsidence is persistent).
Sediments can be very immature and angular with abundant coarse rock fragments and feldspars.
Sheet flood deposits are typically oxidized, so redbeds are common.
Fossils are not generally preserved in the coarse-grained facies of an alluvial fan.
Regardless of grain size, current flow is indicated through sedimentary structures and/or imbrication, with sand being the smallest clast size.
Do not confuse with:
Laminated conglomeratic mudrock: These have a bimodal distribution of gravel and larger clasts interspersed in laminated mudrocks - typically as dropstones are deposited in fine deep marine or lacustrine sediment. They typically don't record indications of current flow (stream, debris flow).
Tillite: Unsorted sediments of all sizes with no indication of current flow.
Stream deposits: Although basal channel conglomerates and current flow sed structures may be present, conglomerates are a minor portion of the sediment volume and deposits show a fining upward pattern.
Q: What type of sandstone would be predicted to form in alluvial fans?