Terrestrial sedimentary environments IV - Deserts and Eolian
But first, Outcrop du jour: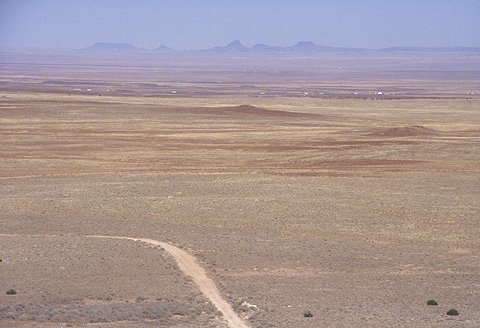 Eolian environments
Eolian environments are those where the wind is the primary mode of sediment transport. This fact limits their geographic distribution to regions where water driven transport is rare because:
Water is 700 times more viscous than air. Thus, Stokes' Law indicates that particles should sink much more rapidly in it. This is, indeed, the case. The wind can usually transport nothing coarser than sand as bed load. Any wind capable of moving sand, however, is able to loft finer particles long distances. Thus: eolian environments tend to be sand dominated.
Deserts: Continental environments characterized by low precipitation. Generally:
Low precipitation: < 25 cm rain/year (<10")
Lacking permanent streams
With less than 15% of surface area covered by vegetation.
Generally that precipitation that occurs happens in very short intense bursts. As a result:

there are high rates of runoff and low infiltration rates.
regolith - generally undersaturated, dry.
Soils are poorly developed - typically pedocals.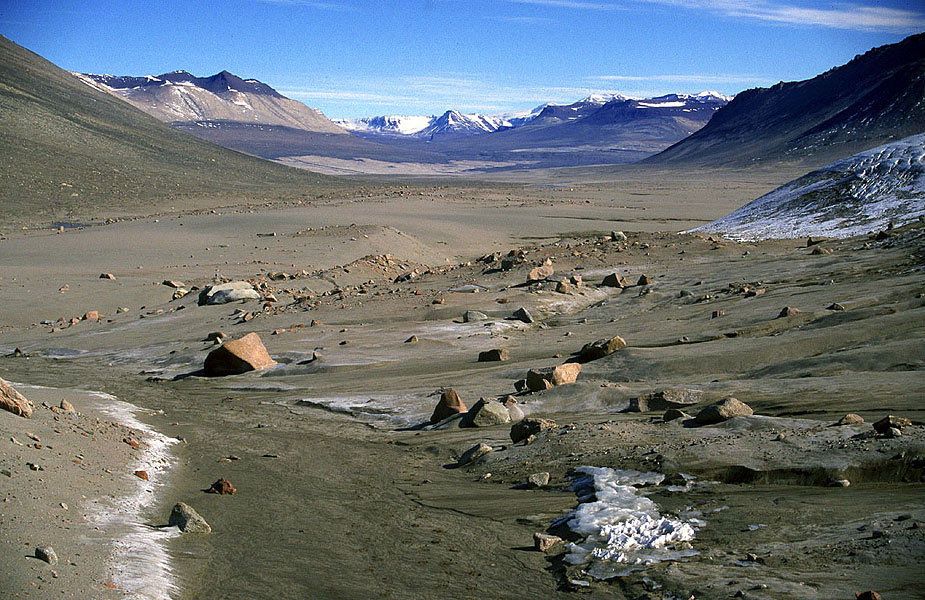 Because stream transport of sediments is sporadic,
most eolian depositional environments occur in deserts
, even though the bulk of desert sediment is still transported by streams - i.e.
Not eolian!
. Often, deserts are seasonally hot, but not always. Polar deserts (E.G. Dry Valleys of Antarctica, right) are deserts but glaciers play the role of streams.
Sediment transport
:
In deserts, most sediment is moved by water albeit during brief, rare, intense intervals.

On a day to day basis, however, eolian transport and deposition predominates.

To encounter a truly pure eolian environment (at least for the last 3 Ga) you would have to visit Mars.
Eolian flow dynamics:
Grain size: Well sorted sands, due to Stokes' law and the viscosity of air.
Unconstrained dimensions: Unlike in channelized water, there is little constraint on the dimensions of eolian deposits:
Bed load transport
:
Saltation, as in streams. Clasts that are too heavy to move in suspension can occasionally be lifted off the ground. When they fall, they bounce, but also kick up other clasts that repeat the process in a cascade. Typically, only sand-sized grains enter saltation.
Surface creep: Unlike water, air rarely has enough inertia to roll or push large objects along. Instead, we have surface creep, in which saltating objects impact larger grains and nudge them along.

Kansas dust storm from
Symon sez
Suspended load transport
:
Suspended load: Silt & clay sized particles resist being taken into suspension, but once they are up, they tend to remain suspended for long periods, often removing them from the environment of origin. Air, like water, experiences friction with the ground. Therefore the layer of air in the few centimeters next to the ground is moving slowly. Saltating sand grains smashing into clay and silt particles kick them up into regions of faster moving air. From here on, they can be kept in suspension indefinitely.
Dust storms: Strong winds can mobilize large amounts of clay and silt:
in large dust storms 1 km3 may carry up to 1000 tons
if a large dust storm moves over 100's of square km - it may move 100 million tons of dust.

Patterns of eolian erosion.
Frosted grains from

Through the Sandglass

Abrasion (sandblasting): impact of saltating grains causes objects in eolian envoronments to have a frosted patina, like the frosting of glass infancy restaurant windows. Indeed, grains of eolian sand deposits are called frosted grains. The mechanical weathering that this imposes on the grains tends quickly to winnow out non-quartz grains. Thus, most eolian sands are pure quartzarenites.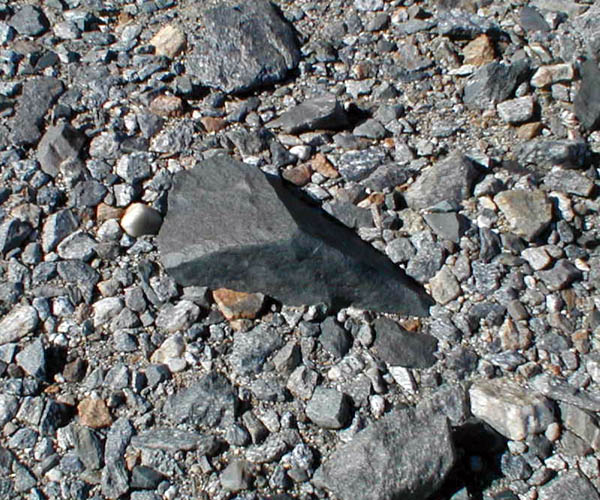 Ventifacts: The products of the abrasion of larger objects by sand. These include pebbles, cobbles, boulders faceted by the wind.
Typically of fine grained structureless rock like chert or quartzite.
planar faces that meet at sharp ridges
Facets eroded on windward side, but storms roll or rotate, expose new side.
Note: Mars is a good place to find ventifacts.

Yardangs [Turkic - "steep slope"]: Hunks of bedrock sticking up above the average surface level tend to be eroded into characteristic shapes called yardangs. A yardang is generally sloping on its stoss side and steep on its lee side. Often, the dead giveaway is that yardangs occur in groups that are oriented toward the direction of the prevailing wind. (Earth, Mars.)

Surface textures caused by eolian weathering and erosion:

Desert varnish: Sediments are often oxidized or coated with iron oxides, largely because the products of weathering reactions aren't removed from the environment of weathering by water. One interesting consequence is desert varnish, the dark shiny patina of clay minerals and manganese and iron oxides that forms as a result of a combination of action of windblown dust, chemical weathering, and water in dew. Desert varnish forms very slowly. A thin coat may be 2000 years old.

Deflation: The removal of smaller clasts from unconsolidated regolith. Assume we have framework clasts in a silty-muddy matrix.
Mud and silt are lifted away by wind but framework clasts aren't.
gradually erodes lowers the ground surface, concentrating framework clasts.
Eventually, concentrated framework clasts protect underlying fine sediments from wind erosion.
Desert pavement: The common name for deflation surfaces in eolian settings. Link to a more unusual form of deflation surface.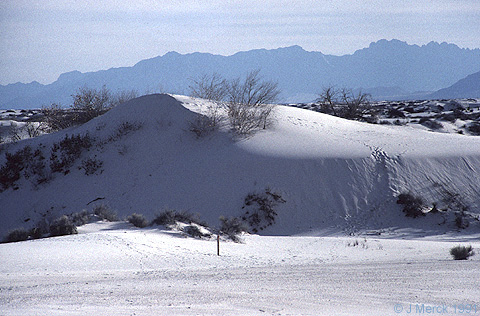 Eolian sedimentation:

Eolian dunes are like subaqueous dunes, only different. Any topographic irregularity can create a wind shadow in which sand will be deposited, adding to the irregularity and provoking more deposition.

Dune morphology: A typical eolian dune forms from the deposition of saltating sand grains. Typically a dune is an ephemeral structure that migrates, divides or fuses with other dunes. It displays:
Stoss face [German Stossen - "to push or bump"]: the upwind face. Generally low angle face with ripples.
Slip face: The lee or downwind face. Typically a high angle face down which sand slides or cascades.

Conditions for dune formation: Most deserts are rocky, so dunes are actually rare. 10% of Sahara, tiny % of SW US. Still, in some places large amounts of sand accumulate in sand seas called ergs. Examples occur in Sahara and Empty quarter of the Arabian Penninsula. What governs the location, size, and shape of dune formation?

Dunes tend to form in topographic pockets where the sand is confined. The White Sands dunefield (right) in New Mexico, for instance, is trapped against a range of high mountains by prevailing winds.

Dune morphology: Depend mainly on 3 factors
strength and consistentcy of winds
amount of sand source
presence of vegetation.
Depending on how these factors covary we can get four basic dune types.
Barchan (crescent) dunes [Kazakh - crescent shaped dune]

solitary, cresent shaped dune whose horns point downwind.
forms where sand supply is limited and wind is stong and constant

Transverse dunes:

Imagine a barchan environment but with much more sand, so that the barchans grew to where they fused together into long wavy ridges perpendicular to prevailing wind.
Form in sand rich environments with strong steady prevailing winds.

Parabolic dunes:

Common in costal areas with moderate to abundant sand and winds and some vegetation cover. Picture transverse dunes that become anchored at points by vegetation so that parts of the dune migrate while others are held in place.
Cresent shape but tips point up wind

Longitudinal (or seif) dunes [Seif = Arabic - sword]

long straight ridges more or less parallel to the wind
moderate to low sand supply and strong prevailing winds that change direction frequently. As a result, the dune effectively "doesn't know which way to migrate," and its orientation represents an average of the various wind directions it experiences. Slip and stoss faces change identity frequently.
Saturn's moon Titan is the Solar System's "longitudinal dune central."


Aggradation in eolian environments: Dunes tend to form on flat surfaces. This could be bedrock, but more often is soil or regolith that is held in place by groundwater that diffuses upward from the water table by capillary action.

Dunes in the rock record: So what happens if the water table rises beneath a dune field? The dunes can be immobilized and, eventually lithified by the precipitation of cements. The result is an eolian sandstone.


Diagnostic dune features:

Supermature sands with frosted grains.
Absence of matrix clasts
High angle (20-35¡) cross beds.
Bedforms tend to be very large compared to subaqueous counterparts, up to 35 m. thick.
Characterized by climbing ripples marks




Reverse grading: smaller particles blown across the dune crest tend to travel farther than large ones. The result is that although well sorted, eolian sand deposits show a coarsening upward sequence.

Associated environments:
Eolian dune deposits tend to interfinger with other common desert depositional environments:
Playa lake deposits
Alluvial fan deposits
Stream deposits
Distinguishing form other supermature sands:
Eolian sandstones resemble beach deposits in being:
Cross-bedded
Supermature quartzarenites
Where they differ:
Size of bedforms
Eolian sands interfinger with other desert facies (playa, alluvial, stream), beach sands interfinger with marginal marine environments
Eolian sands contain fossils of terrestrial animals, if any. Beach sands contain copious marine fossils.