Outcrop du jour: Context, Image 1, Image 2, Image 3, Image 4, Image 5.
Terrestrial sedimentary environments V - Glacial
Glacial environments
Fundamentally, glacial ice differs from water in being much more viscous, such that it carries clasts of all sizes in laminar flow.
Don't forget, any given parcel of glacial ice always flows downhill
, conveyoring its sediment load to its toe. The exact location of this toe varies over time as the glacier advances and retreats. The key is that any place that has been occupied by the toe of a glacier will contain glacial sediment unless some subsequent process (stream erosion, a new glacial advance, etc.) has removed it.
This is true even in regions where aggradation is not widespread.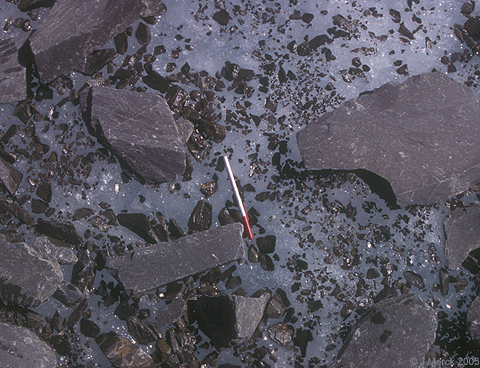 Processes of Glacial erosion
:
Bulldozing: Unlike water or wind, glacial ice can push very large clasts along.

Plucking: For reasons of fluid dynamics, glaciers tend to pull up pieces of bedrock from their beds as they flow.

Abrasion: Lots of rock gets caught up in the boundary layer of ice next to the glacier's bed. As a result, the glacier acts like megasandpaper.

Any material that has been brought to the glacier by mass wasting is indiscriminantly transported by the glacier.

Erosional features
:
Striations: as pieces of rock are dragged over bedrock this creates smooth, abraded surfaces. Striations reveal the direction of flow. In the case of continental glaciations, scoured surfaces can be continental in scale.


Roche moutonnee: The glacial equivalent of a yardang. Piece of bedrock carved by a glacier. Typically, the upstream side will be smoothly abrades but the downstream side will be jagged, with pieces plucked out.
Erosional land forms that form from valley glaciers: These are what we think of as the typical features of regions like the Alps and high mountains of western North America. They may be occupied by active glaciers or may be left over when the glacier melts.

Glacial valleys: have a distinctive "U" shape (whereas running water makes a "V"). Glacial valleys are deep, wide and straight.


Hanging valleys: Remember the ideal longitudinal profiles of streams. Because of these, tributaries of larger rivers tend to be at the same elevation when they flow together. This isn't so with glaciers. With them, usually, tributary glaciers empty into main valleys high up on the valley walls. Indeed, some of the world's best waterfalls are formed by streams flowing through former glacial tributaries.


Glacial cirque on Svalbard from

Swisseduc.ch

Cirques: Amphitheater-like hollow in which glacier first accumulates. After glacier melts, floor of cirques are often occupied by tarns [Old Norse Tjörn - "pond"] - little cold lakes.

The interaction of adjacent glacial valleys produces distinctive features:
Fjords: [Old Norse Fjörðr - "ferry crossing," "ford"] - Submerged glacial valleys that appear as deep narrow bays.

Glacial sedimentation:

Drift: Glacial sediments is called drift- consists of:

till: Glacially transported sediment that is:

Utterly unsorted
Can have any composition but is usually lithic fragments
Deposited by the glacier.

Once its clasts are cemented, till from ancient glaciers becomes a sedimentary rock - tillite.


Stratified drift: bedded glacial material that has been secondarily redeposited by water in outwash streams.


Erratics: Glaciers can deposit house sized clasts that later seem like huge rocks from nowhere, with lithologies inappropriate to their settings.


Moraines: Land forms that are composed of glacial till. The type of moraine depends on where the till was deposited with respect to the glacier: A special case: the Lodgment till This is the initial layer of sediment deposited by a stationary or retreating glacier.

Q: Do glaciers deposit sediment while they are advancing?





Such moraines remain prominent features of the landscape long after the glacier is gone but note: They only preserve the most recent glacier at a given spot. Earier remains would have been bulldozed away by newer glaciers.


Associated fresh water environments

Outwash streams reworking till into stratified drift. E.G. the source of the Matanuska river at the Matanuska glacier, AK, right)


Proglacial lakes: Lakes of meltwater impounded by moraine or glacial ice. These result in the deposition of pockets of lacustrine and associated sediments, including small deltas, laminated lake deposits and dropstones. E.G. Jöküllsárlón, Iceland, right)


Glacial deposits in the rock record:

Only the record of retreating glaciers
The speed of glacial retreat
The relative contribution of glacial tills and sediments of associated environments.


Land forms resulting from continental glaciers: Continental scale glaciation creates interesting opportunities for ice to interact with large volumes of sediment. Results include:

Drumlin: Hills made of reshaped glacial till (not bedrock like a roche moutonee.

The steep end is on the side of the ice's approach
The shallow end points in the direction of ice movement


Kame from

Pintarest

Kame [Scots"comb." Pronounced like English "came"]: Hills of stratified drift that form when a stream deposits sediment in a hole in the glacial ice.


Kettle lake: This is essentially the opposite of a kame. When a block of glacial ice is stranded by a retreating glacier, it prevents sediments from being deposited. When if finally melts, a depression is left that fills with water. Think of Minnesota - the land of 1000 lakes. These lakes are mostly kettles formed during the retreat of a continental ice sheet.


Esker

Esker [Irish Eiscir - "ridge"]: Long sinuous ridge of stratified drift. Results from sediment deposited by under-glacier stream.