Marginal Marine Environments and Lakes:
Transitional Environments: Depositional environments that are influenced both by sea water, fresh, water, and often subaerial exposure. Effectively includes everything terrestrial along a coast and the shallowest portion of the marine shelf. These intergrade, but for simplicity we recognize four major transitional environments:
Deltas: The interface of fluvial and marine environments.
Shoreface: Where sediment is deposited and transported by wave action and subjected to intermittent subaerial exposure.
Tidal: Dominated by tide action, subaerially exposed fine sediments at low tide, shallow and marshy at high tide
Barrier complexes: Long sandy islands or peninsulas that parallel shore but are separated from it by lagoons.
Some of their primary characteristics are indicated by the table below.
Deltas:
The interface between the stream and marine environments.
Until now we have focused on sedimentation in aggrading environments, where tectonic forces or changes in base level allowed new sediments to be deposited on top of old. A delta, in contrast, is primarily prograding - building sediments outward laterally into a basin.
Deltas form when sediment is deposited at river mouths faster than marine processes can remove it. This happens because, streams empty into a standing body of water, flow velocity decreases and the flow quickly drops its sedimentary load,
starting with bed load, but eventually including suspended load.
Deltas are rare on active margins, but commonly found on passive continental margins.
The simple schematic at right shows their most important distinguishing features:
Delta deposits prograde or advance their edges into the ocean.
Because the coarsest sediments are deposited closest to the river mouth, and the finest ones farthest away, the general stratigraphy of a delta environment shows a coarsening upward sequence. Why is that?
The deltaic environment breaks down into three regions:
The Delta Plain: The terrestrial environment where river meets ocean. It differs from fluvial floodplains and channels considered previously because it develops on top of previous deltaic deposits. In it, we see:

Distributary channels
Flood plains
Interdistributary marshes and swamps
Beach complexes

The Delta Front: The steeply sloping portion of the delta where deltaic deposits slope downward from sea level to the level of the sea floor. Characterized by:

Thinly bedded turbidites
Slumps, slides and convolute bedding
Grain size grades from sand and silt near sea level to fine clay farther out. During floods, however, sand may extend farther down slope.

Prodelta: fine grained distal mudstones on the edge of the delta furthest from shore. Usually finely laminated
Because the delta progrades, these environments are superimposed on top of one another.
Deltas in map view:
As a channel current reaches the ocean and loses confinement, it spreads across the surface of the salt water as a tongue-shaped plume. This plume experiences friction with sea water at its edges, so particles drop from suspension at the sides, continuing the river's subaerial natural levees as subaqueous levees.
Bed load, however, is deposited in the thalweg of the channel mouth where the fresh water plume separates from the bottom, as a channel mouth bar. The presence of the channel mouth bar divides the thalweg into two distributary channels. As the delta progrades, these channels lengthen. The channel mouth bar is perched at the top of the delta front. Failures of the front sediments can result in turbitity currents and slumps down its face. Because of current action and rapidly changing salinity, distributary channels are challenging to organisms.
Interdistributary bays: The spaces between distributary channels begin as pieces of open ocean that aggrade through the deposition of overbank muds and crevasse splays into interdistributary marshes and flood plains. These are typically sites of great biological activity, thus, many of the world's major coal deposits are from deltaic environments.
Distributary abandonment: Differences between distributary channels may prompt channels to avulse, abandoning some distributaries in favor of others (generally shorter ones.) Thus, a complication of delta stratigraphy is their tendency to abandon distributaries as may happen with the Mississippi and Atchafalaya.

In the rock record
: The schematic at right contrasts the lithologies of deltaic facies.
Remember
This shows a cross section along a distributary channel. In a cross section through an interdistributary bay fines muds would be more prevalent. In the real world,
interdistributary bay and distributary deposits
are superimposed on one another as deltas develop and abandon their distributaries.
Factors controlling delta morphology in map view:
Typically, current is not the only thing influencing delta morphology. Tides and waves also do. the spectrum of delta morphology, therefore, has three end members:
Mississippi delta from

NAA Earth Observatory

River dominated: The action of currents in distributary channel predominates. In map view these appear lobate or form a "bird's-foot". E.G.: The Mississippi (right).


Tide dominated: The action of tidal currents significantly overprints that of channel flow. Channels become aligned with the direction of tidal currents E.G.: The Fly, New Guinea, (right).


From

Agencia Nacional de Aguas

Wave dominated: Wave action significantly reworks sediments, spreading them up and down the coast. Progradation of distributary channels is restricted E.G.: The São Francisco, Brazil, (right).

Diagnostic features Deltas:
Setting: At passive continental margins, adjacent to fluvial and shallow marine deposits.
Geometry: Roughly triangular in map view and wedge shaped in cross section. Tens to thousands of km2 and tens to thousands of meters thick.
Typical sequence: Coarsening upward from laminated prodelta clays to distributary channel and bar sands, interfingered with interdistributary muds. E.G. Lourinha, Portugal
Fossils: Marine organisms in prodelta and delta front deposits. Coal in interdistributary muds.
Turbidites: We referred to Turbidity currents periodically moving coarse sediments down the delta front. In fact, these are the primary down-slope movers of submarine sediments altogether, and characterize continental slope deposition.

Peritidal environments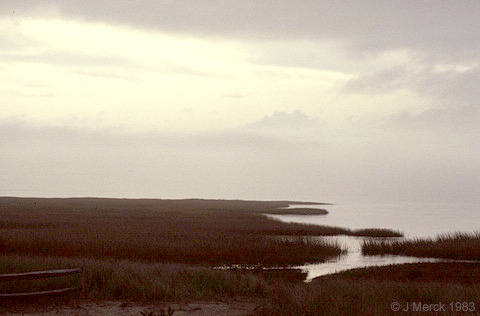 Lagoon of Assateague Island, VA.
What if a stream met the ocean without transporting in copious sediment. This yields a tide dominated environment of tidal estuaries and wetlands. The key features of this environment are:
Extreme range of salinity
Alternation between submergence and subaerial exposure.
Low net circulation yielding poor oxygenation.
Thus, only a small cast of organisms can successfully colonize it, typically marsh grasses.
Sediments tend to occupy reducing environments, so dark, organic rich.
Muds interfingered with sands and silts delivered by incoming tides or rivers.
Tidal Flats:
If a peritidal environment experiences enough tidal current flow that vegetation can't become established, the result is a
tidal flat
. (E.G. the
Turnagain Arm of the Cook Inlet, AK.
) Diagnostic features include:
Experience daily reversals in flow direction
Herringbone cross beds (from alternating current flow)
Flaser, wavy, and lenticular beds form as flows of differing strength alternately deposit sands and muds
Mudcracks and algal mats on upper-most reach of the flat
Shoreface/Beach:
A deposit of unconsolidated sediment extending from low tide to a topographic break such as a line of dunes or cliffs.
Requirements for beach formation:

loose sediment
Wave energy strong enough to:

remove clay and silt sized particles
transport sand by saltation, actually moving sand up onto shore, covering heavier particles
Separates sand by energy level creating a beach profile

Proverbial truths of the beach:

On a small scale, beach deposition is driven by wave action.
On a large scale, by longshore currents - the summation of the action of many waves - dominate
Beach processes occur above normal wave base.




Beach regions:



Offshore: below wave base. Accumulates finer grained sediment from water column.


Lower shoreface: Shoaling zone. Wave action intensely affects lower shoreface only during storm events. Primarily finer sands with layers of mud. Planar lamination present if not disrupted by bioturbation.


From

Thinklink

Upper shoreface: Influenced by regular wave energy. Breaker/surf zone. Sediments:

Medium-fine sands, well sorted
Dominated by longshore currents
waves (moving perpendicular to shore) deposit sediments in bars parallel to shore
Trough cross bedding common as a result of unidirectional current flow in longshore troughs.
Surf zone dominated by multi-directional trough cross beds, low angle planar cross beds.




Bartolome Island foreshore.

Foreshore: The swash zone. Between high and low tide lines. Strong shallow flows. Upper flow regime planar beds dominate. Sometimes slightly cross bedded.


Backshore: Between normal high tide and margin of beach. Characterized by berms, shelf-like storm deposits. Except during storms, the wind is the primary agent of transport. Beyond the berm, eolian dunes are common.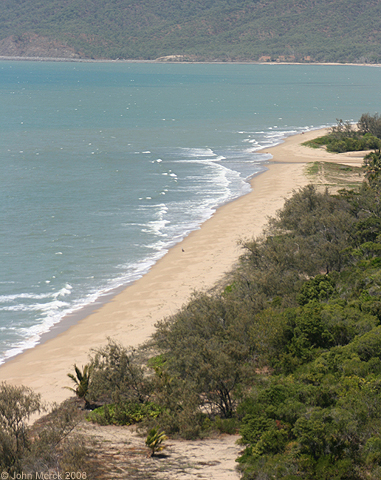 Barrier complexes:
Barrier: elongate sandy islands or peninsulas that run parallel to shoreline. Their formation requires:
Separation of beach deposits from shore by lagoons and marshes
Abundant sediment supply
Longshore currents and wave action dominant over tidal action
The seaward side of barriers have typical shoreface environments

Tombolo. Sometimes, a sea stack or island may form a wave shadow. When that happens, sediment can accumulate behind it, eventually connecting it to the mainland.

Spits: Imagine that a beach ends at an embayment, and that a longshore current is carring sediment into the embayment. Voila! A spit! A projection of a beach into a body of water.



Baymouth bar: If the spit continues to develop, it may completely enclose the embayment, forming a baymouth bar.

Barrier islands: Of course, a baymouth bar does form a barrier between two bodies of water. If this is broken, tidal inlets or passes can form. The separated segments become barrier islands.


Lagoon Body of quiet water isolated between the barrier and mainland.
Sediment: Fine silts and clays settle, often laminated
Usually rich in microbial activity and/or vegetation
Water can be stagnant and anaerobic, forming organic rich muds
Can be part of the tidal range and exhibit tidal flat deposits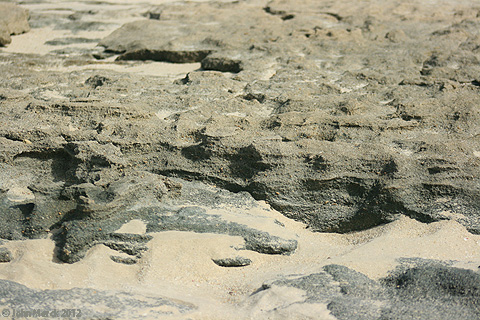 A final note: Whereas fresh water is acidic, sea water is just slightly alkaline. Thus, calcareous cements (usually aragonite) can cement beach rock in situ.