Marine environments II - carbonate:
In everything that follows, remember three principal issues:
Recall the major factors leading to carbonate precipitation:

Warm temperature
Low pressure
Agitation

All of these promote the formation of carbonates in shallow tropical marine environments. Thus, carbonates form in water that is not deep to begin with, and carbonate environments tend to shoal upward toward the surface, forming carbonate platforms.

Thus, carbonate sediment tends to be autochthonous - forms where it is deposited. Carbonate platforms have often been considered as "factories" due to the rapid buildup of carbonate in appropriate warm and shallow marine environments. From them, allochthonous carbonate material can be exported to adjacent environments.

Most carbonate production is biogenic. Because carbonate secreting critters tend to be intolerant of muddy waters, carbonate dominated environments tend to be distinct from clastic environments.
Carbonate factories frequently shallow to the surface where they may be exposed due to sea level fluctuations on various time scales, resulting in erosion and karstification. To continue carbonate sedimentation, either:
accommodation space would have to increase (sea level would have to rise or the platform subside. The development of atolls around eroding volcanic islands is an example.)
the facies would have to prograde - migrate out toward deeper water.
Material from the carbonate factory is constantly redistributed around the platform and off into the abyssal deep. Facies are subdivided into depth-restricted zones including:
Supratidal
Peritidal
Subtidal (including bioherms)
Among these there are extreme variations in water depth, salinity, organismal contribution, and bioturbation. These
carbonate
environments resemble equivalent
clastic
environments that have been discussed previously, and may grade into them.
A historical note: Because the Quaternary is an interval of comparatively cool climate and low sea level, shallow epeiric seas and continental shelf are geographicaly limited. The modern world is a poor analogy to past carbonate-rich worlds like that of the Cretaceous.
Supratidal
Supratidal refers to environments that are:
Generally above the tidal range and are thus wet with seawater only during storm events, which transport carbonate sediment to form intraclast breccias called tempestites. (E.G. 1992 Hurricane Andrew deposit, FL).
Otherwise dominated by brackish or fresh water sources.
A typical environment would be a marsh where it is likely to find high abundances of organic matter and where coal is likely to form.
The organisms that inhabit this environment must be able to tolerate brackish conditions, and under extreme evaporitic conditions, may be absent altogether.
Where carbonates are present, brought up from the ocean by storm events, they are often masked by:

clastic sediments from the continent
evaporites (in arid environments like Persian gulf sabkhas) that form in situ
Peritidal
Peritidal carbonate platforms:

(analogous to clastic peritidal environments) commonly form:

Within the tidal range (E.G.: Three Creeks area of Andros Island, Bahamas)
Daily exposure to seawater
Subject to storm events
Periodic exposure to air
Often protected by barrier islands, thus tide dominated.
Experience extremes of salinity
Hospitable to calcareous algal mats.

Deposits are laterally persistent, evenly bedded limestone and dolostone that often preserves flat laminations and shallowing upward cycles that are often repeated to great thickness.

Because many carbonate allochems behave hydrodynamically like sand, most of the sedimentary structures we associate with clastic shorelines are found in peritidal carbonate environments, with some odd twists:

Because of their shoaling upward tendency, carbonate banks can present topographic profiles that may cause waves to break farther from shore.
During subaerial exposure, carbonate can dissolve then reprecipitate as sparry cement, forming beachrock.




Sabkha:

This environment is seen in modern and ancient tidal flats similar to those of the Persian Gulf. Due to the daily alternation of the tides peritidal environments often contain:

carbonate (dolomite) mudflats
evaporites and clastic drapes that form a characteristic chicken-wire texture.
shell debris
intraclasts (a.k.a. rip-up clasts or plate breccias, mud cracks and algal mats.
Fenestral (sheet like) porosity or birds-eye structures are caused by the dissolution of evaporites or from voids originally filled with gas.

Peritidal environments are often associated with lagoons, which are, strictly speaking, subtidal. In these, finer sediments and biological allochems are common. These may be heavily bioturbated.

Subtidal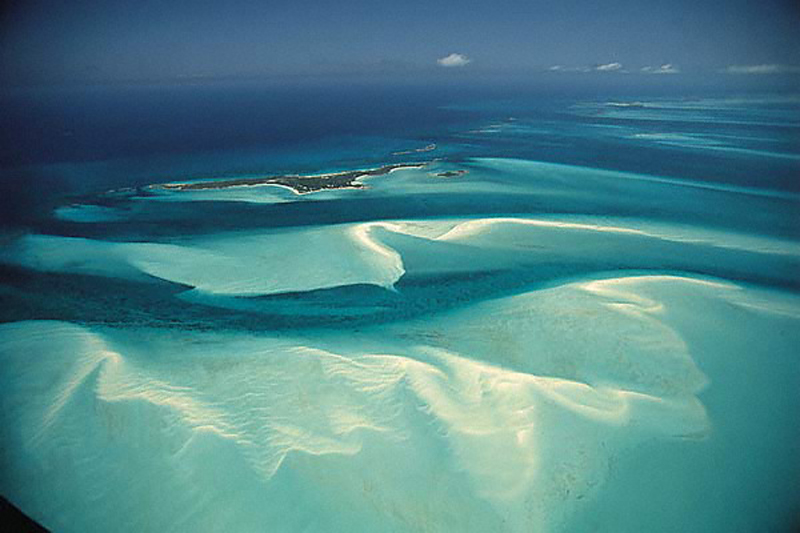 Subtidal carbonate environments are below the tidal range and above storm wave base. The Bahama Banks is an excellent laboratory of a subtidal carbonate factory. Subtidal environments have:
Normal marine waters with a narrow range of salinity
Well oxygenated
Support a wide range of organisms, hence diverse fauna and bioturbation.
Carbonate can be formed by:
Direct precipitation, as in the ooid shoals of the Bahamas (right)
Biogenically, as in reefs.
However, globally,
biogenic processes
predominate. These produce thick carbonate blankets that can be up to 1000s of meters in thickness, depending on the rate of subsidence along the continental margin.
Subtidal environments have a marine fauna which is more diverse than in peritidal environments, and sediments are often bioturbated.
Subtidal environments can have a wide distribution of facies associated with both water depth and wave energy.

Repetitive changes in sea level cause cyclic deposition on carbonate platforms, which can be readily identified in the field. For subtidal facies, relative water depth may be inferred by the relative abundance of shaley interbeds and the thickness of carbonate layers.
Bioherms:
(reefs) are sediment systems built entirely from the organisms that call it a home. We see two varieties in the rock record:
Mudmounds aka Biostromes: Piles of loose, unconsolidated, skeletal material and sediment that stand above their surroundings. E.G.: The Muleshoe Mudmound near Alomogordo, NM.
Reefs: Piles of intergrown organismal skeletons and sediment that form a rigid wave-resistant interlocking framework. E.G.: MacKay Reef, part of the Great Barrier Reef comples, QLD, Australia. Note: Even though reefs form through the action of framework building organisms, the nature of the framework can vary from bafflestone to bindstone to rudestone. Also, framework tends to represent a minority of actual reef volume, most of which is carbonate sediment infilling pore space.

Images of contemporary reefs often don't give a sense of a reef's potential scale. For that, see famous ancient reef deposits:
Reefs, which form at the edges of carbonate banks, can be excellent oil traps. Note, reefs develop at topographic highs on the sea floor, but far enough from the surf zone to have access to clear water. As a result, distinct reef facies form, including:
Forereef: Sediment shed off of the reef front (includes reef slope and proximal talus)
Reef framework and crest: The densest zone of in situ framework growth. The crest receives the most wave energy.
Backreef: Including reef flat, backreef sands, and lagoonal muds. Sheltered from wave energy by reef front.



The architects of reefs (framework builders) include:

In the past even microbial mats could built up reefs. However, framework builders are generally only 10% of the total volume of the reef, the remainder is composed of skeletal fragments, micrite, breccia and cements, which fill in the interstitial spaces of the reef framework
Reef builders: Reefs have been around since the Cambrian. Major reef builders throughout the Phanerozoic include.

Early-Middle Cambrian: Archeocyathids (shelled sponges, in essence)


Silurian - Devonian: Rugose and tabulate corals and stromatoporoids.


Permian: Sponges.




Cretaceous: Rudist clams




Cenozoic: Scleractinian corals.


Thus largely due to mass extinction, the types of framework builders in reefs have changed through time. Indeed, large chunks of the Phanerozoic (Carboniferous, Triassic - Jurassic) were largely reef-free.
Carbonates as paleoclimate indicators - Calcite and aragonite seas:

The primary deposition of calcite or aragonite is sensitive to the ratio of Mg/Ca, as aragonite can accommodate more Mg through cation substitution. Normal ocean environments are very close to the boundary, such that minor changes result in global shifts in carbonate deposition. Thus, Earth history has seen alternations between periods of aragonite seas and calcite seas. These, reflect rates of sea floor spreading and are indirectly connected to ocean current circulation:
Calcite seas: During intervals of rapid sea floor spreading:

hydrothermal activity near spreading zones pumps Ca into the oceans, but tend to withdraw Mg through hydrothermal reactions with ocean bedrock. Thus, oceans are Mg-poor and primary deposition is of low-Mg calcite.
Because sea floor bedrock is warmer, these also tend to be intervals of higher sea level
resulting in unrestricted tropical circulation and greenhouse conditions. (E.G. Cretaceous).

Aragonite seas: During intervals of slow sea floor spreading:

Oceanic concentrations of Ca are lower and Mg are higher, favoring aragonite and high-Mg calcite deposition.
Because sea floor bedrock is cooler, these tend to be intervals of lower sea levels.
resulting in restricted tropical circulation and deviation of ocean currents toward the poles, resulting in ice-house conditions. (E.G. Carboniferous).