Outcrop du jour:
Magnetostratigraphy:
Magnetostratigraphy
The Earth generates a magnetic field that encompasses the entire planet. To first order approximation, resembles bar magnet, slightly misaligned with Earth's rotational axis. It exists because currents in the electrically-conducting fluid outer-core produce dynamo-effect.
At a given spot, the orientation of the magnetic field is described by:
Inclination: The "dip" angle between field lines and the horizontal.
Declination: The "strike" angle between field lines and true north.
Secular changes:
The orientation of the field changes over time, including:
Changes in declination: "Polar wander" - the migration of the magnetic poles causes change in the declination (angle between direction to magnetic pole and geographic pole) on a time scale measurable during a human lifetime. In a given region, variations in inclination and declination create a distinct pattern that can be used to correlate sediments in which they are detectable. But note:

The changes represent a "random walk" - i.e. they are not cyclical.
Can only be applied on a regional scale because of relative motion of continents.

Geomagnetic reversals: The Earth's magnetic field has a north and south pole. For unknown reasons, at unpredictable intervals, the north and south poles trade places. (Remember, these were instrumental in establishing the reality of sea-floor spreading.)
In the last fifty years, a new dating method has emerged that exploits global changes in Earth's magnetic field as marker beds. As we will see, changes in Earth's magnetic field create unique contemporaneous patterns that are:
Global in scale - therefore excellent marker beds
Capable of being obscured by vagaries of deposition and diagenesis, necessitating the use of other sources of stratigraphic data.
Remnant magnetism:
A rock's intrinsic magnetic field that forms in alignment with Earth's magnetic field when the rock forms. This can happen in three ways:



Recent lava flow, Hawaii Volcanoes National Park

Thermal remanent magnetization (TRM): Many minerals that solidify from magma (E.G. hematite and magnetite) acquire an intrinsic magnetic field once they cool past their Curie point (650 deg. C for hematite, 578 deg. C for magnetite). This field forms in alignment with Earth's magnetic field. Once the Curie point is reached, the mineral's intrinsic field keeps the same orientation regardless of what the Earth's field does.




From

Instituto Nazionale di Geofisica e Vulcanologia

Detrital remanent magnetization (DRM): When magnetic minerals are present in silt and clay being deposited in low energy environments (like deep lakes) they align themselves with the Earth's magnetic field while still in suspension. The resulting sediments then have an intrinsic magnetic field that is aligned with Earth's field at the time of deposition.




Liesegang banding in sandstone

Chemical remanent magnetization (CRM): When minerals like hematite precipitate as mineral cement, they can acquire an intrinsic magnetic field that aligns with Earth's. In this case, the field may overprint or obfuscate the intrinsic field of the framework clasts of the rock - a source of analytic difficulty.

Recall Geomagnetic reversals. The primary remanent magnetic polarity of rocks can be either:
Normal: Magnetic north coincides roughly with geographic north.
Reversed: Magnetic north coincides roughly with geographic south.
The record of these reversals is preserved in ocean floor basalt, which both:
retains a strong remnant magnetic field and
is generated at roughly constant rates, allowing the relative durations of intervals of similar polarity to be determined.
Magnetic Polarity Time Scale to Middle Cretaceous from
Geomagnetism and Magnetostratigraphy by Alessandro Grippo
.
Because these reversals occur at irregular intervals, periods of time in which they occur have unique, bar-code-like fingerprints. In the
Magnetic Polarity Time Scale
an imaginary composite stratigraphic column in which deposition is constant (right), unique patterns of reversals are clear.
In principle, any stratigraphic section that preserved remanent magnetism containing a series of reversals ought to be matchable to this scale. This is the heart of magnetostratigraphy - the correlation of stratigraphic units by the matching of their unique remanent magnetic patterns. The methods strengths include:
Unique patterns of geomagnetic reversals are isochronous global marker beds.

They are present as long as minerals containing remanent magnetism are present in the rock, totally independent of facies. This makes it possible to correlate marine to continental units.

Radiometric dates are always subject to margins of error, whereas a rock's paleomagnetic polarity is absolute. Knowing the paleomagnetic polarity of a sample can, therefore, give an independent means of constraining its age. Nevertheless, radiometric dating of Quaternary volcanics is our primary method of calibrating the chronology of the Magnetic Polarity Time Scale.
But reality intrudes to impose limitations on their use:
Thick section needed: Whereas a lithostratigraphic marker bed, biozone, or chemostratigraphic anomaly might be recognizable from a single outcrop, magnetostratigraphy absolutely requires a stratigraphic section in which a pattern of reversals is visible.

Rate of deposition: Real sections contain changes in depositional rate or disconformitites that obscure the magnetostratigraphic pattern. These must be identified before matching to the Magnetic Polarity Time Scale is possible.

Placement: Unless the top of the section is recent and the first reversal down is the most recent one, some other stratigraphic method is required to identify the correct region of the Magnetic Polarity Time Scale.

Good times and bad: Some intervals of geologic time are not useful because they contain few reversals, including:

Long intervals of the Cretaceous (right)
The Upper Carboniferous and Permian
And yet, decades of effort have enabled the development of an ideal Magnetic Polarity Time Scale that extends to the Carboniferous, serving as the basis for correlation of real-world sections.
Global magnetostratigraphy of the Triassic - Jurassic boundary from
Donohoo-Hurley, et al.
Magnetostratigraphic nomenclature
Naming conventions for magnetostratigraphic intervals are standardized as part of the North American Stratigraphic Code, but they weren't always.
In the early days of magnetostratigraphy - the 1960s

intervals of the same polarity were called epochs and named after luminaries in the field of magnetism (E.G.: Brunhes, Matuyama, Gauss, etc.)
Short intervals of polarity change within epochs were called events and named after the localities where they were found. (E.G. Olduvai)
As identifiable intervals increased, a numbering system was substituted for the names of great men.
But it was recognized that magnetostratigraphic intervals weren't the only things called "epochs."

What to do??

Eventually, magnetostratigraphers switched to a more rational system in which:

The top of each normal interval is the top of a "chron".
Chrons are numbered but have a letter C prefix to distinguish from the earlier numbering system. Normal and reverse sections of each chron are designated with suffixed N and R.
Chrons can be divided into subchrons or lumped into superchrons
The named "epochs" of the old system are retained in the new, so it's OK to refer to the Matuyama Chron or the Olduvai Subchron.
Like all other stratigraphic units, magnetostratigraphic chrons are rock units with type localities.

I inflict the old system because you are likely to encounter it in the literature.
Nuts and Bolts of Sampling: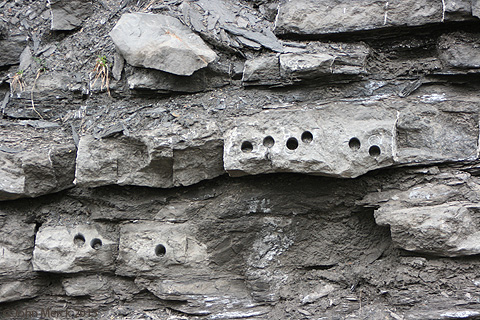 In the field:
Samples typically collected using a drill that recovers a small core. Such samples must have their orientation recorded!
In order to reduce uncertainty, at least three samples, (and preferably more) are taken from a given locality. Their mean paleomagnetic declination is obtained. The closer together individual samples plot, the more reliable the signal is considered.
In the lab
Demagnetization: Remember Chemical remnant magnetization (CRM)? This process tends to overprint the original Natural remanent magnetism (NRM) of the sample with a weaker and more recent one. To eliminate this overprinting, the sample must (ironically) be demagnetized. Typically the overprinting CRM is weaker and can be removed w/o damaging the NRM. This can be done by:

Alternating field (AF) demagnetization: the sample is placed in a rapidly alternating strong magnetic field.
Thermal demagnetization: the sample is heated to higher and higher tmeperatures in a series of steps, with cooling intervals occuring in a container shielded from Earth's magnetic field.

When this is complete, hopefully only the original NRM remains.

Magnetometry: Finally the specimen can be examined with a magnetometer, which records the orientation and intensity of the specimen's magnetic field. Two methods are available:

Spin magnetometry: The older method. Employs a magnetometer that spins the sample in a range of directions and measures the induced current in an adjacent electrical coil to identify the orientation and strength of the field. This can only be used on physically robust specimens.
Cryogenic magnetometry: Beginning in the 1970s, cryogenic magnetometers became the tool of choice. These use an array of cryogenically cooled superconducting sensors to measure the magnetic field of the sample. That advantage is that the sample needn't be spun, so relatively fragile samples (E.G.: unindurated sediments) can be analyzed.