Tectonics and sedimentation:
Individual sedimentary rock formations can indicate the local environment in which a rock formed (eg. alluvial fan, marginal marine, etc. Large scale sedimentary sequences, however, are related to plate motions and tectonics and essential in their reconstruction, especially prior to the sea-floor paleomagnetic record.
Cratonic sedimentation
Craton: The thick, ancient, stable center of a continent. Cratonic sedimentation is characterized by:
Slightly convex bedrock
Thin sedimentary strata (<1 km thick) overlying Precambrian basement
Erosion surfaces and unconformities - above base level of erosion
Shallow basins and arches
Fluvial, deltaic, and shallow marine sequences
Peripheral rocks - Orogenic belts: More recent rocks record the history of subduction, continent collisions, and microplate terrane collisions along peripheral belts that can be hundreds of km wide.

Geosynclinal sedimentation:
Geosynclines: A relict term from prior to the age of plate tectonics. Geosynclines are troughs that parallel mountain belts on continental margins. Their origins were a vexing enigma until the advent of plate tectonics. Their sedimentology depends on the type of margin: Divergent, convergent, or transform.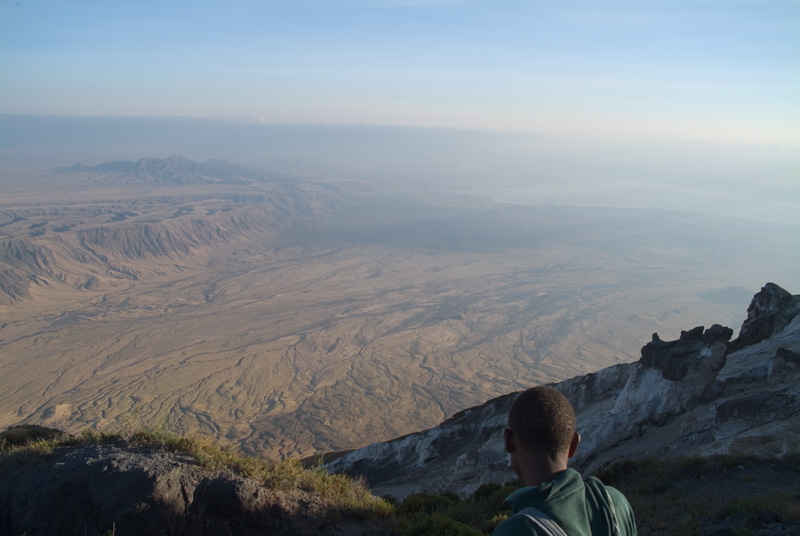 Sedimentation on divergent margins
Divergent boundaries, by definition, separate plates of oceanic lithosphere, however they can originally form as a continent is stretched and rifted apart. In this case, a new sea floor spreading center and new oceanic crust ultimately form between the resulting pieces. Our concern here is what happens near the continental margin. Typically, as a continent begins to stretch prior to rifting, clusters of roughly parallel rift valleys (like the Tanzanian Rift Valley at right) form. Only one will eventually become a new sea-floor spreading zone. The rest - the failed rifts - will be preserved as elongate troughs that eventually fill with continental sediment (usually lacustrine).

Stages:
In ancient rocks, we recognize failed intracontinental rifts by ancient parallel rift valley deposits. EG. Newark Supergroup of Eastern North America. Newark Supergroup outcrop

Sedimentation on convergent margins (subduction zones)
Accretion of island arcs: Oceanic - Oceanic convergences
The image at right is of Mt. Redoubt, one of the four major island arc volcanoes of the Alaska Peninsula. (We still call them part of a volcanic island arc, even though they slightly overlap the continental mainland, because they are cause by subduction melting in which magma rises through oceanic crust.) In the modern world, such active arcs are easy to recognize. Millions of years from now, after this subduction zone shuts down, they will remain recognizable as the traces of an oceanic - oceanic convergence.

Sedimentary features:
Overlying sediments from subducting slab are sheared off to form an accretionary wedge which shows up topographically as a ridge.
The accretionary ridge and Island arc form a forearc basin that accumulates sediment from the island arc. Usually very coarse sediments from nearby volcanic arc:

Shallow marine
deltaic
fluvial deposits
Deeper basins accumulate turbidites
In ancient rocks, we recognize oceanic - oceanic convergences by the parallel juxtaposition, in map view, of:
mafic volcanics
deformed marine sediment
forearc sediment consisting of material derived from the (mafic - intermediate) island arc.
Oceanic - Continental convergences:
In this case, the situation is complicated by the much greater amount of sediment being shed from the continent into the forearc basin. The scene above is from the Cascade Range, a volcanic - magmatic mountain belt (as opposed to a volcanic island arc) formed by the subduction of the Juan de Fuca Plate beneath North America. As before, the traces of such convergences are preserved long after the subduction zone ceases to be active.

Features:
Consider that on the small islands formed by oceanic - oceanic convergence, rivers can't be that large or drain an extensive watershed. (E.G. Shinano River, largest in Japan). On continents, large rivers (E.G. Nile) drain huge watersheds and transport copious sediment.
Copious sediment from continent fill the forearc basin.
These thick continental sediments mix with those scraped off of the subducting slab to form subduction melanges - chaotic mixtures of rock types. These can show low temp high pressure (blueschist facies) metamorphism.
In ancient rocks we recognize parallel remnants of volcanic-magmatic mountain belts and subduction melanges. E.G. Jurassic - Cretaceous Sierras parallel the subduction melanges of the Coast Range in California.

Sedimentation on transform margins:
Transtensional basins: Shearing motion is seldom perfectly straight. Bends in the fault can produce deep, narrow, fault-bounded troughs. Termed transtensional basins or "pull-apart troughs".
Terrestrial troughs will accumulate whatever type of sediment is local.
Submarine troughs will accumulate deep pelagic sediments
Breccias are common along strike-slip faults (and faults generally.)
Tectonic provenance of sandstones
In the absence of severe diagenesis, sandstone composition can suggest the tectonic origin of a sediment.
QFL plots graph the proportion of quartz, feldspar, and lithic fragments in a sandstone
QmFLt plots graph monocrystalline quartz, feldspar, polycrystalline lithic fragments (including polycrystalline quartz).
Quartz (Q/Qm): resistant and mature, pure quartz usually found on craton interiors
Feldspar (F): less stable, common source is basement uplifts
Lithic fragments (L/Lt): relatively immature
But note: This signal can be overprinted by a climate signal:
Arid environments are kinder to felspars, allowing them to be "overrepresented."
Hunid ones favor quartz from metamorphic sources and feldspars from plutonic ones.
Secular variations in the rock record
"The present is the key to the past, but the key turns more smoothy if you don't push it in too far." - William Galloway
Archean: more mafic than felsic sediment sources, little reworking of sediments
Proterozoic: more felsic sediment sources, more modern weathering and erosion processes

Carbonates appear: calcareous organisms evolved, abundance and type determined by climate, ocean composition, and biologic diversity
Oxidized minerals appear
Organic rich sediments appear
Evaporites appear: broad stable land masses appear

Phanerozoic: modern crustal compositions and sedimentary processes