Kii figures at Puuhonua o Honaunau from
Willgoto.com
Instructors:
John Merck
Office: Centreville 1218 (M, Tu) Geology 1119 (W, Th, F)
Phone: x5-2808, x5-4379
E-mail: jmerck@umd.edu
Office Hours: Tue 2:00 - 3:15 (Centreville 1218), Thu 2:00 - 3:00 (Geology 1119)
Jessica Wilke
Office: Centreville 1212
Phone: x5-0528
E-mail: wilke@umd.edu
Office Hours: ???
Lauren Gilmartin
Office: ???
Phone: x4-1519
E-mail: lgilmart@umd.edu
Office Hours: ???
Goals:
The Spring 2017 offering of GEOL388P is a ten-day/nine-night excursion focusing on the field geology, ecology, and innovative energy technology of the "big island" of Hawaii. The excursion portion will occur from Friday, March 17th through Sunday, March 26th, 2017 and is governed by a strict itinerary. This trip will highlight the island's geologic status as planet Earth's premier volcanic hot spot, its ecologic status as a classic island adaptive radiation overprinted by the importation of invasive species, and its residents'; spectacular efforts to implement innovative carbon-neutral energy technologies. This program is open to all highly academically motivated University of Maryland undergraduates who are seeking a life-changing experience in a unique learning environment. Students must have a strong interest in biological, physical, or environmental sciences.
Traditional hula from
Pinterest
Course Format:
The course is organized around the following activities:
Preliminary meetings: Four required two-hour preliminary meetings will be scheduled for early spring. These are primarily devoted to the presentation of background material and discussion of readings, but will also address identification of research topics and trip logistics.
Research question and preliminary report: Prior to departure, you will identify a research topic on which you will ultimately deliver an academic review paper, incorporating both scholarly references and your personal observations during the excursion. You will, additionally, prepare a brief review presentation and hand-out to be delivered during the excursion.
Field Work: Attend the entire excursion, taking full part in it;
Deliverables: Final deliverables are due by April 20, 2017.
Lava flow overruns street from
Reddit
Grading:
Your grade will be based on (% weight in parentheses):
PreTrip assessment: a short exam prior to departure to indicate satisfactory completion of the required readings and mastery of preliminary lecture materials (20%);
Field Work: attending the entire excursion, taking full part in its activities and behaving in a responsible manner (see below) are absolute requirements of the program. Note: at the discretion of the instructors, partial credit may be deducted or even a disciplinary fail may be given (see below). No grade will be recorded for individuals not participating in the travel component;
Research Synopsis: An 8-10 minute talk to be presented during the excursion, introducing your research topic and providing a general review it. You will receive feedback from faculty based on this presentation that you should incorporate into your final paper. (20%)
Final Paper: An 8 - 10 page paper reviewing the current academic literature on your research topic. This should incorporate both information from references in the academic literature, and reflections on your personal observations during the excursion. (40%) Along with your paper, please submit:
Your research journal: Maintain as daily journal of general observations and observations relevant to your research topic. Your personal observations will be a crucial component of your final report. (10%)
Annotated bibliography: To include at least five references from the peer-reviewed literature on your research topic. (10%)
Scholarship in Practice Learning Outcomes:
Students completing CPSP359I receive Scholarship in Practice GenEd Credit. For Geology majors, GEOL388I counts as a geology open elective. In order for your experience honestly to merit this credit, the your final paper must reflect the mastery the following criteria:
Select and critically evaluate areas of scholarship relevant to the practice of the discipline. (This is an absolute requirement.) Additionally, at least three of the following outcomes must be demonstrated:
Apply relevant methods and frameworks to the planning, modeling and/or preparing necessary to produce a project or participate in the practice in a manner that is authentic to the discipline.
Critique, revise and refine a project, or the practice of the discipline, according to the authentic manner of the discipline.
Effectively communicate the application of scholarship through ancillary material (written, oral, and/or visual).
Collaborate in order to bring about a successful outcome.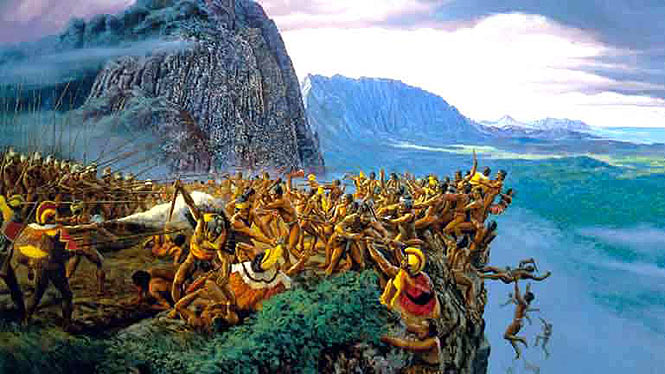 Kamehameha I victorious at Nuuanu Pali, 1795 from
aloha-hawaii.com
Disciplinary Fail:
Due to the hazards inherent in the field sites we will visit and the logistical complexity of organization, it is imperative that all participants behave responsibly. Serious breaches of this standard, including the use of controlled substances or alcohol, or disruptive, destructive, or dangerously irresponsible behavior will result in the perpetrator receiving a disciplinary F for the course regardless of any points earned as stated above. (Have a nice day.)
Meeting Schedule:
Meetings will be on Monday evenings from 6:00 - 8:00 in Bio-Psych 1208 every other week between the beginning of classes and departure.
Texts: TBD
Traditional districts of Hawaii from
Kumukahi.org
Itinerary:
Day 1: Friday, 3/17 Hilo District
Day 2: Saturday, 3/18 Puna and Ka'u District
Day 3: Sunday, 3/19 Puna District
Day 4: Monday, 3/20 Puna District
Day 5: Tuesday, 3/21 Puna District

Puna Geothermal Ventures
Assorted Puna sights

Day 6: Wednesday, 3/22 Saddle Road
Day 7: Thursday, 3/23 Kona District
Day 8: Friday, 3/24 Kona and Kohala Districts
Day 9: Saturday, 3/25 Kohala and Hamakua Districts

Keck Observatory Headquarters
Hamakua sights
Departure
For program and course information, please contact Dr. John Merck at
jmerck@umd.edu
.