Fossils, rocks, and time
Rocks:
What is a rock? A purely descriptive definition is that a rock is -A naturally occurring aggregate of minerals and other solid material. - Usually, there are several minerals in the aggregate, though some rocks may have only one. The other materials may include natural glasses, organic material (lignite, coal, or petroleum), or fossils.
Geologists usually think of rocks in a second important way, however. Please and recite it like a mantra:
A rock is a record of the environment in which it formed.
The three major rock types:
Igneous: Rocks that form from the cooling and solidification of magma. Igneous rocks are generally have interlocking crystals that show no preferred orientation.
Metamorphic: Rocks that form from the recrystallization of preexisting rocks under extreme heat and/or pressure. Often show exotic minerals and banding or "foliation" like pages of a book.
Sedimentary: Rocks that form from transported fragments of preexisting rocks.
The Rock Cycle
: Consider the three basic rock types and how they form:
Igneous - solidified from molten material

Metamorphic - recrystallized by heat and/or pressure.

Sedimentary - composed of remains of preexisting rocks.
The material that makes up any rock might have a complex history.
The grains of quartz sand in a sandstone might have been wethered from a quartz vein in a metamorphic rock that prior to being metamorphosed, had been an igneous granite.

That same sandstone may, in the future, become buried deep in the crust, undergo metamorphism, melt, and resolidify as an igneous rock.
Geologists describe this range of possible histories as the Rock Cycle. As the schematic shows, it actually encompasses many possible cycles.
The three major rock types revisited:
One hundred year old lava flow at Sullivan Bay, Santiago Island, Galapagos Islands.

Igneous: Rocks that form from the cooling and solidification of magma, either underground or on the surface. Igneous rocks are generally have interlocking crystals that show no preferred orientation.


Ortega Quartzite - Picuris Mts. near Taos, NM

Metamorphic: Rocks that form from the recrystallization of preexisting in a solid state rocks under extreme heat and/or pressure. E.g.: Gneiss or marble.


Erosional remnants in shallow marine sediments near Drumheller, Alberta.

Sedimentary: Rocks that form from transported fragments of preexisting rocks. There are three types:

Chemical: (Also called evaporites) Sedimentary rocks that formed from the precipitation of ions in solution. E.g.: Gypsum or pisolites.

Biogenic: Sedimentary rocks that formed from the remains of living organisms. Typically these remains are the carbonate skeletons of marine organisms, though there are exceptions. E.g.: Limestone.

Clastic: Sedimentary rocks that formed from the transported fragments of preexisting rock.

Clastic rocks are further broken down by grain size:

Conglomerate: Sedimentary rocks made of gravel sized (2 mm.) clasts or larger.

Sandstone: consists of sand sized (1/16-2mm.) grains.

Mudrocks: Consists of clasts < 1/16 mm. I.e. smaller than the eye can readily distinguish.
Why do we care?
Because rocks are the record of the environments in which they form. We particularly care about sedimentary rocks, because sedimentary rocks form where life lives. Thus, for us, our primary interest is in sedimentary rocks, the rocks that preserve the record of the history of life.. Thus, in them we find:
Geologic Time:
The science of Geology didn't take shape until the discovery of geologic time (deep time).
James Ussher, Bishop of Armagh (1581-1656) Calculated biblical Creation of Earth to have been in 4004 BC.

Nevertheless, by Ussher's time, significant steps had been taken:

15th and 16th century astronomers had shown that actual obsrvations of nature could yield important new information.

Nicholas Steno -

NNDB

Nicholas Steno: (Danish 1638-1686) Critically examined the current belief among intellectuals that fossils were not the remains of organisms but, rather, "sports of nature" whose resemblance to living things was coincidental. Looking at "tongue stones" which suspiciously resembled sharks' teeth, he noted that they not only looked exactly like sharks' teeth, but that he could even say what species of shark and what part of the mouth. Steno concluded that fossils were, indeed, the remains of organisms. But this led to a problem: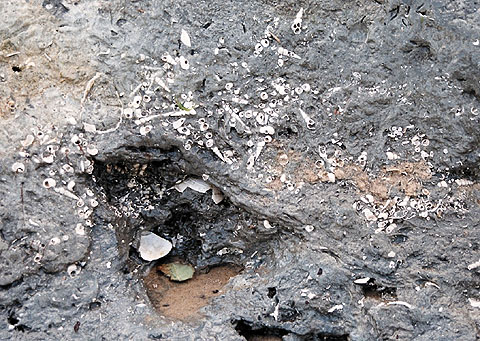 Fossils are found in rocks. What was a shark tooth doing inside a rock?
Illustration from
Prodromus
-
NASA Earth Observatory
This led Steno to study how the rocks (which we today recognize as sedimentary) formed. He recognized them to be composed of lithified remains of sediment deposited in layers (or strata) and proposed a set of several principles of stratigraphy by which one could distinguish younger and older sediments. His results were published in De solido intra solidum naturaliter contento dissertationis prodromus (Preliminary discourse to a dissertation on a solid body naturally contained within a solid, mercifully referred to simply as Prodromus) in 1668.
The two most significant principles are:
Original horizontality. Sediments originally deposited in horizontal layers


Superposition. In undisturbed strata, older layers lie beneath younger ones.
Using these, it began to be possible to say what order the separate rock layers had formed in, provided they could be seen in association. More importantly, Steno was the first to grasp that rocks could be formed from fragments of preexisting rocks that had been transported as sediments and that different rocks formed at different times. Of course, Steno thought that all of this deposition had occurred during the 40 days and nights of Noah's flood.
Uniformitarianism:
Prologue: Remember, Steno, a traditionalist, still thought that all of this deposition took place during the flood. In the next stage of the discovery of geologic time, natural historians took up the question of whether the Earth has a long or short history.
Catastrophism - maintains that the rocks were deposited in a series of unusual upheavals. This was consistent with the story of the Flood and even after naturalists began to speculate that Noah's Flood may have been only the last in a long sequence of catastrophic changes, remained by default the prevalent mind set. During the 18th century, the naturalists began to question catastrophism.




James Hutton -

Wikimedia

James Hutton made two significant breakthroughs:

He observed that in the modern world, sediments were still being deposited in separate layers by separate depositional events, even without a world-wide deluge.

He added two new and powerful principles of stratigraphy to Steno's:

Cross-cutting relations. If one structure cuts across another, then the one that is being cut must be oldest. (Link to image of Siccar Point, where Hutton experienced his epiphany.)
Inclusions. If eroded chunks of one material are incorporated within another, then the eroded material must be older.


A nice example from Point Loma, CA

Proposed "
Uniformitarianism
" in his paper
The Theory of the Earth
1795. Simply paraphrased, uniformitarianism holds that
"The present is the key to the past."
Charles Lyell -
cnho.files.wordpress.com/
This meant that the processes acting on the Earth's surface today were the same ones that had been acting upon it for all of history. This was a momentous and liberating idea because it meant that geologists could reconstruct the history of the Earth by observing processes in the modern world. They didn't have to invoke catastrophes in which the normal rules don't apply. Alas Hutton was a poor writer or popularizer, so his ideal got little attention until it was taken up by Charles Lyell (1797 - 1875) who popularized then in the three volumes of the Principles of Geology (1830-1833). The first proper textbook of geology.

"You will at once perceive," continued Professor Ichthyosaurus, "that the skull before
us belonged to some of the lower order of animals, the teeth are very insignificant the
power of the jaws trifling, and altogether it seems wonderful how the creature
could have procured food."
Note: Although modern textbooks treat uniformitarianism as something unambiguusly
good
, it has it's downsides:
The early uniformiatrians went far beyond the philosophy stated above. They also maintained that all geologic processes happened at the same rate in the past as today, and that time was eternal or maybe cyclical. Hutton claimed that the Earth had, "no vestage of a beginning and no prospect of an end."

20th century geologists raised as uniformitarians have often been unreasonably slow to accept events that were truly catastrophic like the effects of large planetesimal impacts in the recent past. (Probable killer of the giant dinosaurs, for example.)
Green River Shale Formation in Desolation Canyon, UT,
from
ENSI (Evolution & the Nature of Science Institutes) www.indiana.edu/~ensiweb
.
Each meter of sediment (roughly the height of cows in foreground) equals ~7000 years.
Nevertheless, in the 19th century, the effects were mostly liberating. The biggest revelation was simply that the Earth had to be millions, not thousands of years old.
Relative Dating: Thus the notion of Geological time was born. Now the problem was how to measure it. There are now two complimentary approaches:
Relative dating: In which the order of the origin of various rock units is determined.

Absolute dating (AKA numerical dating): In which an acutal numerical chronologic age is established for rocks.
During the 19th century, however, geologists could only establish the relative ages of rock units. The means to do so had already been provided by Steno and Hutton, but only provided rocks could be seen in direct association.
Once again, the study of fossils provided the stimulus for a major innovation:
William Smith -
Wikipedia
Faunal succession
:
In 1796 William Smith, a British civil engineer, added a fourth principle: Faunal succession, noting that different groups of fossil organisms were preserved in different rock units.

By this means it became possible to say that one rock was the same age as another rock halfway around the world.

The Geologic Time Scale: Using Steno's, Hutton's, and Smith's principles, Geologists gradually developed, a standardized a Geologic Time scale developed. Link to it in simplified form or in its full glory. It's major features:
An internested heirarchy of larger and smaller time units. From most to least inclusive:

Time units had descriptive names, usually based on:

The localities at which characteristic rocks were exposed (E.g. Jurassic for Jura Mts.)
Characteristic rock types (E.g. Cretaceous for "creta" - Latin for Chalk)
Descriptions of fossil life found in them (E.g. Eocene - "Dawn of the recent").

But note: Geologists may have figured out that a Triassic rock were older than a Cretaceous rock, but they didn't know how old either rock was in years.
To be an educated person, you must memorize the following from the simple version of the Geological Time scale.

All eon names and their correct sequence.
All era, and period names of the Phanerozoic Eon in their correct sequence.
The absolute ages of the beginnings of each of the eras of the Phanerozoic Eon.

This WILL be on the exam.
Sir William Thomson, Lord Kelvin -
sciencephoto.com
Absolute Dating
Early attempts: Initially, three lines of evidence were pursued:
Thickness of the sedimentary rock column, achieving an approximation of 36 million years.

Comparison of freshwater and ocean salinity.

Thermodynamics: Sir William Thomson, Lord Kelvin (right), during the late 19th century, assumed that the Earth had originally been molten then, using averge melting point of rocks and the laws of thermodynamics, determined that the Earth would completely solidify within 20 million years. Both uniformitarians and evolutionists were uncomfortable, since their notions required an older Earth.

Evolution stokes the fire: By the late 19th century, the controversy surrounding evolution prompted new attention. After all, if the Earth were too young for there to have been time for evolution, the evolution debate would be over.

As it developed, both Joly and Kelvin were leaving important factors out of their equations.

Joly missed that salt is removed from the oceans by various processes.
Kelvin could not have know that new heat is generated inside the Earth by radioactive decay (nuclear fission).
The discovery of radioactivity: Ironically, radioactive decay, which frustrated Kelvin's purpose, ended up providing the true key to the absolute dating of rocks.
The Curies at work

wordpress.com

Antoine Becquerel (1852-1908): Discovered natural radioactivity (1896). In the following years, a large number of radioactive isotopes and their daughter products became known.

Pierre (1859-1906) and Marie (1867-1934) Curie: Discovered that the radioactive element radium continuously releases newly generated heat - radiogenic heat. With this discovery, it became clear that the decay of radioactive substances provided a continuous source of new heat that Thomson hadn't accounted for. The Earth might, indeed, be much older than his calculations indicated. But how old?

Radiometric dating:
At the beginning of the 20th century, Ernest Rutherford and Frederick Soddy developed the concept of the half-life - For any radioactive substance, there is a specific period of time in which half of a sample will decay to a daughter substance. E.G., if we have a newly created 1 kg. sample of a substance whose half-life is 10 years, then ten years from its creation, half of the radioactive material will remain in the sample. The other half will be the daughter product. After twenty years, 0.25 kg. will remain (with the rest being daughter product), and after thirty years, 0.125 kg. of the original radioactive substance will remain in the sample.

In 1904, Rutherford made the first attempt to use this principle to estimate the age of a rock. His analysis was technically problematic because of his choice of a gas, helium as a radioactive product (gasses have a way of migrating out of rocks), but it was a start.

In 1905, Bertram Boltwood noted a specific parent-daughter relationship between an isotope of uranium, 235U, a radioactive isotope, and lead (Pb) suggesting that one decayed into the other - the uranium-lead system. Because lead is usually found as a solid, this method was more promising. Like Rutherford's, Boltwood's attempt to apply the principle to the dating of rocks was technically flawed but a step forward.

Beginning in 1911, Arthur Holmes began a long career of applying the concept of radiometric dating to rocks, and is given credit for ironing out the technical issues that hampered earlier attempts.

After a century of applying the method we now know that thet oldest known Earth rocks are aprox 4.2 billion years old (abbreviated "Ga"). The oldest in the Solar System are 4.56 Ga.




Some commonly used radiometric systems:

| | | | |
| --- | --- | --- | --- |
| Radioactive isotope | Daughter substance | Half Life | Applicable range |
| Uranium 238 | Lead 206 | 4.5 ga | 10 m.y. to 4.6 ga |
| Potassium 40 | Argon 40 | 1.3 ga | 100,000 to 4.6 ga |
| Carbon 14* | Nitrogen 14 | 5,730 | to 70,000 |

* used in plant material only, not rocks. Note that the effective range of these dating systems is limited by the degree of error in measurement.

Biogenic sediments (white) sandwiched between basalt flows

Santa Cruz Island, Galapagos Islands.

Which rocks are useful for radiometric dating? When you radiometrically date a mineral grain you are determining when it crystallized. Thus, you would like to use rocks whose crystals are roughly the same age.

The easiest are igneous rocks in which all crystals are roughly the same age, having solidified at about the same time.
The age of new minerals crystallizing in metamorphic rocks can also be determined by radiometric dating. The problem is that metamorphism - the pressure-cooking of rocks - can occur over long intervals. Thus, different crystal grains can yield different ages.
With sedimentary rocks, one would end up dating the individual grains of sediment comprising the rock, not the rock as a whole. These grains could have radically different ages.

So, geologists prefer to work with igneous rocks. Note: relatively young (less than 70,000 years) plant material can be dated with 14C. Useful to archaeologists, maybe, but system is not typically used on rocks at all.
Thus, sedimentary and metamorphic rocks can't be radiometrically dated.

Although only igneous rocks can be radiometrically dated, ages of other rock types can be constrained by the ages of igneous rocks with which they are interbedded.