Introducing Vertebrata
The Vertebrate Body:
Radinsky, Leonard, 1987
Evolution of Vertebrate Design
Chordates are the major taxon (a "phylum" in traditional taxonomy) that includes vertebrates, plus a few other odd-balls. In 1987, Leonard Radinsky published
The Evolution of Vertebrate Design
- a textbook that was actually creative - that featured schematic illustrations distilling the essence of vertebrate anatomy. From it, we take Radinsky's image of the
basic vertebrate
. Fundamentally, this body consists of:
A Pharynx - a sieve for straining digestible organic particles from the water.
A Digestive system: Material captured by the pharynx is passed to a gut tube where it is digested. Ultimately solid waste is expelled through the anus on the underside of the body. Attached to this tube was a large organ, the liver, which converted food to easily stored forms, removed toxins from blood, and stored food.


Gills:

Wikipedia

Respiratory system: Gills, sheets of thin tissue rich in blood vessels suspended from the bars separating slits of pharynx allowed gasses (mostly O2 and CO2) to be exchanged between body and environment. Supporting structures of pharyngeal bars called branchial arches (= gill arches).




Excretory system: Other than CO2, wastes are filtered from the body by a pair of kidneys, located above and to either side of the gut.

Reproductive system: Just behind the kidneys are gonads (ovaries and/or testes), which produce reproductive cells.


United Nations Food and Agriculture Organization

Circulatory system: Gasses and nutrients carried to body tissues through blood, which passed through blood vessels. The circulatory system is closed. Blood is pumped by a muscular heart, traveling from heart to gill arches to body tissues in arteries exchanging gasses in tissues while travelling through capillaries, and returning to the heart through veins. Note, however, two special capillary beds:

Capillaries of the gut tube absorb digested nutrients
Toxins are removed from the body in capillaries of the liver.

Two major arteries are the ventral aorta, which takes blood from heart to gill arches, and the dorsal aorta, which receives it from the gills and carries it down the length of the body.



From

The Musculature and Digestive System of the Freshwater Drum (Aplodinotus grunniens)

by Thomas H. Reynolds and Justin Kane

Musculo-skeletal system: Propulsion achieved by blocks of muscles called myomeres that extend down the body behind the pharynx. Myomeres contract in series of waves, passing from front to back, on alternating sides of body. This threw body into a series of S curves.


From

Slideplayer.com

Body support supplied by a stiff, non-compressible rod running the length of the body, the notochord.


From

Eastern Kentucky University BIO342

Central Nervous system: Guidance for all of this is provided by a nervous system organized around a hollow dorsal nerve cord that rests on top of the notochord. Movement is coordinated by reflexes and by information coming in through paired special sense organs:

Olfactory capsules for chemical information
Eyes for visual input
Otic capsules for sound and maintenance of equilibrium.

And processed in an expansion at the front end - the brain.


Hagfish displays caudal fin an no others from

Nicholls State University BIOL348

At the animal's rear end, a caudal fin, supported by a post-anal tail, aided in propulsion. Most have other fins as well.

In between were:

An excretory system for eliminating nitrogenous waste (kidneys)
A reproductive system for making little guys (gonads).
Radinsky, Leonard, 1987
Evolution of Vertebrate Design
Focusing on the head:
In addition to touch, the brain received information from three special senses. Each was mediated by a pair of special outpouchings of the brain:
Olfactory capsules housed olfactory chemo-sense.

Visual system: Light sensitive cells housed in:

two lateral eyes used to detect images.
On top, a small median eye, the pineal eye, functioned as a light meter transmitting information to the part of the brain that coordinates daily activity.

Acoustico-vestibular system: Employed hair cells to detect vibrations in water (sound). Hair cells are housed in two places:


Paired otic capsules near rear end of brain facilitated detection of long range sound. These contained semicircular canals which detected rotation. (Look like Mickey Mouse in Radinsky's schematic)

Lateral line system: hair cells located in grooves on body surface detected vibrations.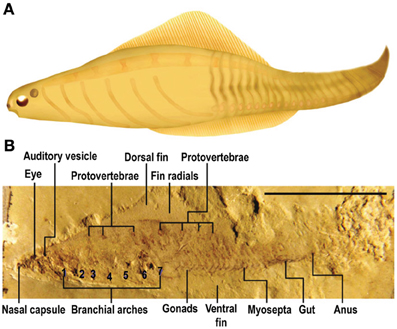 Haikouichthys ercaicunensis
from
Feinberg and Mallatt 2013
Glimpses of Origins
Haikouichthys: Our closest actual glimpse of the ancestral vertebrate was the free-swimming Cambrian suspension feeder Haikouichthys ercaicunensis (right) described in 1999. It is a remarkable approximation of Radinsky's schematic in the (former) flesh, feeding by straining particulate matter from the water, and capable of swimming around. (Note: Haikouichthys resembles, and may be the same as Myllokunmingia fengjiaoa. Who cares?)

From
Wikipedia
Ammocoetes
: Arguably the best living approximation of the ancestral vertebrate is the
ammocoetes
larva of the lamprey. The living creature grows to roughly 4 cm length before undergoing metamorphosis into specialized adult parasitic lamprey. If we imagine the ammocoetes phase as the final life stage, we have something resembling the earliest fossil vertebrates. Interestingly, the ammocoetes larva only swims when disturbed. Typically it rests on the bottom and suspension-feeds.
Vertebrates in context:
Animals in the broadest sense:
The phylogeny of major animal groups appears at right. Included are:
Porifera The sponges. (Quotation marks indicate that the group is probably paraphyletic
Ctenophora The comb-jelies.
Cnidaria Corals, anemones, jellyfish, etc.
Spiralia Mollusks, brachiopods, bryozoans and kin.
Ecdysozoa Arthropods and relatives.
Deuterostomia The group containing vertebrates and echinoderms.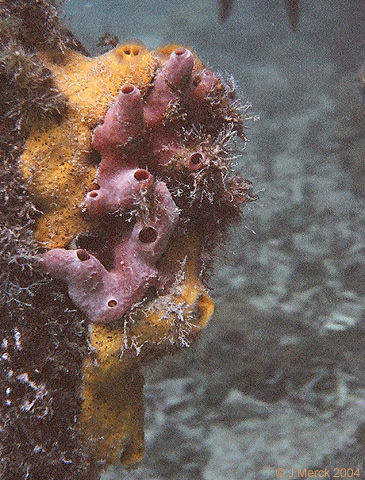 "Porifera," - the sponges
, the simplest animals have distinct cell types but don't really have proper tissues and certainly not organs. One cell type is indistinguishable from
choanoflagellates
, the closest single-celled relatives of animals. Have amazing powers of regeneration. Organizationally, they are living sieves, filtering microscopic food particles from water.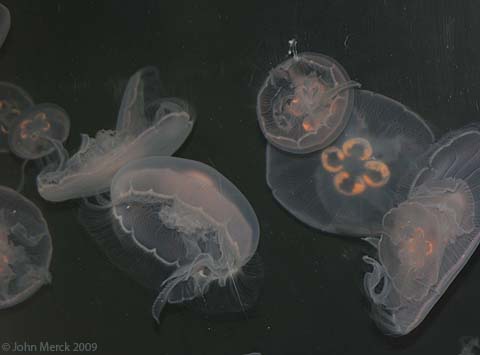 Cnidaria and Ctenophora: represent the next simplest grade of organization, with distinct tissues (ectoderm and endoderm only) and organs. Still the gut is a simple pocket with an opening that can function as mouth or anus depending. Some examples:

From
Erectus
Bilateria: Animals with:
bilateral symmetry
a flow-through gut in which we can distinguish a mouth and anus.
The evolution of a coelom, or body cavity, made many types of life strategies possible because its possessors could truly move in a purposeful manner.
Among such animals, we see two major branches identified by distinct patterns of embryology. (Later)
Protostomia
Deuterostomia

Protostomia briefly noted:
Protostomia contains the vast majority of animal diversity, including many familiar animals. Among them are two major groups, Ecdysozoa and Spiralia.
Ecdysozoa includes Arthropods among others.


Spiralia includes mollusks and annelids.
There is a trend in these active animals toward the evolution of special sense organs (eyes, antennae) and toward concentrating them at the front end along with an expansion of the nervous system to deal with the information they provide (heads).
And yet, these structures originate independently. Consider some close relatives of the major groups: Tardigrades for ecdysozoans, and phoronids for Spiralians.


Deuterostomia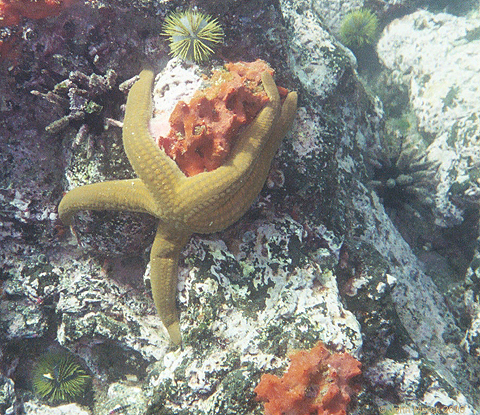 Deuterostome survey: The deuterostomes contain Chordata (us), Echinodermata, and some minor groups. Of all of the major natural groups of animals, echinoderms are our closest relatives, and yet they are our weird relatives.
Echinodermata:
Echinoderm weirdness includes:

Five-fold symmetry
Water vascular system. Coelomic cavity that communicates with the outside, is full of sea water that is used as "hydraulic fluid" to power tube-feet that facilitate locomotion/feeding

Like early echinoderms, acorn worms and their close relatives filter particles from the water, but do it differently. They filter water through a basket-like pharynx lined with slits.
From
Wikipedia
Chordate diversity:
Urochordata: (Cambrian - Recent) ("Tunicates" or "sea squirts") Most adult urochordates are practically all pharynx. This serves to filter digestible particles out of the water. The pharynx sits inside a cavity called the atrium. As larvae they resemble tadpoles with segmented muscles (myomeres) and a stiffening rod (notochord).These typically swim around for a brief interval, then settle on a hard substrate and "achieve tenure." Their tail is resorbed and they spend the rest of their days passively suspension-feeding.

One group of urochordates is special in that its members never undergo metamorphosis and keep their tails their entire lives.




Branchiostoma

from

Wiley

Cephalochordata: (Cambrian - Recent) Imagine a urochordate that never grew up and you have Branchiostoma (a.k.a. Amphioxus or Lancelet). It still has a large pharynx (for feeding only), but otherwise looks like a tiny "headless fish." Noteworthy features:

The notochord extends all the way to the end of the snout.
The myomeres are chevron-shaped
The nerve cord sits on top of the notochord and is hollow. The Postanal tail extends behind the anus.
The oral cavity and pharynx are separated by a velum.

But in some ways, Branchiostoma is primitive (= "ancestral"):

The body is small enough that gas-exchange happens by simple diffusion. The pharynx with its slits is for straining food only.
Feeding is ancestral. Digestible particulate matter is propelled into the pharynx by microscopic cilia lining the tentacles, oral cavity, velum, and pharynx. As with urochordates, water is filtered by the pharynx before passing into an atrium, from which it passes to the outside.
Fossil near-chordates:
Vetulicolians by Skelefrog from

Deviant Art

Vetulicolia: Known from the classic fossil localities of Chengjiang (Yunnan Province, China) and Sirius Passet (Greenland). These animals encompass a range of shapes but have these characteristics in common:
Lacking hard parts, but with an outer skeleton of plates of cuticle.
Body divided into a barrel-shaped front portion and a tail with seven distinct segments.
At the front is a large mouth without feeding appendages. (Indeed, their are no appendages at all.)
The front portion encloses a large open space
Five pairs of openings penetrate the sides of the front segment along a pair of grooves.
The tail is a laterally compressed and moved from side to side.
The consensus interpretation is that:
The front segment represents a pharynx - a large chamber through which particulate-laden water is filtered for feeding.
The tail is homologous to the tails of chordates
The consensus opinion at this point is that vetulicolians (along with a few other oddballs) branch from the base of Deuterostomia, although some researchers consider them to be closer to the crown of Chordata. (See Garcia-Bellido, et al., 2014.)
Pikaia graciliens
from
Smithsonian Institution
Pikaia - Almost a chordate:
The Burgess Shale fossil Pikaia graciliens, known from hundreds of specimens, is often cited in popular literature as the "earliest chordate." In fact:

Conway-Morris and Caron plausibly regard it as a "stem-chordate," closer to Chordata than to Ambulacraria, but just barely. What Pikaia does have is:
Chevron-shaped myomeres
A dorsal nerve cord
Potential synapomorphies with proper chordates.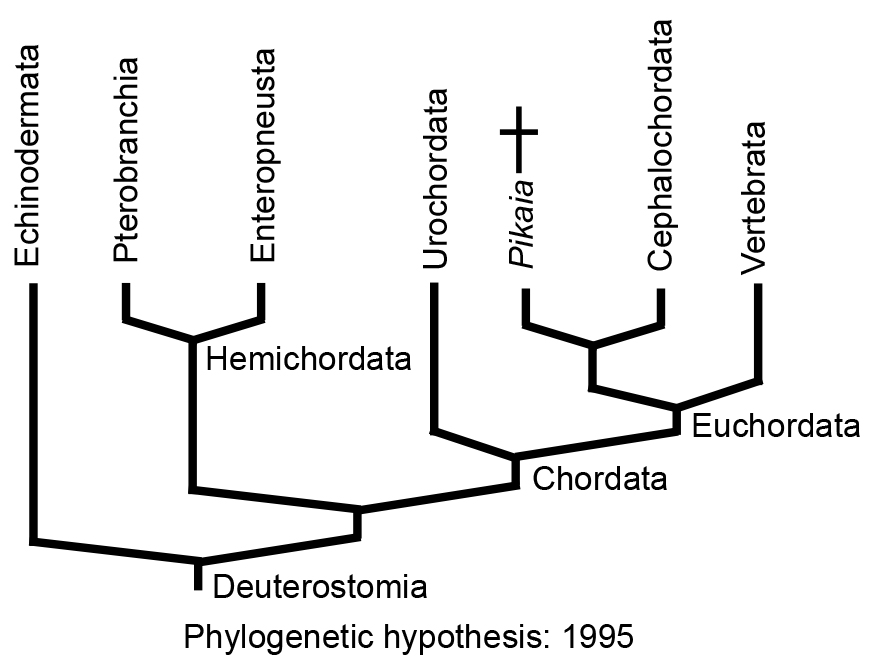 What a difference twenty years make.
When your instructors completed their PhDs, the consensus of deuterostome phylogenies held that:
Hemichordata was the sister taxon to Chordata. Synapomorphy: Pharyngeal openings.
Cephalochordata was the sister taxon of Craniata. Synapomorphies:
The Burgess shale fossil Pikaia was a cephalochordate because it resembled Branchiostoma and had no distinct head.
Urochordates we considered to represent an ancestral form, from which cephalochordates and craniates might have evolved by pedomorphosis.