The Vertebrate Pattern, continued
Vertebrata:
The living diversity of vertebrates boils down to three groups:
Hyperotreti: hagfish
Hyperoartia: lampreys
Gnathostomata: Jawed vertebrates
Let's examine these in turn.
Hagfish - from Joseph Jameson-Gould,
Real Monstrosities Blog
Hyperotreti:
Hagfish - (Carboniferous - Recent) We presume their ancestry goes back farther but their fossilization potential is
low.
Synapomorphies of Hyperotreti:
Hagfish display
interesting behaviors
and are endearing in a grotesque sort of way.
Other characteristics:
The skeleton consists of the notochord and specialized cartilages of mouth. The latter take the form of a mid-line rod-and-pulley upon which the tooth-plates are protracted and retracted.
Two-chambers of the heart are poorly consolidated.
Otic (inner ear) capsules have only one semicircular canal (as opposed to three in jawed vertebrates). Nevertheless, two distinct populations of hair cells are present in them. Strange.
Five to fifteen pairs of gill openings.
But hagfish lack many features we see in other craniates:
The notochord makes up most of the skeleton (except for the cartilages of the brain and mouth, and arcualia paired blocks of cartilage above the nerve cord in the tail.
Extrinsic eye muscles lacking: Hagfish eyes are simple and cannot be rotated in the head.
There is no lateral line.
Pacific lamprey - from Brendan Maher,
Natureblog
Hyperoartia:
(Lampreys) (Devonian - Recent)
Larvae
resemble ancient suspension-feeding craniates. These metamorphose into highly specialized and
disgusting parasitic adults
with many specialized features.
Undergoes metamorphosis from suspension-feeding ammocoetes larva that looks like a brainy version of Branchiostoma to a parasitic adult.
In adult, annular cartilage supports a large sucker surrounding the mouth armed with keratin "teeth". This is supported by other unique cartilage elements.
Piston cartilage supporting a protrusible "tongue" armed with more keratinous denticles. Although distinct, this is also a rod-and-pulley arrangement similar to that of hagfish.
Extrinsic muscles of eyes: Are present. Lampreys can roll their eyes in their sockets.
Lateral line: Present. (Absent in hagfish.)
Branchial skeleton: the lamprey gill pouches are supported by a branchial basket whose cartilagenous elements are external to the gills.
Seven pairs of gill openings.
Tail bends downward slightly
Living taxa have two distinct dorsal fins, although fossils don't.
Two vertical semicircular canals in the otic capsule. (In this and in other respects considered below, lampreys appear to have much in common with the vast swarms of fossil jawless vertebrates.)
Mako shark - from Sam Cahir,
Mail Online
Gnathostomata:
(Jawed vertebrates) (Silurian - Recent) The last common ancestor of all jawed vertebrates and all of its descendants. Characterized by
jaws
: (Silurian - Quaternary) Living gnathostomes are distinct from living either Hyperotreti or Hyperoartia in many respects. Conspicuously, they have:
Jaws
Branchial skeleton internal to gills, each set consisting of a series of hinged bars.
Paired limbs: Distinct pectoral and pelvic fins.
Three pairs of semicircular canals in otic capsules
Much more
The lifestyles of craniates were revolutionized by the ability to process large food items.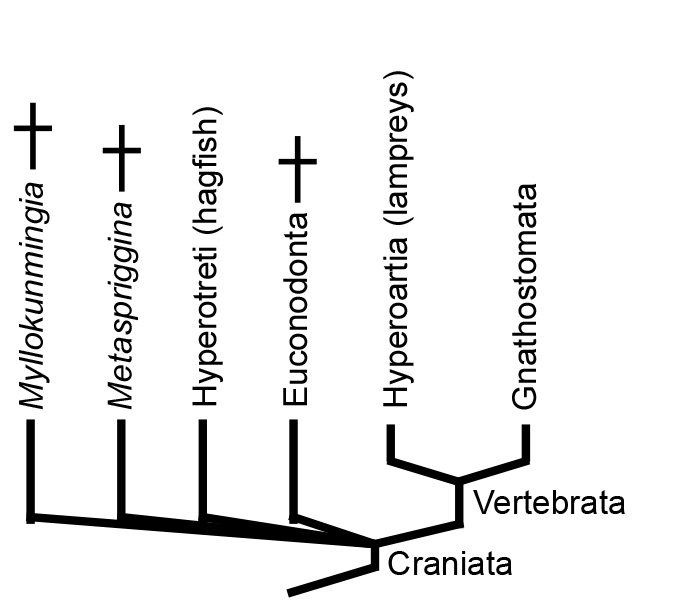 Vertebrate Relationships
"All I can say is that if cyclostomes form a clade, either hagfishes are the most extraordinary example of reversion among vertebrates, or lampreys and gnathostomes are the most extraordinary example of evolutionary convergence."
Philippe Janvier - 2007.
Illuminating the relationship between Hyperotreti, Hyperoartia, and Gnathostomata is difficult and contentious. Two major hypotheses predominate that take their names from the positions they imply for lampreys:
The Cyclostomata hypothesis, in which Hyperotreti and Hyperoartia form a clade, Cyclostomata.
The Vertebrata hypothesis, in which Hyperoartia group with Gnathostomata. We formally hang the name "Vertebrata" on this because it is in these animals that proper vertebrae are present in some form.
Cyclostomata:
(Devonian - Quaternary) Support for a close relationship of lampreys and hagfish is mostly molecular (E.G.
Kuraku et al., 2009
), however this support is widely replicated and very strong. Clear morphological synapomorphies are not obvious, but possible candidates include:
The rod-and-pulley arrangement of the tongue (Yalden, 2008), however this might be plesiomorphic for vertebrates.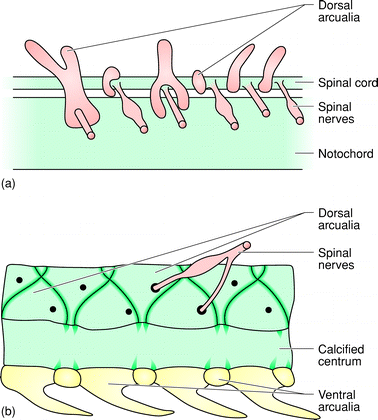 At least the early evolutionary stages of vertebrae:
Above - lamprey; below - shark
Vertabrata:
(Cambrian - Quaternary) The majority of morphological evidence (and at least one molecular analysis,
Gürsoy et al., 2000
) supports the monophyly of
Vertebrata
- lampreys and jawed vertebrates. Characterized by the presence of extensive internal cartilage ("chondrifications")
Craniata?
If we accept the Vertebrata hypothesis, then Vertebrata and Hyperotreti (hagfish) form a larger group -
Craniata
- chordates with heads.
This is a huge problem in vertebrate systematics that cries out for resolution. Being a morphologist, your humble instructor is more comfortable with the Vertebrata hypothesis, but not really very comfortable. So, in this course, we will show the base of Vertebrata as an unresolved polytomy.

Vertebrate synapomorphies:
Head including:

Anterior expansion of nerve cord into brain.
Special sense organs:

Olfactory capsules for olfaction
Eyes for vision:

large paired lateral eyes for image forming
simple, mid-line pineal eye as light-meter

Otic capsules for hearing and equilibrium

Lateral -line system enervated by the accoustic nerve.
Water pumped through pharynx by muscles instead of my ciliary action.
The bars separating the slits of the pharynx support special gas-exchange organs - gills.
Cartilaginous fin-rays support the fins.
Precursors of vertebrae - arcualia - flanking the spinal cord: Sequentially arranged paired cartilagenous endoskeletal elements (the beginnings of proper ossified vertebrae - right) These, in combination with the notochord, ossify as vertebrae in derived vertebrates. (In contrast, the arcualia of Hyperotreti are below the notochord and only in the tail.)
Size: Orders of magnitude bigger than any non-craniate chordate
Activity levels are higher than in most other animals.

Although not strictly a synapomorphy, only vertebrates are known to secrete bony tissue containing hydroxyapatite (Ca5(PO4)3 (OH)). Thus the presence of bone is considered diagnostic for vertebrates, but there are some that don't have it.
But enough! Gnathostome diversity awaits!
The lifestyles of vertebrates were revolutionized by the synapomorphies of Gnathostomata:
large food items could be processed
Agile swimming facilitated by paired fins and improved equilibrium - large food items could be hunted!

Before we proceed, know the names of the fins of a proper fish. Each tells an interesting evolutionary story:
Midline fins:

Dorsal fin (originally jawed vertebrates had two, but the number varies in living members)
Caudal fin
Anal fin

Paired fins: Ancestrally, most jawed vertebrates' dorsal fins had spines, though these are often lost in the course of evolution. A few had spines on other fins, as well.
Two major living groups:

Cladoselache
, a Devonian stem chondrichthyan from
Wikipedia
Chondrichthyes - Cartilagenous fish: (Silurian - Recent) Sharks, chimaeras. Persistent and successful over the long haul but never very common.

Characterized by:

Prismatic calcification of the cartilage: It is often said that chondrichthyans lack internal bone. While true, it is not quite diagnostic. Unlike bone, prismatic calcification takes the form of chains of tiny apatite crystals covering the surface of cartilage, linked together by collagen. Note: Chondrichthyans do not lack other hard tissues. Various groups make teeth, fin spines, and dermal armor out of dentine and enamel. Finally, bone is present as a component of scales.
Claspers on pelvic fins as intromittant organs.




Osteichthyes - Bony fish: The last common ancestor of ray-finned and lobe-finned fish and all of its descendants. The most common and diverse of all vertebrate groups.


Synapomorphy: There are too many to count. We will settle for two, right now:

An extensive internal bony skeleton. Many sharks, chimaeras, and fossil gnathostomes have bony armor but lack a bones on the inside. Osteichthyes, in contrast, have ossified brain-cases, jaws, vertebrae, ribs, etc.
Many bones are recognizable and occur throughout the group.



Osteichthyan survey:
The diversity of "fish" breaks down into two groups:
Actinopterygii: Ray-finned fish
Sarcopterygii: Lobe-finned fish and land vertebrates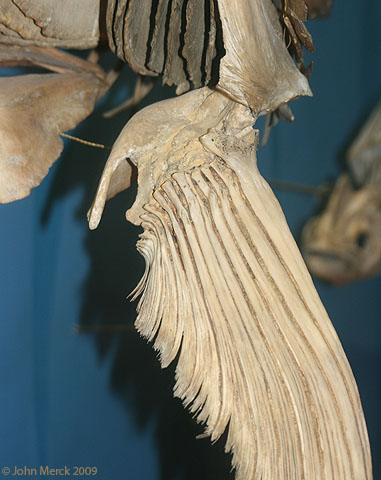 Fin rays of the Swordfish pectoral fin
Actinopterygii:
(Devonian - Recent)
Ray-finned fish
. Most living fish. A huge diversity from:
A starting synapomorphy:
Fin rays of paired fins are parallel and articulate directly to pectoral or pelvic girdles. (All vertebrates have fin rays, but in Osteichthyes they are ossified and in Actinopterygii they have a special configuration.)
Sarcopterygii:
the last common ancestor of Actinistia (coelacanths) and land vertebrates, and all of its descendants.
A starting synapomorphy:
University of California Berkeley
Sarcopterygian diversity
:
Two proper types of aquatic lobe-fin fish remain today:

Actinistia (coelacanths) (right). Deep sea lobe-finned fish.
Dipnoi (lungfish). Specialized fish of temporary bodies of fresh water.

The rest are "land-fish" i.e. terrestrial vertebrates. What transformations are required to be a land vertebrate?

The "lobe" of the coelacanth is supported by a skeleton that corresponds to the arm and leg skeleton of land vertebrates.
Limbs that support the body. A simple embryological transformation accounts for the development of fingers and toes.
Sensory modalities that work on land.
The ability to breathe on land without dehyrdating.
Skin that prevents dessication.
A neck

Tetrapoda:
(Carboniferous - Recent): The last common ancestor of Lissamphibia (salamanders, frogs, etc.) and Amniota (mammals, reptiles) and all of its descendants.
Tetrapod diversity:
Lissamphibia (Triassic - Recent) The frogs, salamanders, and caecilians. Many highly adapted to life on land as adults, but most prefer moist environments. Almost all must find bodies of water to mate.
Amniota - the obligate life-long air-breathers.
Tetrapod synapomorphies:
Fingers and toes
Obligate air-breathers as adults
Amniota:
(Carboniferous - Recent) the last common ancestor of Synapsida and Sauropsida and all of its descendants.
Beginning synapomorphies of Amniota:
Air-breathing egg with external membranes
Internal fertilization (a shelled egg can't be fertilized externally.)
Amniota gave rise to the primary diversity of land vertebrates.
Amniote diversity: Two major groups: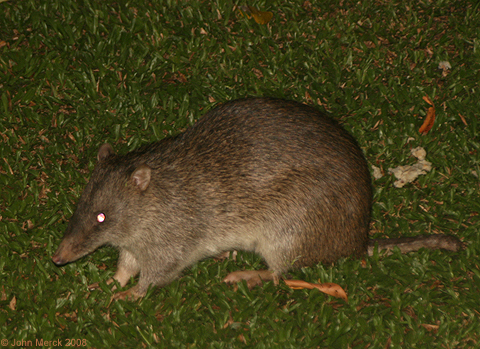 Brown bandicoot
Isoodon macrourus
- a synapsid.
Synapsida:
(Carboniferous-Recent) Mammals and their fossil relatives.
Dimetrodon
from
Paleofile
Beginning synapomorphy of Synapsida:
Infratemporal opening of skull
Differentiated tooth row
Sauropsida:
(Carboniferous - Recent) Reptiles.
Dominated land faunas during the Mesozoic Era and an enduring presence since.

Sauropsid synapomorphies:

Color vision
Dry, glandular skin
Suborbital fenestra, an opening in the palate beneath the eye.

Major groups.

Texas slider

Chrysemys concinna texana

- a turtle.

The UMD favorite, Testudinata - turtles.

Testudinata synapomorphies:

Shell composed of vertebrae, ribs, gastral ribs, and plates.
Loss of teeth




Galápagos lava lizard

Microlophus albamarlensis

- a lepidosaur.

Lepidosauria - including lizards and Sphenodon, the tuatara

Lepidosauria synapomorphies:




Estuarine crocodile

Crocodilus porosus

- an archosaur.

Archosauria, including:

Archosauria synapomorphies: