The Vertebrate Pattern, continued
Deuterostomia:
Deuterostomes are distinguished from other bilaterians by having deuterostomous development (later). Major groups include: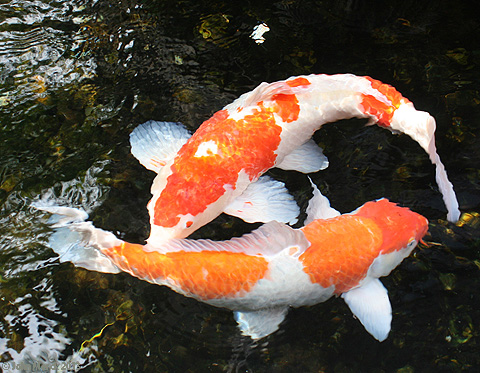 Cyprinius carpio
Chordata
: (Cambrian - Recent) Including
Cephalochordata - Amphioxus
Urochordata - tunicates
Craniata - vertebrates and their closest relatives (right)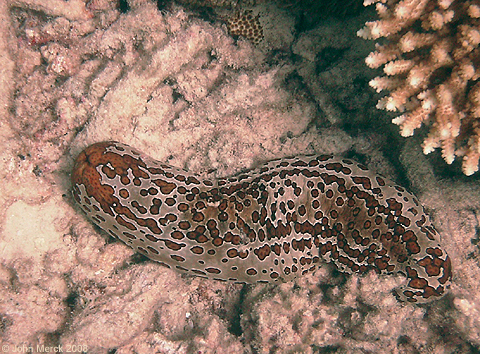 Leopard sea cucumber
Bohadschia argus
Echinodermata
: (Cambrian - Recent)
Acorn worm from
The Telegraph
Hemichordata
: (Cambrian - Recent) Including
Enteropneusta - acorn worms (right)
Pterobranchia - pterobranchs and graptolites
From
Clark University - Ecology of Atlantic Shores
Chordate diversity:
Urochordata: (Cambrian - Recent) ("Tunicates" or "sea squirts") Most adult urochordates are practically all pharynx. This serves to filter digestible particles out of the water. The pharynx sits inside a cavity called the atrium. As larvae they resemble tadpoles with segmented muscles (myomeres) and a stiffening rod (notochord).

One group of urochordates is special in that its members never undergo metamorphosis and keep their tails their entire lives.

Branchiostoma

from

Wiley

Cephalochordata: (Cambrian - Recent) Imagine a urochordate that never grew up and you have Branchiostoma (a.k.a. Amphioxus or Lancelet). It still has a large pharynx (for feeding only), but otherwise looks like a tiny "headless fish." Noteworthy features:

The notochord extends all the way to the end of the snout.
The myomeres are chevron-shaped
The nerve cord sits on top of the notochord and is hollow. The Postanal tail extends behind the anus.
The oral cavity and pharynx are separated by a velum.

But in some ways, Branchiostoma is primitive (= "ancestral"):

The body is small enough that gas-exchange happens by simple diffusion. The pharynx with its slits is for straining food only.
Feeding is ancestral. Digestible particulate matter is propelled into the pharynx by microscopic cilia lining the tentacles, oral cavity, velum, and pharynx. As with urochordates, water is filtered by the pharynx before passing into an atrium, from which it passes to the outside.
gloriapinskerdogtraining.com
Craniata
: (Cambrian - Recent) The last common ancestor of hagfish and vertebrates and all of its descendants.
Synapomorphies of craniata:
Head including:

Anterior expansion of nerve cord into brain.
Special sense organs:

Olfactory capsules for olfaction
Eyes for vision:

large paired lateral eyes for image forming
simple, mid-line pineal eye as light-meter

Otic capsules for hearing

A hypophysis (AKA pituitary gland) occupies a recess in the mid-line floor of the brain-case. It is a composite organ containing both endocrine and brain tissue. Ancestrally, it communicates with the exterior via a nasohypophyseal duct.

Water pumped through pharynx by muscles instead of my ciliary action.
The bars separating the slits of the pharynx support special gas-exchange organs - gills.
Cartilaginous fin-rays support the fins.
Arcualia - paired blocks of cartilage lying above and tot he side of the spinal cord - precursors to vertebrae. These are long known to extend the entire length of the skeleton in lampreys but simple versions have been found in the caudal (tail) skeleton of hagfish.
Size: Orders of magnitude bigger than any non-craniate chordate
Activity levels are higher.
Hagfish - from Joseph Jameson-Gould,
Real Monstrosities Blog
A modest example
For now, we will represent Craniata with its most primitive living group -
Hypertreti - the hagfish
(Carboniferous - Recent).
Synapomorphies of Hyperotreti:
Hagfish display
interesting behaviors
and are endearing in a grotesque sort of way.
All synapomorphies of Craniata are present in hagfish.
Other characteristics:
The skeleton consists of the notochord and specialized cartilages of mouth. The latter take the form of a mid-line rod-and-pulley upon which the tooth-plates are protracted and retracted.
Two-chambers of the heart are poorly consolidated.
Single nasohypophyseal opening leads to a nasohypophyseal duct opening onto:

a mid-line olfactory capsule whose skeleton resembles a basket.
the hypophysis
and communicates posteriorly with the pharynx.

The duct is protected by a series of cartilagenous rings.

Otic (inner ear) capsules have only one semicircular canal (as opposed to three in jawed vertebrates).
Five to fifteen pairs of gill openings.
But hagfish lack many features we see in other craniates:
Any suggestion of arcualia outside of the tail. (In hagfish, the only arcualia form in the position of the hemal arches of more derived vertebrates.)
A brain-case as part of their skeleton. Theirs is largely membranous.
Extrinsic eye muscles: Hagfish eyes are simple and cannot be rotated in the head.
As such, they are a decent stand-in for the ancestral craniate.
How are these deuterostome groups related?
Simply scoring a matrix of their obvious characters can lead to naive results. (Try it.)
To make it more interesting, consider some fossil deuterostomes:
Vetulicolians by Skelefrog from
Deviant Art
Vetulicolia
: Known from the classic fossil localities of Chengjiang (Yunnan Province, China) and Sirius Passet (Greenland). These animals encompass a range of shapes but have these characteristics in common:
Lacking hard parts, but with an outer skeleton of plates of cuticle.
Body divided into a barrel-shaped front portion and a tail with seven distinct segments.
At the front is a large mouth without feeding appendages. (Indeed, their are no appendages at all.)
The front portion encloses a large open space
Five pairs of openings penetrate the sides of the front segment along a pair of grooves.
The tail is a laterally compressed and moved from side to side.
The consensus interpretation is that:
The front segment represents a pharynx - a large chamber through which particulate-laden water is filtered for feeding.
The tail is homologous to the tails of chordates
The consensus opinion at this point is that vetulicolians (along with a few other oddballs) branch from the base of Deuterostomia, although some researchers consider them to be closer to the crown of Chordata. (See Garcia-Bellido, et al., 2014.)
Pikaia graciliens
from
Smithsonian Institution
Pikaia - Almost a chordate:
The Burgess Shale fossil Pikaia graciliens, known from hundreds of specimens, is often cited in popular literature as the "earliest chordate." In fact:
Conway-Morris and Caron plausibly regard it as a "stem-chordate," closer to Chordata than to Ambulacraria, but just barely. What
Pikaia
does
have is:
Chevron-shaped myomeres
A dorsal nerve cord
Potential synapomorphies with proper chordates. <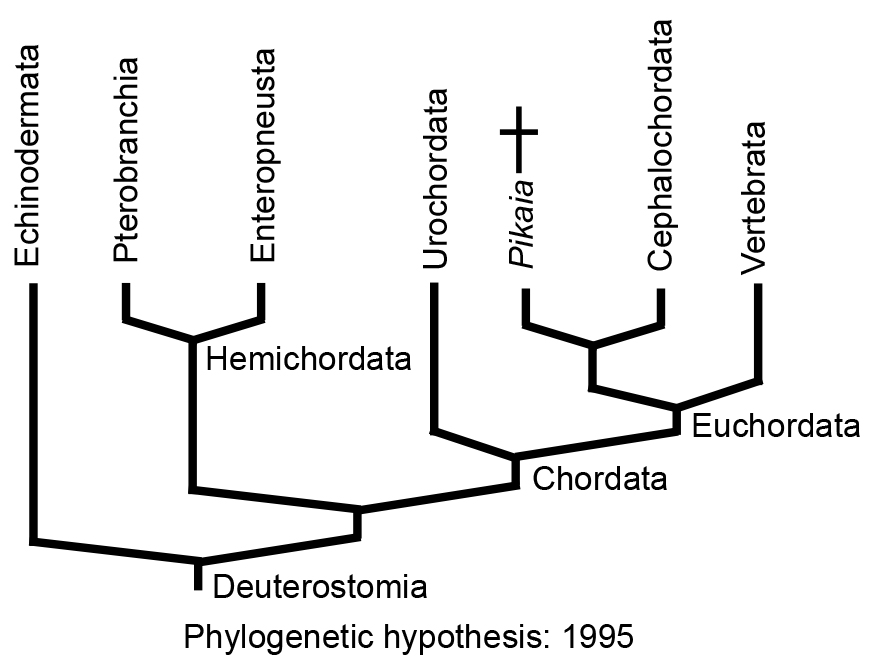 What a difference twenty years make.
When your instructors completed their PhDs, the consensus of deuterostome phylogenies held that:
Hemichordata was the sister taxon to Chordata. Synapomorphy: Pharyngeal openings.
Cephalochordata was the sister taxon of Craniata. Synapomorphies:
The Burgess shale fossil Pikaia was a cephalochordate because it resembled Branchiostoma and had no distinct head.
Urochordates we considered to represent an ancestral form, from which cephalochordates and craniates might have evolved by pedomorphosis.
Discoveries that have changed that view:
Vetulicolians and Yunnanozoans provide a picture of the ancestral deuterostome as a "swimming pharynx." Thus:

The swimming morphology and segmentation of craniates, cephalochordates, larval urochordates, and Pikaia are plesiomorphies.
Same for the presence of pharyngeal openings in hemichrodates and chordates.

Evidence that the larval urochordate represents its ancestral adult form
Strong molecular and developmental evidence that Echinodermata and Hemichordata are sister taxa.
Strong molecular and developmental evidence that Urochordata and Craniata are sister taxa.
Re-description and "demotion" of Pikaia.
Craniate diversity:
Hyperotreti we know.

Vertabrata: The last common ancestor of lampreys and jawed vertebrates, and all of its descendants. Characterized by the presence of extensive internal cartilage ("chondrifications") Synapomorphies of Vertebrata include:

A cartilagenous braincase
paired cartilages protecting the spinal cord - the first manifestation of vertebrae
fin rays
Extrinisc eye muscles
At least two semicircular canals in inner ear.


Two major living groups:

Pacific lamprey - from Brendan Maher,

Natureblog

Hyperoartia (Lampreys): Larvae resemble ancient suspension-feeding craniates. These metamorphose into highly specialized and disgusting parasitic adults with many specialized features.




Mako shark - from Sam Cahir,

Mail Online

Gnathostomata: The last common ancestor of jawed vertebrates and all of its descendants. Characterized by jaws:

The lifestyles of craniates were revolutionized by the ability to process large food items. Two major living groups:

Chondrichthyes - Cartilagenous fish: Sharks (right), chimaeras. Persistent and successful over the long haul but never very common.

Osteichthyes - Bony fish: The last common ancestor of ray-finned and lobe-finned fish and all of its descendants.

Many sharks, chimaeras, and fossil gnathostomes have bony armor but lack a bony internal skeleton. Bony fish have an extensive internal bony skeleton. The most common and diverse of all vertebrate groups.


Osteichthyan survey: The diversity of "fish" breaks down into two groups:

Actinopterygii: Ray-finned fish
Sarcopterygii: Lobe-finned fish and land vertebrates

Baja anglers

Actinopterygii: Ray-finned fish. Most living fish. A huge diversity from:




Sarcopterygii: the last common ancestor of Actinistia (coelacanths) and land vertebrates, and all of its descendants.
University of California Berkeley
Sarcopterygian diversity
:
Two proper types of aquatic lobe-fin fish remain today:

The rest are "land-fish" i.e. terrestrial vertebrates. What transformations are required to be a land vertebrate?

The "lobe" of the coelacanth is supported by a skeleton that corresponds to the arm and leg skeleton of land vertebrates.
Limbs that support the body. A simple embryological transformation accounts for the development of fingers and toes.
Sensory modalities that work on land.
The ability to breathe on land without dehyrdating.
Skin that prevents dessication.
A neck

Tetrapoda: the last common ancestor of Lissamphibia (salamanders, frogs, etc.) and Amniota (mammals, reptiles) and all of its descendants.
Tetrapod diversity:
Lissamphibia - the frogs, salamanders, and caecilians. Many highly adapted to life on land as adults, but most prefer moist environments. Almost all must find bodies of water to mate.
Amniota - the obligate life-long air-breathers.
Amniota: the last common ancestor of Mammalia and Reptilia and all of its descendants.
Amniota issues:
Invention of internal fertilization of the egg as we know it:
Proliferation of land vertebrates.

Amniote diversity: Two major groups
Brown bandicoot

Isoodon macrourus

- a synapsid.

Synapsida: Mammals and their fossil relatives.

Galápagos lava lizard

Microlophus albamarlensis

- a lepidosaur.

Sauropsida: Reptiles.

Dominated land faunas during the Mesozoic Era and an enduring presence since
Major groups.

Lepidosauria - including lizards and Sphenodon, the tuatara


Estuarine crocodile

Crocodilus porosus

- an archosaur.

Archosauria, including:


Texas slider

Chrysemys concinna texana

- a turtle.

And the UMD favorite, Testudinata - turtles