By the inspiring
Ray Troll
, the king of fish artists.
Eugnathostome Diversity
Intro: Todays we begin with Osteichthyes - the bony fish, and their close fossil relatives the "Acanthodii".

Cladists use the following monophyletic group names in referring to these creatures:
Eugnathostomata "The last common ancestor of Osteichthyes and Chondrichthyes and all of its descendents."
Teleostomi "All organisms more closely related to Osteichthyes than to Chondrichthyes."
Osteichthyes "The last common ancestor of Actinopterygii and Sarcopterygii and all of its descendants."

This definition points out a basic difference in the ways in which we can define monophyletic groups. For this discussion, we will use the following fantasy cladogram:
Node-based definitions: Until now, all of the groups we have considered have been defined using the formula "The most recent common ancestor of A and B and all of its descendants." Doodadichthyes, for example is the most recent common ancestor of Whatsitichthyes and Thingamabobichthyes and all of its descendants. To identify this on a cladogram, one need only point to the node representing the common ancestor, which is its first ever member. Everything that sprouts from that node is a member of the group.

Crown-group definitions: A special case of the node based definitions in which the anchor taxa are living. Thus:

"the last common ancestor of of Homo sapiens and Homo habilis and all of its descendants" is node-based but not a crown group, whereas
"the last common ancestor of humans and gorillas and all of its descendants" is node-based and also a crown group.

Utility:

Utility of node-based definitions: The set of synapomorphies we use to diagnose (i.e. identify) a node-based group is acquired during evolutionary change in the lineage leading up to the group's last common ancestor. Thus, we can be certain that "doodads," the synapomorphy of Doodadichthyes, were present in that common ancestor.

Weakness of node-based definitions: We represent relative time on the cladogram, however it is impossible precisely to compare the sequence of events on different branches. Thus, if we wanted to know whether the last common ancestor of Thingamabobichthyes or Whatsitichthyes lived first, we would be out of luck. We can only say that both lived after the last common ancestor of Doodadichthyes.

Total-group definitions: are defined using the formula "All organisms more closely related to A than to B." So, Panthingamabobichthyes is defined as all organisms more closely related to Thingamabobichthyes than to Whatsitichthyes. The first member of this group would have been at the base of the stem leading to A. In this example, Panthingamabobichthyes begins during the first generation after the splitting of the lineage represented by the last common ancestor of Doodadichthyes.

Utility:

Utility of Total-group definitions: Unlike with node-based sister taxa, we can readily compare the ages of total-group sister taxa. Panthingamabobichthyes and Panwhatsitichthyes both arose from a single event - the speciation event that split the last common ancestor of Doodadichthyes into two lineages. The two groups are, by definition, of equal age. This fact can become very convenient if one group has a copious fossil record and the other doesn't.

Weakness of total-group definitions: But now we have a problem. The synapomorphy of Thingamabobichthyes is "thingamabobs." But what about Panthingamabobichthyes? We know that somewhere in the lineage leading to the last common ancestor of Thingamabobichthyes, thingamabobs appear, but where? That we don't know. In fact, it is most probable that if we could look at the very first panthingamabobichthyians, they would not yet have acquired thingamabobs. In effect, total-groups can't be diagnosed with synapomorphies. (There is one possible exceptional situation where this is not true. Can you think of it?)

That doesn't stop people from trying. Quite often, for the sake of convenience, systematists will refer to "synapomorphies" of Total-group. Strictly speaking, that's wrong, but it can be a convenient if somewhat slack convention. Realize when you see this that they are really talking about "synapomoprhies of the node based group containing all known members" of the Total-group.
.
Synapomorphies of Eugnathostomata:
From the SUNY Orange

Online Biology Library

The myomeres of lampreys (right) and hagfish are continuous from top to bottom. Those of living gnathostomes are divided into dorsal and ventral blocks by a horizontal septum of connective tissue. (See transverse cross-section). Trinajstic et al., 2007 on placoderm fossils with soft tissue preservation show that the placoderms, like lampreys, lacked the horizontal septum.


Alternative palatoquadrate articulations with neurocranium

(Few have all of these.)

Palatoquadrate articulates with neurocranium dorsally. (In placoderm-grade gnathostomes it was attached to the medial surface of the dermal bones of the skull roof.)


Primary jaw adductor muscle mass is lateral to the mandibular arch. (Among placoderm-grade gnathostomes, the palatoquadrate is attached to the dermal skull roof, and the jaw muscles pass medially to it.)


Lower dentition of

Heterodontus

Teeth: Odontodes of the oral cavity anchored either in soft tissue around palatoquadrate and Meckel's cartilage, or in dermal bone at margin of mouth. We have seen their putative precursors in "placoderms." In Eugnathostomata we finally see oral odontodes that all researchers are comfortable in regarding as homologous. Their features:

Osteichthyes
Osteichthyes (bony fish) is defined as the most recent common ancestor of: (A node-based definition!)

Synapomorphies:


Endochondrally ossified bone of the internal skeleton:

branchial arches
girdles
vertebral column.

Unique pattern of dermal bones of head and pectoral girdle. (clavicle, interclavicle, cleithrum, etc.)
Dermal skull bones with internal descending laminae that interact with endochondral elements.
Lungs: The presence of lungs - outpouchings of the esophagus used to obtain supplementary oxygen from "swallowed" air. As we will see, Actinopterygii and Sarcopterygii exploit this synapomorphy in very different ways.

Operculum: A large plate of dermal bone suspended from the hyoid arch covering and protecting the gill arches. (Ancestrally consists of three bones, the preopercular, opercular and subopercular.)

Eusthenopteron foordi

Tooth bearing dermal bones of mandibular arch: In upper jaw we see premaxilla and maxilla. In ancestral osteichthyans, the maxilla tends to be very long. Meckel's cartilage supports the dentary. Note that many dermal ossifications of the skull are present, but their homologies across osteichthyan groups are questionable.

Fossil Material
: The earliest osteichthyan fossils are of Silurian age, but they only become abundant in the Devonian.
Guiyu oneiros
from
Nature
Guiyu
(Right. Silurian!
Described in 2009
) is our closest well-known approximation of the last common ancestor of Osteichthyes. Remarkably, it is actually a basal sarcopterygian but also the oldest well-known gnathostome!
This creature has features seen in both primitive sarcopterygians and actinopterygians, but retains others typical of primitive teleostomes and placoderms, such as the stout pectoral spine.
Actinopterygii:
Cheirolepis canadensis
from
Wikipedia
Living actinopterygians are so highly derived that their basic synapomorphies are hard to see. These are visible, however, in
Cheirolepis
(right) from the Devonian is the oldest well-known actinopterygian and phylogenetically the most basal.
Synapomorphies:
CaCO3 otoliths: CaCO3 structures that fill the chambers of the inner ear.
Only a single dorsal fin is present (as opposed to two ancestrally for Osteichthyes+Chondrichthyes.)
Heavily scales on leading edge of tail. (Although in most living forms the tail is so highly modified that this is not apparent.)
Actinopterygian evolutionary trends
briefly noted:
Kissing gourami

Helostoma temminckii

from

FishNavy Films

From biting to sucking:

The jaws of the ancestral actinopterygians like Moythomasia relied on the scissor-like action of the upper and lower jaws to bite and hold prey. Most modern actinopterygians employ a suction feeding mechanism, in which the the mouth extends to form a tube while the pharynx is expanded, sucking prey items in. Once inside, prey is dealt with by any of a variety of jaw, tongue, or pharyngeal teeth. To achieve this, the premaxilla and maxilla have become extremely mobile. (A more modest example)


Ossifying the vertebral column:

In many chondrichthyans, the notochord partially calcifies into spool shaped centra (lateral, anterior view.)
Among osteichthyans, the vertebral column ossifies as proper bone, yielding a close association of:

Centra
Neural arches
Haemal arches (in tail vertebrae)




The homocercal tail: Ancestrally the tail is heterocercal. During actinopterygian evolution, these vertebrae and their associated hameal arches shorten, curl up sharply, and fuse into a small number of triangular elements that support a superficially symmetrical - looking tail termed homocercal.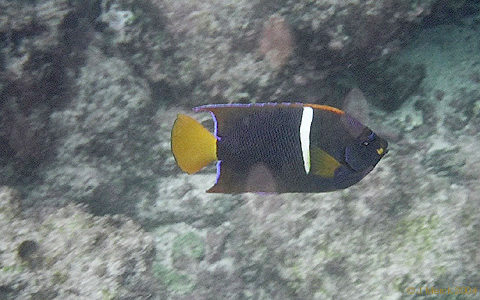 Swim bladder: Lungs were a plesiomorphy for actinopterygians. Some members continued to use them for their original purpose: as a supplimentary oxygen source. Others modified them into a unique organ, the swim baldder. This is used to maintain neutral bouyancy. Gasses are either pumped from the blood into the swim bladder or dissolved from the swim bladder into the blood as circumstances require. Note: Unlike the ancestral lung, the swim bladder does not communicate with the esophagus. We don't usually expect to see this in fossils, but fossil fish whose body shapes are ill-suited for resting on the bottom (like the Jurassic Dapedium) almost certainly had this.



Actinopterygian diversity
On could teach an entire course about them.

Sarcopterygii
Definition: All organisms more closely related to land vertebrates than to Actinopterygii.

Eusthenopteron foordi
from
Palaeos
"Synapomorphies":

The neurocranium ossifies as two units joined at a mobile joint.

Parietal and postparietal bones in dermal skull roof. (Where they meet is the external manifestation of the endocranial hinge.)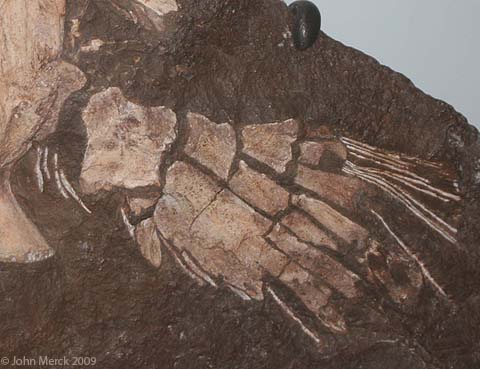 The limbs articulate with the girdles by a single element, the humerus (as in Sauripteris on right) or femur.



Living Diversity:
the coelacanth Latimeria
lungfish
land vertebrates
Latimeria chalumnae

Actinistia: (Dev - Rec) Commonly called coelacanths. Represented by one living genus, Latimeria.
Discovered in 1938 by amateur ichthyologist and museum curator Marjorie Courtenay Latimer on the commercial fishing wharf of East London, South Africa. Despite great effort, another specimen was not found until 1952, off the Comoros Islands. Apparantly the South African specimen had been way out of range. In the Comoros, it was kown to local anglers. Recently, a second population has been found in Indonesia.



Rhabdoderma
from
Palaeos
Synapomorphy:
Additionally, though not exactly a synapomorphy, most actinistians have a diphycercal tail with a fleshy central lobe.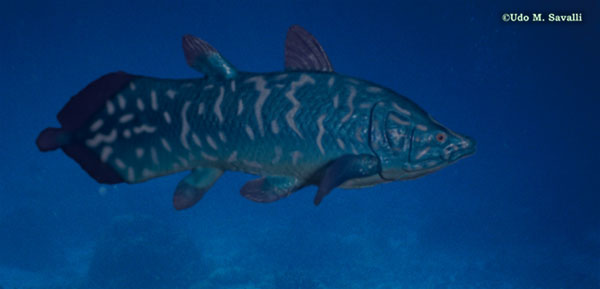 Axelrodichthys

from

BIO 370 Vertebrate Zoology

Udo Savalli, Arizona State University

Ancient actinistians and their fossil record:

The record: True range is Late Devonian to recent, however fossils indicate extinction in Cretaceous.

Major periods of diversification and success:


Late Paleozoic - Mesozoic:

Coelacanths occupy both fresh, brackish, and salt water. Although coelacanths are generally conservative in their shape, there have been a few major departures.



Actinistian biology: Latimeria tells us much about the biology and ecology of ancestral sarcopterygians.

It is the only sarcopterygian species to retain the bipartite neurocranium that diagnoses Sarcopterygii ancestrally. In it, muscles on the ventral side connect the two parts of the neurocranium. When they contract, the anterior section is flexed downward, inreasing the power of the animal's bite.

The actinistian lung is variously modified. In Latimeria, it contains fatty tissue. In some fossil forms, it possesses a calcified outer membrane.

Latimeria is ovoviviparous: it practices internal fertilization and young are retained in the oviduct until highly developed, like in some sharks. Note, the young are nourished by yolk. There is no maternal nourishment.

Dancing coleacanths: Latimeria uses its fleshy paired fins to maintain a variety of postures while hunting. Additionally, the posterior dorsal and anal fins also have fleshy lobes and work in tandem in the manner of paired fins.
Lepidosiren paradoxa

from

Wikipedia

Dipnomorpha: Lungfish and their fossil relatives.
Living lungfish and their adaptations: Today there are three genera of lungfish, one each for:

Australia
Africa
South America

Of these, the Australian type is more distantly related. All lungfish are adapted to surviving in harsh ephemeral pools. Their interesting attributes:


From

BioLib.cz

Mouths are modified for crushing hard-shelled prey. Palatoquadrates are fused to neurocranium. Teeth are consolidated into stout crushing plates.
Long fleshy limbs.

Reliance on air breathing: Lungfish's lungs have convoluted infoldings to increase surface area. Branchial arches are reduced in size. In fact, the African and South American varieties require air to survive.

Aestivation: During periods of drought, lungfish burrow into the mud, secrete a cocoon of mucus, and enter a state of suspended animation. When their pool fills us, they awake and emerge. In fact, in the pet trade, lungfish are occasionally collected and shipped in this state - as genuine dehydrated pets. BTW, their adptations make them very hardy aquarium fish.




Diabolepis speratus

from

Palaeos

Synapomorphies: Paradoxically, just as the synapomorphy of Sarcopterygii, the bipartite neurocranium, is virtually unknown in living members, the synapomorphy of Dipnomorpha has been lost by its living members:


Spongy bone in snout containing many small tubules. (This probably contained the nerves of a sensory organ in the snout, and the blood vessels to support them.)

Long slender forelimb.




Ancient dipnomorphs and their fossil record:


Lungfish similar to modern ones appear in the Triassic (Early Mesozoic).

Fossil aestivation burrows are known from the Early Permian.

Dipterus valenciennesi

from

Urweltmuseum Neiderhell

The lungfish record goes back much farther than that, however. They appear in the Early Devonian. Paradoxically, they first turn up as a very speciose radiation of marine fish. Indeed, for much of the Devonian, lungfish are second only to placoderms as the most common group of marine fish.




Styloichthys

from

Nature

The problem with lungfish: From a cladist's perspective, lungfish are intractible for a two reasons:


In the course of evolution, the recognizible dermal bones of their heads have fragmented into small unrecognizible units. Indeed, both fossil and recent lungfish lack recognizable maxillae or premaxillae.

The earliest lungfish have lost the separation of the two parts of the neurocranium.


Holoptychus

from

Miguasha National Park

For decades, their relationships with other vertebrates were controversial. The problem seems to have been solved by the examination of Porolepiformes - otherwise normal primitive fossil sarcopterygians that share with lungfish the dipnomorph synapomorphy of elongate forelimbs. E.g. Holoptychius, from Early Devonian.

Climatius
from
Wikimedia.com
Eugnathostome Headache:
When we consider basal teleostomes (i.e. teleostomes that are not proper osteichthyans) we enter the nether-world of Acanthodii, the Paleozoic "spiny sharks." Two examples:
Climatius: (Early Devonian)


Very heavy fin spines.

Four pairs of intermediate spines.

Multiple external gill slits, partially covered by a larger operculum. (Armored by branchiostegal rays.)

anterior and posterior dorsal fin.





Acanthodes

from

Wikimedia.com

Acanthodes: (Permian)


very light fin spines

one pair of intermediate spines

Gills entirely covered by operculum.

Anterior dorsal fin lost.

Difficulty: Generally speaking, one would expect that in an evolving monophyletic group, the more derived taxa would occur later in time than the more ancestral ones. This is called stratigraphic congruence. Acanthodians display the opposite pattern. The most freakishly spiny one is also the earliest.

Scenario 1: If we use a primitive member of Osteichthyes like Cheirolepis as the outgroup, then the most primitive acanthodians would be ones like Acanthodes, which, like Cheirolepis, lacks multiple intermediate spines, exposed individual gill slits, or heavy spines. Alas, Acanthodes is stratigraphically among the youngest (i.e. most recent) acanthodians.

Scenario 2: If we allow stratigraphic age, rather than outgroup comparison, to drive our reconstruction of phylogeny, then Climatius is among the most basal acanthodians, yet there is no obvious outgroup in this case.

What might relationships be? Recall that Actinopterygii have branchiostegal rays, but without specialized opercular elements.
How do we reconcile these positions, and what, exactly, are acanthodians? Wait for it.