Mammalia: Suckling from the teats of homoplasy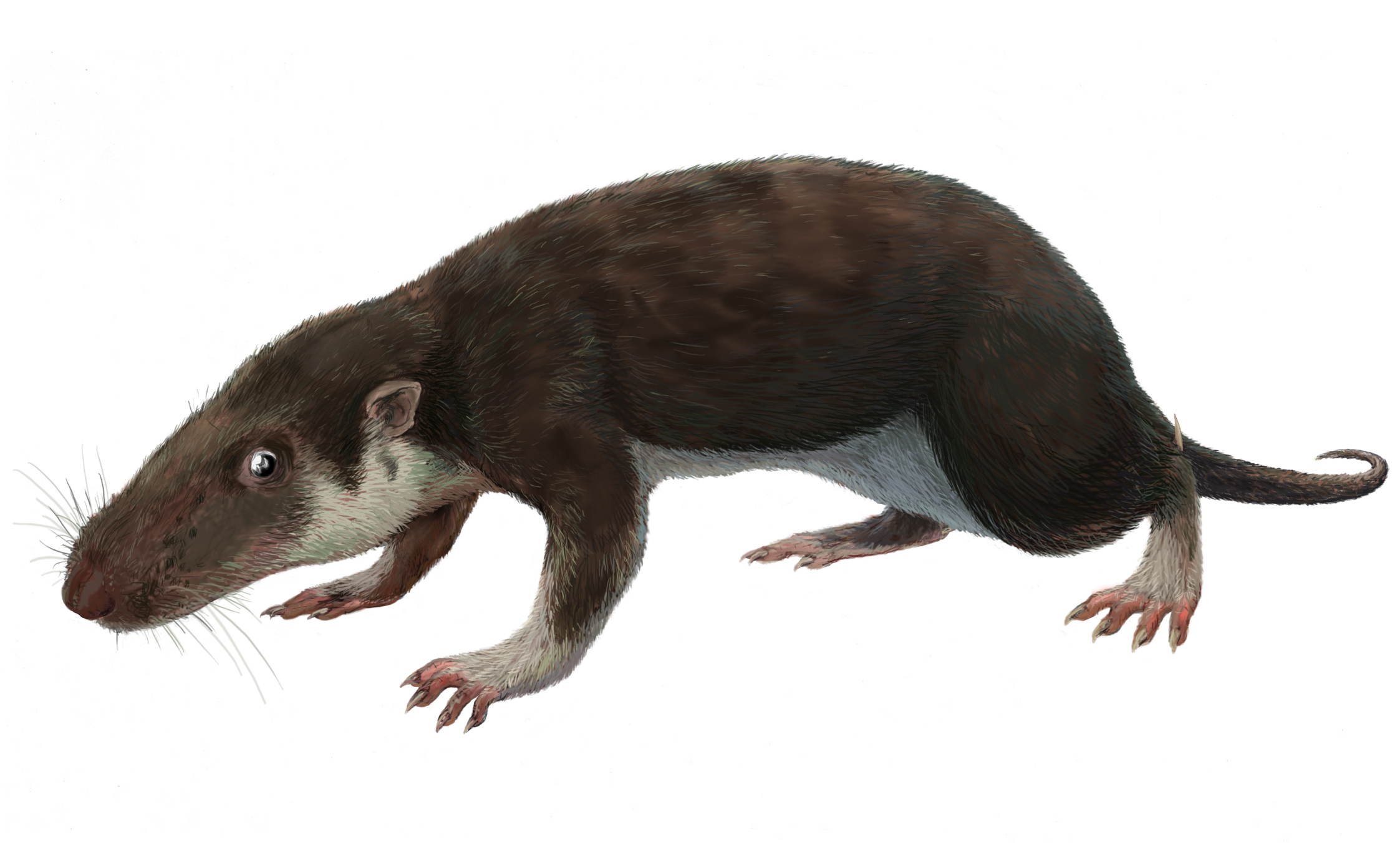 Morganucodon
from
SERCblog
But first, the definition:
Mammalia: (Jurassic - Rec) Morganucodon is mammal-like in many ways. Indeed, paleontologists long debated the definition of Mammalia, arguing for or against various character-based criteria. You might easily find Morganucodon referred to as a mammal in older textbooks.
Problem: As we saw with Tetrapoda, tension exists between the desire to define taxa based on:
Non-arbitrary criteria
Familiar apomorphies that we associate with the taxon.
The definition of Mammalia was a battleground on which this issue was contested during the 1990s. We see two classes of definitions:
Crown group definitions advocated by Tim Rowe of the University of Texas at Austin among others.
Apomorphy-based definitions as advocated by Spencer Lucas of the University of New Mexico. countered that this criterion changes the membership of groups as long understood by paleontologists.
Whether
Morganucodon
(right) is or is not a mammal depends on which way we jump.
What are the relative merits of these positions? Which is more useful to a specialist? ... a teacher? ...a librarian? Which is more stable over time?
Although the issue is not quite dead, proponents of the crown-group definition seem to have carried the day. For us.... Mammalia is the last common ancestor of monotremes, marsupials, and placentals, and all of its descendants.
The last common ancestor of crown-group Mammalia lived during the Early Jurassic.
By the Early Cretaceous, lineages leading to the three major living groups were present.
But strangely, the crown groups of Monotremata, Marsupialia, and Placentalia only seem to have happened following the Cretaceous-Paleogene (abbreviated K-Pg) extinction.
Prior to this, successive groups of Mesozoic mammals (and their close relatives) radiated numerous times into a variety of ecological niches, only to be pruned back by extinction. Ecological zones occupied including (from the Jurassic):
Potential synapomorphies of (crown group) Mammalia
If we base our diagnosis strictly on living animals, the following potential synapomorphies emerge:
Mammary glands
Hair
Significant enlargement of the brain
Diphyodonty: Mammals have two generations of teeth, deciduous "milk teeth" that are replaced by Permanent teeth.
Post-dentary bones are completely detached from the jaw and form the mammalian middle ear
If we include only a few fossil mammals, an additional potential synapomoprhy arises:
Before we examine these, we must be familiar with the basics of living mammal diversity.
Major extant mammal groups
Monotremata:
Platypus, echidna, et al.
Living diversity:

Ornithorhynchus the platypus: Aquatic, specialized for hunting small invertebrates by means of an electroreceptive sense organ housed in its snout. Dig deep burrows in river banks.

Sexual dimorphism: Males equipped with venomous spurs on hindlimbs. Link to video.





Short-beaked echidna,

Tachyglossus aculeatus

from

Wikipedia

Tachyglossus and Zaglossus The echidnas: Superficially convergent on ant-eaters. Specialized for ripping open termite mounds and eating occupants. Armored by hedgehog-like spines. Strong burrowers. Actually rather smart.
Egg laying! All monotremes lay leathery-shelled amniotic eggs. Platypus incubates eggs inside burrow. Echidna carries eggs in pouch.
Is egg-laying, therefore, a synapomorphy of Monotremata?
Dentition: Where teeth are concerned, living monotremes disappoint.
The platypus has deciduous molars but no permanent teeth. Instead, it uses keratinous pads.
The echidna has no teeth at all.
Today only three species on monotremes. There is a very small fossil record of "stem monotremes" going back to the Jurassic. E.g. Steropodon: Fossil specimen. But at least these have teeth.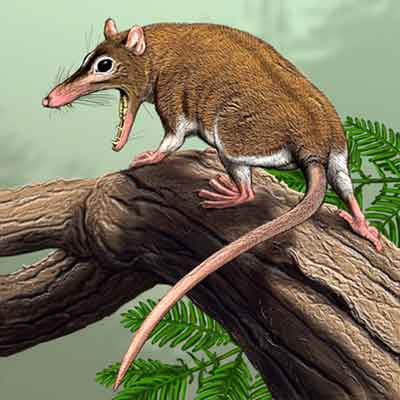 Sinodelphys szalayi
- Early Cretaceous therian - from
Wikia
Theria:
Containing the more familiar mammals that:
Give live birth
Have external ear flaps
Therian diversity: breaks down into two large groups:
Marsulialia: the pouched mammals
Placentalia: the placental mammals
Marsupialia:
The pouched therians.
Diversity: Today, marsupials occur in two regions:

The New World: The New World marsupials are remnants of the original marsupial radiation that occurred in the Cretaceous. South America once housed a great diversity, which included some of the major land predators such as the sabre-toothed Thylacosmilus (Skull). Today sadly reduced to opossums (right) and related critters.


Mareeba rock wallaby,

Petrogale mareeba

Australia: marsupials appear in the Australian fossil record in the late Paleogene, and radiate extensively. They are monophyletic with respect to other marsupials. New World marsupials apparently are not. Indeed, it seems that marsupials dispersed to Australia from South America, passing through Antarctica. (At least one variety, the monito del monte belongs to the Australian group but has back-propagated into South America.)





Monodelphis domestica

from

Iowa State University

Biology: Marsupials have taken the momentous step of dispensing with the egg. Instead they give birth to young at very early stage of development. The young crawl into a pouch, where they grab onto a nipple and develop. Note: When embryo is still in uterus, a tentative egg shell is deposited and reabsorbed. This system allows marsupials to pump the babies out, conveyor belt fashion. Consider opossum: at one time, one litter in uterus, one in pouch, and one riding on back. Further enhancing their fertility is the tendency of sperm cells to conjugate and swim in tandem.

In another sense, this is very limiting. Marsupials display predisplacement in the development of their forelimbs, which must be equipped with muscles and claws in order for the embryo to drag itself from the vagina to the pouch. As a result of this constraint, there are limits to the the degree to which the forelimbs can be modified, hence, there are marsupial "moles" and "cats" but no marsupial "bats" or "whales."
Placentalia
:
Rather than expose a tiny embryo to the outside world, placentals have evolved a mechanism for keeping the embryo inside the uterus until it is highly developed. The the extraembryonic membranes form a placenta through which nutrients, oxygen, and waste products are exchanged between embryo's and mother's blood stream. This enhances survival prospects of any one embryo and relieves constraint on its forelimb morphology, but requires greater maternal investment of energy, not to mention difficult birth.
Placental diversity: The diversity of placentals puts that of marsupials to shame, not merely in species diversity, but in ecological variability. Among placentals we see animals adapted for:
There are many interesting issues in placental systematics (E.G. te relationships of whales) but these exceed the scope of our discussion.

Enigmatic synapomorphies of Mammalia:
Nurkingmoms
Mammary glands: for which "Mammalia" is named. All female mammals have them. No living non-mammal does. But being truly soft-tissue, they do not fossilize, so we are reduced to speculation about their origins. One hint: Among therians, milk is expressed through distinct nipples. Among monotremes, it exits the body through a diffuse array of pores. Perhaps mammary glands derived from glands that were more widely distributed in the skin. (Apocrine sweat glands are often cited.) . Olav Oftedal, 2002, proposed that milk is derived from secretions intended to moisten, disinfect, and transfer nutrients to the parchment-shelled eggs of basal synapsids during incubation. From there it is a short evolutionary step to having hatchlings feed on the secretions. Support comes from the facts that:
Dry, aglandular skin is a synapomorphy of Sauropsida. The glandular skin of synapsids and lissamphibians is plesiomorphic, and there is every reason to expect that it occurred in basal synapsids.
Some nutritional milk proteins are chemically derived from antimicrobial proteins.
This would require parents to be looking after eggs. Evidence for parental care is observed in Middle Permian varanopids, i.e. very early in synapsid evolution.
Sounds good. If Oftedal is correct, are mammary glands a synapomorphy of Mammalia, or of a larger group?
Castoricauds
from
newcritters.com
Hair: A synapomorphy of crown-group Mammalia only if you shut you ignore fossils. The derived non-mammalian cynodont Castorocauda (right) definitley had it, and how far down the cynodont tree it extends is anyone's guess.
If you were to use Lucas' apomorphy-based definition of Mammalia, might hair remain a synapomorphy?
Thrinaxodon
from
U C Berkeley
(left);
Didelphis
(Virginia opossum), a mammal from
University of Wisconsin Seven Points
Brain enlargement: This happened abruptly (or at least very rapidly) at or near the base of Mammalia. Comparison given here are between non-mammalian cynodonts and marsupials. Note that both placentals and monotremes tend to be brainier than marsuplials. This transformation could result from a combination of causes including:
Enlargement of the olfactory bulbs and increased olfactory acuity
Scaling effects of miniaturization. Perhaps the limits to how small you can make a brain are more confining that those of how small you can make a body.
But the speed with which it happened suggest that it may have resulted from a homeobox gene duplication event. In this case, it could be linked to the next synapomorphy......
Morganucodon
, a non-mammalian cynodont. (left);
Monodelphis
(Short-tailed opossum), a mammal (right)
The post-dentary jaw bones have completely dropped off of the jaw and have attached to the base of the skull, where they form the bones of the mammalian middle ear. Ancestrally in tetrapods, two of these, the quadrate and articular (endochondral ossifications of the palatoquadrate and Meckel's cartilage, respectively) formed the jaw joint. In mammals, these go by different names:
The quadrate becomes the incus
The articular the malleus.
Only the stapes retains its old name. (Of course, a couple of major groups ago, we were calling IT the hyomandibula!)

In the process, a new jaw joint, formed by the dentary (now the only bone of the jaw) and the squamosal, takes over. Creatures like Morganucodon - near but not at this transition, show post-dentary bones that attach very loosely to the post-dentary trough in the medial surface of the jaw.

The last two synapomorphies are arguably linked. Brain size determines the size of the braincase. When the braincase is large, the post-dentary bones cannot perform their acoustic function without detaching from the jaw and adhering to the braincase. Significantly, opossums exposed as embryos to chemicals that cause microcephaly (tiny brains) are sometimes born with the postcranial bones attached to the jaw. This is the argument of Rowe, T. 1996. We see this evolutionary transformation recapitulated in the platypus embryo, whose post-dentary bones are initially attached to a cartilagenous Meckel's cartilage that inserts into post-dentary trough. (Link to item i.)
Medial aspects of jaws of a.)
Morganucodon
; b.)
Yanuconodon
from
Post - r
What would be needed to falsify this hypothesis?
Consider Yanuconodon, identified as a mammal on the stem leading to therians. It, and several stem - monotremes retain attached post-dentary bones and open post-dentary troughs.
Minimally, how many times has the loss of the post-dentary bones occurred.?
Lower tribosphenic molars from
Animal Diversity Web
Tribosphenic molars - Postcanine teeth with a specific complex pattern of occlusion that facilitates both the shearing and crushing of food. In it:
Upper molars are triangular, with a raised triangular region and a lower protocone.
Lower molars are divided into two parts:

A raised triangular trigonid anteriorly
A talonid basin posteriorly.

When the teeth occlude, that raised triangles shear past one another slicing food and the protocone grinds against the talonid basin, grinding it.

Tribosphenic molars appear to be present in:

Ancestral therians (All therian molars are, in some way, derived from the tribosphenic pattern!)
Several stem monotremes

That suggests that they were present in the common ancestor of monotremes and therians. The problems:

Tribosphenic-looking molars appear in Middle Jurassic stem-monotremes while, at the same time, critters on the therian stem lack them.
The stem-monotreme teeth differ in detail from those of therians


Shuotherium dongi

from

Variety of life

At least one basal stem monotreme - Shuotherium - has "pseudotribosphenic" molars in which the talonid basin is anterior to the trigonid!.

Is Shuotherium's talonid homologous to that of a therian mammal?

It appears that functionally tribosphenic teeth arose at least twice.

What else is homoplastic about Shuotherium from the image?
free4health
Diphyodonty: Only two distinct generations of teeth, milk teeth and permanent teeth. (In contrast, most vertebrates continuously replace their teeth.) At last, an unambiguous mammalian synapomorphy.
Two big object lessons emerge from this review:
Several of the characters we typically associate with mammals are probably plesiomorphies.

Yet others, including the detachment of the middle-ear bones and the tribosphenic molar, have arisen more than once in mammalian evolution - clear examples of evolutionary convergence.