And now, a problem....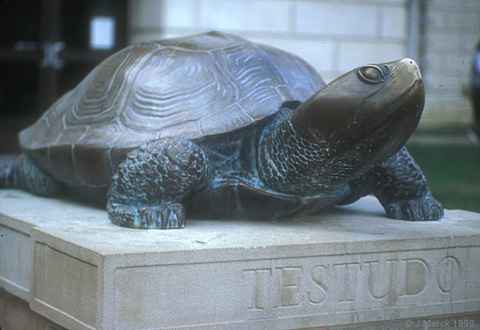 Testudo, actualy
Malaclemys terrapin
We have failed to address one sauropsid group that is dear to our institutional heart. We have saved
Testudinata
- turtles - for last because they represent the greatest challenge of any enigmatic vertebrate to phylogenetic systematics, despite their being very easy to recognize.
The Shell:
Trachemys scripta

, the red-eared slider - disassembled

Shell, combining elements of the axial skeleton (ribs and vertebrae) fused indistinguishably to dermal plates to form a solid shell skeleton.


Keratinous (above) and bony (below) elements of the shell from Pough

et al.

, 1990.

The turtle shell - Components: A composite structure in several senses:

A dorsal carapace is integrated with a ventral plastron between the fore and hindlimbs. These sections form by distinct developmental processes and did not evolve simultaneously.
Both carapace and plastron have: These bony plates and overlying scales do not match up! Elements in both layers are identifiable and have names. Bony and keratinous elements do not match up one for one.
While the bones of the plastron are modified variants of those in other tetrapods:

Epiplastron = clavicle
Entoplastron = interclavicle
Remainder = gastralia

The elements of the carapace appear to be composites of modified endochondral ribs and vertebrae, and dermal bone of some sort. The elements:

Neurals incorporate dorsal vertebrae
Costals incorporate ribs
Marginals, suprapygal, and pygal have no obvious homologs
the nuchal appears to incorporate the cleithra! (Lost in Sauria but present in ancestral tetrapods like the basal reptiliomorph Gephyrostegus).




Apolone spinifera

spiny softshell turtle (upside down)

Inside out: In all other vertebrates, the appendicular skeleton is literally appended to the axial skeleton. Among turtles, and only among them, the axial skeleton appears to have grown around the appendicular skeleton - the limbs and limb girdles. This represents a major tweaking of their developmental pathways. Debate rages over how this composite structure evolved. Naturally, that debate overlaps with parallel debates over the origin and relationships of turtles. Two hypotheses:

Recent work by Hirasawa et al., 2013, indicates a more subtle process in the costals: Ribs begin to form endochondrally, but are broadened by perichondral outgrowths. At the same time metaplastic (i.e. out of place) bone forms in the adjacent dermis and fuses to the rib, yielding the platy costals. Of course, these suture to form a rigid shell. The turtle shell - Development: In contrast to all other tetrapods:

The ribs initially form in the somitic sclerotome but do not extend ventrally into the lateral plate mesoderm forming the body wall. Instead, they invade the dermis of the dorsal trunk.
Rib formation is partially induced by the carapacial ridge that extends around the trunk. This feature functions like the apical ectodermal ridge of the limb buds, attracting the growing ribs and deflecting them from their normal developmental pathway. (Hirasawa et al., 2014)
The elements of the plastron, in contrast seem to form from a secondary proliferation of neural crest, according to Clark et al., 2001.




Ventilating turtle lungs from Pough

et al.

, 1990.

The lungs: Consequences of having a rigid shell that forms in this way:

The girdles are enclosed inside the shell. (Not strictly inside the rib cage when one disregards shell components that aren't strictly homologous with ribs.)
There is no room for intercostal muscles normally used to expand and contract the rib cage in breathing.
Breathing is facilitated by the action of muscles on the:

posterior limiting membrane posteriorly
and on the pectoral girdle anteriorly.




Pectoral girdles of

Captorhinus

(left) and

Macroclemys

- a cryptodire (right)

The girdles: As noted above:

The turtle clavicle and interclavicle are incorporated into the plastron
the cleithra (not pictured) are part of the carapace

this leaves the endochondral elements of the girdles.

The pectoral girdle is triradiate with:

a long, slender scapular shaft,
a very long acromion process of the scapula,
and a broad anterior coracoid.

Action of the serratus and pectoralis muscles rotates the girdle anteriorly, expanding the thoracic cavity.
the pelvis connects to the carapace through two pairs of sacral ribs, and abuts the plaston ventrally.
The Skull:
Eretmochelys imbricata

, the hawksbill turtle from

Sanybel.com

Loss of teeth. In turtles, the mouth is lined by a horny beak made of keratin, like a bird or dicynodont beak, and lacks either marginal or palatal teeth.




Chelydra serpentina

, the snapping turtle - quadrate in red

Turtles skull features:

Like synapsids and saurians, turtles independently evolved an impedance-matching ear. In turtles, however, the tympanum is not supported by jaw bones in any way. Rather, it is completely supported by the quadrate, which has a deep posterior embayment like that of saurians, but without the contribution of the posterior extension of the jaw.

Turtles have no temporal fenestration, however they give their jaw adductor muscles room to breathe by greatly enlarging the openings in the posterior surface of the skull. In some cases (right) the dermal skull roof remains pretty much intact. In others (E.G. Apolone, post-temporal fenestration can greatly reduce the skull roof.
Tu'i Malila and companions in the 1950s from
tongaturismo.info
Longevity:
Confirmation of evolution
: Biologically turtles illustrate a fundamental fact about evolution -
Life span is correlated with one's ability to avoid accidental death.
Suppose that humans have a variety of genes, some of which confer great advantage for individuals above age 150 and some that are lethal for people that age, but that don't effect younger people. Can natural selection select for the advantageous gene? No, because it never gets the chance. People don't live that long. Indeed, for all critters, natural selection for mechanisms of self-repair of the body can only work if at least a few individuals are still alive and mating at the age when this would be an issue.
Animals like marsupials are usually dead from predation, disease, or accident before they reach this point. But what happens with animals that posess some adaptation that keeps them relatively safe? These may reach advanced ages where natural selection can work on mechanisms for body repair - i.e. longevity. For this reason, when you compare mammals and birds of similar size, the birds almost invariably have the longer life span. But they can't compare with turtles. These creatures, in natural settings, at least, are so immune to predation and accident that they have evolved extreme longeivity. Indeed, it's not clear at what point they do start aging. E.G. Tu'i Malila, a Malagasy radiated tortoise given to the King of Tonga by Capt. Cook in 1777 passed away in 1965 at a minimum age of 188.
Diversity:
Turtles, despite their differences from all other amniotes, encompass a great deal of ecological variety. Although many are fresh-water aquatic, some are adapted to
dry environments
, and some are
fully marine
. Some are adapted for
rapid swimming
, some for a
more leisurely mode
. In coming to grips with their phylogenetic diversity, we have to keep a few names straight.
Pantestudines: The total group containing turtles and everything more closely related to them than to other living amniotes.
Testudinata: The apomorphy-based group containing turtles and their fossil relatives with an unambiguous turtle shell.
Testudines: The crown-group containing the last common ancestor of all living turtles and all of its descendants. Its diversity falls into two major groups:
Pleurodira: the side-necked turtles of the southern continents.
Cryptodira: the turtles who pull their necks directly into the shell on the midline.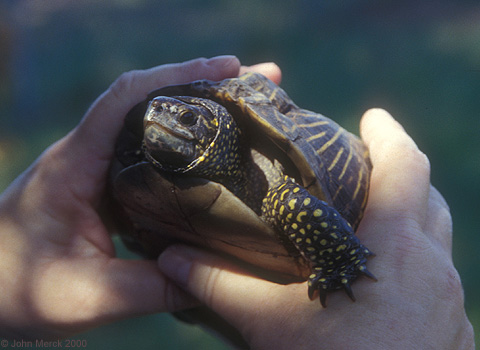 Terrapene carolina bauri
the Florida box turtle of Gloria Lennon.
Cryptodira
: (hidden neck - Early Jurassic - recent)
The monophyletic group containing all turtles that pull their heads straight into their shells. (This includes most of the turtles you know.)
Their synapomorphies include:
Neck retracts by folding ventrally along the mid-line.
Noteworthy plesiomorphy: Otic capsule serves as trochlea for adductor muscles (below). Among living turtles, this distinguishes cryptodires, but it is also present among stem Testudinata.
Cryptodiran superlatives:
Chelonioidea: (Cretaceous - Quaternary) Sea turtles, the only turtles successfully to invade the open oceans, including the largest living turtle (the leatherback) and Cretaceous superlatives like Protostega.
Trionychia: (Cretaceous - Quaternary) Including pig-nosed turtles and softshelled turtles - fresh water turtles with reduced carapaces and limbs modified for rapid swimming.
Testudinoidea: (Paleogene - Quaternary) Including tortoises and pond turtles.
Pelusious castaneus
the African side-necked turtle by Jenni Bodey from
Allturtles.com
.
Pleurodira: (side-neck - Early Jurassic - recent)

The so-called side necked turtles, that fold their heads sideways against their bodies. These are found, today, only in the southern continents. Side-necked turtles retract their heads flexing their necks at the well developed articulations between cervical centra. Restricted to the southern (gondwanan) continents, they are the dominant turtles of Australia.


Comparison of stem testudate (left), cryptodiran (center) and pleurodiran trochlear pattern from

Joyce, 2007

Their synapomorphies include:
Neck retracts by folding laterally into shell.
Presence of a projection of the pterygoid to guide the adductor muscles (right).
Pleurodiran superlatives:
Stupendemys (Neogene of Venezuela) Fresh water aquatic. The largest turtle ever.
Chelus fimbriata, the mata mata of South America. A cryptic turtle that has lost its beak and depends entirely on suction feeding.
Chelodina longicollis, the Australian eastern long-necked turtle.

Proganochelys: (Late Triassic) Turtles from farther down the tree are generally similar, with:
Terrestrial adaptations
Armored necks and tails
Of these, the earliest and best documented is Proganochelys (Late Triassic), well known from several specimens. It could not retract its legs, head, or tail into its shell. The neck and tail were studded with free-floating pieces of dermal armor. Nevertheless, it was turtle-like in overall appearance, with a full-blown shell and lacking marginal teeth.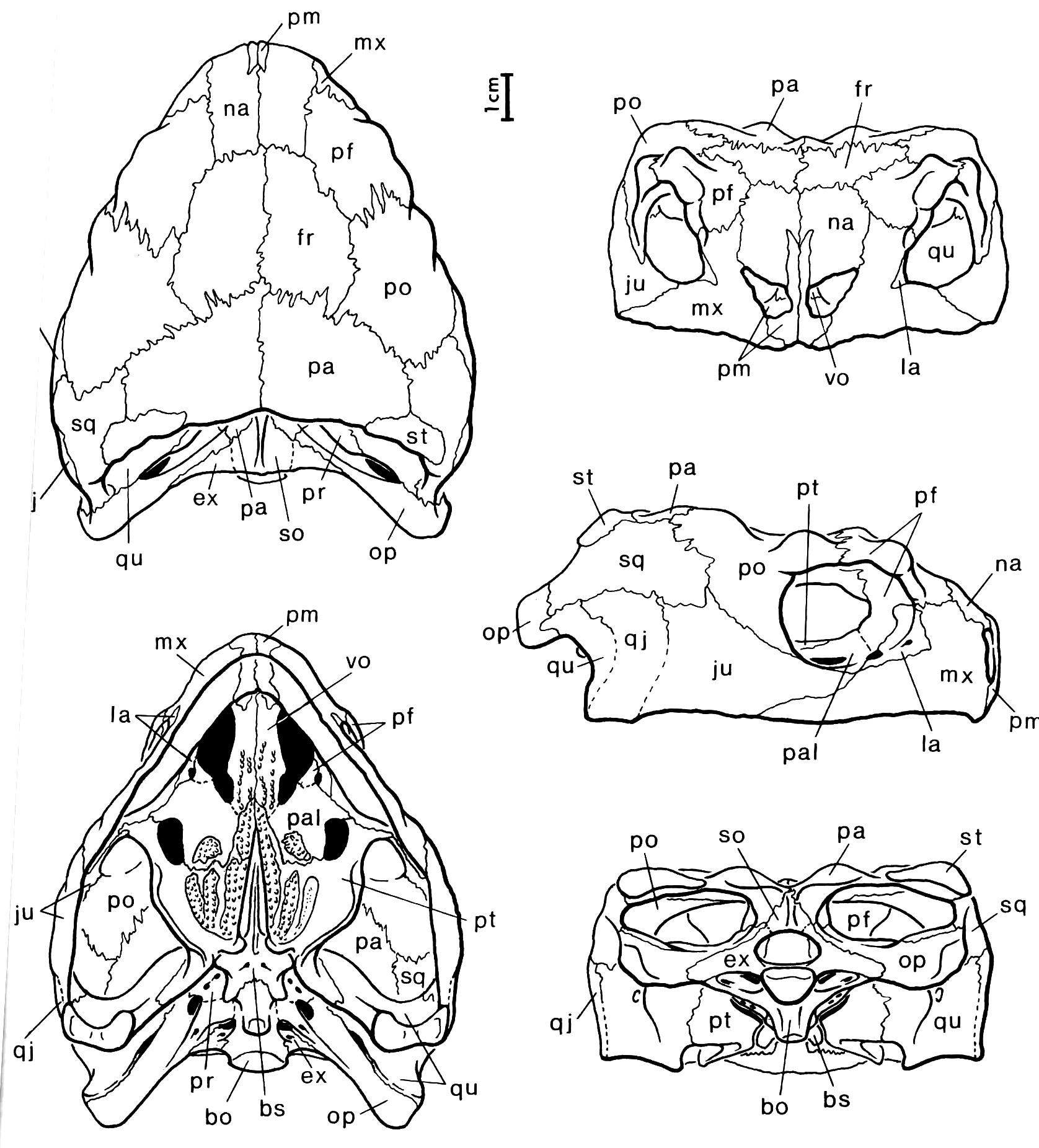 Proganochelys quenstedti

It plesiomorphically displayed:
The absence of a trochlear system of the jaws
A mobile basipterygoid articulation
A clavicle with a dorsal process that reached the carapace.
A relatively short acromion process.
What are turtles?
Proganochelys, the prototypical ancestral turtle pretty much looks like a turtle: Weird and not especially similar to other amniotes. What are turtles, in fact? For twenty years, this has been the big debate in amniote systematics. Since HONR219d was last offered, the question has finally started to yield.