Sauropsida - the reptilian half of Amniota
The basal sauropsid
Mesosaurus
by Nobu Tamura from
Wikipedia
Sauropsid Phylogeny
: All organisms more closely related to birds than to Synapsids.
Is this a total-group-based of node-based definition?
The pattern: All amniotes that are not synapsids are sauropsids. All of this diversity breaks down into two large groups, Parareptilia and Diapsida plus a few small fossil ones.




Synapomorphies of the known sauropsids include:

Openings in palate beneath eye sockets.

Color vision.
Dry aglandular skin with a new kind of scale made of keratin-B (similar to the keratin-A of your hair and fingernails)
Parareptilia
: (Permian - Triassic) This group contains a number of distinct fossil groups. Our reasons for covering them here will become apparant soon. Parareptilian skulls generally retain the
anapsid condition
of the anapsid skull, lacking temporal fenestration. Yet, like egg-laying in monotremes, this is a plesiomorphy, not a synapomorphy. We will return to them in a later lecture.
Diapsida: (Carboniferous to Rec.) Diapsids first appeared in the Late Carboniferous and still exist. Modern diapsids include birds, crocodylians, lizards and snakes, and Sphenodon. In this course, we have addressed enough radical changes caused by HOX gene duplications or other radical developmental transformations that we might start to think of these as the norm. It's interesting to encounter a vertebrate group whose evolutionary novelties seem to be genuine adaptations by natural selection.
We start, as usual, with a list of synapomorphies. If you aren't careful, you might construe this as a list of unrelated factoids, but actually, they form a coherent picture of a suite of related adaptations.
Synapomorphies:





The stem-diapsid

Hylonomus

by Doug Henderson from

Evolution 36

There are two general patterns here:


The jaws are adapted to a faster but weaker bite.

The creatures are adapted for faster locomotion.
Jaws as levers
. It is possible to get a hint of how an animal uses its jaws by looking at their physical properties as levers. In gnathostomes, the
input lever
is the distance between the insertion of the jaw muscles from the jaw joint. The
output lever
is the distance from the biting surface to the jaw joint. When the ratio of the input to output lever length is high, the bite is strong, but the output lever moves more slowly for every bit of jaw muscle contraction. When it is low, the jaw moves more quickly but with less force.
When the ratio of the input to output lever length is high --> strong but slow bite: Suitable for hard bodied but relatively slow moving prey, scavenging, or plants.

When it is low --> rapid but weak bite: Sacrifices strength in order to make bite rapid. Suitable for quick but soft prey. I.e. insects.
A glance at some early members of Amniota, including primitive synapsids and turtles (above) tells us that strong slow bites were the norm.


Behold Petrolacosaurus, * (Late Carboniferous). The leverage of the jaws shows that the bite was fast, albeit weak. The presence of temporal fenestrae, allowing the jaw muscles to contract more, strengthens this interpretation. This allows speculation of adaptation to insect diet. This is further indicated by three other features:

The limbs: Limbs of anapsids and other basal amniotes tend to be short, stocky and muscular. Among living animals, turtles give the best indication of the locomotor grade of the basal amniote. Diapsids are conspicuously different in having long slender limbs. This, by itself, indicates that they were faster moving. Consider the relationship of the length of the proximal and distal parts of the limb.

So far we have considered only two

African elephant

Graviportal animals have limbs that are optimized for bearing lots of weight rather than moving rapidly, and tend to have comparatively long proximal limb segments.


Coke's hartebeast

Cursorial animals have limbs that are optimized for rapid locomotion tend to have comparatively longer distal limb segments.

Viewed in this light, the synapomorphy of the tibia - astragalus joint can be seen as a means of lengthening the distal limb segment. Thus, diapsids are adapted for faster running and biting, although for weaker biting. Coincidentally, a new food source had appeared slightly before the first diapsids during the Mississippian: >Flying insects. Hard to catch, but relatively soft.

The diversity of primitive diapsids
: These small (lizard-sized) creatures shared their world with anapsids and with the large-bodied primitive synapsids.
Late Triassic

Megalancosaurus

by Nobu Tamura from

Wikipedia

Though not very diverse at first, they attained a number of ecological specializations including:

Sauria
: (Late Permian - Rec.) The most recent common ancestor of living lizards,
Sphenodon
, crocodylians, and birds.
The first members of Sauria appear during the Permian. The end of the Permian (which was also the end of the Paleozoic) marked the largest extinction event in the rock record. Although it was primarily felt by marine creatures, it had repercussions on land. Among diapsids, only Sauria survived the Permian extinction and continued into the Mesozoic. After the Permian extinction, saurian diversity exploded while synapsids went into a slow decline.


Synapomorphies:


Prominent retroarticular projection of jaw: An extension to the jaw that projects behind the jaw joint.

Quadrate supports a tympanum (=ear drum).

The infratemporal fenestra opens onto the ventral margin of the skull.
The cleithrum (a dermal ossification of the pectoral girdle - large in basal tetrapods, small in basal amniotes) is lost.

The retroarticular projection gives greater leverage to the muscles at the back of the skull that open the jaw. Both features together actually support an ear drum, indicating that the ancestral saurian could hear airborn sound. Compare a saurian skull with that of a primitive diapsid. We now have an animal that could hear airborn sound, and was even better at rapidly opening and closing its jaws. Of course, the lighter and more open the skull became, the weaker the bite became.

There are two major lineages of saurians, one that accentuated the lightness of the skull and quickness of the bite to the maximum, the other that reevolved a strong solid bite within the framework of the diapsid skull pattern.

Thus, Sauria breaks down into two important monophyletic groups:


Lepidosauria (Triassic to recent) The most recent common ancestor of squamates (lizards and snakes) and Sphenodon (the New Zealand tuatara) and all of its descendants.

Archosauria (Permian to recent). The most recent common ancestor of crocodilians and birds and all of its descendants.
Lepidosauria
: (Triassic - Rec.) The most recent common ancestor of lizards and
Sphenodon
, and all of its descendants.
Synapomorphies:


Mojave rattlesnake

Crotalus scutulatus

Overlapping scales * (contrast with false gavial, an archosaur)


Boyd's forest dragon

Hypsilurus boydii

Modified mid-dorsal scale row.




Paliguana

, a stem lepidosaur

Diversity:


The fossil relatives of lepidosaurs are poorly known from a small handful of fossils. The earliest were superficially lizard-like, and would probably be tough to distinguish from a lizard if you had a living specimen. (E.G. Paliguana, right)
There are two living Lepidosaurian monophyletic groups.
Rhynchocephalia: (Triassic - Rec.) The single genus Sphenodon is the sad remnant of a large group of lepidosaurs that was abundant and speciose during the Triassic and Jurassic. Ancestrally they were terrestrial, but many were aquatic, with long, eel-like bodies and short limbs. The living Sphenodon and its closest fossil relatives are characterized by a return to the strong, slow bite we saw in ancestral reptiles. Ancestrally, however, rhynchocephalians retained the cranial proportions of other saurians (E.G. Gephyrosaurus.)
Sphenodon lives on a few islands off the shore of New Zealand. It feeds small vertebrates. Noteworthy for being able to remain active at low temperatures (roughly 50 degrees).
Compare the rhynchocephalian
Sphenodon
(left) with the squamate
Tupinambis
(right)
Synapomorphies:
Teeth are fused to bones of jaw (rather than sitting in sockets.)
Differentiated tooth row with enlarged incisors and precisely occluding cheek teeth.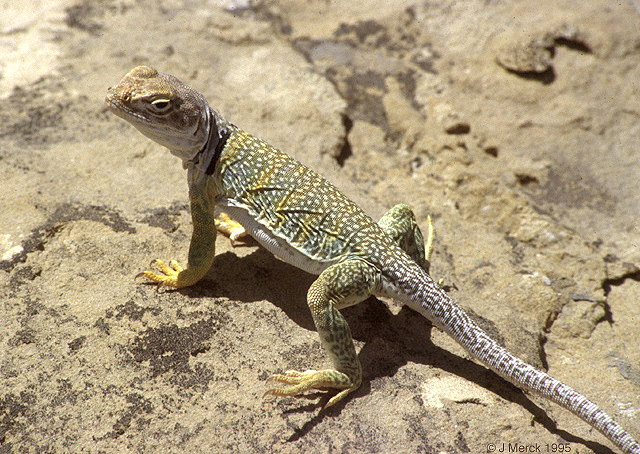 Squamata: Lizards and snakes. (Triassic - Rec.) Thousands of species. Many interesting adaptations. There is no way to cover exhaustively if we had an entire semester.


Precision in taxon names. As the phylogenetic system of taxonomy has developed, its practitioners have become more sophisticated. In the early days, however, researchers were often were more exuberant than prudent. This failing often showed up in the way in which group names were defined.
Priority: Both traditional and phylogenetic systematists respect the notion that the first name to be applied to a group is its proper name and has priority over all subsequent names.

Stability: We strive to coin taxon names and definitions that will not need confusing revisions.

Mistakes were made: As the phylogenetic system of taxonomy has developed, its practitioners have become more sophisticated. In the early days, however, researchers were often were more exuberant than prudent. This failing often showed up in the way in which group names were defined.


Sloppy definitions that were vulnerable to being rendered meaningless by changing phylogenetic hypotheses. E.G. Lepidosauromorpha.

Sloppy interpretations of definitions resulting in misleading literature.


Discussion: Sometimes, taxa have been defined in ways that make instability likely.


Problems with Sauria of Gauthier, 1984.

Is it possible to diagnose a group with a stem based definition?

Is it possible to say that two node based groups originated at the same time if we know they are sister taxa?


Similar problems exist with the taxon name "Reptilia," which we will consider in a later lecture.


In subsequent years, several attempts have been made to codify robust standards for cladistic taxon definitions, notably the PhyloCode, to which Gauthier was a significant contributor.