CPSP118g
11-21-06
Terra Mobile

John Merck
A question: If erosion is constantly wearing down the land's surface, why are there mountains?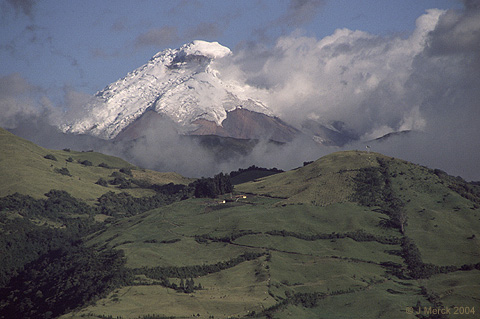 A possible answer: Upwellings of molten rock form them. That's doubtless true in the case of volcanic mountains like the Andes or Galápagos. But what about the many mountain ranges that aren't made up of volcanos, like the Himalayas or the Alaska Range (below)?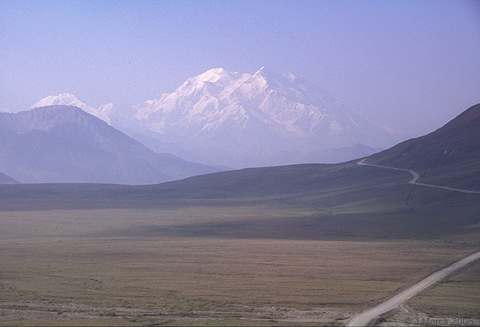 For that matter, why do any continents stand above sea level?
Here's the answer:
Plate Tectonics
In Darwin and Lyell's time, people expected that the topography and composition of the ocean's floor should resemble that on land. The first practical test of that hypothesis occurred in 1872 when the British government sponsored the first interdisciplinary research expidition to expore the world's oceans - the four-year voyage of the H. M. S. Challenger. The deep oceans defied expecataions:
The ocean basins were mostly flat. Such hills as existed were isolated cones, i.e. volcanoes.

Sediments, when present, were very thin.

All of the bedrock was igneous - volcanic, even when there were no nearby volcanoes. Most consisted of a single rock type - basalt.

Because of this, the bulk density of ocean floor crust was distinctly greater than that of continental crust. Geologists soon recognized two distinct types of crust:

Oceanic: Richer in Mg and Fe and heavier.
Continental: Richer in Al and Si and lighter.

The rocks were very young compared to those on continents. None older than the Cretaceous (i.e. <=145 million years, whereas continental rocks can range up to 3.8 billion.)

Bizzare mid-oceanic ridges ran down the middle of oceans. These were soon recognized to be the longest mountain ranges in the world. They are typically highly symmetrical around a ridge axis and at their crests are long rift valleys.

Deep trenches fringe the margins of most oceans. These are parallelled by chains of active volcanoes.
Clearly the geology of the oceans was unlike that of the continents. Geologists soon regarded continental and oceanic crust as very different beasts. WTF?

The beginnings of an answer came from an improbably source. The German meteorologist Alfred Wegener (1880-1930) performed field work in Greenland, covered by a continental ice sheet.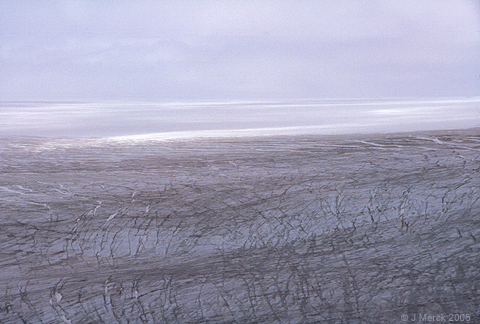 There, he had ample opportunity to observe the behavior of glaciers. He observed that ice, when greatly compressed, flowed plasticly, allowing the ice sheet to glide slowly across the underlying rock, and apparently began wondering if rock did the same thing on a larger scale. He noticed the following patterns:

Continental Drift: To explain this, Wegener proposed the hypothesis of continental drift: i.e. that the location of continents was not fixed, and that they had "drifted" across the globe. Note: Wegener thought that the continental crust slid over the oceanic crust like glacial ice sliding over bedrock.
The matches in shorelines, geology, and paleontology between continents occurred because these continents had once been joined in an hourglass-haped supercontinent called Pangaea. Wegener particularly noted the similarities in India, Africa, and South America, and correctly predicted the discovery of similar rocks in Antarctica.

Linear mountain ranges were formed by the "bow shock" of a continent plowing across the earth.
Problem: While Wegener was a genius at making observations and recognizing patterns, he was not able to provide a theory to explain and predict the movements of continents, i.e. to say how it happened. Of course, no one else could, either, but that didn't really matter. The Geological profession didn't like amateurs claiming to solve puzzles that had defied them for 40 years, so....

From 1929 until 1960, no US textbook mentioned continental drift. In 1930 Wegener died in a freak storm while doing field work in Greenland. (Note: Wegener never really fell out of favor in South America, where Geologists routinely walked over the rocks that formed the basis of his argument.)

New evidence and reconsideration

Paleomagnetism After WWII, several lines of evidence from the study of the intrinsic magnetic fields of igneous rocks began to come together.
Paleomagnetism on land: Igneous rocks, when they solidify, preserve a record of their magnetic environment at the time when they solidify. Since the magnetic poles wander, geologists thought that a neat way to track the ancient movement of the poles would be to read the record preserved in igneous rocks' intrinsic magnetic fields. Immediately two enigmas developed.

Diffrent continents tell contradictory histories. If you assumed that the continents were stationary, then the rocks of different continents told radically different stories. That didn't make sense, because there definitely weren't different magnetic poles for each continent. A cold creeping suspicion developed that Wegener's hypothesis described these observations as well as anyone's. As of 1960, academic opinion was split 50-50.

Paleomagnetism at sea: Recall that geomagnetic reversals occur at irregular intervals, causing North and South magnetic poles literally switched places. During WWII, marine magnetometers had been invented to detect submarines. In the early 1960s, geologists sought magnetic information from marine rocks, using these. What they found was spectacular.

Bands of rocks whose intrinsic magnetic fields had normal magnetic polarity alternated with parallel bands showing reversed polarity. These bands paralleled the mid-ocean ridges. Thus, bands of rock with the same polarity must be of roughly of equal age.
Furthermore, these bands formed pairs of mirror image counterparts on the opposite side of the ridge. It appeared that sea floor was forming at the ridge crests and moving apart, as if they were being spooled out.
To further clinch the argument, by the 1980s, sensative measurements had been made, actually measuring the rate of sea floor spreading. This is roughly 3 cm/year for the Atlantic. If you project this backwards you get the ocean opening at the time of its oldest sediments.

Harry Hess puts the pieces together: Hess was an igneous rock geologist (a "hard-rock" man) who had participated in sea floor geologic surveys in the 1950s and early 60s. At the beginning of the sixties, he finally put the pieces together: Wegener had been right to say that the continents moved, but for the wrong reasons. Hess's view is the foundation of the theory of Plate Tectonics, which has become the unifying theory of modern Geology. Between 1960 and 1970, the academic community was won over to it. Here is its essence:

Layers of the upper Earth:

Lithosphere: The zone in which rocks are rigid and deform brittlely. Includes the crust and upper mantle. The lithosphere is broken into distinct rigid plates.

Asthenosphere: A region of the upper mantle beneath the lithosphere in which rock is partially molten and deforms very ductilely. Plate movement occurs when lithospheric plates glide over the ductile asthenosphere.

Below this the mantle rock deforms ductilely but contains less liquid and is therefore more stiff than in the asthenosphere.

New oceanic crust is formed by frequent volcanic eruptions along the lenght of mid-ocean ridges and is pushed outward from them gradually.

Old oceanic crust is destroyed when it subducts or dives beneath adjacent plates at subduction zones. Oceanic trences are the topographic expression of these subduction zones.

Oceanic crust behaves differently from continental crust, being denser. Whereas sea floor gets subducted, continental rock is light enough not to, although it can be profoundly deformed, when two continents (i.e. blobs of continental crust) collide above a subduction zone.

Mid-ocean ridges and subduction zones largely divide the oceanic crust and uppermost mantle into rigid plates that glide across a deeper layer of ductile and partially melted rock and move relative to one another.
There are several major plates and numerous minor ones.

Thickness: The thickness of the lithosphere varies depending on:

whether it carries oceanic or continental crust: Continental lithosphere is, on average, 150 km thick, although it can be thicker beneath mountain ranges.
how far from a mid-oceanic ridge it is. Old oceanic lithosphere is up to 100 km thick, while at the axis of a mid-oceanic ridge, it may be only ten km thick.

NOTE: Plate tectonics was only a partial vindication of Wegener's continental drift. It was different in that the continents are merely passengers riding on mobile plates, and do not drift across the earth's crust by themselves.

Animation 1 - the Red Sea

Plate tectonics' explanatory power:

Distribution of earthquakes and volcanoes along plate margins.

Locations of orogenies - mountain building events. There are two types:

Peripheral, result of the leading edge of continent interacting with a subducting oceanic plate. E.g. Cascades or Andes.
Interior, result of collisions of and coalescence of continents. E.g. Himalayas (an ongoing orogeny). The Urals, Atlas, Appalachians, and others represent ancient interior orogenies.

Apparant motion of hot spots: There are places where volcanoes erupt not in a plate tectonics determined arc, but at a single point. Examples are These are called hot spots. The sources of their heat are rising plumes of hot mantle rock that originate far below the domain of plate tectonics - maybe even from the mantle-core interface. Thus, they are rooted deep in the Earth. Nevertheless, they often sit at the end of lone strings of extinct volcanoes. Hawaii contains the youngest volcanoes in the Emperor Seamount chain. These chains form as a plate moves over the hot spot, continually carrying away the older volcanoes and allowing new ones to form. Similar to the effect of allowing an old vinal LP to rotate over a bunsen burner flame.

Occasionally a mid-oceanic ridge and a hot spot directly coincide. In this case, you get a great surge of volcanic activity from both sources, as in Iceland or the Galápagos.