My Research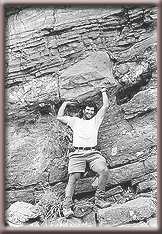 My paleobiologic and paleoclimatic research focuses on the determination of changes in the isotopic composition of the oceans through time, by the geochemical analysis of stratigraphic suites of sedimentary carbonate and shale. These studies aim to document the co-evolution of life and the surface environment across critical transitions, including Earth's earliest ice ages and mass extinctions.
Opportunities for Undergraduates
Over the past 12 years the gas source mass spectrometry laboratory under Kaufman's direction has employed over 30 University of Maryland undergraduate students as well as undergraduates from other universities and interns from nearby high schools .
Current undergraduate senior thesis projects include:
Jessica Little: Biomarker analysis of carbon irich shales in the Neoproterozoic Bambui Group of Brazil
Tyler Baril: A carbon and sulfur isotopic study of the Devonian Marcellus Shale in Pennsylvania
Laboratory
The gas source mass spectrometry facility at the University of Maryland was opened by Kaufman in 1999 with the purchase of two Isoprime mass analyzers for carbon and oxygen isotope measurements related to paleobiological and paleoclimatic research. In 2001 this facility was expanded when James Farquhar joined the Geology Department to include ThermoFinnigan Delta + and 253 mass analyzers, specifically for the measurement of multiple sulfur and oxygen isotopes for paleoatmospheric studies. With the recent addition of Mike Evans to the faculty the gas source mass spectrometry facility is undergoing further expansion. A new Paleoclimate laboratory is currently under construction to house new instrumentation procured by Evans and Kaufman.
Current Courses
GEOL 436: Principles of Biogeochemistry
GEOL 444: Low Temperature Geochemistry