GEOL 102 Historical Geology
Spring Semester 2017
The Late Paleozoic Era: The Carboniferous and Permian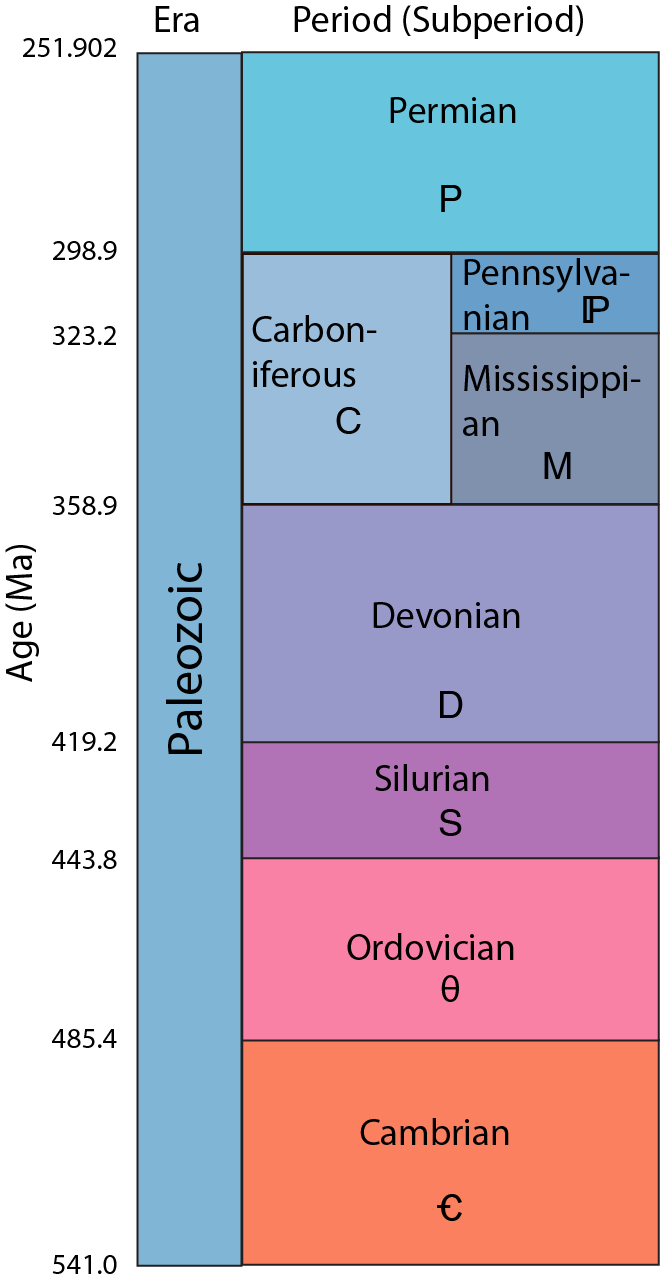 Phanerozoic Eon: 541.0 - 0 Ma
Paleozoic Era: 541.0 - 251.902 Ma
---
In traditional non-North American geology the (North American) Mississippian and Pennsylvanian Periods were not recognized; the Mississippian Period is thus the same as the traditional European Early Carboniferous Epoch and the Pennsylvanian Period is equivalent to the traditional European Late Carboniferous Epoch. In the latest international time scale, a compromise was reached, and the Mississippian and Pennsylvanian are "sub-periods" of the Carboniferous (each has three Epochs).
Paleogeography and Geology of the Mississippian:
Tabulate-stromatoporoid reefs disappear; related to switch from calcite seas to aragonite seas:
When midocean ridges have low activity, high levels of Mg relative to Ca: aragonite seas with reduced reef building activity
When midocean ridges have high activity, low Mg/Ca ratios: calcite seas with increased reef building activity
Early Cambrian through mid-Mississippian, calcite seas
mid-Mississippian through mid Jurassic, aragonite seas
mid-Jurassic through mid-Cenozoic, calcite seas
mid-Cenozoic through today, aragonite seas
During Mississippian, no reef complexes of significance.
Huge carbonate banks in most shallow seas: crinoid meadows produce limestones whose main clasts are crinoid columnal elements.
Continued decline of CO2 -- sucked up into soils, and eventually coals -- lowers greenhouse effect, start of new series of Gondwanan glaciations. Non-reduced oxygen accumulates in the atmosphere.
During Late Mississippian, the Variscan Orogeny:
Beginning of the collision between the Iberian & Armorican parts of Gondwana and Euramerica, and thus the loss of most of the Rheic Ocean and well on the way to the assembly of Pangaea
Once the "Hercynian" Orogeny was considered a separate event, but this seems to be part of the same complex
End of Mississippian: major regression, associated with mass extinction of some groups of stalked echinoderms and ammonoids.
Paleogeography and Geology of the Pennsylvanian:
Continued decline of CO2 (to just about modern levels!). O2 levels reach their maximum in Earth history (around or above 30%). Since N2 levels (which represent the majority of the atmosphere) would have likely remained constant, total atmospheric density reaches its highest in the age of blue skies (i.e., since the reducing atmosphere was oxidized).
As a consequence of this, forest fires become EXTREMELY easy to trigger. Also, higher O2 levels may have been the reason that very large terrestrial arthropods could live in the Carboniferous.
Continued glaciation in Gondwana: southern continents remain largely emergent.
Continued Collision of Gondwana and Euramerica:
Eastern Laurentia-Gondwana (Africa) collision closes Rheic Ocean producing Alleghanian Orogeny (late Mississippian-Pennsylvanian):

The third and last part of the Appalachian Orogeny
Resultant mountain range was at least as high as present Himalayas!

Southern Laurentia-Gondwana (Florida, South America, etc.) collision called Ouachitan Orogeny (Late Pennsylvanian):

Deformed large sequence of deep marine passive margin sediments accumulating from Ordovician through Early Pennsylvanian

Assembly of Laurussia and Gondwana produces most of Pangaea:

Only Siberia (which collides with Euramerica to form the Uralian Orogeny in the Pennsylvannian and Permian) and other Asian cratons (which collide in late Permian through Triassic) remain separate continents

Creation of the Tethys Ocean (a large embayment on the eastern seaboard of Pangaea, with its own typical warm-water fauna)
Alleghanian Orogeny produced the direct "ancestor" of the modern Appalachians: the current mountains are the erosional remnants of the fold-and-thrust belt of the Alleghanian Appalachians.
Unusual cratonic deformation in southwestern Laurentia:
Formation of the Ancestral Rockies (the Front Range and Umcompahgre uplifts)
Orogeny not by collisional events per se, but by vertical faulting and uplift
Uplift may be response to stresses generated by Ouachita orogeny
Produced huge amount of sediment, deposited nearby throughout southwest
MOST IMPORTANT GEOLOGICAL EVENT OF PENNSYLVANIAN:
Cyclothems (called "Coal Measures" in Europe)
Repetitive sequences of transgressions-regressions of nearshore and paludal deposits
Cover large expanses of North America, Europe, Russia, China: not common in Gondwana
Contain vast majority of Earth's coal deposits
Huge amounts of buried vegetation removed vast amounts of CO2 from Earth's atmosphere: these levels have NEVER returned to pre-Mississippian levels, although did rise again during Late Permian
The Industrial Revolution ran on Pennsylvanian deposits; the threat of anthropogenic global warming is that we will liberate enough CO2 to reach mid-Paleozoic levels!
Coal in great deposists may be helped in Carboniferous for multiple reasons"

Physical geology and glacioeustacy (see below)
High level of atmospheric oxygen may promote charcoalification (pre-burial burning); some experimental evidence suggests that much coal is actually charcoalified rather than simply buried
May have been early enough in history that major tree-decomposing bacteria and fungi had not yet evolved, hence more debris to be buried
Formation of cyclothems
Northern continents were very low relief during Pennsylvanian
Extensive coal swamps covered the coastlines
As Gondwanan glaciers expanded, regressions and swamps moved seaward
As Gondwana glaciers retreated, transgressions and swamps moved landward
Repetitions could be VERY rapid (few tens of thousands of years)
Evidence from charcoal among the coal suggests that some represent huge, high temperature forest fires (not unlikely, given higher O2 levels during Pennsylvanian)
Some minor reefs formed by sponges, bryozoans, and algae.
Paleogeography and Geology of the Permian:
Increase in continental climates (extreme summers and winters, arid conditions) in many parts of the world, as Pangaea becomes more emergent.
In restricted basins, major evaporite deposits. Elsewhere, lots of eolian deposits.
CO2 levels begin to rise:
Drier conditions cause major decline in the coal swamps, so less carbon is buried
Drier conditions also means less chemical weathering
Gondwanan glaciers shrink somewhat
Collision between Siberia and northeastern Pangaea (former eastern part of Euramerica/Laurussia); Uralian Orogeny (Permian)
The Chinese blocks remain the only large cratons not attached to Pangaea.
Latest Permian and earliest Triassic:
Collision between microplate Sonomia and western Laurentian part of Pangaea
Sonoman Orogeny: part of the Cordilleran orogenies
Sonomia is now southeastern Oregon, northern California, and northern Nevada
The accretionary wedge formed during the orogeny is called the Golcanda terrane
Downwarped basins in what is now west Texas were bordered by big reef complexes (sponges, bryozoans, algae, brachiopds are main reef formers); otherwise, very few reefs from the Permian.
At very end (last half million years?) of Permian: Siberian Traps:
Largest flood basalt & largest volcanic episode in all of the Phanerozoic

Presently covers 2.5 million km3; estimated original area 7 million km2
Estimated original volume of 2-5 million km3! (including 250,000 km2 tuff!)

Coincides with the Permo-Triassic extinction, the largest of the Phanerozoic
---
Late Paleozoic Marine life:
Marine life of the Mississippian:
Many groups (tabulates, stromatoporoids, trilobites, placoderms) never recover in diversity from Late Devonian mass extinctions.

Others flourish: crinoids and blastoids do amazingly well, as do lacy bryozoans, brachiopods, ammonoids, sharks and actinopterygians.

Crinoid meadows: huge fields of crinoids and associated organisms.

Fusulinids: a type of foraminferan (armored single-celled eukaryote) appear: more important in Pennsylvanian.

Marine life of the Pennsylvanian:
Much as in Mississippian.

Fusulinids highly diverse, become important index fossils.

Marine life of the Permian:
Permian reef community: sponges and bryozoans as primary framework builders.

Brachiopods are extremely abundant, particularly large sediment sitters.

End of Permian: largest extinction in history of the marine realm
---
Late Paleozoic terrestrial life
Carboniferous flora:
Convergent evolution of the tree among many sorts of vascular plants. Diverse forests.

Major groups:

As the world began to dry out during the Late Pennsylvanian, scale tree and calamite forests decline as seed plant forests rise. Scale trees and cordaites die out at end of Pennsylvanian.

Permian flora:
Calamites die off in Early Permian.

Coal swamps decline over most of the world (not in China and in high latitudes of Pangaea).

Glossopteris: a "seed-fern" which was the most important member of the Glossopteris Flora of Gondwana. Adapted to upland, drier, cold environments.

Also, first ginkgos (not important until Triassic).

Conifers also diversity in Permian. Arthropods on Land During the Carboniferous:
Arthropod diversity increases during Mississippian, but especially during Pennsylvanian (in concert with spread of forests). Some new aspects of Carboniferous arthropods:
Insects (winged hexapods) show up in Early Pennsylvanian
Most early winged insects have fixed wings (stick out to side, as in dragonflies)
By Late Pennsylvanian: foldable wings, allows insects to move into cracks and in between plants more easily
Also in Late Pennsylvanian, advanced metamorphosis (with maggots/caterpillars/etc. instead of nymphs)
Diverse types of insects: plant eaters, carnivores, etc.
Pennsylvanian arthropods include many gigantic forms:
Giant dragonfly relatives ("griffinflies") with 72 cm+ wingspan (largest known insects)
Giant terrestrial eurypterids (once thought to be giant spiders!), with 34 cm long body and possibly 70 cm or wider leg spread!
Scorpions (NOT eurypterids, but true scorpions) over 60 cm long!
Arthropleurids ("godzillipedes", giant relatives of millipedes) over 2 m long and 15 cm wide!!
Why so giant?
No effective predators on land to prevent giant size
Also, new data suggests that oxygen represented up to 35% (rather than 18%) of the atmosphere during Pennsylvanian: could more easily oxygenate the tissues of giant forms than today
Permian terrestrial arthropods:
Few new groups, although the giant forms disappear.
The Permo-Triassic extinction is the ONLY mass extinction to effect insect diversity: sail through K/Pg extinction, etc., with no discernible effect, yet many clades killed off by Permo-Triassic event.
Other Terrestrial Invertebrates:
During later Paleozoic, freshwater snails and clams appear.
Late Paleozoic terrestrial vertebrates:
"Romer's Gap": few terrestrial stegocephalians between Late Devonian and Late Mississippian, as well as little diversity increase in arthropods at this time. Why the delay? Possibly a sampling issue, but it has been suggested that lower oxygen level may have held back terrestrial radiations.
High diversity of Late Carboniferous stegocephalians (many are true tetrapods):
Most fish eaters, or ate other stegocephalians
Some very small (few centimeters), others a couple of meters long
Many stayed in water all their lives; others lived mostly on land
Almost all had to return to water to lay eggs
Some were earliest true Amphibia (fresh-water limited, reduced bones in body)
Tetrapods (four-footed ones):

Name restricted to Amphibia + Amniota and all descendants of their most recent common ancestor
Ecological breakthrough during Middle Pennsylvanian:
Amniotic egg:

Self-contained egg with leathery shell, and tissues to keep embryo moist, oxygenated, fed, etc.
Allowed possessors (amniotes) to live entire life cycle without going into the water to breed

Led to a series of adaptive radiations
Amniotes become the dominant group of large bodied terrestrial animals
Amniotes divided into two main branches:
Synapsids: Enlarged jaw muscle opening for increased chewing power
Sauropsids: better color vision, better water retention
The synapsids were the first group to radiate (during the Early Permian), including such forms as:
These early synapsids would have had the sprawling stance found in primitive tetrapods in general. They almost certainly would have been "cold-blooded" (the ancestral state for vertebrates). So traditionally these animals have been considered "reptiles". However, they lack the shared derived features of reptiles (see below), and are instead simply primitive synapsids. (In traditional taxonomy, these were put in the group "Pelycosauria", but this is a paraphyletic group: all synapsids except for therapsids). New discoveries show that even early synapsids had some parental care.
The early synapsids evolved themselves into extinction: that is, they were replaced in the Middle and Late Permian Epoch by the Therapsida: the advanced synapsids. Once called the "mammal-like reptiles", they are not true reptiles. Instead, they are the advanced branch of the synapsid phylogeny. They differed from earlier synapsids by:
Greatly expanded infratemporal fenestra
Teeth divided into nipping incisors, biting canines, and grinding cheek teeth
Forelimbs more powefully developed than hindlimbs
The Middle and Late Permian therapsids included:
Ancestrally, all vertebrates are cold-blooded (warm their bodies primarily using sunlight). However, some evidence suggests that the advanced therapsids of the Late Permian may have had elevated metabolisms (that is, were at least partially warm-blooded):
Some had a more upright stance than typically sprawling tetrapods
Some may have had a diaphragm, allowing more effective breathing (more in the third part of the course)
Similarly, some had a secondary palate, allowing them to breath while biting/feeding
Additionally, the complex cheek teeth of most therapsids allowed them to grind food up more effectively
Some have hypothesized that even Permian therapsids may have had fur. However, at present, we don't see definite preservation of fur until the Jurassic, and good bony features associated with whiskers (which are modified hair) in the Triassic.
What is "warm-bloodedness"? Ectotherms ("cold-blooded" animals) get most of their heat from outside the body (mostly the sun). This is much less expensive in terms of metabolism, but it means that they are less active overall, grow slower, have slower recovery times after period of activity, and are limited to environments or times of day and year when they can get sufficient warmth from the sun. Endotherms ("warm-blooded" animals) generate most of their heat internally (from extra, leakier mitochondria) and have greater activity levels, grow faster, have quicker recovery times after periods of activity, and can live in colder environments. This comes at a cost, however: to fuel their bodies, they need as much as ten times the amount of food of an ectotherm of the same body size.
Additionally, some therapsids seem to have had parental care of the young, keeping them in burrows.
True sauropsids tended to be relatively rare in the Carboniferous and Permian Periods. Sauropsida is characterized by a number of particular skeletal features (which we aren't going to deal with here, as they are fairly technical). Modern sauropsids (and by inference, their concestor and all of its descendants) share a number of soft-tissue features:
Aglandular skin: skin of fish, lissamphibians, and mammals have numerous glands (mucous, sweat, etc.). Sauropsid skin has few glands.
"Waterproof" skin: sauropsid skin has a special form of keratin that makes it relatively stronger and less likely to lose moisture than in other amniotes.
Water conserving kidneys: waste released as uric acid instead of urea (although turtles still primarily use urea, and the others can still pee liquid sometimes)
Excellent color vision: four-to-five type of color receptors, as opposed to the three of humans and many other primates and two in most placental mammals. (Once thought to be a shared derived feature of Sauropsida, but may simply be retained from the ancestral amniote: we'll see more when we look at the origin of mammals)
In general, compared to typical Mesozoic and Cenozoic ecosystems, the late Paleozoic land vertebrates were smaller (few ox- or hippo-sized, none larger), slower (no real speed specialists), and close to the ground (only a few gliders and no powered fliers; few tree-climbing specialists).
The Permo-Triassic Extinction:
Largest mass extinction of Phanerozoic. Total of all Permo-Triassic events may be 80-96% of species (or, in the flip side, only 4-20% of species survived)
Victims include:
Trilobites
Rugose and tabulate corals
Graptolites
Fusulinids
Eurypterids
Many brachiopod clades
Many lacy and stony bryozoans
Blastoids, all but one crinoid clades
All but a few species of ammonoids
Many primitive therapsids
Was once thought to be gradual (extended over 9 Myr), but now seems be in two main pulses (or maybe just even one!). Some evidence suggests that there is a first pulse, between the Capitanian Age of the Middle Permian (or Guadalupian) Epoch and the Wuchiapingian Age of the Late Permian (or Lopingian) Epoch. It was smaller, but still powerful: 34% genus level extinction in the seas (comparable to the Cretaceous-Paleogene extinction!) and fairly powerful on land, too. The event showed a marked reduction of members of the Paleozoic fauna, but not the loss of entire major clades. (However, some statistical evidence suggests that this may not be a real event, and that all extinction is concentrated at the end of the Changhsingian.)
The BIG ONE is at the end of the Changhsingian Age of the Lopingian Epoch, was the worst mass extinction in the history of multicellular life:
Huge
Fast (less than 1 Myr, probably much less than 300 kyr!!)
Tropics hit worse than poles: reef communities destroyed
Continental and marine communities affected around the same time
Occur during a major regression
Coincides with the largest flood basalt of Phanerozoic (Siberian Traps)

Event itself would have been relatively non-gaseous, but did erupt through a HUGE Siberian coal deposit, so would dump a large amount of carbon dioxide into atmosphere, leading to extreme global warming

Associated with a major anoxic pulse on both land and sea

Extreme global warming may have led to shallow water anoxia

Due in part to the lower solubility of carbon dioxide in warm water (think warm soda vs. cold soda!)
Also, if poles and equator have similar temperature, there is reduced wind, and thus reduced oceanic current, and thus little mixing of shallow water and deep water, and thus little reoxygenation of shallow water from the depths (think what happens if an aerator fails in an aquarium.)

Some evidence suggests a "burp" of hydrogen sulfide, perhaps due to blooms of hydrogen sulfide-producing purple sulfur bacteria in anoxic shallow water

If so, would have the additional effect of destroying ozone layer, adding UV radiation damage to the mix!

Possibly associated with major pulse of hypercapnia (high carbon dioxide levels) in sea
Also associated with major carbon isotope fluctuations

Carbon isotope fluctuation too extreme to be explained by biomass
However, these would be consistent with melting of oceanic methane hydrates

Higher deep sea water, due to Siberian Traps related global warming, would melt the clathrates (deep sea ices) rich in methane
As the latter rose to the atmosphere, they would greatly increase greenhouse effect (methane a stronger greenhouse gas than carbon dioxide)
Via a positive feedback loop, clathrate-driven global warming would melt more clathrates, and so on...

In Feb. 2001, first reports of possible extraterrestrial residue suggesting an asteroid impact at P-Tr boundary: however, these are controversial and still have not been successfully replicated at present
Regardless of precise scenario, extinction reorganizes the world. After the event, the Paleozoic marine evolutionary fauna becomes subordinate to the Modern marine evolutionary fauna. Also, the size and diversity of the animals present is greatly reduced.
Some basic patterns of extinction vs. survivorship:
Marine Realm:

Light calcifiers or non-calcifiers survived better than heavy calcifiers
Motile survive better than sessile
Forms with sophisticated respiration buffering their internal organs from the outside (e.g., complex gills, closed circulatory systems, etc.) survive much better than those whose internal organs in greater contact with outside world
As a side effect of all these, the extinction shifts a world to one dominated more by swimming and predation than one dominated by sessile calcified suspension feeders

Continental Realm:

Survivors are typically those adapted to low oxygen and/or temporarily high carbon dioxide levels: burrowers, mountain dwellers, semi-aquatic forms
Victims include many with only moderately sophisticated respiration: those with sophisticated respiration or with low metabolic rates survived better
Smaller body size generally favored
---
To Lecture Notes.
Last modified: 19 January 2017