Paleobotany I: Land plants
From
octopup.org
We care about land plant, or
embryophyte
, evolution for many reasons:
Plants are the primary producers for most ecosystems.
Plants form the framework of the physical environment in which land animals live. In fact, in the history of life on land, plants have functioned as pioneers, evolving to live in new environments, and making those environments hospitable for animals.
Plants influence sedimentation
The carbonization and exhumation of plants influences the carbon cycle.
Plants have a copious fossil record. Indeed, in the form of coal, they are economically important.
Land plant fossils, both macro and microscopic, are ubiquitous and precise paleoenvironmental indicators - the forams of the land.
Medullosa
from
UC Berkeley Museum of Paleontology
One pervasive technical difficulty
: Plants tend to shed parts while living and to fall apart on death. Also, different parts have different preservation potential. Consequently, paleobotonists are vexed by synonymy of ancient plant taxa, whose leaves, stems, trunks, reproductive structures, roots, and rhizomes may all be known by different names.
Plant origins
As far as we know, oxidative photosynthesis evolved only once, in cyanobacteria. (Although anoxic photoautotrophs use different electron donors)
Chlorophyll: The primary photosnthetic pigment, although other pigments can be involved.
Plastids: A family of organelles of photosynthesizers, including chloroplasts, responsible for photosynthesis. These arose from the endosymbiosis of cyanobacteria.
Secondary endosymbiosis: The incorporation of photosynthesizing eukaryotes by endosymbiosis has enabled several distinct eukaryote lineages to become photosynthesizers.
Plants sensu lato are descendants of the first organisms with plastids - i.e. the products of the primary endosymbiosis of cyanobacteria.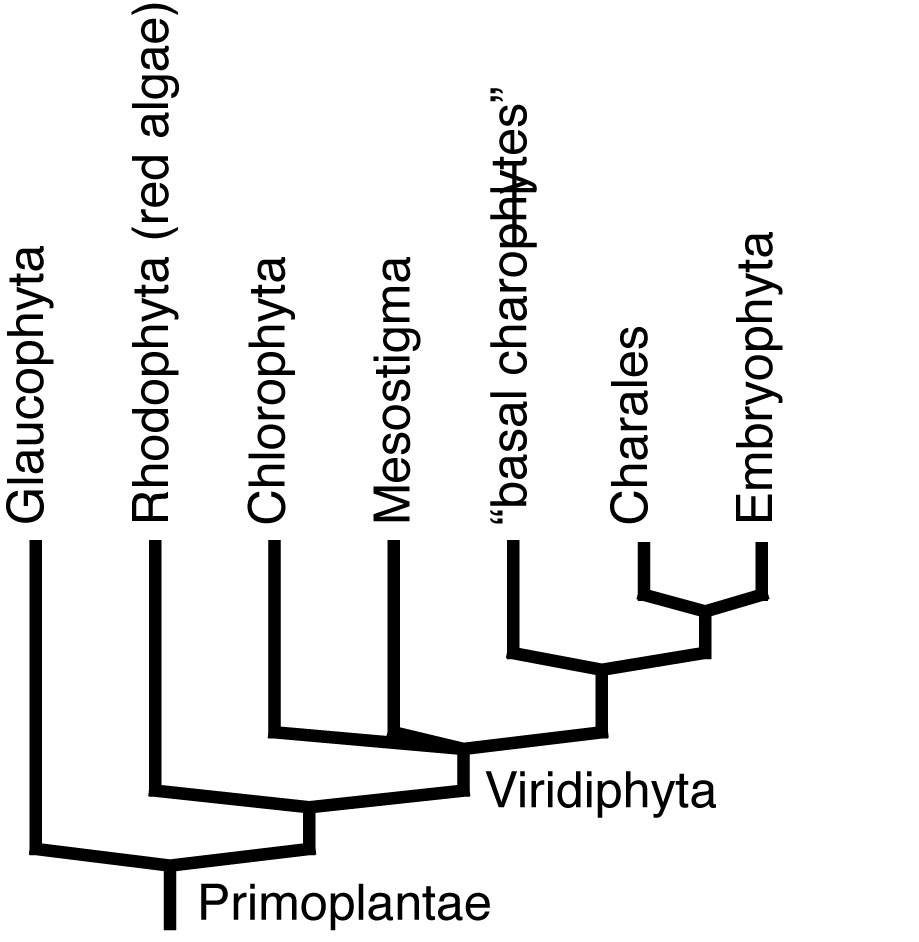 Plant phylogeny
:
Glaucophyta: (No record) Most primitive, unicellular
Rhodophyta: (Red algae - Neoproterozoic - Rec.) Discussed in previous lecture. Unicellular and multicellular. Exclusively marine Many are coralline - i.e secrete calcareous skeletons.
Chlorophyta: Unicellular and multicellular, marine and freshwater.
Mesostigma: Fresh water unicellular.
"Charophyta" Multicellular aquatic. Paraphyletic. Note that these plants do not alternate generations, and produce sperm and ova, although the sperm may not have flagella.
Charales Multicellular aquatic. Reproduction is as in Charophyta.
Embryophyta land plants.
Adaptations to life on land:
The closest sister taxa to land plants are the paraphyletic grade group of multicellular green algae known as charophytes
Charophytes:
exchange gasses with the environment by simple diffusion,
require no structural tissue to support their bodies,
release their sperm (and in some, ova) directly into the water.
In order for plants to colonize the land, they had to overcome the challenges of retaining water, exchanging gasses, supporting their bodies, and reproducing out of water. Five adaptations facilitated their response:
from
The BBC
A waterproof cuticle covering most of the external surface prevents desiccation.
A vascular system of fluid conducting cells to move liquids through the plant.
Stomata, controllable microscopic openings allowing gas exchange (right) through the impermeable cuticle. (These open and close in response to illumination, humidity, and [CO2].
Gametes no good for dispersal on land, hence dispersal through spores with durable walls to resist desiccation.
Were do we get spores? Alternation of generations in which the parent gametophyte shelters and supports a growing sporophyte.

from
Biology Reference
Alternation of Generations:
Adult diploid sporophytes produce haploid spores. These usually develop in capsules called sporangia which break open, allowing the spores to disperse.
Spores grow into haploid gametophytes. These produce male and female gametes. In more primitive embryophytes, regions of the gametophyte known as antheridia and archegonia produce sperm and ova respectively. The sperm swim to the through a film of water on the plant's surface to the ovum to form a diploid zygote.
The need for the sperm to reach the ova under their own power imposed a powerful constraint on the earliest embryophytes: Their gametophyte generation had to grow in moist environments.
The zygote growing from the archegonium, develops into a new diploid sporophyte. Sporophytes generally differ from gametophytes in possessing tall stems. Why? Presumably to elevate the sporangia for better spore dispersal.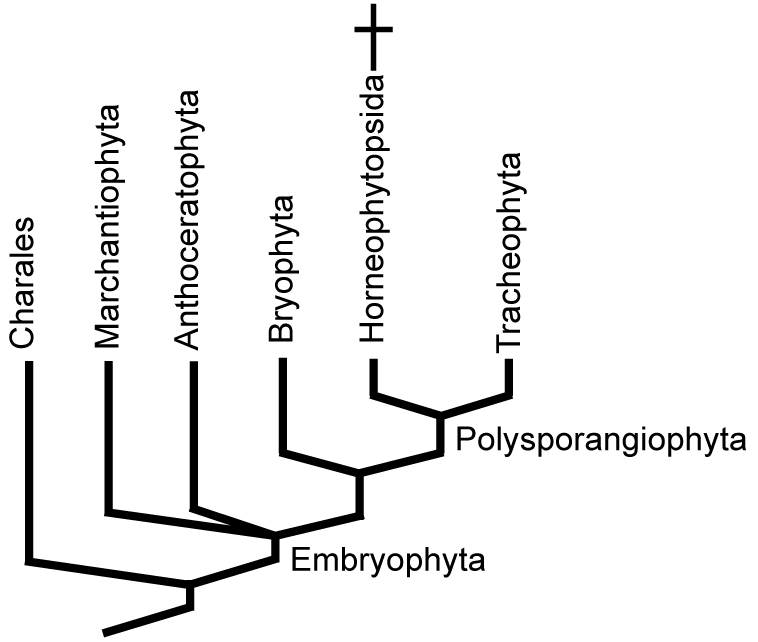 based on
Crane et al., 2004.
Fossil record:
Conventionally, we site the appearance of unambiguous plant macrofossils in the Early Silurian as the start of the land plant record. Gensel, 2008 has revealed microfossils including:
Cryptospores - Definitely Ordovician and possibly as far back as Middle Cambrian
Tubular and cuticle-like probable plant tissue - Definitely Ordovician and possibly as far back as Middle Cambrian
The absence of other early body fossils testifies to the problematic fossil record of basal non-woody embryophytes. Indeed, for some groups, the actual fossil record occupies only a small fraction of their likely time range.
Embryophyte phylogeny: Apparently, in the ancestral embryophyte, the gametophyte generation was emphasized and the sporophyte generation was relatively ephemeral. Because of the gametes dependency on water, such plants could only thrive in moist environments. This general pattern persists throughout a "bryophyte" grade of non-tracheophyte embryophytes.

Their roster: