If the world were geometrically simple, all channels would be perfectly straight with frictionless sides, and all water would move through them at the same speed.
We have already seen
that this is not the case. In the real world, friction slows the water interacting with the walls of the channel.
Moreover, in reality, channels are not straight. Thus:
Inertia throws the fastest moving water against the outside of the curve.

This "cutbank" experiences erosion.

Near the inner bank, the quietest waters accumulate. These deposit sediment in a "point bar".
The net result of erosion on the outer bank and deposition on the inner one is for the channel to migrate in the direction of the outer bank.
In map view, the result is a river that meanders in a series of broad loops.
Terminology:
Meander loop: A single loop of a meandering stream.
Cutbank. The bank that experiences erosion.
Point bar. The deposits that accumulate opposite the cutbank.
Meander features: In map view, we see that meanders are self perpetuating. They are limited by the fact that they bump into one another. A meander loop may cut itself off. When this happeens, water is faced with a choice: Go the long way or go the short way? Most water chooses to go the short way, i.e it takes the path with the steeper gradient and the meander loop is abandoned, forming an oxbow lake. Eventually it fills with mud, forming a meander scar. a muddy crescent in an otherwise sandy deposit belt.

Floodplains: All of this meandering happens as the stream "hoses" across a flat floodplain. How does this surface come into being?

Making a floodplain: When ground level is above the longitudinal profile, the stream will erode.
Initially, this produces a V - shaped canyon that can be widened by mass wasting.

this can be widened by:

direct erosion by stream
downcutting of tributaries
mass wasting.


The Mather Gorge of the Potomac displays these processes nicely.

Eventually, the erosive force of the stream against the side of its channel and the effect of mass wasting reducing the slope of the channel's banks combines to create a flat floodplain like that of the San Pedro River of Arizona (right). The stream channel is free to meander back and forth across this, eroding cutbanks and depositing point bars as it goes. Over time, all else being equal, the floodplain will widen.

Longitudinal Profile - How does the stream "know" when to stop cutting downward and start meandering?
Source: The beginning of a stream and its point of highest elevation.

Base level: The level at which the stream is no longer confined in a channel. Generally the ocean or a lake.

Longitudinal profile. The endpoints are the source and the base level. Between these two points, a stream will tend to assume a concave upward ideal shape or graded profile at which neither deposition nor erosion occurs. Any deviation will be dealt with either by new erosion or new deposition.

Complications of base level:
It often happens that a stream' longitudinal profile will be changed by something changing its source or base level.

Dams, natural and artificial: These bisect the channel into two longitudinal profiles with separate heads and base levels.




Incised meanders: What happens when the land on which a gently meandering stream flows is uplifted? The longitudinal profile changes and the stream erodes vigorously, cutting into its meander loops. Of course, once it is confined by its new canyon, it stops actively meandering. The above image of the Yampa River in Colorado tells us two things:


At one time, the river was meandering over a flat floodplain.
Recently, the land across which it flows was uplifted.



Stream types:
Meandering streams: Meandering streams represent an equilibrium between the effects of friction and inertia on the flow of water and the water's tendency to follow the shortest path and steepest gradient. So far, these are the only streams we have talked about. But there is a complication.....

Braided streams: What if we "overfed" a stream with so much sediment that there was hardly room for the water in the channel. This yields a "braided" stream. These may occur in regions where sediment is very easily eroded, or originate in glacial outwash, which is chocky full-o-sediment.

Generally, they are broad and shallow, with lots of bed load deposited as bars and subaqueous dunes. At low-water, these are exposed, dividing the stream into numerous braided channels. Typically, the channel of a braided stream has to spread out to occupy its entire floodplain.

Usually small, but can be very large:

Modern Brahmaputra
Mississippi during melting of Laurentide ice sheet.

Stream deposition: What happens during flood? Floodplain is inunated when the river overflows its banks. Think about the velocity of the water as it moves over the floodplain, the ultimate broad shallow channel.
Friction goes through the roof.--->
Velocity plummets--->
Competence is lost-->
Suspended load drops out!
Thus, whereas you get only sand and larger deposited in channel, you get mud in floodplain. Furthermore, most of it piles up next to the channel, forming a levee. Thus, the channel it heightened.

Point bar sequence: Each package of sediment deposited at a point bar forms a dipping drape of sediment over the earlier point bar. Coarser clasts accumulate at the bottom, while finer ones are at the top. A boring through a point bar therefore shows a fining-upward sequence. The uppermost portions show features characteristic of shallower water, such as ripples. Because it is deposited by a moving flow, nothing finer than sand occurs. This typical sequence makes channel deposits easy to identify in ancient rocks.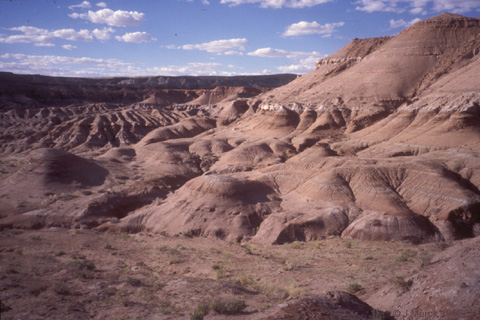 With this info we can now identify fluvial environments in the rock record: Layers of mud that are linear in map view, interspersed with ribbons of sand showing fining-upward sequence.

Two associated environments:
Deltas: The interface between the stream and marine environments. Transitional depositional environment.


Sequence of delta formation:

Stream empties into ocean
Dispersal of current
Loss of velocity
Loss of competence
Deposition.


Delta deposits quickly build up to sea level and prograde or advance their edges into the ocean.

How would you tell a delta deposit from a point bar deposit?

Coarsening upward sequence.
Transitional in map view between continental and marine deposits.



Of course, the streams interact with the delta they are making by lengthening their channels. For various reasons, these channels tend to be subdivided into smaller channels called distributaries. As the delta grows and the distributaries lengthen, the sediments at any point will gradually become less marine and more continental. Topset deposits will look like regular old fluvial deposits.

Alluvium and Alluvial fans: On land in arid regions, mountains can channel rain water into intermitent streams which may empty onto a valley floor. Flow tends to be flashy and intermittent, at times resembling mudflows more than streams. These streams carry much sediment but lose competence as soon as they are not confined by mountains.

Result: Alluvial fan: A conical deposit characterized by large clasts radiating from a point source.


Now, something cool. Check out this alluvial fan link.
---
Key concepts and vocabulary:
Cutbank
Point bar
Meander loop
Oxbow lake
Meander scar
Floodplain
Longitudinal profile
Source
base level
incised meander
Meandering stream
Braided stream
Overbank muds
Levee
Point bar sequence
Fining upward sequence
Delta

Progradation
Coarsening upward sequence
Distributary
Progradation
Topset deposits

Alluvium
Alluvial fan