Definition of a glacier
:
Large mass of land-bound ice

is composed of compacted and recyrstallized ice

flows on land under its own weight
Consider Glaciers and the hydrologic cycle
.
Glaciers currently comprise about 10% of land surface (15 million km2!)

If all current glacial ice were to melt, world SL would rise by approx. 80 m.

Glacial budgets: When do glaciers form?
Where snowfall exceeds summer melt we see the development of permanent snowfields

This is favored in higher latitudes, higher elevations. Thus, near the equator one must look at very high elevations like Mt. Kilimanjaro ( Kilimanjaro in 1984 to see glaciers, whereas at high latitudes, they can acutally flow into the ocean.

How do glaciers form?
Pretty snowflakes are transformed into solid ice by a process that amounts to an icy form of burial metamorphism - They recrystallize due to confining pressure. The process:
Snow flakes are 90% air

Weight of overlying snow causes them to loose nice shape, packing to 50% air

This continues until they become little granules of ice called firn - (Swiss-German for "last year's snow")

Finally recrystallize into glacial ice crystals. These physically resemble crystals of marble.

Ice mechanics
: The ice crystals that people interact with typically are brittle. When confining pressure is great, however, they deform ductilely, like rocks in the asthenosphere. The weight of
40 m.
of overlying ice is usually enough to cause ice to deform ductilely. As a result, accumulations of ice thicker than this tend to flow downhill under their own weight. (Not surprising that Wegener got some of his ideas by watching the behavior of glacial ice.)
Mechanisms of glacial movement:
Ductile flow: Movement caused by the ductile deformation of compressed ice. The top 40 m. of ice ride along and deform brittlely.

Basal slip: The bottom of the glacier can be heated by friction with the bedrock, causing a small amount of melting. This lubricates the rock-ice interface, allowing the glacier to move faster. This is the same process that allows ice skating.

Climatic influence:

Dry glaciers: In colder climates, basal melting is minimal or absent, and flow is entirely through ductile flow.
Wet glaciers: In warmer climates, basal slip can predominate.
Glacial budgets
: Glacial ice recedes or accumulates depending on the balance of
accumulation
and
ablation
- i.e. loss through melting, sublimation, and breaking off of icebergs.
Zone of accumulation: Region where accumulation exceeds melting.

Zone of ablation: Region where ablation exceeds accumulation.

Positive and negative glacial budgets: The firn limit: The elevation to which the snow recedes in the summer (below which you don't see last year's snow) This provides a useful reference point for glacial movement:

If the firn limit moves downslope, then the glacier has a positive budget
if it recedes, budget is negative,
if unchanged, glacier is balanced.
Big concept
: Landmarks like the firn limit or the toe of the glacier may move uphill or downhill depending on the glacier's budget, but
any given parcel of ice always moves downslope
.
Major types of glaciers are function of scale and geometry: Two are recognized: continental and valley.
Continental Glaciers:

Ice sheets that cover vast areas 50,000 km2
Unconfined by topography
Flow outward from a central area of accumulation
e.g. Antarctica and Greenland
This is the type of glacier that used to cover the northern part of the U.S. Some small remnants, such as the Harding Ice Sheet in Alaska rserve as reminders.


Valley Glaciers: Rivers of ice flowing down hill follow the same path that a stream would follow, in a drainage that is roughly same scale as a stream drainage.

Valley glacier profile
:
Cirque: Glacial ice usually accumulates in an amphitheater-like hollow in a mountainside called a cirque.

From the cirque, if flows downhill into a glacial valley. Often they flow over an icefall at the lip of the cirque to reach the valley.

Toe: Where ablation overwhelms the flow of ice from higher elevations, the glacier ends.

Idiosyncrasies of glacial flow
:
Surges: Normal flow rates for glacial ice are 2 cm to 1 m/day. Such normal flow is punctuated by surges, in which glaciers flow much faster - up to 16 m /day.

Crevasse: When glacier turns a corner, or flows over a topographic irregularity, the brittle upper 40 m of ice breaks in deep extensional gashes called a crevasses.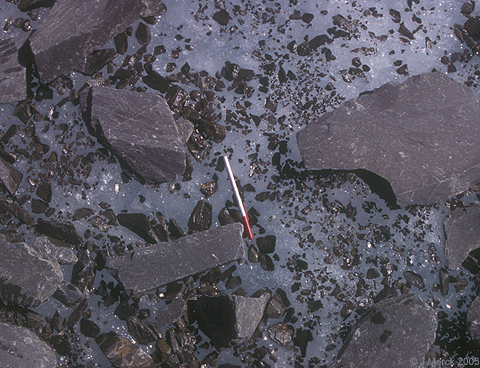 Processes of Glacial erosion
:
Bulldozing: Unlike water or wind, glacial ice can push very large clasts along.

Plucking: For reasons of fluid dynamics, glaciers tend to pull up pieces of bedrock from their beds as they flow.

Abrasion: Lots of rock gets caught up in the boundary layer of ice next to the glacier's bed. As a result, the glacier acts like megasandpaper.

Any material that has been brought to the glacier by mass wasting is indiscriminantly transported by the glacier.

Erosional features
:
Striations: as pieces of rock are dragged over bedrock this creates smooth, abraded surfaces. Striations reveal the direction of flow. In the case of continental glaciations, scoured surfaces can be continental in scale.

Roche moutonnee: The glacial equivalent of a yardang. Piece of bedrock carved by a glacier. Typically, the upstream side will be smoothly abrades but the downstream side will be jagged, with pieces plucked out.

Erosional land forms that form from valley glaciers
: These are what we think of as the typical features of regions like the Alps and high mountains of western North America. they may be occupied by active glaciers or may be left over when the glacier melts.
Glacial valleys: have a distinctive "U" shape (whereas running water makes a "V"). Glacial valleys are deep, wide and straight.

Hanging valleys: Remember the ideal longitudinal profiles of streams. Because of these, tributaries of larger rivers tend to be at the same elevation when they flow together. This isn't so with glaciers. With them, usually, tributary glaciers empty into main valleys high up on the valley walls. Indeed, some of the world's best waterfalls are formed by streams flowing through former glacial tributaries.

Cirques: Amphitheater-like hollow in which glacier first accumulates. After glacier melts, floor of cirques are often occupied by tarns [Old Norse Tjörn - "pond"] - little cold lakes.

The interaction of adjacent glacial valleys produces distinctive features:
Fjords: [Old Norse Fjörðr - "ferry crossing," "ford"] - Submerged glacial valleys that appear as deep narrow bays.
Glacial sedimentation
:
Drift: Glacial sediments is called drift- consists of:

till: Glacially transported sediment that is utterly unsorted, and deposited by the glacier. Once its clasts are cemented, till from ancient glaciers becomes a sedimentary rock - tillite.

Stratified drift, bedded glacial material that has been deposited by water in outwash streams.


Erratics: Glaciers can deposit house sized clasts that later seem like huge rocks from nowhere.

>

Moraines: Land forms that are composed of glacial till. The type of moraine depends on where the till was deposited with respect to the glacier:




Such moraines remain prominent features of the landscape long after the glacier is gone.
---
Key concepts and vocabulary:
Glacier definition
Glaciers cover 10% of land surface
Melting of all glaciers would cause 80 M. sea level rise.
Glaciers form wherever winter snow can survive the summer:

At high elevations only in tropics
At sea level in high latitudes

Firn - last year's snow
Compressed firn recrystallizes
Pressure of 40 M of overlying ice causes ice to flow ductilely
Dry glaciers - solid ice all the way to bedrock
Wet glaciers - film of meltwater lubricates base
Glacial budget:

Zone of accumulation
Zone of ablation
Positive budget - toe advances downhill
negative budget - toe retreats uphill
Balanced budget - toe remains in place

Continental glaciers
Valley glaciers
Valley Glacier features:

Cirque
Icefall
Toe
Crevasse

Surges
Glacial erosion:

Bulldozing
Plucking
Abrasion
Striations
Roche moutonee
U-shaped valleys
Hanging valleys
Arete
Horn

Glacial deposition:

Drift
Till
Tillite
Stratified drift
Erratics
Moraines:

End moraines
Terminal moraine
Recessional moraine
Ground moraine
Lateral moraine
Medial Moraine