Volcanism II: Styles of Volcanic Eruptions, Volcano - Atmosphere Interactions
Mt. Redoubt, AK from
Wikipedia
Magma composition and behavior
: Depending on their composition, magmas behave differently:
Basic principles:
The more felsic a magma, the more Felsic magmas can be up to ten times as viscous as mafic.
The "wetter" the magma (i.e. the more volatiles in solution), the more explosive the eruption because of the effervescence of water vapor leaving solution (Analogous to CO2 escaping a bottled beverage). (E.G. Mt. Redoubt, AK, above.) A "dry" magma erupts less dramatically.
When gasses escape from the eruption of a fluid mafic magma, a fountain of cinder-sized blobs results. A viscous felsic magma can't flow fast enough to form such droplets, so shatters into volcanic ash that erupts as a hot aerosol.
Mafic magmas must be hot - 1270 to 1470 K - to remain liquid. Felsic magmas may be as cool as 1070 K.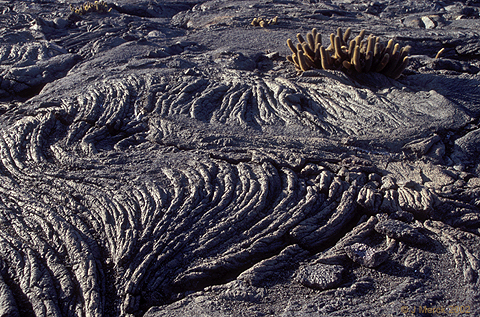 Basalt flow with pahoehoe texture on Fernandina - Galapagos Islands
Mafic lava characteristic textures:

Katmai volcano, AK from
USGS
Felsic to intermediate lava characteristic textures:
When volatiles are absent, viscosity causes slow eruptions as lava domes (right)
Often effervescing volatiles shatter magma into volcanic ash - Fine fragments less than 2 mm. in diameter.
Deposits of volcanic ash form welded tuff: Rock created from ash. Because ash is spread by the wind, eruptions can form geographically extensive deposits of welded tuff.
---
Volcano types:
---
Mauna Loa, HI. - a shield volcano, from

Wikipedia



Shield volcanoes:

Scale - very large - Large, with gentle slopes, formed of copious fluid flows. Large examples on Earth may be 10 km high from base to summit and 120 km in diameter. Generally associated with hot spots. Example - Mauna Loa, HI (right).


Sunset Crater cinder cone, AZ from

Wikipedia

Cinder-cone volcanoes:

Scale - Small, consisting of basaltic cinders in unconsolidated mounds. Forms geologically short-lived cones that erode away quickly when volcanic activity ceases. Sunset Crater (right) is a large example, and began to form in 1065 CE. Activity lasted for over a century.


Mt. Fuji, Japan, a composite volcano, from

Wikitravel

Composite volcano: (also "stratovolcano")

Scale - medium. Volcano built of alternating lava and pyroclastic deposits. Solidified lava flows protect underlying pyroclasts from erosion. Large but frequently steep sided. What we typically think of when we hear the word "volcano."

---
Associated structures:
---
The craters of Surtsey, Iceland, from

Wikipedia

Crater:

Pit or depression at summit of most volcanoes.


Diamond Head, HI

Wikipedia

Caldera:

Large basin resulting from collapse of volcano upon withdrawal of magma.

Resurgent caldera - a caldera showing renewed volcanism.

Calderas occur on a wide range of scales.

Diamond Head (right) on Oahu, HI is relatively small. (Oh no! Try not to think of the earworm!)

Crater Lake in OR is the product of the collapse of a St. Helens sized mountain called Mt. Mazama about 6000 years ago. Note: it is a resurgent caldera - i.e volcanic activity has returned to it.




Valles Caldera in Jemez Mts. of NM encompasses over 200 km2. Is large enough that it is difficult to visualize on the ground either from the outside or the inside.




Active lava tube from

USGS

Lava tubes:

Tubes formed when an active lava flow skins over then the liquid lava flows out, leaving the hardened outer surface roofing a tube.

---
Styles of volcanic eruption:
---
Effusive eruptions: These produce low-viscosity (i.e. highly liquid) basaltic lava.
Arenal volcano from

Smithsonian Institution

Central vent eruptions: Arenal in Costa Rica


Fissure eruption at Puu O'o, HI from

YouTube

Fissure eruption (Cue to 1:42):

Copious amounts of basaltic lava erupting through a fissure rather than a point source.


Columbia River flood basalts, OR from

IAVCEI 2017

Flood basalts:

Very large fissure eruptions that transform landscape on map scale, building up a thick plain or plateau of basalt. Eg: Columbia Plateau Flood Basalts (right see map), Deccan traps. Never witnessed by humans and that's a good thing. In the rock record, these are often associated with mass extinction events. Humans have (fortunately) never witnessed a flood basalt.

Most of the flow of a flood basalt occurs beneath a chilled skin. As the flow progresses, the skin thickens and the flow does too. (Cue this video to the three minute mark for an example.) The flows can reach tens of meters thick, and 100s of km in extent. Accumulations of flood basalts involve 10s to 100s of individual flows, and can cover thousands of sq. km., and are typically 1-3 km thick. This is an effective way of resurfacing a planet. (See also lunar maria.)

Thickening and breakout of lava flows is also visible in smaller scale flows.


Rhyolitic to andesitic eruptions:

Pyroclastic flow from Mt. Mayon, Philippines from

Wikipedia

Pyroclastic flows: Occur when a cloud of ash and hot gasses traps a layer of beneath it and slides downhill at speeds up to 200 Km/hr. Examples:

Mt. Pelee eruption in 1902 on Martinique. 800deg C cloud enveloped town of St. Pierre in minutes.
Mt Unzen in Japan, 1991.



---
Volcano - water interactions:
Fumarole at Kilauea, HI

Fumaroles: Places where groundwater is heated to boiling and escapes as steam.





Old Faithful Geyser from

Yellowstone National Park

Geysers: Places where boiling groundwater reaches a pressure threshold at which it rushes to the surface.

---
Volcano - atmosphere interactions:
---
On an airless world like Io, volcanic material simply travels in a ballistic trajectory. On worlds with atmospheres, the situation is more interesting. We have already discussed pyroclastic flows, avalanches formed when an aerosol of volcanic gas and particles glides downhill over a layer of trapped air.
Plinian eruption of Mt. Spurr, AK from
USGS
Plinian eruption:

Occurs when the heat of the eruption creates a rising column of volcanic-ash laden air. Such a column may distribute pyroclasts to high altitude winds, resulting in widespread ash fall.


In different regions of a plinian column, erupted material ascends for different reasons. Three zones from lowest to highest elevation:
Gas thrust region: Gas and ash ascend due to pressure of expanding volatiles escaping from solution in the magma.
Convective ascent region: Aerosol of gas and ash convectively due to temperature contrast with surrounding air.
Momentum-driven ascent region: Gas and ash carried past level of equal density with surrounding air by inertia.
Neutral density level: Aerosol of gas and ash achieves equal density with surrounding air. Spreads out into extensive umbrella region and may be carried long distances.
Terminal velocity: The laws of fluid mechanics tell us that the amount of drag that an object experiences increases with velocity, such that an object falling through an atmosphere will reach a velocity at which drag overwhelms gravitational acceleration - its terminal velocity. This velocity varies with the size and roughness of the object. Smaller or rougher objects have a lower terminal velocity. Volcanic particles will ascend in a plinian column as long as the column is rising faster than their terminal velocity.
What controls the column's height? Three factors:
The density of surrounding air
The temperature contrast between the erupting magma and surrounding air
The mass eruption rate of the magma
Expressed as:
HT = k(MΔT)1/4
Where:
HT = maximum height
k = constant of proportionality, an indicator of atmospheric density. This value is higher for thinner atmospheres.
M = Mass eruption rate - a function of the gas content of the magma and the diameter of the volcanic vent.
ΔT = Temperature contrast between erupting magma and air.
Based on this we predict that all other things being equal, we predict that HT will be greater when:
Mass eruption rate is greater
The atmosphere is thinner
The temperature contrast between erupting magma and air is greater.
Thus, we would expect a plinian column on Mars to rise higher than on Earth, because Mars:
is colder, giving it higher values of ΔT
has thinner air, giving it higher values of k
Of course, M changes over the course of the eruption, eventually dropping to zero. So, plinian columns eventually collapse under their weight as they cool.

---
Key concepts and vocabulary:
Magma physical characteristics:

Mafic - hotter and less viscous
Felsic - cooler and more viscous

Volcanic ash
Mafic characteristics

Pahoehoe
Aa
Vesicular basalt
Cinders

Felsic characteristics

Lava dome
Volcanic ash
Welded tuff

Volcano types

Shield volcano
Cinder cone
Composite volcano

Associated structures
Effusive eruption styles

Central vent
Fissure
Flood basalt

Pyroclastic flow
Fumarole
Geyser
Volcano atmosphere interactions

Plinian eruption
Gas thrust region
Convective ascent region
Momentum-driven ascent region
Neutral density region
Terminal velocity
Controls on column ehight