Volcanism III: comparative volcanism on the solid worlds
Volcanism on other worlds
Alternate Earths: So far we have considered the effects of variation in magma composition, temperature, and volatile gas content (i.e. "wetness") on the diversity of volcanic eruptions, but not of globally invariable factors like:
surface gravity
temperature
atmospheric pressure.
To consider volcanism on other worlds, we must consider these.
To start, consider these parameters one at a time in a series of "alternate Earths" that are like the real one except for the parameter under consideration.
Gravity: Profoundly important for several reasons.
Buoyancy of magma: Magma only migrates toward the surface because it is less dense (lighter) than surrounding rock. Indeed, it is the weight of surrounding rock that forces it from its conduits under pressure during eruptions. Reduce the force of gravity and you reduce the buoyant force propelling magma upward.

Emergence of gasses from solution: Volatiles come out of solution when the pressure the magma feels drops. This happens as magma approaches a volcanic vent, because there is less magma above it pressing down. With lower gravity, gasses can emerge from solution at greater depths because the overlying magma weighs less. By the time magma reaches the surface, more gas will have emerged, driving more explosive eruptions.

Lava flow thickness: Gravity is what pulls liquid lava downhill after it erupts. It fights the lava's viscosity to do this. The weaker the pull of gravity, the slower the lava will flow downhill. Instead, lava flows will be thicker and build up steeper volcanoes.

Plinian convection columns: In lower gravity, terminal velocity will be less (assuming air of the same density). Thus, particles can be lofted higher in convecting plinian columns, and larger particles can be lifted by convection.
On a planet identical to Earth except for having lower gravity, volcanic activity may be:
less common (buoyancy) but what there is is likely to be
more explosive (gas pressure) and
drive taller plinian eruptions that carry more particles to greater heights.
Fluid lavas will flow shorter distances but be thicker, forming steeper-sided volcanoes.
A higher-gravity Earth would show the opposite trends.
Atmospheric density:
Emergence of gasses from solution: Volatiles also come out of solution in response to the contrast between their concentration in the magma and in the surrounding atmosphere. The thinner the air, the greater the contrast, encouraging volatiles to come out of solution more readily. This, in turn, yields more explosive eruptions. Consider:

| | | |
| --- | --- | --- |
| Planet | Surface pressure | % gas in magma needed for emergence from solution |
| Earth | 1.01 bar | 0.06% |
| Mars | 0.006 bar | 0.01% |
| Venus | 92.1 bar | 3% |

Plinian convection columns: For plinian convection to occur, the rising column must be able to push through the surrounding air. In thicker air, the upward movement of the column is impeded by the viscosity of surrounding air.
On a planet identical to Earth except for having a thinner atmosphere, volcanic activity would be:
more explosive,
with plinian columns achieving greater heights.
In contrast, on worlds with thicker air, eruptions would be more effusive, even for viscous felsic magmas.
Surface temperature:
ΔT: Magma erupting into colder air has a higher temperature contrast (ΔT) than magma erupting into warm air. All else being equal, this will propel convecting plinian columns to higher elevation.

Cooling rate: The colder it is the faster flowing lava cools. Because of the insulating effect of solid crusts of lava, cooling does not occur that much faster, however. On a warmer planet than Earth, in contrast, erupted lavas might remain liquid for considerably longer, especially if their melting points are low.
A colder Earth, therefore would experience:
taller plinian columns and
lava flows that cooled somewhat more quickly.
On a warmer Earth:
plinian convection would be somewhat weaker.
Lava flows might travel considerable distances.
Cryovolcanism
: All of the parameters we have considered apply to any material that might melt near a planet's surface regardless of composition. In the outer solar system, this could
easily
take the form of
cryovolcanism
- volcanic activity involving low-temperature "magmas" of liquid ices including water and ammonia. Indeed, we see many features that seem to result form the eruption of slurries of water, ammonia, and other substances. Active cryovolcanism has been seen on Enceladus (right) and Triton, and probable cryovolcanic structures are observed on
Comparative volcanism - What's out there? There are no alternate Earths. In the rough and tumble of the actual Solar System, the effects of.....
Magma composition
Volatile content
Gravity
Atmospheric pressure
Temperature
....interact in complex ways. Can we make sense of what we see in the terms that we have presented?
Generally, we can based on our expectations from our "alternate Earth" scenarios, but when a planetary body frustrates our expectations, it generally points to some fundamental difference between that body and Earth.
The Moon:
Starting simple, the moon is:
depleted in volatiles, so we might expect its eruptions to be effusive.
Indeed, we mostly see basalt in mare (flood basalt) deposits, along with lava channels (right) and roofed-over lava tubes, but...
actual volcanic vents are rare.
And yet:

Possible cinder-cone like incandescent fountain deposits are possibly present in the floor of Alphonsus crater (right).
Volcanic rocks containing minute glass beads that, on Earth, are associated with incandescent eruptions, were returned by the Apollo missions.

Both lines of evidence point to there having been some volatile gas in at least some lunar magma, but what? Wetzel et al., 2015 indicate that the moon's ancient magma contained carbon monoxide. That would work, however all evidence is that major volcanic activity on the moon probably ceased around 1 Ga.
However according to Braden et al., 2014 there are volcanic irregular mare patches such as the Ina structure, that may be as young as 100 Ma.

Mars:
According to impact geochronology,
Mars' southern highlands are ancient - 3 - 3.5 ga, formed by an ancient process (plate tectonics?)
In contrast, its giant volcanoes are younger. (1 - 2 ga). The youngest lavas on Olympus Mons may be as young as 20 ma.
Mars' identifiable volcanoes are limited to three regions. The first two have been recognized for decades:
Arisa Mons.




Eden Patera

in

Arabia Terra Sci-News.com

Martian supervolcanoes: We have discussed the tectonic significance of Mars' giant Hawaii-style shield volcanoes (no lateral plate motion). They seem mostly to represent effusive eruptions of mafic magma. Odd. Maybe Mars' air was thicker when they were going off, but that much thicker?. There ought to be signs of explosive eruptions if Mars is like an alternate Earth with thin air and lower gravity.

Until 2013, few sites on Mars have been interpreted as the result of explosive eruptions. Recently, Michalski and Bleacher, 2013 identified a third region, Arabia Terra, as the site of older and fundamentally different volcanoes that:
take the form of Paterae - Broad depressions formed when magma is withdrawn from magma chambers (at first thought to be eroded impact craters).
don't occupy the summits of volcanic mountains, but rather pockmark otherwise flat terrane.
appear to be the sites of massive explosive eruptions like those of "supervolcanoes" like the Yellowstone Basin on Earth.
So far, their exact ages and periods of activity are a mystery. Why are they different from the volcanoes of Tharsis and Elysium? Some possibilities:
They represent a different stage in Martian history (possibly earlier)
They erupted less mafic magma. That would make sense if they are somehow connected to ancient lithospheric subduction. (Why?) Stay tuned.
Remember, however, that basalt and its derivatives are ubiquitous on Mars, so its entire surface may represent volcanic activity, however ancient.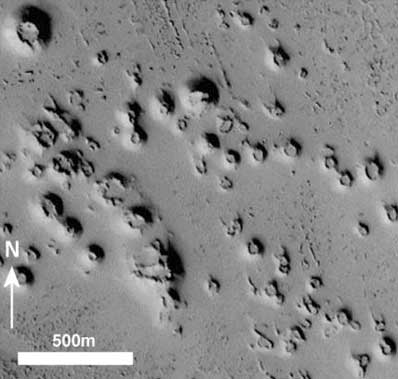 Martian rootless cones

Space flight now

Rootless cones: Mars is unusual in having many
"rootless cones"
- volcanic cones that are not sources of lava. These are probably like spatter cones on Earth. (See the
Lake Myvatn
region of Iceland, for a terrestrial analog.) What does this suggest about the content of the ground over which the lava flowed?
Venus:
The closest thing to an alternate Earth, has similar gravity and composition, but is very hot (733 K - 460 deg C) and has a massive atmosphere (92.1 bars). This leads us to predict:
Less explosive eruptions
Weaker plinian convection
More extensive lava flows
Without catching Venus in the act, we won't know about plinian convection, but surface features seem to vindicate our predictions:
Viscous magma seems commonly to form broad pancake shaped domes. Campbell et al. 1998 pointed out a few possible pyroclastic deposits (E.G.: Irinini Mons). This is consistent with our picture of the behavior of intermediate - felsic magmas on Venus. (But careful! We don't know their composition. However some evidence (E.G. (Basilevsky et al., 2011) suggests the presence of intermediate-felsic volcanic rocks.) Of course, Venus definitely has extensive flows of more fluid lava from (presumably) mafic volcanoes and cinder cones.

On Earth, most low temperature magmas are viscous, but there is an exception:
Carbonatite
, which contains significant amounts of calcium carbonate (CaCO
3
) and erupts at roughly 773 K. That's only 40 K hotter than Venus' ambient surface temperature.
Kargel et al., 1994
suggest that carbonate eruptions could be responsible for Venusian channels. (Although there have been several carbonatite volcanoes in Earth history, currently only
Ol Doinyo Lengai
in Tanzania
erupts this material
.)
Io:
We have already discussed the source of Io's intense volcanic activity - tidal heating. Now the volcanoes, themselves. Ionian volcanoes are generally:
paterae - broad depressions at the top of very shallowly sloping shields. (Cf. the ancient volcanoes of Arabia Terra on Mars.)
Flow-dominated volcanoes that produce lava flows that extend for tens to hundreds of kilometers.
These volcanoes seem to erupt two distinct types of material:
Eruption of Tvashtar Catena from

Wikipedia

Extremely hot magma (up to 1600 K). This corresponds to terrestrial eruptions of mafic (basalt) ultramafic komatiite. This typically erupts effusively, pooling up as lava lakes or flowing long distances.


Plume eruption of Tvashtar from

Wikipedia

Sulfur compounds including sulfur dioxide (SO2), hydrogen sulfide (H2S), and elemental sulfur. These compounds are mostly responsible for Io's color palate. They are primarily found in explosive plume-like eruptions. SO2 is an especially important constituent that exits the vent as a gas and condenses into white SO2 "snow."
Io's mantle and crust are probably highly differentiated, with additional differentiation of the silicate and sulfur-compound portions of the crust. The upper mantle experience extensive melting that yields ultramafic "komatiitic" magma. As this magma rises, it in turn, melts sulfur compounds of the upper crust. Perhaps it makes better sense to refer to ultramafic eruptions as "volcanoes" and sulfur eruptions as "geysers."
Just to make this more colorful, Io underwent a paroxysm of volcanic activity in the summer of 2013 that was especially impressive and has left researchers (including deKleer et al., 2014) wondering if they hadn't previously underestimated its volcanic energy.

Titan:
As with several other icy worlds, there is evidence for a sub-surface layer of icy liquid water (probably mixed with more exotic substances like ammonia or methane) on Titan and controversial evidence of cryovolcanoes resulting from the eruption of
cryomagma
derived from this deep ocean. To date the most solid candidate:
Lopes et al., 2013 identified Sotra Patera, a potential cryovolcano involving both a patera and the tall peaks of Doom Mons, erupting fluid effusive cryomagma that appears to form lobate deposits.
Because Titan's icy lithosphere is lighter than liquid water, why would that more dense water have have gotten to the surface at all. Possible mechanisms include:
Alteration of its density and melting point by the admixture of other chemicals.
Overpressure as Titan's icy crust slowly grows and expands as the world cools off. (This is probably what pushes the water out of Enceladus' cryovolcanoes.)
The presence of cryovolcanoes potentially solves one problem: How does the supply of methane in Titan's atmosphere get replenished?
Triton:
A less athletic analogue to Io, but much colder and, therefore, stranger. Triton's average temperature is 38 K, at which nitrogen (a gas on warmer places like Io and Titan) freezes as a solid. Triton's surface is freshly remodeled and has few impact craters. Today, Triton's retrograde orbit is nearly circular, but earlier in its history (after its capture by Neptune) it experienced extensive tidal heating. Today it appears to have a residual deep ocean, like many other icy worlds. Like Io, two forms of volcanism seem to be active:
Cryovolcanoes: At least two candidate cryovolcanoes have been identified. These presumably erupt the icy (water, ammonia) magma covering much of the surface.

Nitrogen geysers: Responsible for visible plumes of nitrogen gas mixed with fine dust extending up to 8 km. Presumably a high ΔT facilitates this. Geysers are concentrated near the point of maximum solar illumination - i.e. they are driven by sunlight and a solid greenhouse effect. Apparently, sunlight passes through a translucent layer of nitrogen ice and warms darker material underneath. This, in turn, causes adjacent nitrogen ice to sublimate (i.e. go from solid to gas) and erupt. We've seen this play before at Mars' south polar ice cap in spring, where a different actor, CO2, causes springtime CO2 geysers. On frigid Triton, however, CO2 is simply a rock.
Recent News: Pluto:
And this just in: At least two large potential cryovolcanoes have been spotted on Pluto. The slopes of Wright
Mons
, (right) have only one impact crater, suggesting that it has been active relatively recently.
---
Key concepts and vocabulary:
Alternate Earths with different:

Gravity
Atmospheric density
Surface temperature

Cryovolcanism
The Moon:

Mare basalts
incandescent fountain volcanoes

Mars:

Tharsis Plateau - Giant shield volcanoes - largest in Solar System
Elysium Plateau - Giant shield volcanoes
Arabia Terra - Patera-style supervolcanoes
Rootless cones

Venus:

Composite volcanoes
Pancake domes
Carbonatite flows

Io:

Ultramafic and mafic volcanoes - komatiitic - basaltic magma
Plume eruptions - sulfur compounds
Amazing volume of tidal-heat driven volcanism

Titan:

Cryovolcanism - Sotra Facula

Triton:

Cryovolcanism
Nitrogen geysers

Pluto:
Additional reading:
A.T. Basilevsky, E.V. Shalygin, D.V. Titovc, W.J. Markiewicz, F. Scholten, Th. Roatsch, M.A. Kreslavsky, L.V. Moroz, N.I. Ignatiev, B. Fiethe, B. Osterloh, and H. Michalik. 2011. Geologic interpretation of the near-infrared images of the surface taken by the Venus Monitoring Camera, Venus Express. Icarus 217(2) 434-450.

S. E. Braden, J. D. Stopar, M. S. Robinson, S. J. Lawrence, C. H. van der Bogert, and H. Hiesinger. 2014. Evidence for basaltic volcanism on the Moon within the past 100 million years. Nature Geoscience 7, 787-791.

B.A. Campbell, L. Glaze, and P.G. Rogers. 1998. Pyroclastic deposits on Venus: Remote-sensing evidence and modes of formation. 29th Lunar and Planetary Science Conference: Abstracts of presentations 1810.

Katherine de Kleer, Imke de Pater, Ashley Gerard Davies, and Mate Adamkovicsa. 2014. Near-infrared monitoring of Io and detection of a violent outburst on 29 August 2013. Icarus 242(1) 352-364.

Jeffrey S. Kargel, Randolph L. Kirk, Bruce Fegley Jr., Allan H. Treiman. 1994. Carbonate-Sulfate Volcanism on Venus? Icarus 112(1) 219-252.

R. M. C. Lopes, R. L. Kirk, K. L. Mitchell, A. LeGall, J. W. Barnes, A. Hayes, J. Kargel, L. Wye, J. Radebaugh, E. R. Stofan, M. A. Janssen, C. D. Neish, S. D. Wall, C. A. Wood, J. I. Lunine, and M. J. Malaska. 2013. Cryovolcanism on Titan: New results from Cassini RADAR and VIMS. Journal of Geophysical Research: Planets 118, 416-435.

Joseph R. Michalski and Jacob E. Bleacher. 2013. Supervolcanoes within an ancient volcanic province in Arabia Terra, Mars. Nature 502, 47-52.

Paul M. Schenk, William B. McKinnon, David Gwynn, and Jeffrey M. Moore. 2016. Flooding of Ganymede's bright terrains by low-viscosity water-ice lavas. Nature 410, 57-60.

Diane T. Wetzel, Erik H. Hauri, Alberto E. Saal, and Malcolm J. Rutherford. 2015. Carbon content and degassing history of the lunar volcanic glasses. Nature Geoscience 8, 755-758.