The Giant Planets I: Jupiter and Saturn

Size
The planets to scale from
The RASC Calgary Centre
The major distinction of the giant planets is their size.
Duh. That sounds trivial but actually it isn't. Being as massive as they are, Jupiter, Saturn, Uranus, and Neptune are qualitatively different from the solid worlds. Consider: Mercury + Venus + Earth + Moon + Mars = slightly less than two Earth masses. The four giant planets together comprise approximately 445 Earth masses:
Jupiter 318 Earth masses
Saturn 95.2
Uranus 14.4
Neptune 17.1
This fact cascades into many consequences:
They lack distinct surfaces, instead becoming gradually thicker as one goes down.
Because they can hold onto hydrogen and helium, their bulk compositions are radically different.
Their great gravitational self-compression causes their materials to take exotic forms unknown on the smaller worlds.
Materials that would not conduct electricity elsewhere in the Solar System (E.G. hydrogen!) support electrical currents that power magnetic fields greater than that of Earth:

Jupiter 20,000 times Earth intensity
Saturn 8,000
Uranus 0.25-2.75
Neptune 0.24

Collectively these exotic processes and materials form planets that are fundamentally alien with respect to the solid worlds.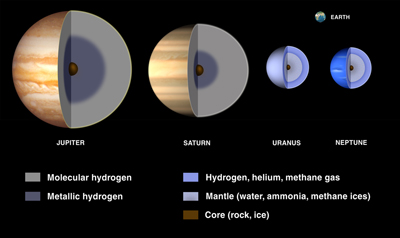 The planets to scale from
Astronomy on line.org
The Basic Facts
Definitions:
Jovian planet: A planet sufficiently massive to retain large amounts of hydrogen.
Gas giant: Sometimes used synonymously with "jovian planet," but more precisely refers to planets with significant quantities of metallic hydrogen - I.e.: Jupiter and Saturn
Ice giant: Planets lacking metallic hydrogen and largely composed of "ices" - volatiles like H2O, CO2, CH4 (methane), NH3 (ammonia). - I.e.: Uranus and Neptune.
Jovian planets have no surfaces
The graph at right is a phase diagram that shows, for different combinations of temperature and pressure, whether a given substance exists as a solid, liquid, or gas. At high temperature and pressure, we see a critical point. This is the state of temperature and pressure beyond which the distinction between liquid and gas becomes meaningless, and one can only refer to materials as fluids. In all but the upper layers of the jovian planets, their major components are beyond this critical point. Thus, these worlds lack proper surfaces, regardless of how much this strains our imaginations. (The schematic at right could apply to any major chemical constituent.)
Note: By arbitrary convention, the level at which atmospheric pressure is 1 bar is treated as the "surface." This roughly corresponds to the cloud tops.

Consider the fate of the atmospheric probe conveyed to Jupiter by the Galileo spacecraft. It entered the atmosphere of Jupiter in 1995. It made many detailed measurements of pressure, temperature, composition, etc. down to conditions of 22 bars, 450 K, surviving for 57 minutes. Extrapolating from its findings, we concluded that ten hours after its entry, it had evaporated but never hit "bottom."
The fact that these planets are primarily fluid and lack surfaces frustrates the simplest aims, like determining their rotation rate without solid benchmarks. For decades, we have assumed that regular variations in radio emissions faithfully track true rotation rates, but alas, by this standard, Saturn's rotation has slowed down by six minutes since 1980 (See Anderson and Schubert, 2007.)
Jupiter in infrared and visible light from
University of Leicester
Jovian planets are differentiated
:
For all their strangeness, jovian planets share this with the solid worlds. Heavy materials have, to at least some degree, sunk to the core and lighter ones risen toward the top. The result is that they were heated both by accretional heat and gravitational release. Indeed:
Jupiter radiates roughly twice the amount of primordial heat as it receives heat from the sun.
Saturn radiates roughly 2.5 times the amount.
Indeed, differentiation distinguishes jovian planets (in our solar system or others) from the next larger class of objects - brown dwarfs: Objects too small to ignite nuclear fusion, but with enough primordial heat that their interiors are churned by convection and don't differentiate. (Brown dwarfs range in size from roughly 12 - 80 Jupiter masses. None of these in our solar system, BTW, although astronomers have been identifying them for about 20 years (See Thackrah at al., 1997). They are difficult to detect because they primarily radiate in infrared rather than visible light.)
So what do we actually know? We begin by considering Jupiter and Saturn.

Jupiter
Jupiter's interior from
James Schombert - Physics - University of Oregon
Our models of Jupiter's interior come from observations of its
mass
obtained by orbital dynamics. These enable us to calculate
volume
and
bulk density
. Finally observations of gravitational interactions with its moons and with spacecraft allow us to calculate
moment of inertia
.
We conclude that Jupiter is primarily composed of hydrogen, with volatiles such as water, ammonia, methane, and other compounds as trace substances. It is differentiated into:
An outer layer of molecular hydrogen extends from the cloud tops (165 K) to a region experiencing 2 Mbar (i.e two million bars!) of pressure and 6500 K. (Note that is hotter than the sun's surface temp of 5770 K.)
A thick layer of metallic hydrogen making up most of its mass. this extends to a depth at which pressure is 37 Mbar and temperature is 14000 K.
A rocky/metallic core of roughly five Earth masses. At its center Jupiter experiences 50 Mbar pressure and 15,600 K. (In contrast, the center of Earth experiences 7273 K and 3.8 Mbar.)


Giant collision model from

Liu et al. 2019

But note: Moment of inertia data from the Juno mission indicate that the boundary between the core and Metallic hydrogen zone is diffuse extending outward to roughly half its diameter (Liu et al. 2019)! This is compatible with a giant collision with a ten Earth-mass proto-planet early in its history.
Although Jupiter is primarily composed of light substances, these are sufficiently compressed to give it a
mean density of 1.33
. (Compare to 5.51 for Earth, 3.34 for the moon, 1.94 for Ganymede, and 1.00 for Tethys, the least dense icy world.)
Shock wave gun
Metallic hydrogen
:
Recall that metallic bonds occur in substances that easily lose electrons from outer orbitals in such a way that they share them promiscuously. Typically at Earth's surface these are solids that form cations easily like sodium or heavier atoms with many electrons in their outer orbitals like gold. On Earth, hydrogen typically forms polite covalently bonded molecules of H2. At the enormous pressures of Jupiter's interior, however, hydrogen molecules are compressed to the point that they, too begin sharing electrons. Small quantities of this exotic stuff have been synthesized briefly in laboratories using shock wave guns (right).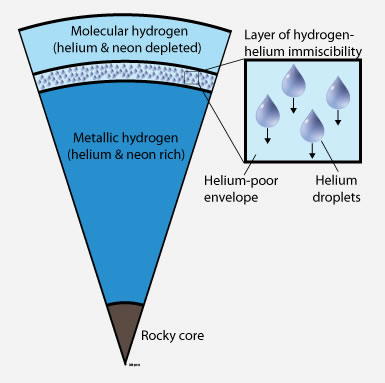 Jupiter differentiation schematic
Helium
: Helium and metallic hydrogen are thought to be immiscible, such that helium would form droplets in an emulsion rather like oil and vinegar in salad dressing. The settling of helium is a source of heat from gravitational release.
Fluidity:
Being fluid has consequences:
Flattened poles: Having a rapid rotation rate of 9.925 hours, Jupiter is measurably oblate - wider than tall because of the centrifugal force experienced at its equator.
Patterns of internal circulation are unknown: But that does not prevent speculation that Jupiter's fluid interior circulates as a series of concentric cylinders, as (bravely) described in your text.
Atmospheric profile:
We use the term "atmosphere" here to denote the layer of Jupiter with sufficiently low temperature and pressure that its major components have not passed their critical point and can be identified as liquid or gas. Jupiter shows a typical atmospheric temperature profile, with:
A troposphere from -50 to ~30 km. Effective temperature at cloud tops is 120 K. The temperature gradient here approximated the adiabatic lapse rate, and we see evidence of convection.
A vanishingly narrow mesosphere.
A thermosphere. Maximum thermospheric temperatures are near 200 K.
The Great Red Spot from
Wikipedia
Clouds
:
Jupiter's primarily hydrogen atmosphere is decorated by colorful clouds of trace substances which were predicted by chemical models to contain:
Hydrocarbon haze (smog analogous to that of Titan - not proper clouds)
Ammonia NH3 - These are what we mostly see.
Water H2O
Ammonium hydrogen sulfide NH4HS
The Galileo atmospheric probe tested these models by sampling down to a depth of 21 bars. Ammonia clouds were encountered but clouds of ammonium hydrogen sulfide and water were not positively identified (
Isbell and Morse, 1996
). Odd. Either the models are in serious error (!) or the probe entered a relatively "dry" spot.
Whatever their composition, the clouds enable us to track the motion of atmospheric winds. These reveal that the atmosphere is divided into counterrotating latitudinal bands, and is marked by cyclonic storms like the Great Red Spot (right). These are typically short-lived, but the Red Spot has been active for at least 351 years.
Wind velocity: Jupiter's magnetic field accelerates ions in the planet's ionosphere, causing them to emit radio waves. The field is slightly inclined with respect to its rotational axis, so there are daily peaks in radio emission associated with it. Although determining wind speed with respect to a fixed location on the surface is impossible, global rotation can be approximated using regular peaks in radio emissions, revealing the 9.925 hour day. Movement of visible atmospheric features can be clocked and compared to the global rotation rate to determine wind speed. And what is that speed? Tops speeds between 160 m s-1 and 220 m s-1.

The Zones and Belts of Jupiter from
Wikipedia
Convection
: The atmospheric bands alternate between:
Light colored zones: Regions of rising air, marked by the condensation of ammonia to form light clouds.
Dark colored belts: Regions of sinking air that are depleted in volatiles. The darker colors may represent deeper compnents of the atmosphere.
This broadly resembles convection on Earth. There are differences,however:
Rapid rotation yields very strong coriolis forces that power the counter-rotation of zones and belts.
The energy powering convection primarily comes from internal primordial heat, not sunlight.
How far down these convection cells go is enigmatic, but preliminary data from Juno suggest depths of up to 1900 km. The interactions of counter-rotating zones and belts power cyclones like the Great Red Spot. This storm has been active for at least 400 years. Could its end be approaching?
Harrington, et al., 2014
notes its significant size reduction over the last century. Smaller storms come and go on the order of years and decades. The Galileo mission also observed
lightning
associated with short lived thunderstorms.
Jupiter's north polar region from
Wikipedia
Polar regions
From its polar orbit, Juno has shown us that the system of belts and zones breaks down at high latitudes, giving way to a complex region of cyclonic storms.

Jupiter's magnetosphere from
University of Oregon ASTR121
Magnetosphere
Remember that, the majority of this huge object is made of an electrical current conducting fluid. We would expect it to have a strong magnetic field, and with a magnetic dipole 20,000 times that of Earth's, Jupiter doesn't disappoint. This powers a magnetosphere that is large because of:
The strength of the magnetic field
The relative weakness of the IMF at Jupiter's distance from the sun.
In many ways, Jupiter's magnetosphere is like Earth's only larger:
Jupiter's magnetic field traps belts of charged particles. These are powerful sources of radiation and pose a major threat to robot spacecraft, as they will to any humans who ever visit the Jupiter system. Indeed, the Juno spacecraft is the most heavily armored vehicle to be sent into the Solar System. Note: of the major moons, only Callisto orbits outside these belts.




Jovian auroras from

Absolute Knowledge

Auroras: Charged particles follow magnetic field lines toward the planet, striking its atmosphere at the poles to create auroras. Note: the three strong spots in the aurora result from the interaction of Jupiter's magnetic field with those of Io, Europa, and Ganymede.
Jovian magnetosphere with Io plasma torus from
Jill Bechtold, University of Arizona
Io plasma torus
: One big difference is that in addition to other belts of charged particles, Jupiter's magnetic field traps and ionized material blown off of Io by volcanic activity, to form the
Io plasma torus
.
Rings: Jupiter's small, faint ring system was discovered by Voyager 1. It consists of dust particles roughly the size of the particles in cigarette smoke, that have been blasted from the surface of its very small inner moons.
Saturn
Saturn is mostly a more benign and less extreme version of Jupiter. Although possessing 0.3 times Jupiter's mass, its internal structure is similar, with a somewhat
smaller proportion of metallic hydrogen
.
Atmospheric structure and composition are similar, although Saturn's atmosphere, being less gravitationally compressed, is deeper than Jupiter's.
Indeed, all of Saturn is less gravitationally compressed. Between this and the lightness of its major constituents (hydrogen and helium) Saturn, with a mean density of 0.69, is the least dense object in the Solar System.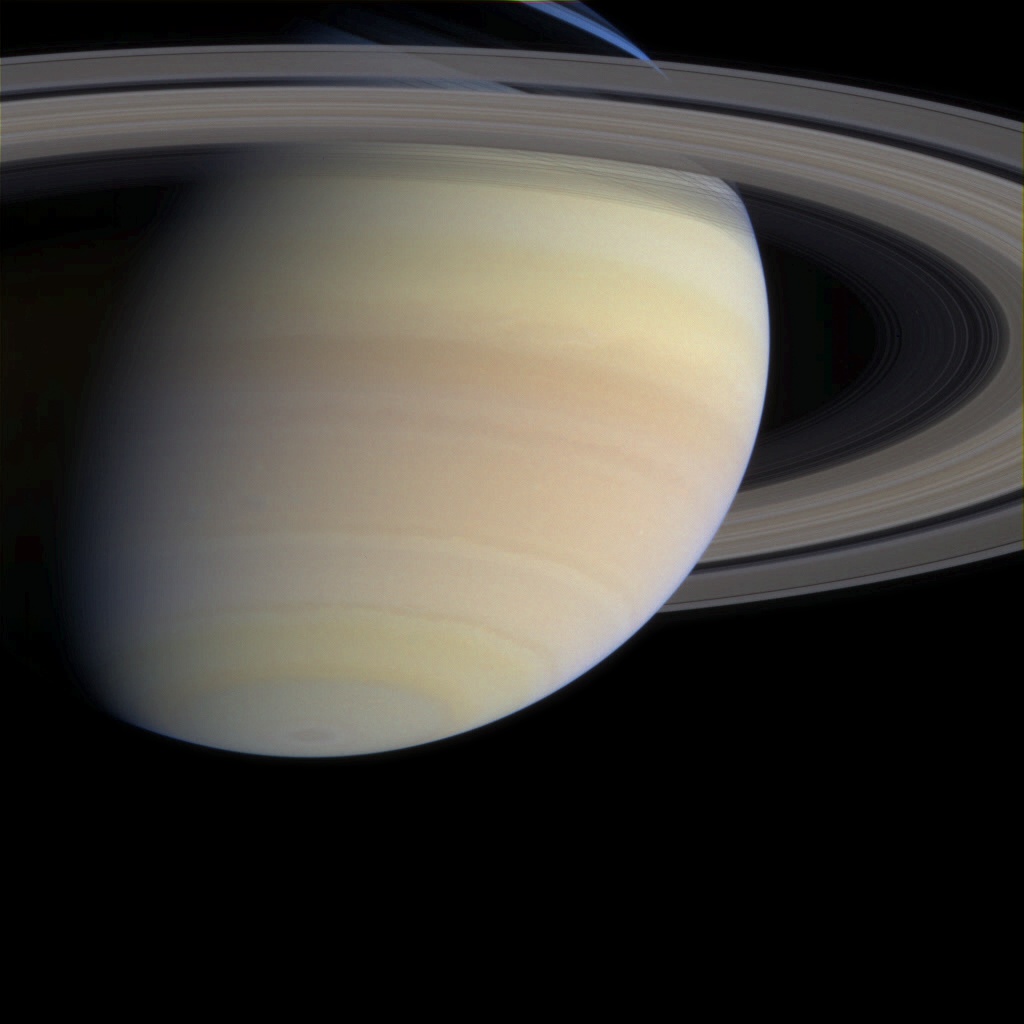 Saturn seen by Cassini from
Jodrell Bank Centre for Astrophysics
Some consipicuous differences from Jupiter:
Belts and Zones: Saturn's atmospheric banding, while containing zones and belts, is much more subdued than Jupiter's.
Wind velocity: Whereas Jupiter's wind directions match boundaries of zones and belts, Saturn's do not. Instead, equatorial winds are generally much faster than those near the poles. These approach 500 m s-1, nearly 2/3 the speed of sound.
Cyclones
: Cyclones are comparatively small and short-lived.
The hexagon
: Persistent hexagonal wind patterns exist at the poles. Enigmatic.
Great white spot
: Giant storms, called "great white spots" occur every few decades. The most recent was observed by Cassini beginning in 2010.
Saturnian auroras from
Wikipedia
Magnetosphere
Saturn's magnetic dipole is 8000 time the strength of Earth's but less than half that of Jupiter. Thus, its magnetosphere,while impressive is less than Jupiter's. Like Jupiter, Saturn:
Traps belts of ionized particles, the cold plasma torus, mostly arising from Enceladus' geysers. Broadly analogous to the Io plasma torus.
Displays auroras (right).
Rings: Saturn's ring system appears to be derived from more than one source, and to consist of icy particles ranging in size from 1 cm. to 10 m.
What would a jovian planet look like if it had no metallic hydrogen? Stay tuned for Uranus and Neptune.
---
Key concepts and vocabulary:
Approximate masses in Earth mass units:

Jupiter: 318
Saturn: 95.2
Uranus: 14.4
Neptune: 17.1

Composition dominated by hydrogen and helium.
Definitions:

Jovian planet
Gas giant
ice giant

Phase diagram
Critical point
"Surface" = elevation where pressure = 1 bar.
Differentiation
Undifferentiated giant planetary body = "Brown Dwarf"
Metallic hydrogen
Immiscibility of hydrogen and helium
Atmospheric profile
Jupiter

Cloud composition

Hydrocarbon haze (not actual clouds)
Ammonia (NH3)
Water (H2O)
Ammonium hydrogen sulfide (NH4HS)

Atmospheric features

Zones
Belts
Cyclonic storms (like the Great Red Spot)

Magnetosphere

Collossal hugeness
Auroras
Io plasma torus

Saturn

Low density
Smaller proportion of metallic hydrogen
Wind patterns
Weaker magnetosphere with
Cold plasma torus
Additional reading:
John D. Anderson, Gerald Schubert. 2007. Saturn's Gravitational Field, Internal Rotation, and Interior Structure. Science 317(5843) 1384-1387.

J. D. Harrington, Donna Weaver, and Ray Villard. 2014. NASA's Hubble Shows Jupiter's Great Red Spot is Smaller than Ever Measured. NASA Press Release 14-135, accessed at http://www.nasa.gov/press/2014/may/nasas-hubble-shows-jupiters-great-red-spot-is-smaller-than-ever-measured/#.V3Ln3Sj_7Qd, 06/28/2016.

Douglass Isbell and David Morse. 1996. Galileo Probe Science Results. NASA Press Release 96-10, accessed at http://www2.jpl.nasa.gov/sl9/gll38.html, 06/28/2016.

Shang-Fei Liu, Yasunori Hori, Simon Muller, Xiaochen Zheng, Ravit Helled, Doug Lin, and Andrea Isella. The formation of Jupiter's diluted core by a giant impact. 2019. Nature 572, pp. 355–357.

Andrew Thackrah, Hugh Jones, and Mike Hawkins. 1997. Lithium detection in a field brown dwarf candidate. Monthly Notices of the Royal Astronomical Society 284(2) 507-512.