Minor bodies I: Asteroids

Trans-Neptunian objects, centaurs, and trojans as of 2015 from
Wikipedia
As we begin our survey of minor bodies of the Solar System, we need to remember that:
They are gravitationally dominated by the larger planets, especially the jovian ones,
Their current locations are the result of historical interactions with them.
Over the time scale of the Solar System's history, they can jump from one reservoir to another.
For convenience, we recognize three major reservoirs of minor bodies:
The main asteroid belt: Home to the predominantly silicate, metallic, and chondritic asteroids
The Trojans of the major planets: These are co-orbital bodies that either lead or trail the giant planets (Mostly Jupiter and Neptune, but there are a few others) at a separation of 60 degrees.
The trans-Neptunian region: Home to the mysterious, but at least partly icy Kuiper Belt objects and other more distant and more mysterious ones.
Some objects defy ready classification, including:
Centaurs - Object whose orbits cross those of the outer planets.
Objects that inhabit the inner Solar System are:
Asteroids if primarily rocky
Comets, if they contain significant ices that sublimate to form an atmosphere as they near the Sun.
Asteroids
Asteroids to scale
Nomenclature: An asteroid's official name combines a name from Greco-Roman mythology, prefixed by a number representing its order in the discovery of asteroids. The first asteroid, 1 Ceres, was discovered by Giuseppe Piazzi in 1801, who regarded it as a new planet. The term "asteroid" referred to its telescopic appearance as a star-like point of light. The quick discovery of 2 Pallas (1802), 3 Juno (1904), and 4 Vesta (1807) made it clear that asteroids were not "normal" small planets but a new class of object.
The main asteroid belt lies between Mars and Jupiter. It consists of bodies that did not accrete into a larger planet, because of the gravitational influence of nearby Jupiter. There are >100,000 asteroids known, and it is expected that there are countless more that are too small to be detected. There are relatively few large asteroids. The largest body in the asteroid belt, 1 Ceres, is a dwarf planet with a diameter of 974 km. The total mass in the asteroid belt is only ~0.001 Earth masses.

Kirkwood gaps from
Wikipedia
Origins:
The proximity of the main asteroid belt to the orbit of Jupiter is no coincidence. Models indicate that as it neared its current size, Jupiter disrupted the accretion of planetesimals in its immediate vicinity by perturbing their orbits to prevent their achieving orbital stability. The result was frequent collisions. Some larger asteroids, including 1 Ceres and 4 Vesta, appear to be fully differentiated bodies with cores and mantles. Others are the fragmented remains of such bodies. Yet others are essentially undifferentiated chondrites.
Jupiter's continuing influence: The current distribution of asteroid orbits shows Jupiter's continuing influence. At some distances from the sun, an object's orbital period is a simple fraction of Jupiter's, creating an orbital resonance that tends to make the orbit unstable. The result is Kirkwood gaps - regions that are clear of asteroids.
These give us convenient reference points. For the purpose of this course:
<1.52 AU (Mars' semimajor axis) is the realm of near-Earth asteroids
From 1.52 AU to the Kirkwood gap at 2.5 AU is the inner asteroid belt
>2.5 AU is the outer asteroid belt.
Asteroid collision
Asteroids continue to collide into one another regularly, because their orbits are elliptical and somewhat inclined from the ecliptic plane. These collisions release many smaller chunks, some of which find their way to Earth as meteorites. This makes the asteroid belt one region of the Solar System that we can sample directly without having to go there.
What we know:
Without robot spacecraft, we would have two general sources of asteroid information:
Spectroscopy: Meteorites confirm what spectroscopic analysis tells up about the composition of asteroids - they are heterogeneous. Planetary scientists have developed a taxonomy of spectral types that includes:
C-type: Dark, non-reflective chondritic material that has never undergone differentiation
E-type: Reflective chondrites mostly made of enstatite (MgSiO3), a flavor of pyroxene, an ultramafic mineral.
M-type: Metallic nickel and iron - probably the remains of the cores of differentiated bodies.
S-type: Stony - probably the remains of the mantles of differentiated bodies.
Meteorites: Most meteorites originate in the main asteroid belt, and their composition generally confirms to the spectral types above. Prior to spacecraft missions, a consensus emerged that asteroids represented:
Chondritic material mostly unaltered since the beginning of the Solar System (C-type and E-type)
Remnants of the cores and mantles of differentiated bodies that have been shattered by collisions (M-type and S-type).
We now know at least some asteroids have distinct crusts as a result of
Day et al., 2009
report of a meteorite made of the intermediate igneous rock
andesite
. This was vindicated by data from the Dawn spacecraft at 4 Vesta revealing that it was fully differentiated, with a crust, mantle, and core (see
Russell et al. 2013
.)
Milestones in Asteroid exploration:
Asteroids Ida and Dactyl from
Wikipedia
Galileo
on its way to Jupiter made the first up close asteroid observations as if flew past the main belt asteroids:
951 Gaspra (1991), a main asteroid belt S-type object.
243 Ida. It discovered 243 Ida's moon Dactyl, the first known satellite of an asteroid. (Recall that Galileo the astronomer discovered the first satellites of another planet!)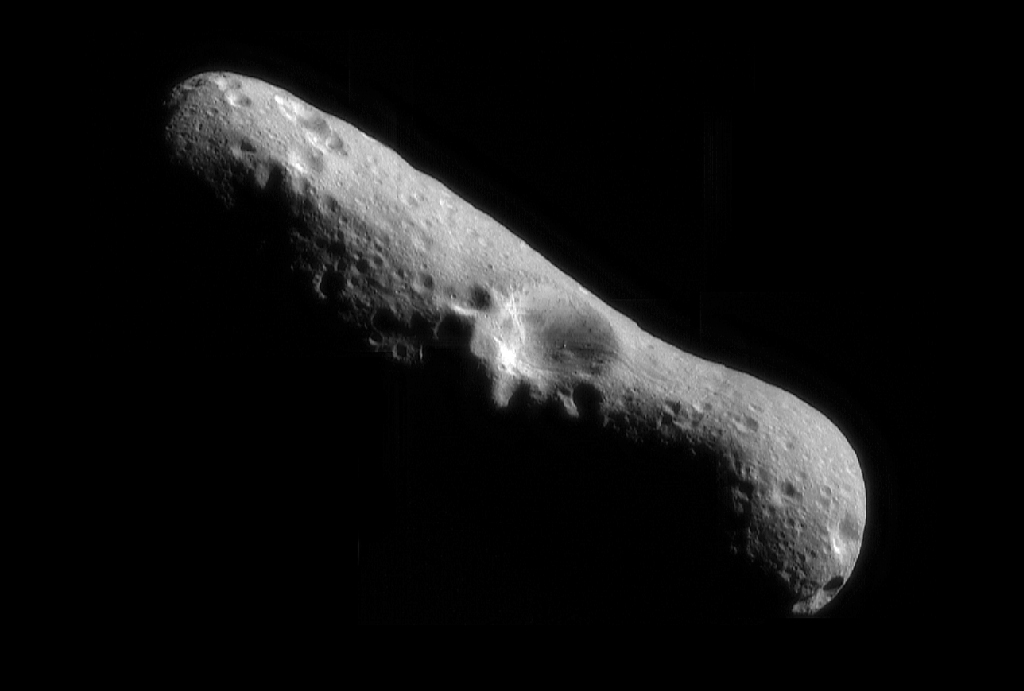 433 Eros from
University of Wisconsin
NEAR Shoemaker
rendezvoused with and orbited the near-Earth asteroid 433 Eros in 2000-2001.
En route
, the spacecraft flew past
253 Mathilde
, also an S-type.
Surface of 433 Eros from
NASA
NEAR revealed a heavily cratered surface, and numerous boulders, including a
house- sized boulder
that has rolled down into the large crater. At the end of its mission, the NEAR vehicle, although not designed to return data from the surface, was "soft landed" on 433 Eros. This is one of the last images returned The image is 12 m high. The surface is rocky, with a heavy layer of regolith. The composition is similar to that of stony meteorites and other S-class asteroids.
25143 Itokawa from
Wikipedia
Hayabusa
(JAXA) launched in, 2003, rendezvoused with the tiny (0.535 km length) near-Earth S-type asteroid 25143 Itokawa in 2005, finally returning a sample capsule in 2010, returning roughly 1500 rocky grains of Itokawa material, making Itokawa the third (and last) Solar System object to have samples returned to Earth.
Itokawa was revealed to be:
Very low density: Whereas a sample of Itokawa material might be 2.9 kg/cm3, the asteroid over all was 1.8 kg/cm3
Largely lacking impact craters
With a surface of rough boulders
The conclusion is that Itokawa is a porous rubble-pile of fragments held together by very weak gravity.
4 Vesta, 433 Eros, and 1 Ceres to scale from
Wikipedia
Dawn
launched on Sept. 27, 2007 and crossed the orbit of Mars to closely study two bodies in the main asteroid belt: the asteroid 4 Vesta (2011-2012) and the dwarf planet 1 Ceres (2015-present). 4 Vesta orbits at 2.36 AU, just inside the 2.5 AY Kirkwood gap, whereas 1 Ceres, at 2.76 AU inhabits the central region of the asteroid belt, and is distant enough that ices condensing directly form the solar nebula should be major compositional constituents.
Dawn is also a technological breakthrough:
The first planetary exploration vehicle to use xenon ion thrusters, capable of sustaining low accelerations over long periods of time.
It is the first spacecraft ever to enter orbit around a Solar System object, leave that orbit, and travel to enter orbit around another object.
Ran out of fuel in October, 2018.
162173 Ryugu from
Wikipedia
Hayabusa 2
Entered orbit around asteroid 162173 Ryugu in June of 2018. It has dispatched small landers to the surface, has
retrieved surface samples
, and is on its way back to Earth (arrival in late in 2020.)
101955 Bennu from
Wikipedia
OSIRIS REx
Entered orbit around carbonaceous chondritic asteroid 101955 Bennu in December of 2018. It will retrieve a surface sample for return to Earth in 2023.
Both 162173 Ryugu and 101955 Bennu are loosely consolidated "rubble-piles."
They demonstrate the effect of centripetal force, causing boulders to accumulate at the equators of small bodies with very little gravity to hold them in place. (See also shepherd moons of Saturn.)
Visible craters are few and subdued in profile, suggesting the unconsolidated asteroids are shaken by impacts.
Rocks on the surface of 162173 Ryugu display varying compositions, indicating that they experienced different histories before coalescing.
101955 Bennu sometimes releases particles from its surface although the mechanism by which this happens is not completely clear. Could be associated with the thermal fracturing (Molaro et al., 2020) of rocks, cased by contrasts in daytime (up to 400K) and nighttime (as low as 200K) temperature contrasts. (Bennu's "day" is 4.3 hours long.)


Asteroid Surface features:

Asteroids are mostly irregularly shaped, heavily cratered, and covered in a dusty regolith, indicating that they are geologically dead. On inspections, asteroids present certain distinct peculiarities (as in 433 Eros - right.):

Craters lack ejecta blankets: Not surprising considering that asteroids typically lack the gravity to prevent ejecta from either covering large areas of the asteroid or escaping into space.
There are few small craters: Perhaps shaking from larger impacts events causes them to lose cohesion.


Regolith ponds on 433 Eros from

NEAR Field Geology

Ponds of regolith accumulate in depressions. What force moves it there? Possibly impacts, or as a result of levitation of dust from the accumulation of electrostatic charges from the solar wind, as observed directly by Apollo astronauts.

On the daytime side of an object with no atmosphere or magnetic field, incoming solar radiation strips electrons from atoms, transforming them into positive ions.
Electrons in the solar wind tend to adhere to atoms on the nighttime side, imparting negative charges.

Thus, at the terminator - the boundary between day and night - positively charged dust particles levitate by repelling one another electrostatically, then flow toward the negatively charged night side.




Special Case 1: 4 Vesta

After two years of study by the Dawn mission, 4 Vesta begins to come into focus. 4 Vesta's specs:

Mass: 28% that of 1 Ceres and 0.00434% that of Earth.
Density: 3.456 kg/m3 (surprisingly dense - between density of the moon and Io.)
Semimajor axis: 2.36 AU




4 Vesta's flattened southern region is a large impact structure the crater Rheasilvia. Its central peak is one of the tallest known mountains in the Solar System.
Based on impact geochronology, the southern regions seems to be no more than 2 gy old, much younger than the north.
A series of troughs encircle 4 Vesta's tropics. Possible connected to compression during the Rheasilvia impact.
Water features: At 2.36 AU, 4 Vesta is a little too close to the Sun to contain ices as major components, however some craters have features related to water melted or vaporized by impacts.
The big news: 4 Vesta is differentiated, with a distinct

Basaltic crust (some of which comes to Earth as HED meteorites - a topic for later)
Ultramafic mantle
Metallic core.

Truly remarkable, given its small size and presumed rapid loss of primordial heat. A testimonial to the heat generated by short-lived radioisotopes like 26Al. A wide range of diverse materials is observed on its surface, including olivine of the mantle exposed by the Rheasilvia impact. (Russell et al. 2013.)

Because of its differentiation, 4 Vesta is sometimes called "the littlest terrestrial planet," but in fact it more resembles the planetary embryos that coalesced in the early Solar System to form the planets.

Special case 2: 1 Ceres

1 Ceres is the largest object in the main asteroid belt and contains a third of its mass. It is the only asteroid to qualify as an IAU "dwarf planet," being massive enough to pull itself into a sphere.

Orbit:

Semimajor axis: 2.7675 AU (beyond the 2.5 AU Kirkwood gap)
Orbital period: 4.60 years.

Composition: 1 Ceres' surface spectrum makes it a C-type asteroid (i.e. chondritic), but with evidence of hydrated minerals (minerals that incorporate water in their molecular structure) such as clay minerals. Where would the water for this come from?

1 Ceres' density of 2.161 kg/m3 (cf. 3.456 kg/m3 for 4 Vesta) indicates that water ice makes up a significant percentage of its volume. At 2.7875 AU, 1 Ceres is:

Far enough from the Sun to allow ices to be a big part of its mass
Yet close enough at periapsis that they would be unstable at the surface and sublimate. (Indeed, there are numerous spectroscopic observations of the outgassing of water vapor (A'Hearn and Feldman, 1992).)

Current models of 1 Ceres' interior call for:

roughly half of its volume to be a rocky core (possibly with a small metallic inner core Neumann et al., 2015)
roughly half to be an icy mantle (perhaps with some residual liquid water (McCord and Sotin, 2005)). In fact, Marchi et al., 2016 note the improbably small number of large impact craters on Ceres, concluding that larger ancient impacts have been concealed by the viscous flowing of this ice.
On top of this: a thin dusty crust of chondritic material and hydrated minerals. (Thomas et al., 2005)
Occator crater from
Wikipedia
Oddities and Puzzles
:
Bright Spots: Visible even through fuzzy Hubble images, these turn out to be deposits of some kind of salt (possibly magnesium sulfate hexahydrite (hydrated epsom salt - MgSO4.6H2O) (Landau, 2015) or sodium carbonate (Na2CO3) (De Sanctis et al., 2016).
How did it get there? Possibly the evaporite crust left after freshly exposed ice or brines sublimated.
Ahuna Mons
from
Wikipedia
Ahuna Mons:
A 5 km high mountain in the middle of nothing formed by - what?
2019 research by Neumann et al.
uses gravitational anomalies to infer that it is a
mud volcano
, formed by a rising bubble of muddy brine.
---
Key concepts and vocabulary
:
Main asteroid belt
Trojan asteroids
Hypothesis of origin through disruption of planetary accretion by Jupiter's gravity.
Kirkwood gaps
Orbital resonance
Asteroid spectral types:

C-type - chondritic
E-type - enstatite
M-type - metallic
S-type - stony

Asteroid exploration:

Galileo, 951 Gaspra - 1991, 243 Ida - 1993
NEAR Shoemaker, 433 Eros - 2000-2001
Hayabusa, 25143 Itokawa - 2005
Dawn, 4 Vesta - 2011-2012, 1 Ceres - 2015
Hayabusa 2,- 2014 - 2020 - 162173 Ryugu
OSIRIS REx - 2016-2023 - 101955 Bennu

Asteroid surface characteristics:

Craters without obvious ejecta
Regolith ponds

4 Vesta:

Flattened spheroid with huge impact structures in south
Orbits in inner asteroid belt - ice not a major constituent
Some features related to sublimation of ice
Differentiated like a terrestrial planet

1 Ceres:

Spherical "dwarf planet"
Orbits in main asteroid belt
Low density - ice is a major constituent
Bright spots
Lonely mountain - Ahuna Mons
Additional reading:
Michael F. A'Hearn and Paul D. Feldman. 1992. Water vaporization on Ceres. Icarus 98(1) 54-60.

James M. D. Day, Richard D. Ash, Yang Liu, Jeremy J. Bellucci, Douglas Rumble III, William F. McDonough, Richard J. Walker, and Lawrence A. Taylor. 2009. Early formation of evolved asteroidal crust. Nature 457, 179-182.

B. W. Denevi, D. T. Blewett, D. L. Buczkowski, F. Capaccioni, M. T. Capria, M. C. De Sanctis, W. B. Garry, R. W. Gaskell, L. Le Corre, J.-Y. Li, S. Marchi, T. J. McCoy, A. Nathues, D. P. O'Brien, N. E. Petro, C. M. Pieters, F. Preusker, C. A. Raymond, V. Reddy, C. T. Russell, P. Schenk14, J. E. C. Scully, J. M. Sunshine, F. Tosi, D. A. Williams, D. Wyrick. 2012. Pitted Terrain on Vesta and Implications for the Presence of Volatiles. Science 338(6104) 246-249.

M. C. De Sanctis, A. Raponi, E. Ammannito, M. Ciarniello, M. J. Toplis, H. Y. McSween, J. C. Castillo-Rogez, B. L. Ehlmann, F. G. Carrozzo, S. Marchi, F. Tosi, F. Zambon, F. Capaccioni, M. T. Capria, S. Fonte, M. Formisano, A. Frigeri, M. Giardino, A. Longobardo, G. Magni, E. Palomba, L. A. McFadden, C. M. Pieters, R. Jaumann, P. Schenk, R. Mugnuolo, C. A. Raymond, and C. T. Russell. 2016. Bright carbonate deposits as evidence of aqueous alteration on (1) Ceres. Nature preprint June 2016.

Elizabeth Landau. 2015. New Clues to Ceres' Bright Spots and Origins. NASA press release retrieved from http://www.jpl.nasa.gov/news/news.php?feature=4785, 7/2016.

S. Marchi, A.I. Ermakov, C.A. Raymond, R.R. Fu, D.P. O'Brien, M.T. Bland, E. Ammannito, M.C. De Sanctis, T. Bowling, P. Schenk, J.E.C. Scully, D.L. Buczkowski, D.A. Williams, H. Hiesinger, and C.T. Russell. 2016. The missing large impact craters on Ceres. Nature Communications preprint July 2016.

Thomas B. McCord, and Christophe Sotin. 2005. Ceres: Evolution and current state. Journal of Geophysical Research 110, E5.

J. L. Molaro, K. J. Walsh, E. R. Jawin, R.-L. Ballouz, C. A. Bennett, D. N. DellaGiustina, D. R. Golish, C. Drouet d'Aubigny, B. Rizk, S. R. Schwartz, R. D. Hanna, S. J. Martel, M. Pajola, H. Campins, A. J. Ryan, W. F. Bottke, and D. S. Lauretta. 2020. In situ evidence of thermally induced rock breakdown widespread on Bennu's surface. Nature Communications 11: 2913

Wladimir Neumann, Doris Breuer, and Tilman Spohn. 2015. Modelling the internal structure of Ceres: Coupling of accretion with compaction by creep and implications for the water-rock differentiation. Astronomy and Astrophysics 584, A117.

Marc Neveu and Steven J. Desch. 2015. Geochemistry, thermal evolution, and cryovolcanism on Ceres with a muddy ice mantle. Geophysical Reseqrch Letters 42(23) 10,197-10,206.

C. T. Russel, C. A Raymond, R. Jaumann, H. Y. McSween, M. C De Sanctis, A. Nathues, T. H. Prettyman, E. Ammannito, V Reddy, F. Preusker, D. P. O'Brien, S. Marchi, B. W. Denevi, D. L. Buczkowski, C. M. Pieters, T. B. McCord, J.-Y. Li, D. W Mittlefehldt, J.-P. Combe, D. A, Williams, H. Heisinger, R. A. Yingst, C. A. Polanskey, and S. P Joy. 2013. Dawn completes its mission at 4 Vesta. Meteoritics & Planetary Science 48(11) 2076-2089.

J. E. C. Scully, C. T. Russell, A. Yin , R. Jaumann, E. Carey, H. Y. McSween, J. Castillo-Rogez, C. A. Raymond, V. Reddy, L. Le Corre. 2014. Sub-curvilinear gullies interpreted as evidece for transient water flow on Vesta. 45th Lunar and Planetary Science Conference abstracts (1796).

P. C. Thomas, J. Wm. Parker, L. A. McFadden, C. T. Russell, S. A. Stern, M. V. Sykes and E. F. Young. 2005. Sub-curvilinear gullies interpreted as evidece for transient water flow on Vesta. Nature 437, 224-226.