Weathering
Sedimentary source material:
Before you can make a sedimentary rock, you must create sediment from preexisting rocks through
weathering
.
Weathering: The process by which rocks and minerals at the Earth's surface are physically and chemically broken down. All weathering involves the rock's reduction into smaller (sometimes molecule-sized) pieces.
Erosion: What weathering is not - the physical removal of the weathered material.
Weathering is typically a combination of both chemical and mechanical processes:

Mechanical weathering - The processes by which rock is mechanically broken into smaller pieces.

Chemical weathering - the process whereby rock materials are decomposed by chemical alteration of the parent material.
Mechanical Weathering:
This occurs through a distinct sequence of events. First, joints form in rocks at or near Earth's surface. Then, those joints are enlarged by a set of secondary processes.
Sources of jointing include:
Devil's Postpile, CA

Columnar jointing: intersecting vertical joints common in sills and lava flows, giving rocks a columnar appearance.


Sideling Hill, MD

Jointing along bedding planes - common in sedimentary rocks.


Stress release: Joints originally form when decompression causes rocks to crack. This typically occurs as the forces of erosion remove the rock's overburden. "Exploding rocks" in deep mineshafts are also fracturing as a result of uneven stress release.


Yosemite National Park, CA

Stress release leads to exfoliation - the spalling off of sheets of rock from the outer surface of parent rock. Structureless rocks like granite and other intrusive rocks tend to experience spheroidal weathering - weather into characteristic rounded shapes through this process.


Insolation: The result of differential thermal expansion and contraction. (We often experience something similar but more extreme when rocks "explode" in a campfire.) Common in regions with high daily temperature fluctuations such as deserts.

Secondary processes: Once the joints are there, they can be enlarged:
Ice wedging (A.k.a. "Freeze-thaw") Unlike most substances, water expands by 9% - 10% when it freezes. Thus, water that invades joints tends to wedge them when frozen. The process is most active in environments with frequent freeze-thaw cycles, and not present at all in places that are permanently warm or permanently frozen.


Wupatki National Monument, AZ

Salt wedging - In arid climates, dissolved halite or gypsum precipitates in the small pores and joints between grains, wedging them apart on a small scale, analogously to ice.


From

Bruce Railsback, University of Georgia

Organismal activity - On both a large and small scale, plants and fungi invade joints and the spaces between grains and wedge them apart. Soil dwelling animals, also. Of course, their biochemistry can directly change pH and the fractures they create provide access to other forms of weathering.

Talus
: In the absence of any further modification, the products of these forms of mechanical weathering often pile up in large cones of "talus" at the base of slopes mountainous regions.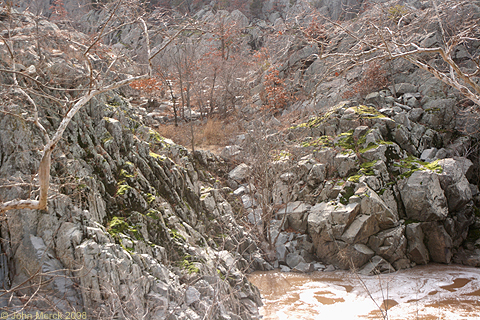 Great Falls of the Potomac - Foliated schist weathers into tabular shapes.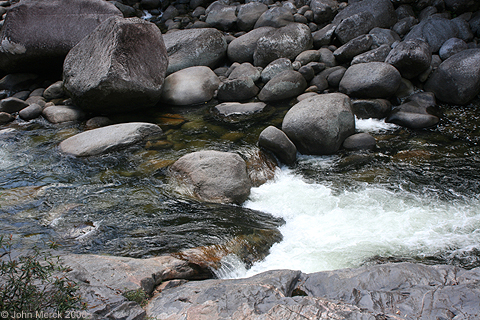 Mossman Gorge, QLD, Australia - Isotropic basalt weathers into spherical boulders.
Of course, the properties of the rock being weathered will strongly influence the character of the weathering:
Chemical weathering
Kaimu, HI. Now buried under a lava flow.
If all weathering were mechanical, we would expect weathering products to resemble parent materials in miniature. Is this what we see? Consider my Hawaii trip. Lots of
quartz sand beaches
, but even on basaltic Hawaii, very few
black-sand beaches
like the one at Kaimu (right), with grains of olivine, pyroxene, and plagioclase. Apparently, different materials are broken down chemically at different rates.
Mechanisms of chemical weathering: Having said this, lets consider some specific ways in which minerals equilibrate with the environment.
Vadose canyon in salt diapir from

Carleton University

Simple solution: Contact between soluble minerals (E.G.: halite) and water can result in dissolution. Thus when halite encounters water:

NaCl + H2O --> Na+ + Cl- + H2O




Geology of the Wessex Coast of Southern England - Ian West

Hydration. The loss of water from hydrated minerals can effect its mechanical properties and volume. The transition from gypsum to anhydrite, for example:

CaSO4.2H2O --> CaSO4 + 2H2O

Similarly when a non-hydrated mineral accepts water:

Fe2O3(hematite) + 3H2O --> 2Fe(OH)3(limonite)




Hall's Cave, TX

Hydrolysis - Also, substitution of hydrogen ions in solution in acidic water for cations in solid minerals may radically alter their solubility. E.G.: Recall, most rainwater is slightly acidic because dissolved CO2 interacts with water to form carbonic acid.

CO2 + H2O --> H2CO3 --> H+ + HCO3-

Once released, when a hydrogen ion encounters CaCO3, it may replace the Ca2+ through cation substitution.

CaCO3 + H+ -->HCO3- + Ca2+


Limestone exposed to meteoric water - Tulum, Quintana Roo, Mexico.

The products are highly soluble, and enter solution. This process dissolves limestone, yielding open cavities. Since all rainwater is slightly acidic exposed carbonates are etched by solution. This ultimately creates cavities that can be the size of large buildings, or even remove entire units of limestone, leaving remnant karst towers.

Other soluble minerals behave similarly. For example, olivine dissolves, yielding Mg2+ ions and hydrosilicic acid

Mg2SiO4 + 4H+ --> H4SiO4


Orthoclase pseudomorph in kaolinite from

Exceptional Minerals

Substitution of H+ ions can also cause alteration into a different solid with different mechanical properties.

E.G.: Orthoclase weathers to kaolinite

2KAlSi3O8 + 2H+ + 2HCO3- + H2O => 2K+ +Al2Si2O5(OH)4 + 4SiO2 + 2HCO3-

In this case, the orthoclase is replaced by kaolinite, and K+ and SiO2 ions in solution. Whereas orthoclase was a blocky, three dimensional mineral, kaolinite is a 2-dimensional platy mineral. Consequently, its mechanical properties are very different and much less resistant to mechanical weathering.


From

University of Georgia Geology

Oxidation. An atom or ion is oxidized when it loses electrons. It is reduced when it gains them. On Earth's surface, most oxidation is carried out by O2 dissolved in water. Consider the oxidation of ferrous iron (Fe2+) to ferric iron (Fe3+) when pyrite and oxygen yield hematite and sulfur:

2Fe2+S2 + O2 ---> Fe3+2O3 + 2 S

At right, sulfate minerals have formed from sulfur released by the oxidation of pyrite. An analogous process happens with the oxidation of pyroxene.

Controls of chemical weathering:
Temperature: Higher temperature --> more available energy for reactions. Thus warmer climates experience more chemical weathering.

Moisture: Most weathering reactions require water as a medium, thus moister environments are favored.


pH: Hydrolysis requires hydrogen ions. Thus pH, the negative log of [H+] is a limiting factor for them.

Note: Whereas rain water (and consequently fresh water) is slightly acidic (pH between 4 and 6.5), ocean water is slightly alkaline (roughly pH 8). Thus chemical weathering is more prevalent on land.

Redox potential - eH: Just as pH characterizes the transfer of hydrogen ions between reagents, eH describes the likelihood of the gain or loss of electrons. Measured by means of an electrolytic cell containing a reference electrode of known redox potential. A positive value indicates a tendency for oxidation (losing electrons), negative gives a tendency for reduction (gaining electrons). Just as hydrolysis is limited by the availability of hydrogen ions, oxidation reactions are limited by the concentration of oxygen (or other oxidizing agents).

As the table at right shows, eH is more positive (i.e. oxidation and reduction are more likely) in environments with:



In contrast to Earth, the surface of Mars is permanently frozen, largely bereft of liquid water, lacks a biosphere (?) and has a reducing atmosphere. No surprise that there, basalt is actually the most common constituent of sand.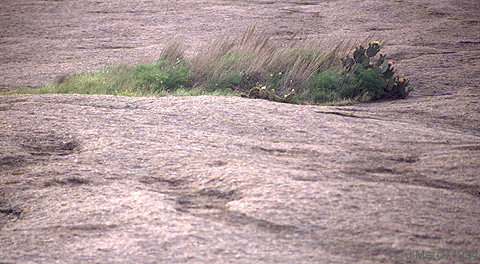 Vernal pool at summit of
Enchanted Rock
, TX.
Physical parameters of weathering:
Climate: Warm and wet maximizes opportunities for weathering reactions, however, climates with frequent freeze-thaw cycles experience more ice-wedging.

Drainage: For weathering reactions to proceed, products must be removed, otherwise equilibrium will be reached and weathering will stop. Thus well drained environments experience more continuous weathering.

Relief: Increases speed of drainage and mass-wasting and discourages development of soils.
Composition and weathering:
We can describe lithologies in terms of their resistance to weathering. Two big factors influence:
Grain size: Finer grained rocks generally weather faster than course grained ones, a consequence of the greater reaction surface area of their grains.


Composition: Different materials have different intrinsic susceptibilities to chemical weathering at Earth's surface. We typically find that the more mafic materials weather more quickly. Many minerals form under (are at home in) conditions very alien to the earth's surface. When exposed to surface conditions , they are rapidly altered chemically. (In contrast, those that are more nearly "at home" on Earth's surface tend to resist weathering longer. Thus, olivine doesn't last long but quartz hangs around.) As a result, Goldich's mineral stability series, a list of minerals ranked by susceptibility to weathering (right) essentially reproduces Bowen's reaction series.