Terrestrial sedimentary environments II - streams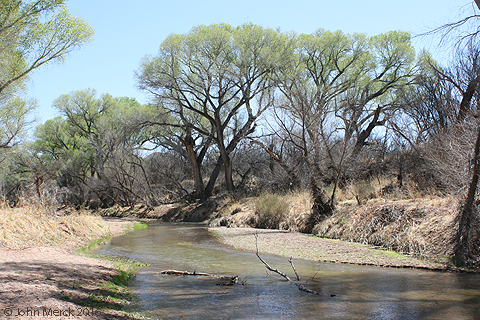 San Pedro River, AZ
Streams are the primary means of transporting sediment across the continents. Almost all terrestrial depositional systems have streams and their associated facies, even arid or hyper-arid settings. Streams are also the primary agents of erosion and denudation on the continents. They represent hazards in flood plains and are a chief source of water. Last, they are easy to access and guage. As such, they are heavily studied and reasonably well understood compared to many other depositional systems.
Recognition:
In the modern world, streams are sinuous, channel-forming elements. They commonly leave course-grained deposits, even in sandy and muddy systems. However, they are associated with a broad range of physical, chemical, and biological processes. They have relatively gentle grades where they are depositing sediments ranging from 0.5 deg.- 0.01 deg. They can be relatively short (~1 km) to thousands of kilometers long. Commonly, they are 1-2 m deep, though the largest streams can be more than 15 m deep.
Before we can deal with the sedimentology of fluvial environments, there are some preliminaries:
Stream properties:
Stream gradient: Its overall slope from end to end. Ratio of vertical drop to horizontal distance. E.G. 2m/km.

Sinuosity: (Curviness) The sinuosity of a stream refers to the length of a line down the middle of the channel divided by the length of a straight line between it's endpoints. In streams, this is commonly done along the thalweg, the deepest part of a stream channel.

Velocity: Downstream distance traveled per unit time. (ft/sec or M/sec) Varies along length of stream, between streams, with time, and in different parts of channel.

Velocity is influenced by three things:

Friction

Note: friction occurs at boundaries of channel, causing boundary water to move slower. Thus overall velocity maybe effected by cross sectional shape of stream.


gradient

Number of tributaries adding water to stream system.

Discharge. Total amount of water moving past a particular point per unit time. Discharge = velocity * Cross sectional area. Thus, if a stream has cross sectional area of 100 m2 and velocity of 2m sec-1, then

Discharge = 100m2 * 2m/sec

= 200m3/sec

Of course, this varies over time.
Flow stages: We speak of the following general flow stages:
San Pedro River, San Pedro Riparian National Conservation Area, AZ

Low flow: The stream surface is well below the bank and confined by the channel.


River Wey from

Wikipedia

Bankfull: The stream occupies all the volume of its channel but has not overflowed onto its flood plain.


Potomac river in flood from GW Parkway scenic overlook, 2003

Flood: The stream rises out of its channel and inundates portions of its flood plain.
Maturity:
Remember that when a stream is new, tectonic movement of the ground over which it flows has recently occurred, or its base level has recently changed, a stream will actively erode or aggrade in order to reach its graded longitudinal profile. This happens by two means:
Mather Gorge of Potomac River

Downcutting: Downcutting streams occupy narrowly incised V-shaped valleys (like the Potomac at Mather Gorge - rt) whose geometry may be influenced by:

Structure and texture of underlying bedrock (E.G.: Katherine River, NT, Australia)
In the cases of rejuvinated streams, the location of ancient meander loops (see Yampa River, Dinosaur NM, CO.


Headward erosion:


San Pedro River, San Pedro Riparian National Conservation Area, AZ

As a stream approaches its graded profile, however, its erosive power becomes directed primarily laterally instead of downward, and it begins to create a flood plain (like the San Pedro river, rt). In this lecture, we are mostly concerned with what happens after the stream achieves its graded profile.




Classification:

Streams can be subdivided into four main categories with associated environments:

Straight: Single channels of low sinuosity (<1.3).
Meandering: Single channels of high sinuosity (1.7, often >2.5).
Braided: Multiple channels of low sinuosity (<2.3).
Anastomosing: Multiple channels of high sinuosity (>2).

A bar is a composite, constructional bedform usually composed of sand or gravel.


Meandering streams:

Specs:

Sinuosity: High
Gradient: Low
Single channel
Discharge: High relative to load (I.e. sediment load is proportionally low.)
Channel migrates laterally
Common features:

Point bars and cut banks
Oxbow lakes
Flood plains
Crevasse splays
Swamps




Parts of a meandering stream:

If the world were geometrically simple, all channels would be perfectly straight with frictionless sides, and all water would move through them at the same speed. In the real world, friction slows the water interacting with the walls of the channel.

Moreover, in reality, channels are not straight. Thus:

Thalweg: The fastest moving current occupies the thalweg, the deepest portion of the channel.
When a channel is even slightly curved, inertia throws this fast moving current against the outside of the curve.


Daintree River point bar.

Daintree River cutbank.



Cutbank: This"cutbank" experiences erosion.
Point bar: Near the inner bank, the quietest waters accumulate. These deposit sediment in a "point bar".
The net result of erosion on the outer bank and deposition on the inner one is for the channel to migrate in the direction of the outer bank.


Scroll bars: The point bar grows by accretion but not at the same rate, so on the surface its growth is marked by curved swells and swales called scroll bars.
Chutes: In flood stage, the stream can innundate the point bar, carving chutes that follow shorter paths toward base level.
In map view, the result is a stream that meanders in a series of broad loops.




In cross section, we see that in fact, the path of the fastest current is a helix, where rapid surface waters encounter the cutbank then curl across the bottom toward the point bar.


As a channel migrates, it often leaves a characteristic set of deposits behind called a point bar. The succession is coarsest at the base and displays a characteristic fining-upward sequence. Note: At any moment, the point-bar surface of the channel, from bottom to top, represents a time slice. Going from bottom to top, energy (and coarseness of clasts) diminishes:

The cross strata are very large, commonly the depth of the whole channel. Generally, a point bar will grow laterally until the channel avulses - spontaneously changes course.

Note: The finest sediments deposited in the channel itself are fine sands. Silts and muds may be deposited in top of the point bar during the waning stages of floods, but these are at the fuzzy boundary of the proper channel!


Oxbow lakes:

In map view, we see that meanders are self perpetuating. They are limited by the fact that they bump into one another. A meander loop may cut itself off, causing a small avulsion. When this happeens, water is faced with a choice: Go the long way or go the short way? Most water chooses to go the short way, i.e it takes the path with the steeper gradient and the meander loop is abandoned, forming an oxbow lake. Unlike any other part of the channel, these receive mud and, because they are the site of thick and persistent vegetation, this tends to be organic rich. Eventually the lake it fills with mud, forming a meander scar, a muddy crescent in an otherwise sandy deposit belt.


When streams flood, water flows out of the main channel and across the flood plain. Think about the velocity of the water as it moves over the floodplain, the ultimate broad shallow channel.

Friction goes through the roof.--->
Velocity plummets--->
Competence is lost-->
Suspended load drops out

Thus, whereas you get only sand and coarser deposits in the channel, you get deposition of mud in floodplain. Furthermore, most of it (including the coarsest portion) piles up next to the channel, forming an elevated natural levee that heightens the channel bank. These sediments are termed overbank deposits or flood plain deposits.


Crevasse splays: If a stream avulses out of its channel by breaking its levee, the main flow of a stream can be diverted out of the channel and into the adjacent flood plain. As it does, the flow will expand and slow, dropping its load, as in a normal flood, but in this case, much more (and coarser) sediment will be transported to the flood plain. This will build a small delta-shaped body of anastamosed (interconnected) channels and associated deposts called a crevasse splay. These are small bodies of sand in map view, characterized by climbing ripples and other indications of rapid deposition. Distally they interfinger with overbank muds. Like point bar deposits, they fine upward. Unlike them, they fine into overbank muds.


With this info we can now identify fluvial environments in the rock record: Ribbons of overbank mud in map view, interspersed with ribbons of point bar sequence sands showing fining-upward sequence. Note: At equilibrium, we wouldn't expect to see point-bar sequences preserved, because previous sequences would be eroded away later as the channel "hosed across" its floodplain. they are preserved in regions of tectonic subsidence or rising base level, however, as in the Early Jurassic Kayenta Fm., rt. (Note: because meandering streams predominate in the Phanerozoic, we generally ignore the contribution of other types of streams, but this is not entirely appropriate, as we will see.)


Swamp:

A final issue with floodplains: Swamps are stream networks where the ground water table is very high. As such, a lot of vegetation accumulates in one place. The density of biological activity can create anaerobic conditions, leading to the preservation of organic detritus. Before burial, these deposits are called peat. After burial they become coal. Swamps can also accumulate a significant volume of siltstone and shale, some of which can be organic rich.


Historical note: A necessary condition for the formation of sinuous channels is high-cohesive strength banks, commonly muddy and vegetated.

Q: Prior to the Silurian there is no evidence of meandering stream deposition. Today most streams in the modern world are meandering. What might have caused this change?

Q: How is your answer to the last question related to the fact that the Proterozoic and early Paleozoic were the heyday of thick marine sand deposits?

Toklat River, Denali NP, AK

Braided streams:

Specs:

Sinuosity: Low
Gradient: High
Multiple channels separated by bars
Discharge: Low relative to the load
Sand and gravel abundant
Common features:

Longitudinal bars
Transverse bars

What if we "overfed" a stream with so much sediment that there was hardly room for the water in the channel. This yields a "braided" stream. Essentially:

The channel is so full of sediment that at low flow conditions, it is divided into subsidiary channels by islands of bed load.
The stream and bed load together spread to occupy the entire flood plain.
These may occur in:
Regions of intense erosion - often well above the graded stream profile elevation
Regions where sediment is very easily eroded
Glacial outwash, which is sediment rich.
Braided stream channels are broad and shallow, often about 1 m deep. As such, one finds:
Evidence for upper flow regime (plane beds)
trough cross-bedding.
Channels are separated by bars which have variable degrees of stability and vegetation
Flow may be either flashy or perennial
Many braided stream deposits are very coarse grained, commonly sandy and often gravelly.
Bars
Primary braided stream deposits are the remains of bars separating channels. These can be:
Transverse bars: Subaqueous dunes that form during flood stage are exposed above water during low flow. Roughly perpendicular to current flow.
Longitudinal bars: Elongate bedforms that accumulate in the lee of some obstacle and are exposed at low flow. Roughly parallel to current flow.
Bars are usually ephemeral, but can be stabilized if colonized by vegetation.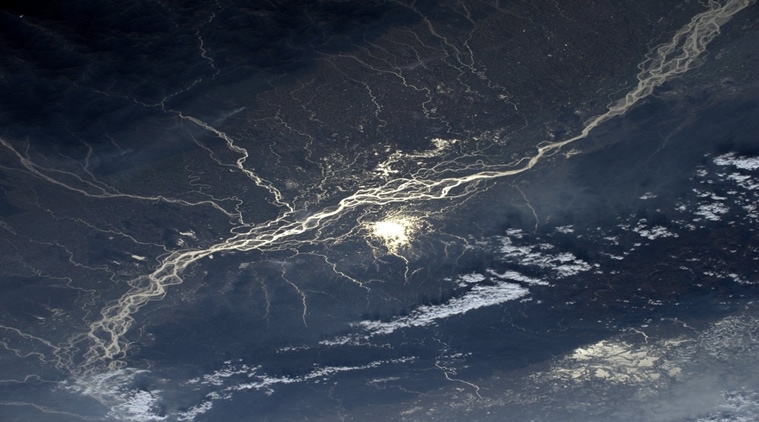 Brahmaputra River from space from
Indianexpress.com
Historical note: Braided streams are usually small, but can be very large:
Modern Brahmaputra (right) choked with sediments from the Himalayas.
Pleistocene Mississippi when it was the major drainage of the melt-water of Laurentide ice sheet.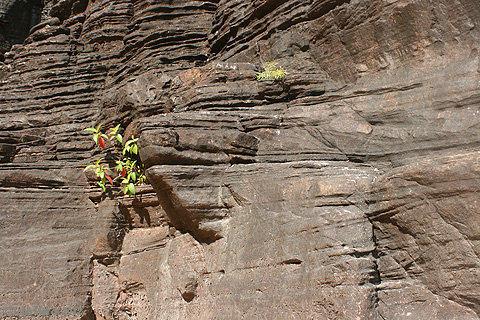 Jim Jim Falls, Northern Territory, Australia
Braided streams in the rock record:
How do we distinguish braided from meandering stream deposits. Both are:
ribbon-shaped sand deposits in map view
Display fining-upward sequences
but beyond that, braided streams:
incorporate much more coarse sediment (sand and conglomerate)
Show no distinct muddy flood plains. Mud, where present, forms thin drapes over channel deposits
Contain extensive trough and tabular cross beds indicating both downstream and lateral migration of bedforms, with abundant reactivation surfaces.
Anastomosing stream from
Sedimentology, Depositional Environments and Sequence Stratigraphy
Anastamosing streams:
Specs:
Sinuosity: High
Gradient: Variable
Multiple channels separated by stabilized banks and flood plain
Anastomosing streams are not very common. Their map profiles resembles those of braided streams, except that in place of unstable bedforms separating channels, there is stabilized floodplain. Typically occur in regions of intense deposition, including:
Topographic breaks where gradient suddenly diminishes, as with alluvial fans, but with perennial stream flow.
Distributary channels on delta.
Okavango "Delta"
Terminal splay:
A typical setting for an anastamosing system is in a stream that is rapidly losing flow into the substrate or due to evaporation (arid and semi-arid climates are typical). The flow depth decreases and velocity decreases, leading to deposition of broad sand sheets in or near thin, shallow channels. These channels will avulse rapidly and repeatedly over short time and length scales creating a complex distributary network. These are called inland deltas or terminal splays. A first class example today is the Okavango Delta in Botswana (rt.) An ancient example, the Late Triassic Ischigualasto Formation of Argentina. ( Triassic denizens of the Ischigualasto.)

Straight streams:
These commonly occur in three settings:
Black Canyon of the Gunnison River, CO

Actively downcutting streams that are confined by the topography of their valleys.


Tiber Delta from

St. Mary's Fluvial Studies

Very low gradient distributary channels in coastal plain environments. Where gradient is near zero, streams are moved by the hydraulic pressure of water farther upstream rather than by gravity directly.


Katherine Gorge, Nitmiluk National Park, Northern Territories, Australia

Channels constrained by underlying structure (faulting or jointing of bedrock).