The Fossil Record and Vertebrate Taphonomy
John Merck
Taphonomy:
The realm of paleontology dedicated to the study of the processes by which an organism becomes part of the fossil record. Yields an understanding of the filters and biases of the fossil record.
Becoming a fossil:
From the birth of the organism to discovery by a paleontologist, fossils go through four general stages.
Biotic stage: - the realm of paleoecology:

Birth to death. The organism grows whatever tissue is capable of being preserved then dies. It has done its part. Whether it will become part of the fossil record depends on whether any parts of its carcass can remain intact long enough to be incorporated into the rock record. The quicker the burial, the better because.....


Interment stage - the realm of biostratinomy:

Death to final burial. The carcass is exposed to:

Necrolysis:

Decomposition: destruction of soft tissues by bacteria
Dissociation: body parts become separated

Abrasion: surface details of hard parts lost
Breakage: hard parts degraded into fragments
Winnowing: fragments sorted by size due to moving water




Diagenetic stage - the realm of sedimentology:

Final burial to discovery. Once buried, the remains are officially fossils, however their existence is still perilous. Diagenesis results in:

Dissolution: hard parts chemically altered into soluble substances
Compaction: remains crushed by overlying sediment
Recrystallization: ground water & minerals enter, form crystals & disrupt remains




Field excavation from

Florida Museum

Investigative stage - the realm of Sociology: Discovery to ultimate destruction. Every day, fossils are unearthed by erosion, only quickly to be destroyed by it. To enter the fossil record, as scholars understand it, a fossil must be exhumed (usually by natural processes), discovered, and described. As with the previous stages, this imposes filters and biases.

The Biotic Stage
Apatite (Ca
5
(PO
4
)
3
) from
Wikipedia
Hard tissues
The organism develops tissues and substances with a range of preservation potential. The greatest potential exists for hard tissues including:
Calcite and aragonite (CaCO3)
Silica(SiO2) and opal (SiO2 . 2H2O)
Apatites (Ca5(PO4)3 ) (right) including the form found in vertebrate bones and teeth - hydroxyapatite (Ca5(PO4)3 (OH))
As a mineral, apatite is relatively durable, so vertebrate skeletal elements that make it into the rock record have a decent shot at long-term preservation. The problem is that phosphate ion is relatively rare and important for metabolism. Thus, vertebrate bodies hoard it, and bony tissue is continually remodeled to provide metabolic access. Not surprisingly, vertebrates secrete skeletal tissue sparingly in comparison to creatures like mollusks with their massive (CaCO3) skeletons. Hydroxyapatite occurs in:
Bone
Scales
Teeth
Calcified cartilage
Tough tissues
Eoconfusciusornis
from
Chinese Academy of Sciences
Complex organic molecules forming the framework for robust soft tissues: While not exactly "hard parts" some soft tissues form
tough parts
having reasonably good fossilization potentials. Although susceptible to decomposition, these are tough enough to withstand much of the physical abuse of the interment stage, and can be preserved if they are quickly removed from agents of decomposition. Among vertebrates these include:
Keratin (a protein) - the primary molecule of animal skin and integument (right)
Cartilage (a complex composite) - The flexible tissue of the skeleton
Collagen (a protein) - a fibrous protein forming the basis of many animal connective tissues.
Soft tissues
Haikouichthys
from
SVT A L'AFFICHE – LeWebPédagogique
Genuine soft tissues, susceptible to decomposition and mechanical forces, are only rarely preserved as fossils as a result of rapid burial in quiet, anoxic environments. When they are, we make a big fuss, as in the case of
Haikouichthys
(right) and other soft-bodied creatures from the Cambrian Chengjiang locality.
Behavior and habitat preference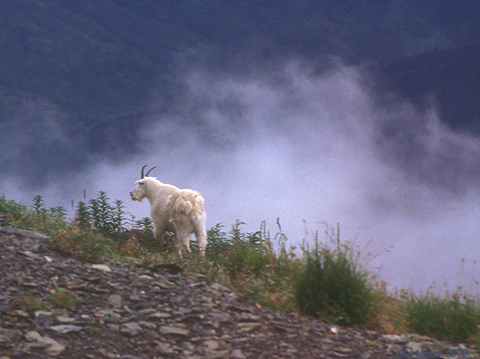 Mountain goat
Oreamnos americanus
Of course, organismal behavior also influences fossilization potential. By exclusively inhabiting an erosional environment, the mountain goat (right) has almost no chance of becoming a fossil. In contrast, creatures the
burrow in sediments
are preferentially preserved.
Response to predation: The hardest, most robust, and least digestible parts of an organism have enhanced preservation potential simply because so many vertebrate remains are processed by predators and scavengers. Thus, teeth are significantly more likely to enter the fossil record than fragile bones.

The Interment Stage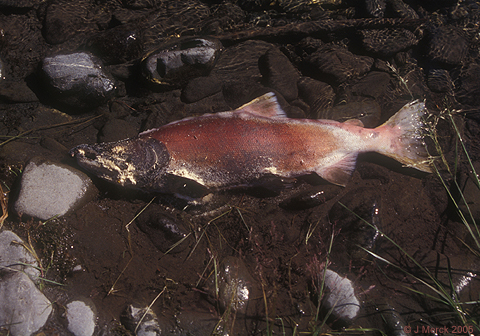 Red salmon shuffles off mortal coil
Necrolysis
:
Decay: The removal of soft tissues from the carcass is accomplished by everything from bacteria to large carnivores, but microbial action predominates. The speed of decay is a function of:
pH
Moisture
Temperature
Oxygen concentration.
Low values of any of these can retard or halt decay.
Posture: Aspects of decay including:
Desiccation
Rigor mortis
bloating
Can cause the carcass to assume postures that it would not assume in life.


Transport: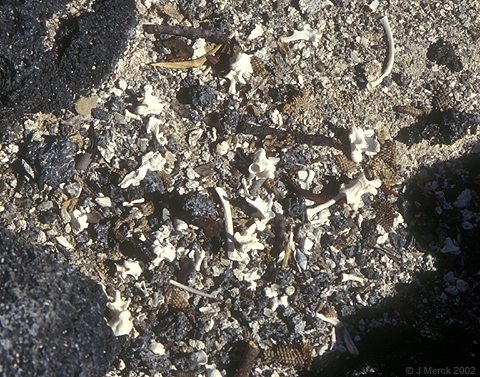 Beach gravel with basalt and marine iguana bones - Fernandina, Galápagos Islands.

Fossils (and sedimentary particles generally) are either:
Autochthonous: Buried in their original location.
Allochthonous: Transported prior to burial.
In the latter case, we are concerned with the effects of transport. Vertebrate remains are subject to the same modes of transport as other clasts of similar size:
Mass-wasting
Eolian
Fluvial
Shoreline
Generally, each transport mode imposes its own filter on the final survival, distribution, and orientation of each element of the body.
In eolian, lacustrine, floodplain, or marine environments where bone-sized clasts can't be moved, skeletons might be preserved relatively intact.


Hjulstrom diagram

In higher-energy environments, especially channels and shorelines, hydrologic processes influence distribution:

Sorting and winnowing: Elements of the same critter will be spread over increasing areas with increasing transport duration. Lighter elements and those with higher surface area / volume ratios move farther. When more than one carcass is involved, similar sized-elements from many individuals might be deposited together. In 1969, M. R. Voorhies carried out a classic experiment in which the bones of mammals of a wide range of sizes were dropped into a flume (artificial channel) and their behavior noted. From this we identify three Voorhies groups:

Transport group: Elements that are immediately carried downstream. (ribs, vertebrae, sacrum, sternum)
Intermediate group: Elements that moved intermittently as bed load. (long bones of the limbs, metatarsals, metacarpals, phalanges)
Lag group: Elements that largely resisted movement. (skull and jaws)

In a particular environment, elements of the same Voorheis group tend to cluster together.

Orientation: Unidirectional current tends to orient elements in their most stable position:

Platy elements with their more convex side up.
Elongate elements parallel to the predominant current with their more massive ends pointed upstream.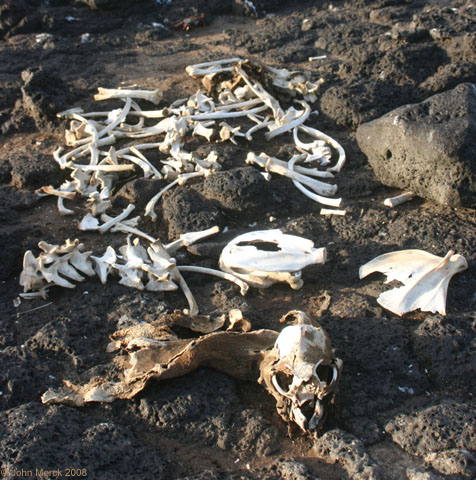 Former sea lion - South Plaza, Galápagos Islands.
Disarticulation:
In discussing transport, we have treated the skeleton merely as a pile of bones, and considered their relative transportability. In fact, the vertebrate skeleton consists of elements whose articulation - geometric relationship one to another - conveys considerable information. What is the fate of that information upon death?
In the absence of transport agents, disarticulation progresses as scavengers and agents of decay attack the carcass. Thus:
Beautifully-preserved museum quality specimens occur only when decay is halted by burial or environmental conditions
Disarticulation progresses from the outside in, with fins, jaws, and limbs becoming disarticulated prior to the thoracic vertebral column. (See the untransported sea lion skeleton at right, in which several thoracic vertebrae remain in articulation in a skeleton that has otherwise fallen apart.)
Identification: Disarticulation is the randomization of the location and orientation of skeletal elements, with disturbance concentrated at the top. If the agents of disarticulation are predators or scavengers, bones will be abraded and broken, also.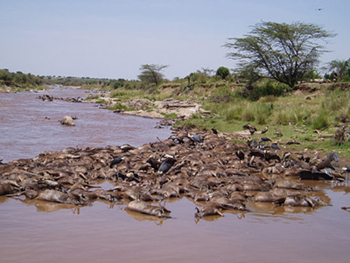 Wildebeast carcasses in Mara River from

PaleoBlog.

Bloated carcasses: Where transport meets disarticulation. Carcasses commonly are floated down rivers and out to sea, where they can remain intact for up to weeks. As the carcass decays, pieces fall off starting with jaws and appendages and working inward. This can have the effect of transporting disarticulated remains of terrestrial organisms into shallow marine depositional environments.


Bone modification: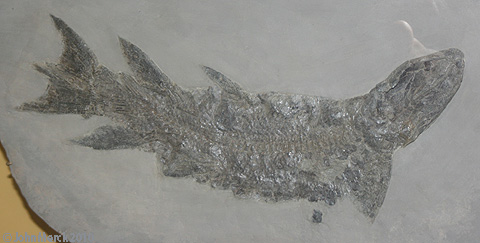 Eusthenopteron foordi
a cylindrical fish in two dimensions
Although modification of bone shape and surface texture can happen at any taphonomic stage, it is concentrated in the interment stage. Sources of modification include:
Traumas and pathologies incurred during life.
Post-mortem damage due to predation, scavenging, digestion, trampling, abrasion during transport, etc.
Post-burial diagenetic effects, including dissolution or (commonly) compaction. Its spongy nature makes vertebrate bone susceptible to crushing and compaction compared to the hard tissues of other animals. Thus, we must often interpret three-dimensional structures that have been reduced to two dimensions.
Predators: Their activities may concentrate remains near favorite resting places. E.G. cave deposits representing:
Scavengers: whose effect is to disperse elements
Trampling: By which elements may be broken, abraded, and significantly reoriented.
Diagenesis:
The mineral component of bone: Whereas the mineral component of calcareous (CaCO3) skeletons is highly susceptible to chemical alteration after deposition, hydroxyapatite is relatively stable, although:
There is a tendency toward substitution of CO32-, and F- anions for OH.
Low pH promotes dissolution.
Pore Space within Bone: Most vertebate bone has pore space in the form of:
lacunae inhabited, in life, by osteocytes.
Vascular channels
Often, the mineral component assumes an open woven form enclosing much pore space.
Fossil bone microstructure from
Illuminating Microstructure
Modes of fossilization:
Permineralization: It is unusual for this space not to be permineralized by the precipitation of ions from pore fluid (usually silica (SiO2) or opal (SiO2.H2O), but sometimes by phosphates or hematite (Fe2O3).


Stenopterygius

with carbonized soft tissues from Posidonienschiefer - Holzmaden.

Carbonization: Proteins in rapidly buried soft tissue can be denatured with their more volatile components migrating away to leave a carbon film.

Authigenic preservation: Soft tissue preservation facilitated by precipitation of mineral films:

Typically bacterially mediated
Generally begins VERY quickly (diagenesis starts within hours of burial)
Rate of burial, salinity, and organic content of sediment and organisms will determine which new (authigenic) minerals form to preserve soft tissue. These include:

Pyrite (FeS2)
Carbonates - calcite (CaCO3) and siderite (FeCO3)
Phosphates - Apatite (Ca5(PO4)3) or vivianite (Fe2+Fe2+2(PO4)2.8H2)
Silica (SiO2)

Three common modes of soft tissue preservation by authigenic minerals:

Permineralization: rare, and only phosphates. Most effective on "hard" soft tissues, like cellulose and chitin
Mineral coats: most common. May be phosphate, carbonate, or pyrite.
Tissue casts: rapid stabilization of sediments through diagenesis prior to lithification of rock as a whole. Often as nodules and concretions. May be siliceous or calcareous.

Rare forms of preservation such as freezing, or encasement in amber.
Fossil fish in concretion

Diagenesis of surrounding sediment: Of course, being porous, chemical changes in vertebrate bone are coupled with those in the surrounding sediment. Ironically, buried decomposing vertebrate carcasses alter pore-fluid chemistry in their immediate vicinity, often promoting precipitation of ions in solution and prompting the formation of concretions. Because concretions tend to be more resistant to weathering than surrounding matrix, the effect is often to protect vertebrate fossils. Indeed, in lagerstätten like Mazon Creek, fossils are primarily preserved inside concretions.

Taphonomic Information
Fossil Site Analysis:

Most of the discussion above primarily concerns the history of single individuals. However, much information can be gained by looking at the totality of the fossils from a single horizon (layer) at a single site. This data might include:

Taxonomic diversity: Number of taxa represented
Relative abundances: How many of each taxon is represented. For macrofossils, this might be calculated as Minimum Numbers of Individuals (MNI) assessed by counting the number of particular common preserved bones (for example, if there is only one skull, three left humeri, and twelve right femora, we know that there were at least 12 individuals)
Orientation of Fossils: Indicates depositional environment. Randomly oriented fossils may indicate autochthonous deposit; oriented long bones, indicate directionality of flow (and thus likelihood that the deposit is allochthonous and/or at least slightly disturbed)

Lagerstätten:

German mining jargon for "motherload" or "bonanza". However, usually used outside Germany for what is properly "Fossil-Lagerstätten".

Adolph Seilacher proposed two major types of Fossil-Lagerstätten:

Konzentrat-Lagerstätten: anomolously high amounts of fossil material

Possibly by decreased rate of sedimentation
Possibly by increased rate of organism reproduction ("bloom")
Possibly by increased rate of organismal death
Major categories:

Condensation deposits (decresed rate of sedimentation)
Placer deposits (hydrodynamic concentration by currents, eddies)
Concentration traps (holes, pits, caves)

Konservat-lagerstätten: unusually well-preserved fossils

What is generally thought of by the term "Lagerstätten"
Often requires anoxic bottom conditions (so no scavenging), quiet water (so bodies are not disturbed), rapid burial (to reduce possibility of mechanical destruction of material)
Sometimes preserves not only hard parts, but impressions and/or carbonizations of soft parts; possibly even mineralized soft parts
Major categories:

Stagnation deposits (autochthonous conditions of anoxia, low currents, etc.)
Obrution deposits (assemblage is transported into such conditions)
Conservation traps (amber, for example)

Lagerstätten represent extremely important window into the past:

Taxa (such as soft bodied organisms) about which we wouldn't otherwise know
Morphologies (again, soft tissue) about which we might not know
Haikouichthys
from Chengjiang from
leWebPedagogique
s
Some Famous Lagerstätten