Slow Diffusion onto Land
Tetrapoda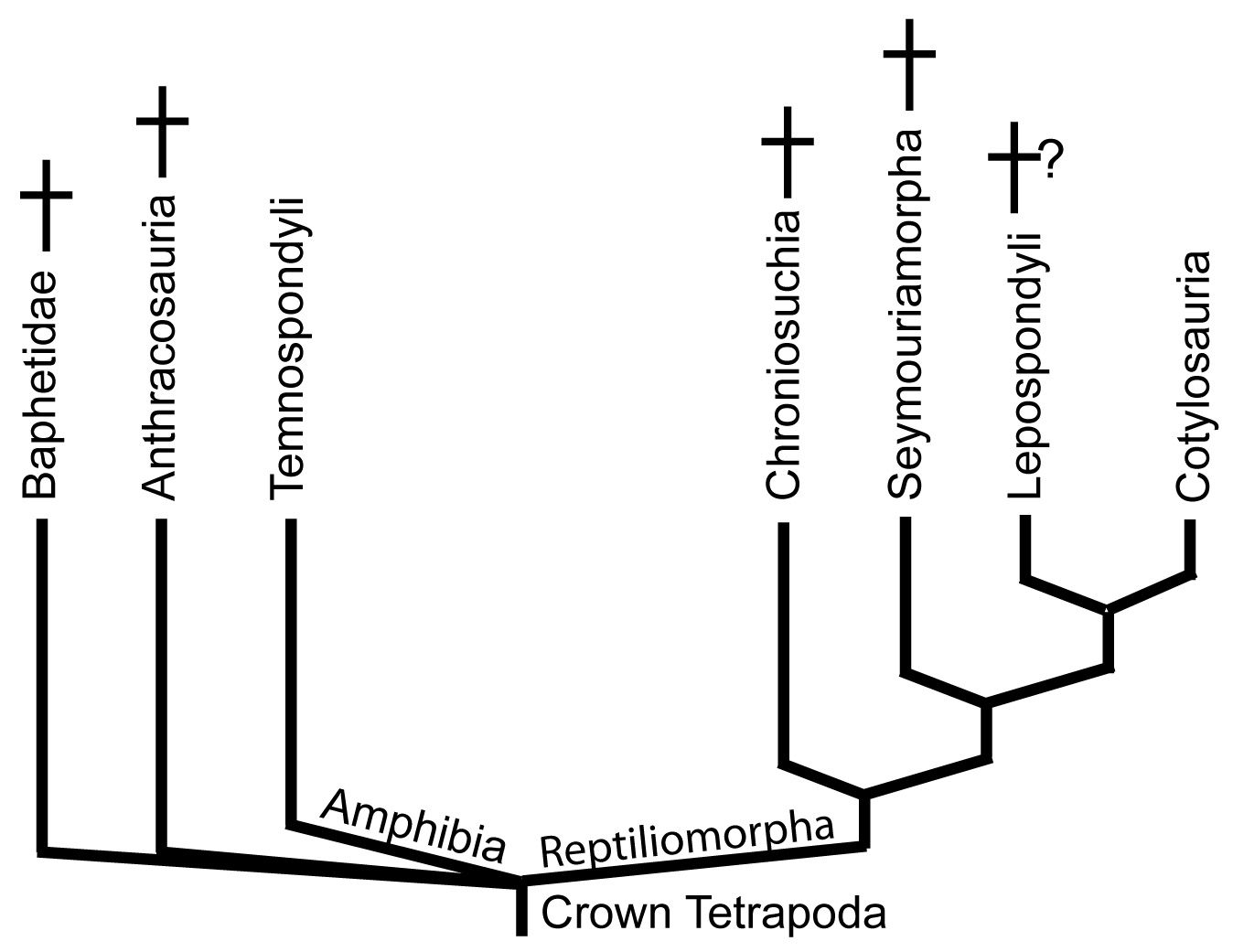 The Devonian extinction seems to have wiped out the water-breathing digit-bearing vertebrates like
Acanthostega
and
Ichthyostega
, however many basal stegocephalians held on in the Early Carboniferous. Among them was the (unknown) last common ancestor of all living land vertebrates - the ancestor of
crown-group Tetrapoda
. Their common ancestry is concealed within Romer's Gap. Their descendants (along with some "stem tetrapod" lineages emerge from it well-differentiated.)
Tetrapoda: Opinions vary as to where this name should be stuck to the tree:
Clack, 2012 feels that excluding creatures with hands and feet from a group whose name means "four feet" is perverse. For her, Tetrapoda has is a classic "apomorphy-based definition."
Coates et al., 2008 favor restricting the name to the "crown group" - i.e. the node-based group defined as the last common ancestor of living members of the group.
For our purposes, the crown-group definition applies.
Synapomorphies:
First two cervical vertebrae specialized as the atlas and axis. These facilitate movement of the head on the neck.
Not a synapomorphy, exactly, but somewhere before Tetrapoda, the number of digits on manus and pes had stabilized at five.
Phylogeny: Tetrapoda consists of two major lineages with living members:

Amphibia: (total-group) All organisms more closely related to frogs, salamanders, and caecilians than to Amniota.
NOTE: This use of the term "Amphibia" excludes creatures like seymouriamorphs and lepospondyls, even though they might have ecologically resembled modern amphibians.


Lissmphibia: (Crown-group) The last common ancestor of living amphibians (frogs, salamanders, and caecilians) and all its descendants.

Reptiliomorpha: (total-group) All organisms more closely related to Amniota than to Lissamphibia.
NOTE: Some creatures in the reptiliomorph total-group, might have ecologically resembled amphibians despite their evolutionary propinquity to amniotes.


Amniota (Crown-group) The most recent common ancestor of mammals and birds and all of its descendants.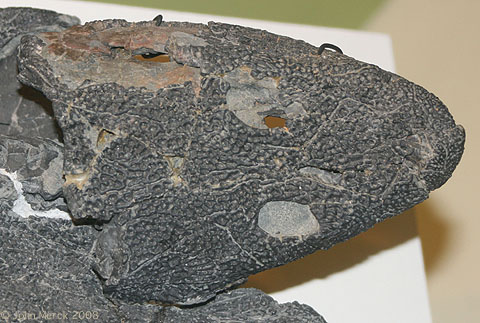 Greererpeton burkemorani
Noteworthy plesiomorphies - Evolving sensory modalities
: Mentioned previously, all of the special senses needed to be adjusted for life on land. For most, these changes left no fossil record (vision, olfaction). In two, however, there are clear osteological correlates. :
Lateral line sense: Useless out of water. Thus, they are quickly lost in creatures that spend most of their time on land. Although not always preserved as bony sensory canals, the presence of such is a clear indicator of aquatic life-style.


Schematic tetrapod ear from

talkorigins.org

Hearing: Acoustic impedance is the resistance of a system to the flow of sound through it. It is a function of the density of the medium. The density of the body is similar to that of water. Thus, sound can pass directly from water through the body into the otic capsule at full intensity. Air is much less dense than water. Thus, for airborn sound to register in the otic capsule, it must be collected and amplified. This is accomplished by an impedance matching ear:

Sound is collected over a broad area by a tympanum (A.K.A. ear drum) or through the jaw.

In land vertebrates, a rod-like bone called the stapes transmits the vibrations of the tympanum to a small opening in the otic capsule, the fenestra ovalis (oval window.) By being concentrated into a small area, the sound is amplified so that it can be detected by the inner ear.


Choanate hyomandibula/stapes cladogram from

Nature

The stapes is the hyomandibula, modified from the transmission of sound. The air filled space it occupies is called the middle ear. Together with the eustacean tube that connects the middle ear to the pharynx, it is homologous to the spiracle of aquatic vertebrates.

The fenestra ovalis is the ancestral vestibular fontanelle, the ventral extremity of the otico-occipital fissure.

The tympanum represents the developmental failure of the spiracle to penetrate the surface of the body. Instead, a thin membrane is stretched across the spiracular notch.

The transformation of the hyomandibula into a stapes is gradual, and in some creatures, the structure probably served both load-bearing and acoustic functions. The transformation of the spiracle into an otic notch for the tympanum has no direct fossil record. When a notch is present at the posterior cheek margin, we rely on inference. We assume:

Acanthostega's stapes was short and massive, but rather than articulating with an articular face in the neurocranium, it's head fit into the vestibular fontanelle.
Creatures like Crassigyrinus with heavy stapes and extensive lateral line systems might have retained an open spiracle.
Creatures like Greererpeton with no notch might have no external spiracle or tympanum at all.
Creatures with reduced lateral line systems and slender stapes probably had tympana.

As we will see, the impedance-matching ear evolved slowly and independently several times in different lineages.
The Amphibian Stem: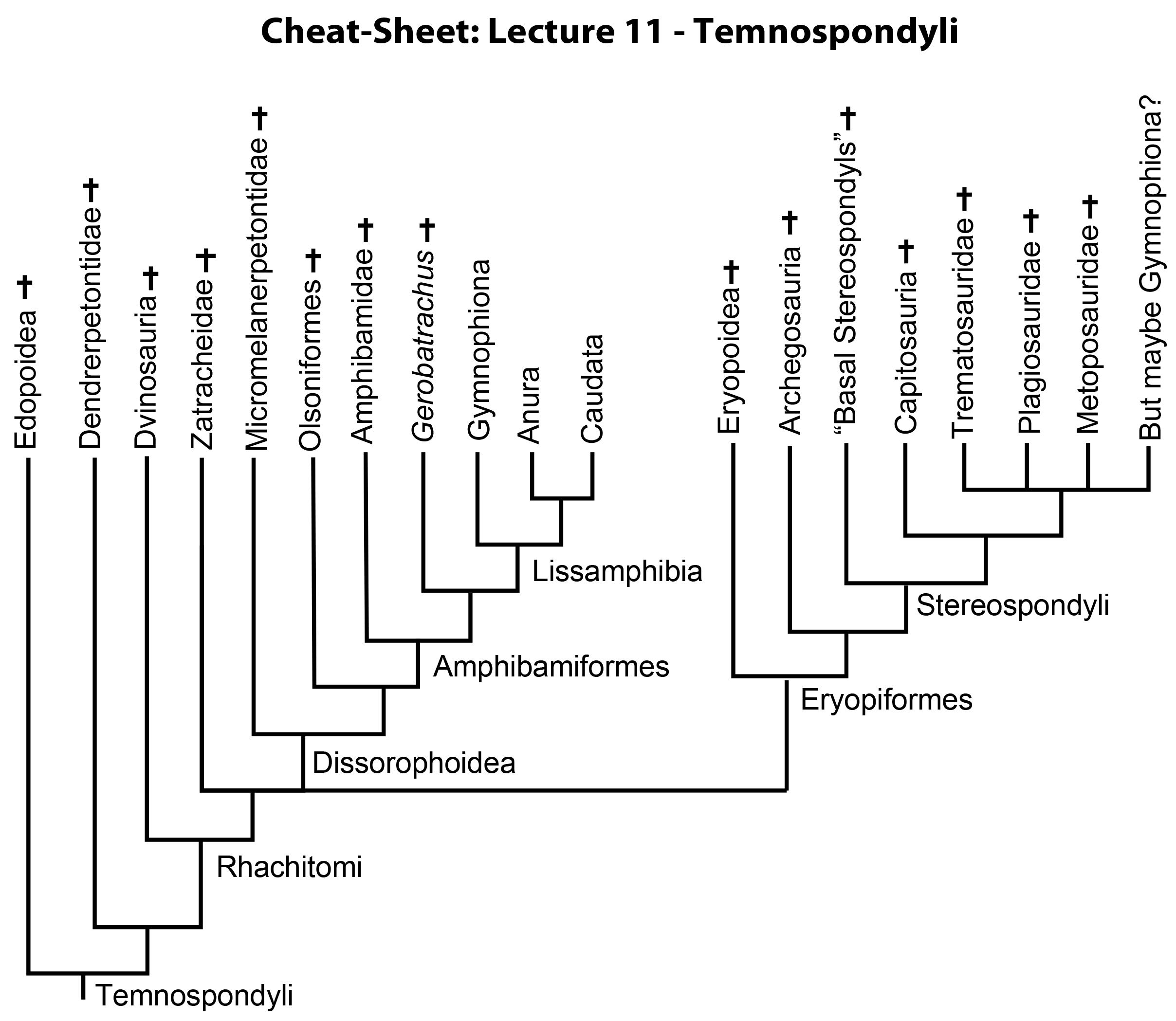 A synopsis of temnospondyl phylogeny after
Schoch, 2013
and
Schoch, 2018
Temnospondyli
: (Carboniferous - Cretaceous/Quaternary (?)) The name originally coined for basal tetrapods with
rhachitomous vertebrae
, but has become one of the better-supported monophyletic groups. Fabulously diverse and speciose. Small to large and aquatic to mostly terrestrial. (Morphometric analysis of vertebrae by
Carter et al., 2021
, suggest that ancestrally, adult temnospondyls were terrestrial but experienced repeated reversions to semi- or fully aquatic ecologies.) Temnospondyls were a primary component of the late Carboniferous and Permian land biota, and experienced a Triassic radiation of aquatic forms. Morphologically they varied from unspecialized to rather stout, short-tailed forms. Very few evolved the eel-like shape so common in embolomeres.
Synapomorphies:
Four-fingered manus. Note: What's lost is the oddball digit V, not derived from the digital arch. (Pes retains five toes.)
The humerus has a distinct shaft at mid-length.
Slender rod-shaped stapes. (Since most also have a large notch at the rear of the skull, most view as evidence for impedance-matching ear.)
Wide interpterygoid vacuities (link to Capetus scale = 5 cm.) in the palate. In life, the skin covering these was covered by a shagreen of tiny denticles.
Exoccipitals sutured to postparietals and form paired occipital condyles.
Temnospondyl Diversity: The problems and competing hypotheses of temnospondyl phylogeny are beyond our scope. What follows is a review of the major groups recovered by Schoch, 2013 and Schoch, 2018.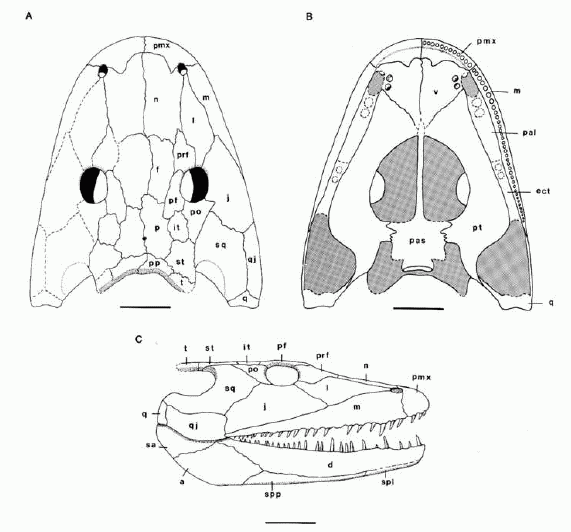 Capetus
- an edopoid - from
Palaeos
Edopoidea:
(Carboniferous - Permian) A basal and plesiomorphic group of large predators, ranging from the more terrestrial
Capetus
to the aquatic
Nigerpeton
.
Dendrerpeton acadianum
(Carboniferous) a basal amphibian from
Wikipedia
"Dendrerpetontidae":
(Carboniferous) A basal and plesiomorphic group of small predators of uncertain monophyly. Interesting because it consists of:
Dendrerpeton (Late Carboniferous - right). A small form known from well-preserved specimens in Joggins Nova Scotia tree trunk casts. Its skull displays a deep otic notch and wide interpterygoid vacuities. Judging from its lack of sensory canals and preservation in a terrestrial environment, its seems to have been primarily terrestrial as an adult. Its pectoral girdle conveys a good impression of the ancestral state for Tetrapoda.
Balanerpeton: (Early Carboniferous) The oldest known temnospondyl, also from the lacustrine environment of East Kirkton, Scotland. These, too, seem to be terrestrial animals whose bodies washed into a lake bed.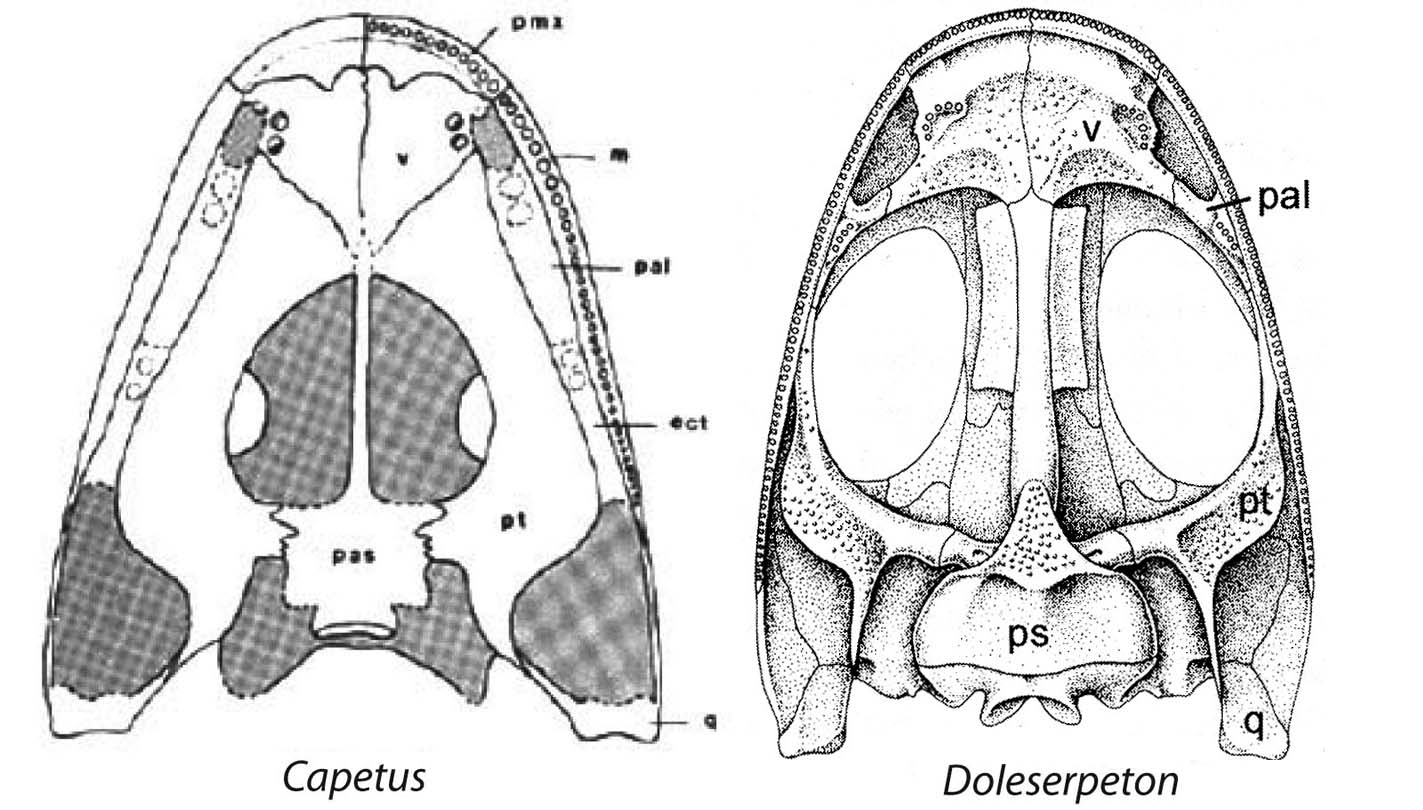 Capetus
- an edopoid (left) and
Doleserpeton
, a member of Rhachitomi (right)
Rhachitomi:
(Carboniferous - ?) Remaining temnospondyls belong to Rhachitomi. Synapomorphies include:
Loss of the intertemporal.
Trend toward enlarged interpterygoid vacuities. (Note: In Doleserpeton (right) the pterygoids no longer meet anteriorly.)
Dvinosaurus primus
by D. Bogdanov from
Wikipedia
Dvinosauria:
(Late Carboniferous - Early Triassic) First representatives of a recurring theme in temnospondyl evolution -
paedomorphic adults
that retain larval characteristics including gills as an adult. Speciose and common during the Permian.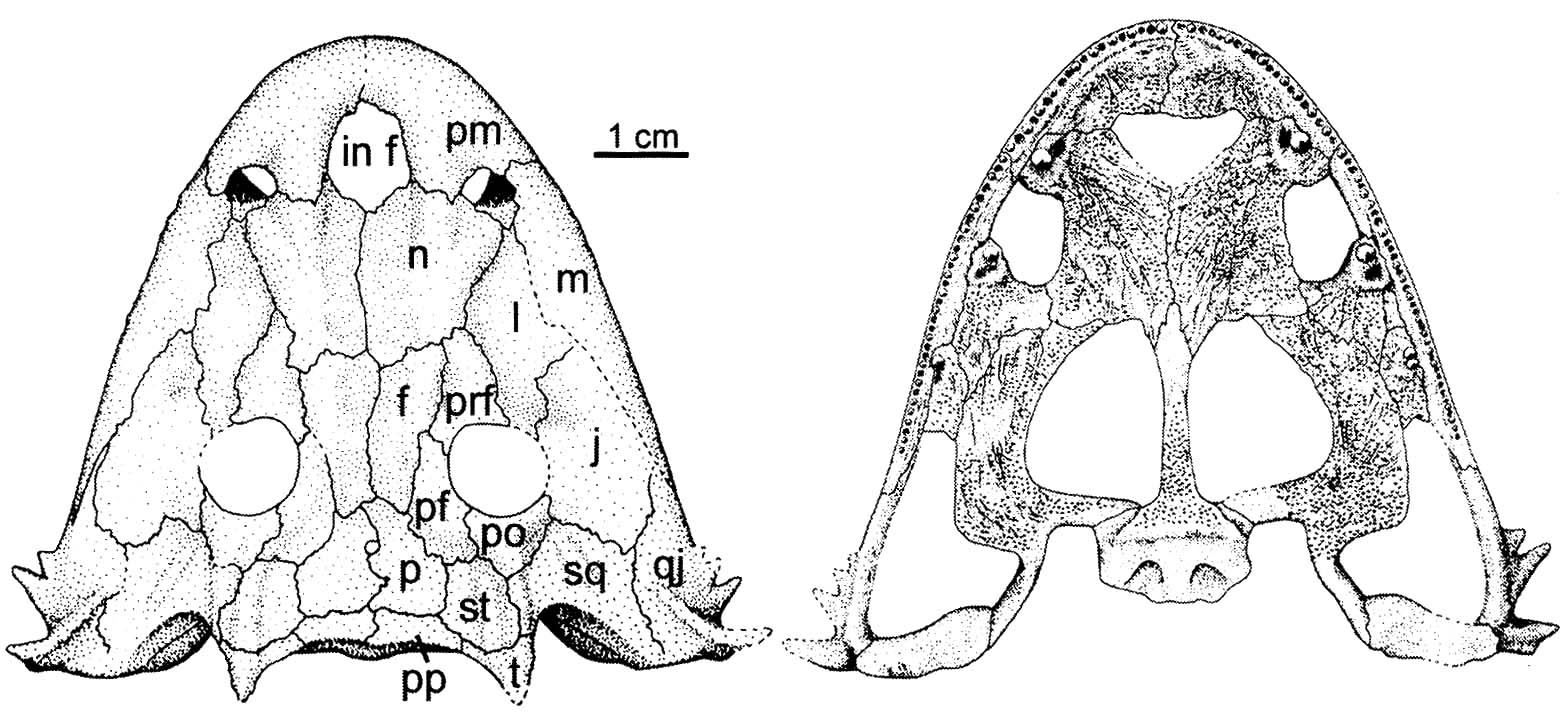 Acanthostomatops
from
Carroll, 2008
Zatracheidae:
(Late Carboniferous - Permian) Aquatic temnospondyls with flattened spiny armored skulls. An internarial fenestra stimulates idle speculation about its purpose.
Link
to reconstruction of
Zatrachys
.
Cacops
- a dissorophid - from
Wikipedia
Dissorophoidea:
(Late Carboniferous - Quaternary) A diverse group of small temnospondyls including: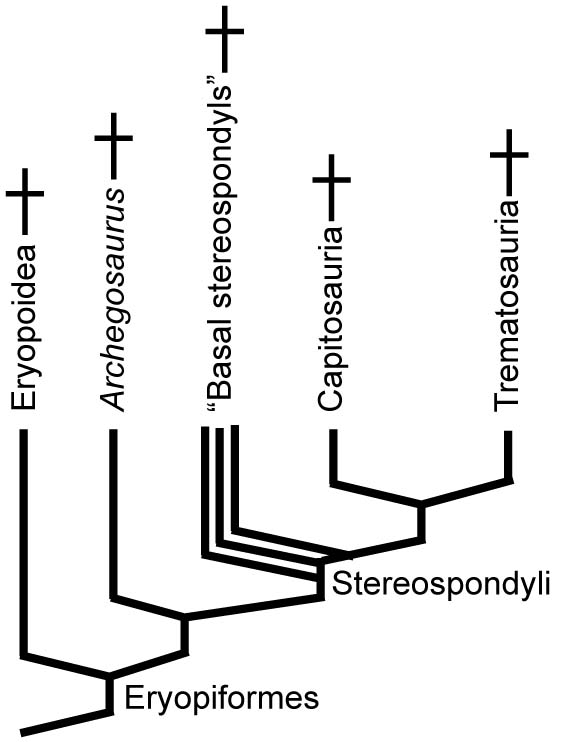 Eryopiformes: (Permian - Cretaceous) The large Mesozoic radiation of aquatic temnospondyls and their basal Permian relatives.
Synapomorphies:
Otic notch is restricted to the dorsal part of the cheek.
Prefrontal and jugal in contact in margin of the orbit.
Diversity:
Eryopidae: (Carboniferous - Permian) The basal group contains Eryops, beloved of illustrators.
Archegosauridae: (Permian) Specialized long-snouted predators that seem to have hunted in fresh water but ventured onto land frequently in the manner of crocodilians.
Stereospondyli: (Permian - Cretaceous) Aquatic fresh-water and marine predators that experienced a significant radiation in the Triassic.


Rhineceps nyasaensis

from

Carroll, 2008

Stereospondyl evolutionary trends:

Reduction of the pleurocentra. This reaches its logical conclusion in some members with proper stereospondylous vertebrae.
Flattening of the head.
Further enlargement of the interpterygoid vacuity.
Basipterygoid articulation (formerly a mobile joint) becomes an immobile suture.
Occipital condyles project far posteriorly.
Elongate transverse processes and neural spines.

Stereospondyl diversity:

Paraphyletic grade of basal members including Rhineceps nyasaensis (right) and Koolasuchus cleelandi, from the Cretaceous of Australia, the youngest known stereospondyl. (Maybe.)
Trematosauria: (Triassic - Jurassic) Large forms with palate strongly integrated with neurocranium by broader basipterygoid sutures and suturing of pterygoid to exoccipitals. (Link to Thoosuchus yakovkevi.) Spectacular examples:

Capitosauria: (Triassic - Earliest Jurassic) Including the largest heads of any temnospondyl, belonging to the likes of Mastodonsaurus. (Link to skull of Mastodonsaurus giganteus.)
The archegosaur
Prionosuchus
from
Dinopedia
Breathing in Amphibia:
Recall that even in stem-tetrapods who relied on lungs to obtain oxygen,
Witzmann, 2015
notes that the eliminate CO
2
through the gills because this is more efficient in an aquatic environment. But gills impose limitations because they must be kept moist. Tetrapods have found two ways around this problem:
Lissamphibians exchange gasses including CO2 through the skin. Easy enough in aquatic or moist terrestrial environments.
Amniotes suck it up and exchange all gasses through the lungs. Presumably the advantages of terrestrial life outweigh the cost of less efficient CO2 elimination.
But note: most ancient amphibians retained fishy scales, preventing them from exchanging gasses through the skin. It follows that these (especially big ones) should also retain their gills as a means to eliminate CO
2
. In fact, the
Witzmann, 2015
survey of the branchial skeletons of early tetrapods indicates that among temnospondyls, only:
Dissorophoids
Dendrerpetontids
Appear completely to have lost their gills as adults. Gills were lost very early on the reptiliomorph side, whose members relied upon lungs for all gas exchange.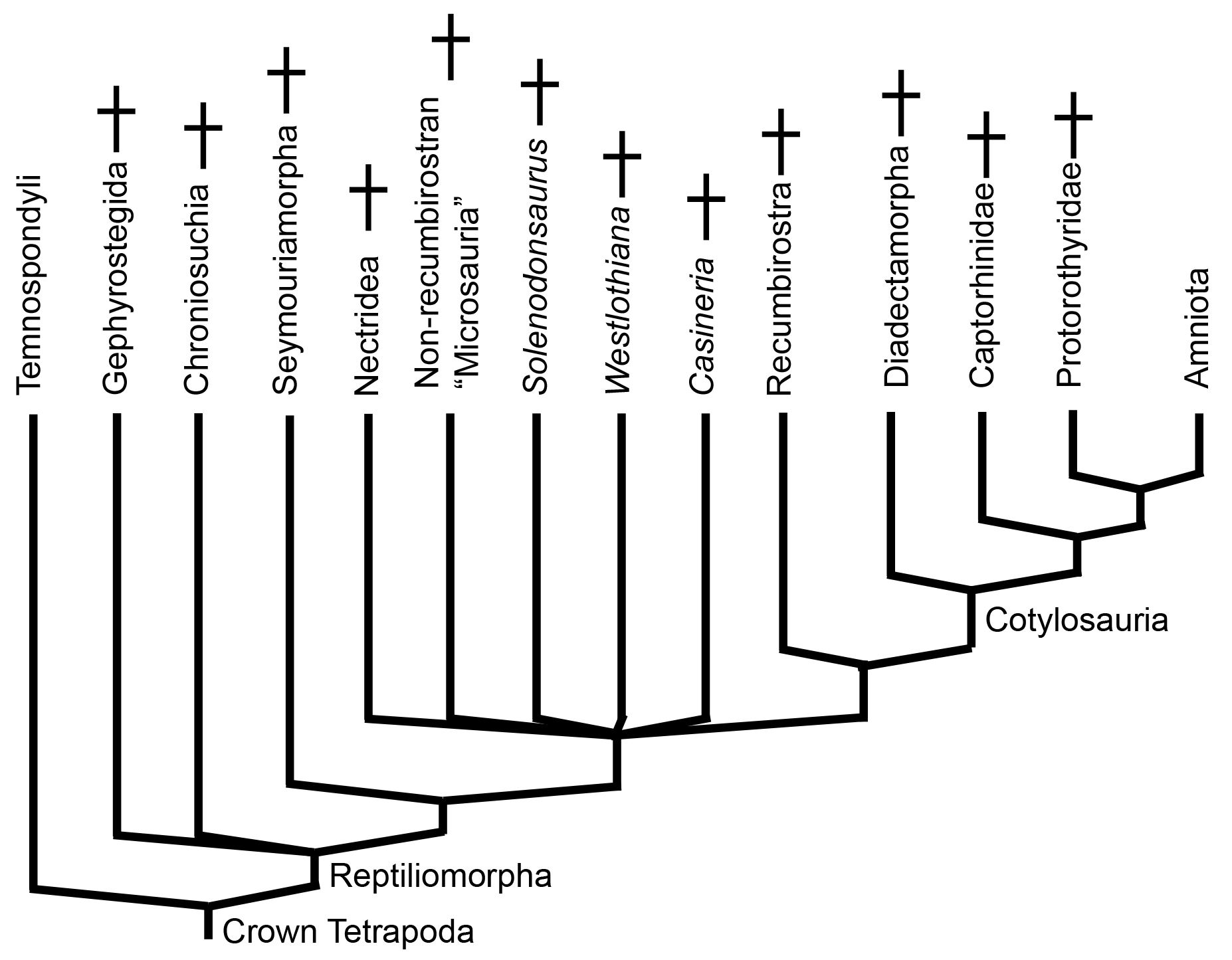 The Reptiliomorph Stem
Synapomorphies and trends:
Gastrocentrous vertebrae: with large pleurocentra, often coossified with neural arches, and small crescent-shaped intercentra.
As in anthracosaurs, early members of the reptiliomorph stem display a contact between tabulars and parietals. Whether this is a synapomorphy of reptiliomorpha or a larger group is not clear.
Reptiliomorph diversity:
Chroniosaurus dongusensis
by D. Bogdanov from
Wikipedia
Chroniosuchia
: (Permian - Triassic) Late-stage survivors of the Triassic. Distinctive features include:
Hypotheses of phylogeny place them all over the tree, from a position outside crown group Tetrapoda to one close to Amniota. All authors agree that they are not on the Amphibia branch.

Seymouriamorpha
: (Latest Carboniferous - Permian) Small animals with aquatic larvae but adults ranging from the terrestrial
Seymouria
to paedomorphic and more aquatic forms.
Stocky bodies and short tails, indicative of adult life on land
Impedance-matching ears in deep embayments at the rear of the skull. The fenestra ovalis is enclosed in a long tube formed from the basisphenoid and parsphenoid - a condition unique to Seymouriamorpha.
Swollen neural arches. (Note: this is also seen in many basal amniotes. Convergence?)
Very large adults of the terrestrial forms like Seymouria incorporate a second sacral rib pair and lose sensory canals in skull.
And yet, they present striking plesiomorphies:
Discosaurus: retains the anocleithrum above its cleithrum.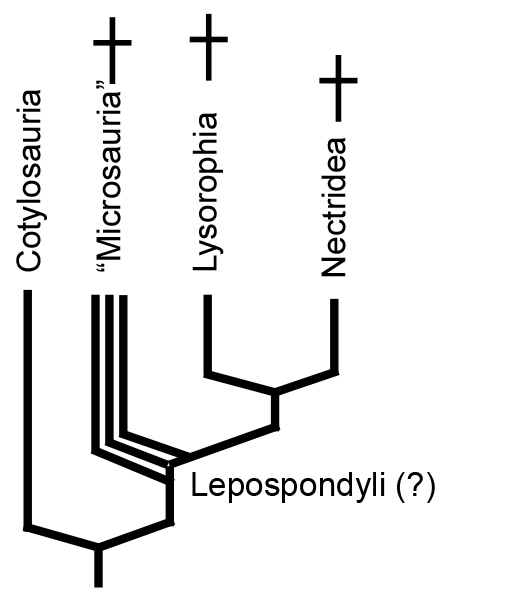 Lepospondyli:
(Carboniferous - Permian (?)) An amazingly diverse group of small tetrapods characterized by trends toward:
Major lepospondyl groups:
"Microsauria": (Carboniferous - Permian (?)) An ecologically diverse variety of small critters, ranging from long-bodied forms with small limbs, to stout compact ones. The traditional group of all "microsaur" grade animals is paraphyletic, but recent work indicates that it contains a large monophyletic assemblage - Recumbirostra whose members are typically elongate with tiny limbs. In this and other respects they resemble modern fossorial squamates and are thought to be fossorial, themselves.


Rhynchonkos stovalli

from

Carroll 2009

A characteristic example that will figure in later discussion - Rhynchonkos stovalli (Early Permian)
Characteristic features include:

Brachydectes newberryi

from

Carroll 2009

Lysorophia: (Carboniferous - Permian (?)) Contains single family Molgophidae, so that the two terms are more or less interchangeable. Extremely elongate forms with:

Reduced limbs
Significant reduction of dermal skull bones, including loss of:
Reorientation of quadrates, displacing jaw articulation anteriorly.




Urocordylus wandesfordii

from

Carroll 2009

"Nectridia:" (Carboniferous - Permian) Specialized aquatic forms with:

Haemal arches that fuse directly to pleurocentra.

Recent analyses (E.G. Ruta et al., 2007) suggest that this group is paraphyletic.


Diplocaulus magnicornis

from

Carroll 2009

Nectridia includes Diplocaulidae (E.G. Diplocaulus magnicornis (right and link to full skeleton). Characterized by:

Bizarre expansion of the posterolateral corners of the skull table into conspicuous "horns."
Convergent evolution of wide interpterygoid vacuities.

Note: resting trace fossils left by these animals indicate that the "horns" were connected to the body by a fold of flesh. Sorry to generations of illustrators who have reconstructed this animal like this. In reality, it's probably more like this.


Lepospondyl problems: But that is all so "20th Century." In the last decade, the lepospondyl roster had eroded significantly. Consider: