Lepidosauromorpha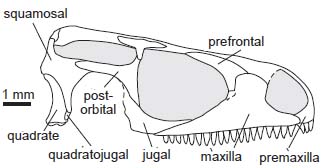 Sophineta
, a stem lepidosauromorph.
(Permian - Rec.) The membership of stem-Lepidosauromorpha has been historically unstable. As of 2018, most of the fossil taxa placed on the lepidosauromorph stem have been evicted to other (and varying) parts of the diapsid tree (
Simões et al., 2018
) leaving only a handful of fragmentary potential stem lepidosauromorphs. Not really surprising given the fragmentary nature of these small animals' remains. In this part of the tree, we done on scraps. One probable stem lepidosaur: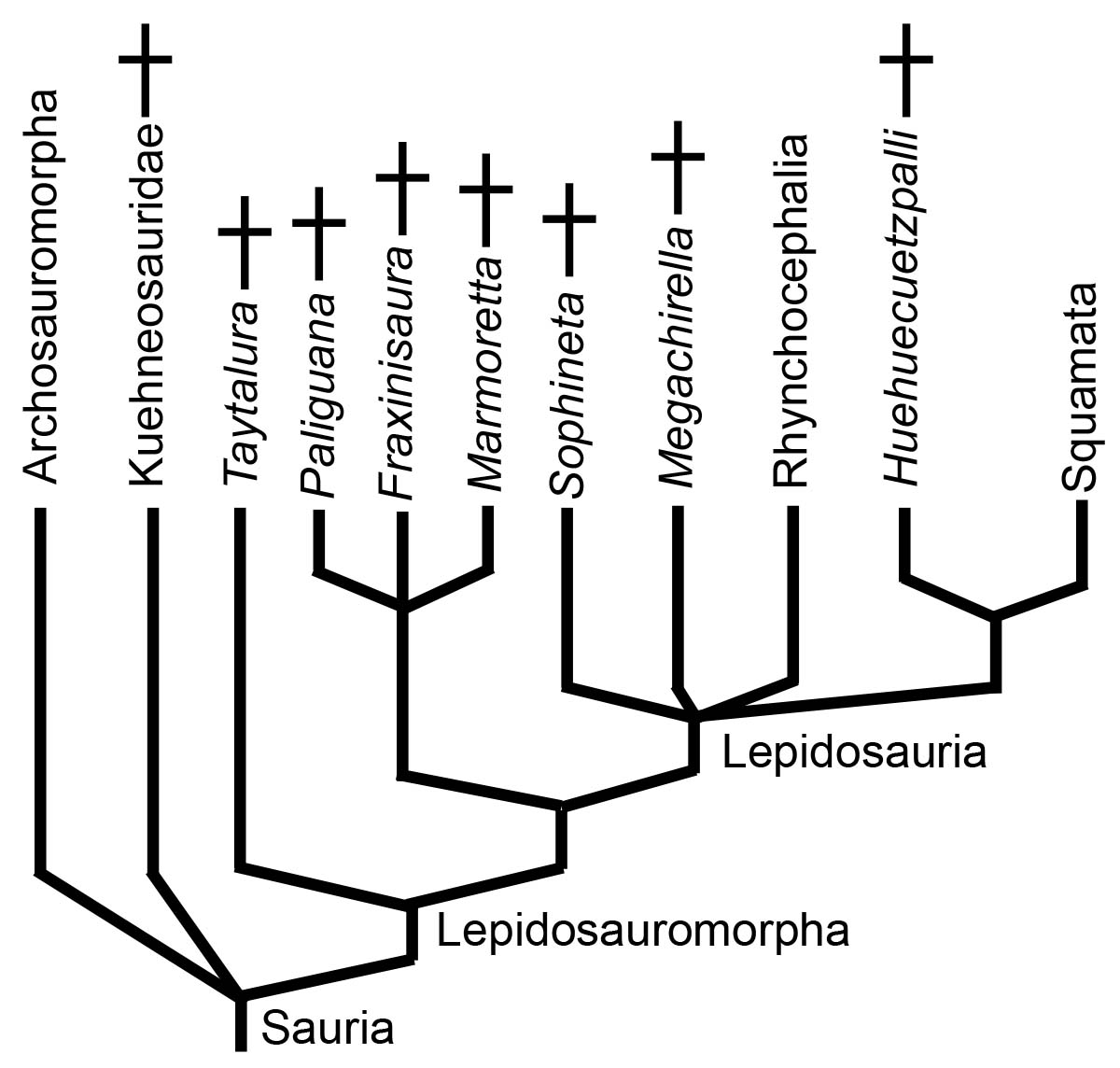 Sophineta displays clear trends:
The lacrimal becomes small and is crowded by the maxilla, which has a tall dorsal process and broadly enters the orbit margin.
The quadratojugal becomes small
The quadrate flares laterally into a conch for support of the tympanum
The area of overlap between the quadrate and pterygoid is greatly reduced. (Compare Dimetrodon to Tupinambis, a squamate.)
The teeth become pleurodont - i.e. rather than being set in shallow sockets (subthecodont) they occupy a shelf and are buttressed laterally by bone.(Link to Sophineta maxilla.)
Lepidosauria: (Triassic - Quaternary)
Synapomorphies
:
Keratinous overlapping scales: (contrast mojave rattlesnakes with false gavial, an archosaur)
Paired hemipenis (pl: hemipenes): Unique intromittant organs derived from midline amniote penis.
Caudal autotomy planes. Caudal autotomy facilitates escape. Note: this feature is lost among some derived members.
The mandibular glenoid (the articular surface of the jaw) is formed exclusively from the articular. (In other saurians, the dermal angular contributes.)
Long bones feature distinct epiphyses and diaphyses separated by cartilaginous epiphyseal plates (Link to CT scan of Uromastix epiphyseal plate. Epiphyses and diaphyses fuse as the epiphyseal plate is resorbed upon full adulthood. Convergent with Mammalia. This feature typically indicated determinate growth. Indeed, Frydlova et al. 2020 regard determinate growth as plesiomorphic for Squamata.
Rhynchocephalia: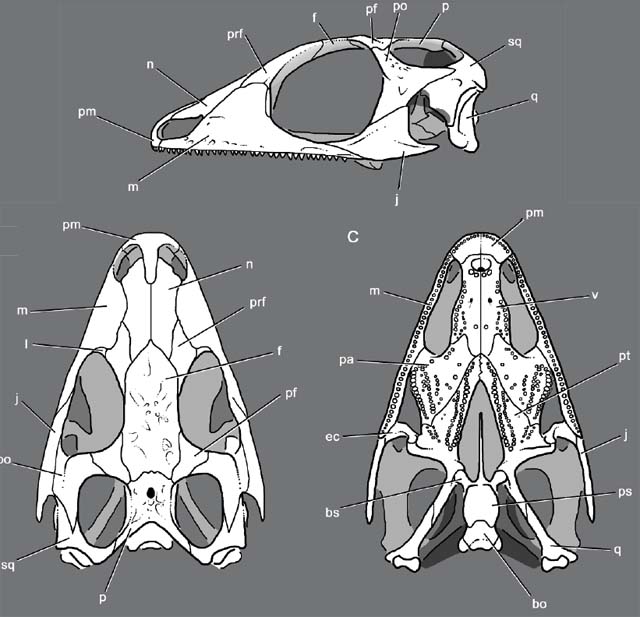 Gephyrosaurus bridensis
from
Conrad, 2008
.
(Triassic - Quaternary) The single genus
Sphenodon, the New Zealand tuatara
is the sad remnant of a large group of lepidosaurs that was abundant and speciose during the Triassic and Jurassic. Ancestrally they were terrestrial, and basal forms like
Gephyrosaurus
(Early Jurassic
Evans, 1980
) were barely distinct from stem lepidosauromorphs and stem squamates, and yet it is distinct in having:
A row of palatine teeth that parallel the marginal teeth
A posterior process of the dentary that laps over the angular
A squamosal that extends ventrally to buttress the quadrate
Supratemporal lost
Among later rhynchocephalians, we see trends toward:
Acrodont dentition, in which teeth are fused to the bone of the jaw
Loss of the lacrimal
The re-evolution, in some, of the lower temporal bar.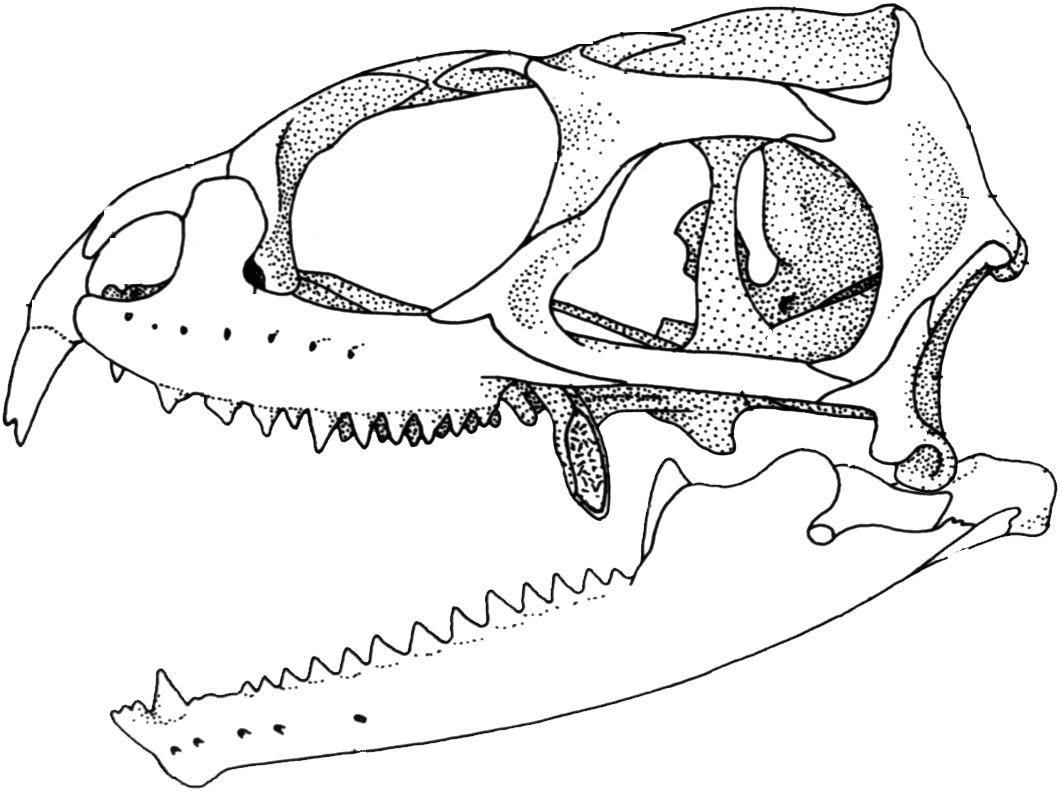 Sphenodon punctatus
While mostly small and "lizard-like" fossil rhynchocephalians encompass some disparity of form:
Pleurosauridae: (Jurassic) aquatic, with long, eel-like bodies and short limbs.
Sphenodontidae: (Early Jurassic - Quaternary - right) The living Sphenodon and its closest fossil relatives are characterized by a return to the strong, slow bite we saw in ancestral amniotes. Sphenodon lives on a few islands off the shore of New Zealand. It feeds on small vertebrates (which it bites pieces off of). Noteworthy for being able to remain active at low temperatures (roughly 50 degrees) thus being literally cold-blooded.
Squamata:
Lizards and snakes. (Triassic - Rec.) Thousands of species. Many interesting adaptations. There is no way to cover exhaustively if we had an entire semester.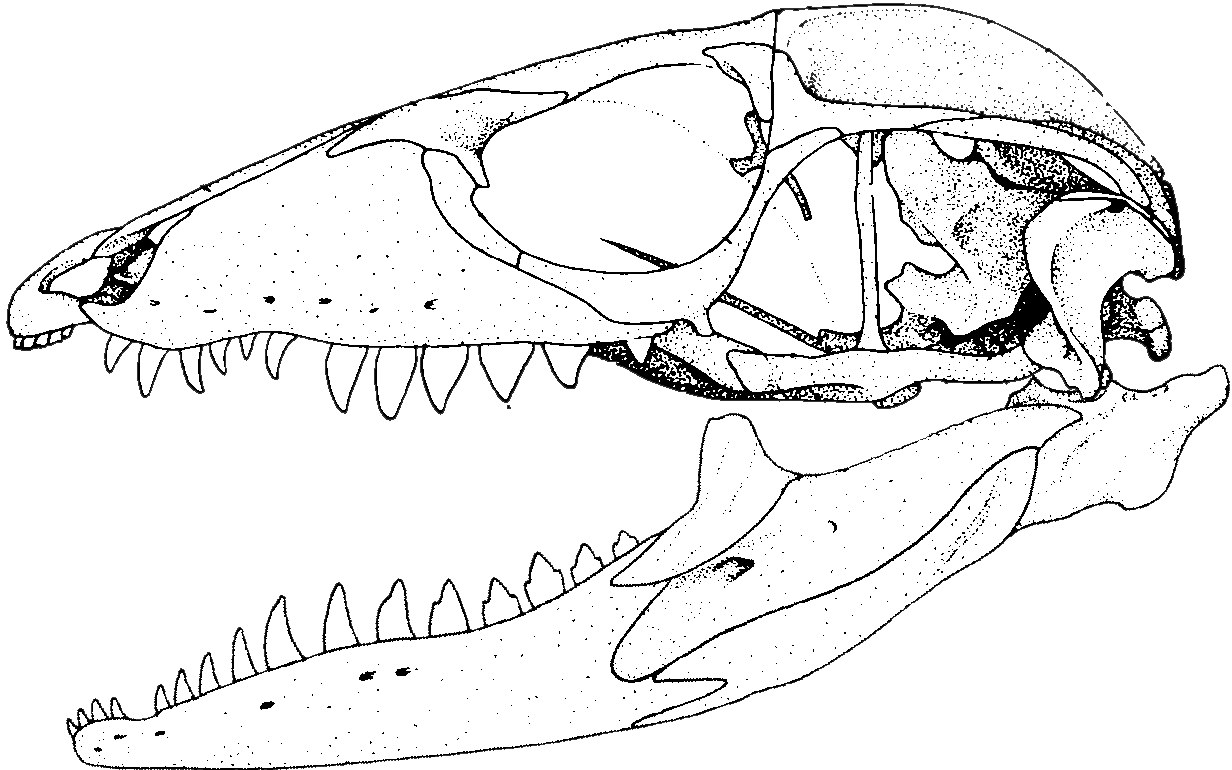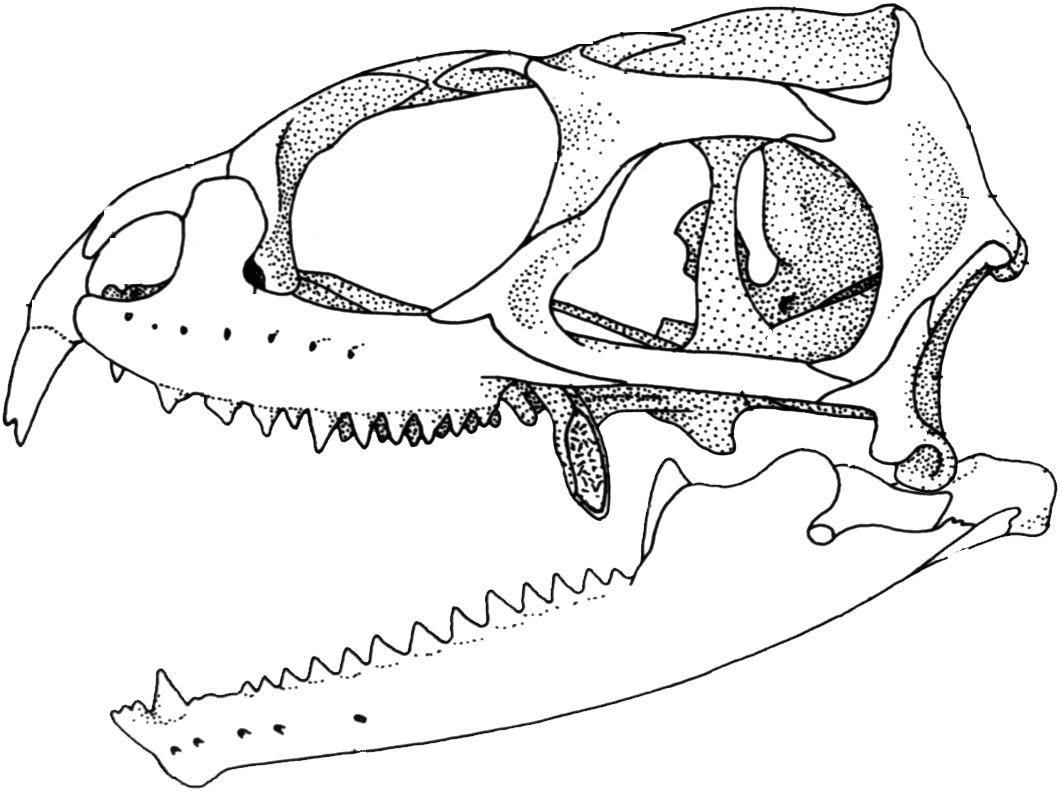 Sphenodon punctatus a rhynchocephalian compared to Tupinambis teguixin, a squamate.
The synapomorphies of Squamata are legion. We focus on a conspicuous subset:
Hinged quadrate articulation to the skull roof, allowing the quadrate to rock back and forth. Compare Sphenodon, a rhynchocephalian ( above left) with Tupinambis (right from The Reptile Database), the tegu lizard. Associated synapomorphies:

Overlap between the quadrate and pterygoid is minimal, allowing the ventral end of the quadrate to swing freely.
Squamosal lacks a ventral process
Quadratojugal is lost

Jugal extends anteriorly in orbit margin
Epipterygoid is reduced to a narrow column


Tupinambis negropunctatus

from

Estes et al. 1988

Angular is short (not reaching the jaw articulation posteriorly)
Coronoid is complex and forms a tall coronoid process.



Sphenodon punctatus

a rhynchocephalian compared to

Tupinambis teguixin

, a squamate.

Frontals and parietals meet in a straight line that forms a hinge. This is functionally similar to the intracranial hinge of basal sarcopterygians. Together with the mobile quadrate, squamate skulls enjoyed a degree of cranial kinesis that enabled them to optimize the leverage of the temporalis and petrygoideus muscles of the jaw.
Pineal foramen moves to the fronto-parietal contact (but is often absent)
Nasals reduced
Premaxilla fused
Frontals fused
Parietals fused
Parietals anteroposteriorly short, such that the occipital region is exposed in dorsal view.
Opisthotics and exoccipitals fused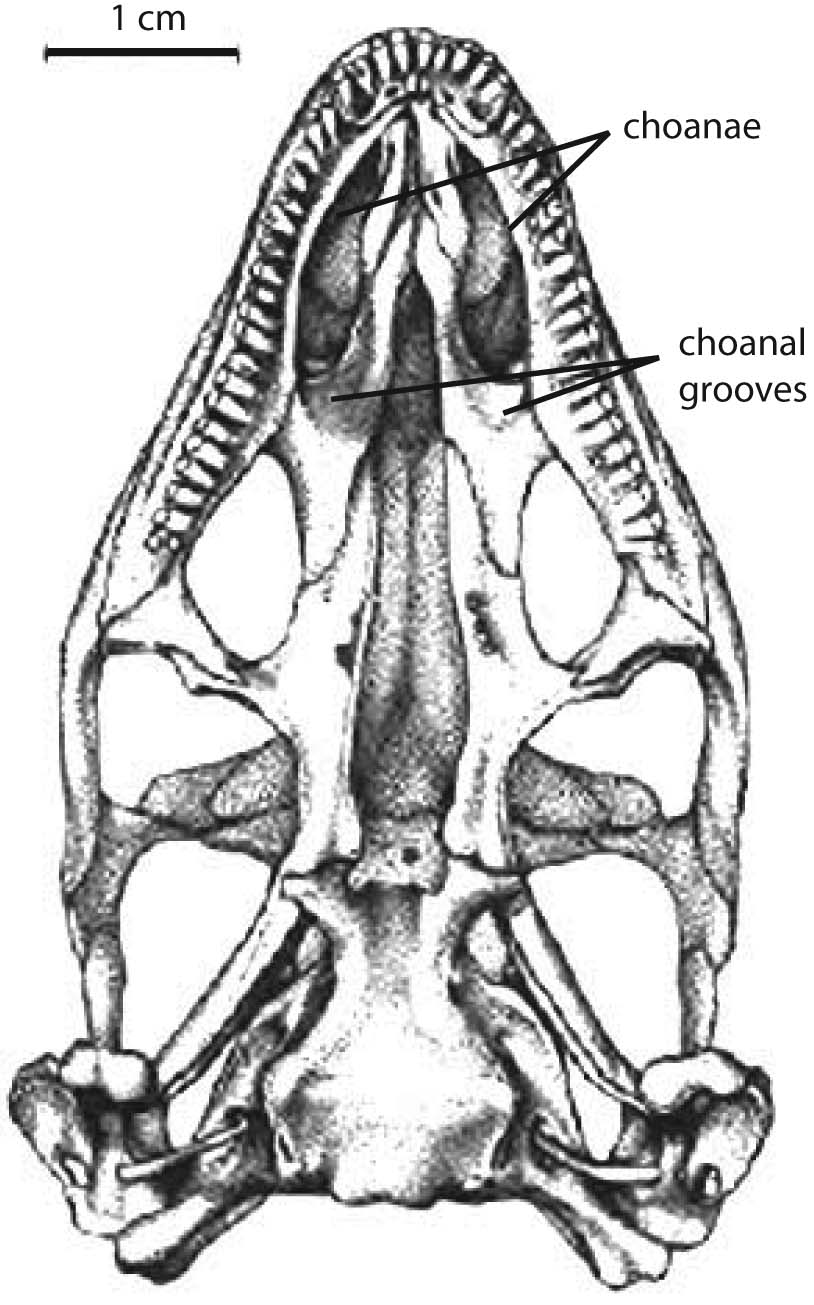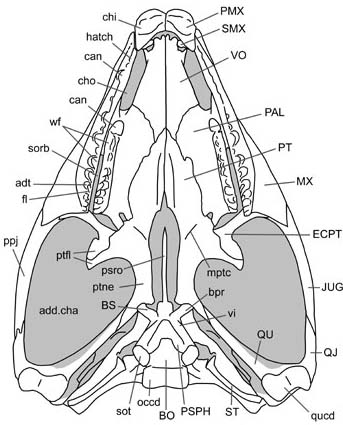 Sphenodon punctatus
a rhynchocephalian compared to
Morunsaurus annulatus
from
Estes et al. 1988
Palatal teeth reduced
Choanae recessed in choanal grooves
Suborbital fenestrae expanded such that pterygoids form part of their medial border
Enlarged interpterygoid vacuity, such that pterygoids barely touch, if at all
Vertebral articulations procoelous (concave anteriorly)
Accessory articulations of neural arches present
Dorsal intercentra absent
Coracoid emargination present
Sternum present, facilitating rotation of coracoids.
Thyroid fenestra in pelvis
Astragalus and calcaneum fused to form astragalocalcaneum.
Distal tarsals 1 and 2 are lost.
This is a bewildering list, however some major adaptations shine though:
In contrast to rhynchocephalians, whose strong jaws enable them to bite pieces off of their prey, the anatomy of the kinetic squamate skull is adapted to seizing and holding prey, then swallowing it whole. In some, this is developed into an astonishing ability to wrap their heads around their prey.
Squamate locomotion is improved, with increased rotation of forelimbs and robust consolidation of ankle bones. Link to video.
Diversity: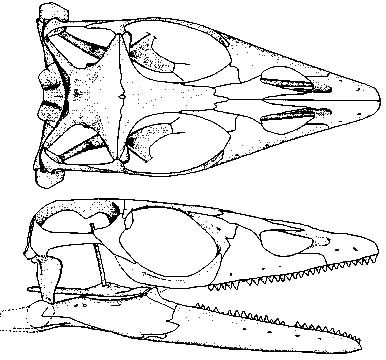 Huehuecuetzpalli mixtecus
from
Reynoso 1998
- ~3 cm.
This huge list of synapomorphies suggests a very long squamate stem, however we have only three well-known stem squamates, one each for the Triassic, Jurassic, and Cretaceous:
Megachirella wachtleri: Middle Triassic of Italy. A tiny creature that shares several highly technical synapomorphies with squamates, including the loss of distal tarsal 1.

Marmoretta oxoniensis (Middle Jurassic Evans, 1991) known from dermal skull roof

Huehuecuetzpalli mixtecus, from the Early Cretaceous. Grouping with Marmoretta in Simões et al., 2018, it displays most of the synapomorphies listed above, except that:

Premaxillae remain paired
Vertebrae are amphicoelous
Distal tarsal 2 is still present
Crown Squamata
Diversity: Since the early days of cladistics, a short list of major monophyletic groups appears has typically appeared:



Crotaphytus collaris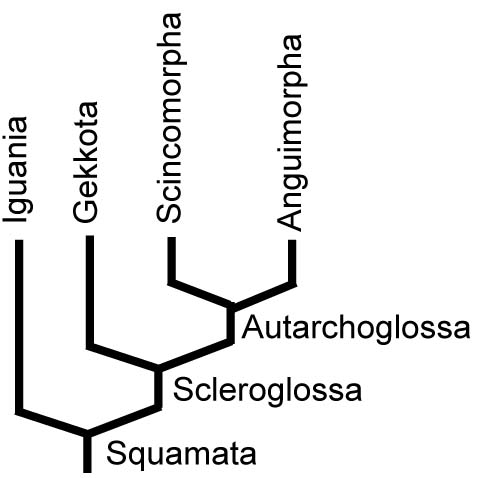 Squamate Phlogeny - the naive version:
Morphology-based analyses have, since the early days of cladistics, recovered the pattern at right where Squamata is divided into two large groups:
Iguania: whose members:

Empahsize limb-propelled locomotion with large limbs (plesiomorphy?)

Scleroglossa: characterized by:

Scaly tongues
Loss of the lepidosaurian modified mid-dorsal scale row.

A subset of thee, Autarchoglossa, specialize the anterior tongue as a sensory structure - the classic forked tongue.

Scleroglossans show a tendency toward the reduction of the limbs and contain several limbless groups.
This consensus evaporates when we look at some more specialized groups, beginning with minor groups:
Squamate superlatives I: Mosasauroidea: (Cretaceous)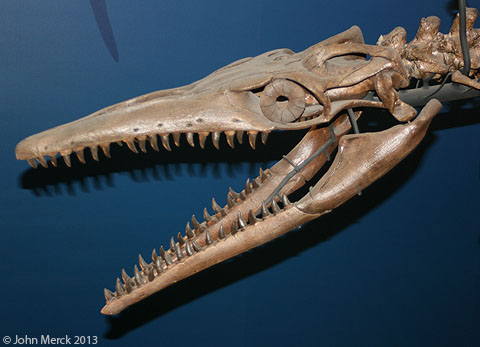 Plotosaurus bennisoni
Mosasaurs, a particularly spectacular scleroglossan group, appeared and thrived in the second half of Cretaceous, but were extinguished by K-T extinction. During that interval, they ranked among the oceans' dominant predators.
Mosasaurus
was the first fossil reptile to be studied scientifically by Georges Cuvier, who identified it as a lizard.
A look at the quadrate of Tylosaurus (right) clearly shows the apomorphic squamate quadrate. Other interesting mosasaurian features include:
Transformation of the limbs into flippers
Elongation of the snout
Retraction of the nares
Development of a distinct hinge joint at the mid-length of the jaw.
Organization of the palatal teeth into a single stout row.
Despite this long history of study, mosasaurs continue to surprise us.
The mosasaur tail has always been reconstructed as laterally flattened but similar to other lizard tails. Lundgren et al. 2013 demonstrated that the mosasaur Prognathodon, at least, had a full-blown tail fin. Could other mosasaurs have been that different?

Until recently, mosasaurs' mode of reproduction was mysterious. Did they come onto the beach to lay eggs or give live birth at sea? According to Legendre et al. 2020, neither. They describe a 29 cm. long leathery egg-shell from Antarctica that could only be from a mosasaur. It was apparently laid at sea then immediately hatched - in effect, a live birth with a vestigial egg-shell.
Relationships: All agree that mosasaurs are monophyletic and derived from "Aigialosaurs," a paraphyletic group of semi-aquatic medium-sized scleroglossans. Their close relatives are Dolichosauridae, containing medium-sized marine scleroglossans with long necks.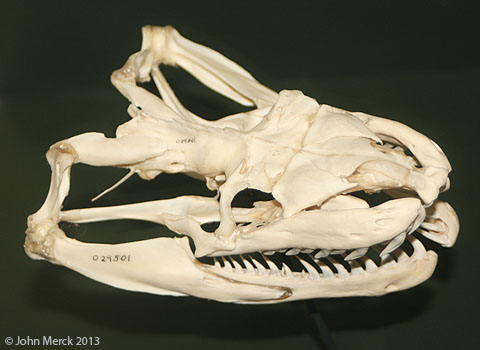 Squamate superlatives II: Serpentes
(Late Jurassic - Rec.) The most subtle of beasts.
Rather than giving a synapomorphy list, we will note major evolutionary trends:
Limbs reduced or absent.
Lidless eyes protected by a transparent scale.
A unique pattern of rods and cones in the retina resulting in a reduction of color vision (typically well-developed in sauropsids.)
The temporal region is long in comparison to the snout (a condition found in other "head hunters" like aistopods.)
Braincase reinforced anteriorly by laterosphenoid ossification.

Bones of the dermal skull roof and braincase fuse into a solid cylindrical unit.
The quadrates, palate bones, maxillae and premaxillae become very loose and mobile, allowing manipulation and swallowing of large food items.
The supratemporal, the skull bone to which the quadrate attaches, also becomes mobile with respect to the braincase.
The teeth of the palate are organized into a pair of rows.
The jaws are jointed at their mid-length and flexible, and in most cases, the two sides do not connect in front, allowing swallowing of even larger objects.
The comparison of the skulls of the Nile monitor lizard and reticulated python (a snake showing a relatively ancestral serpentine morphotype) underscore these differences.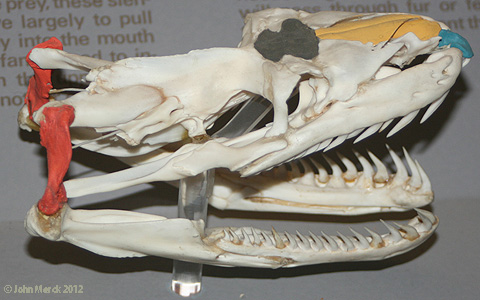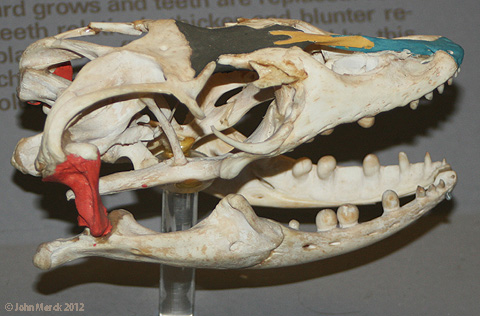 Nile monitor (left) and reticulated python (right) with premaxillae (blue), nasals (yellow), frontals (brown) and quadrates (red) highlighted.
These
trends
are even more pronounced in derived snakes like
vipers
.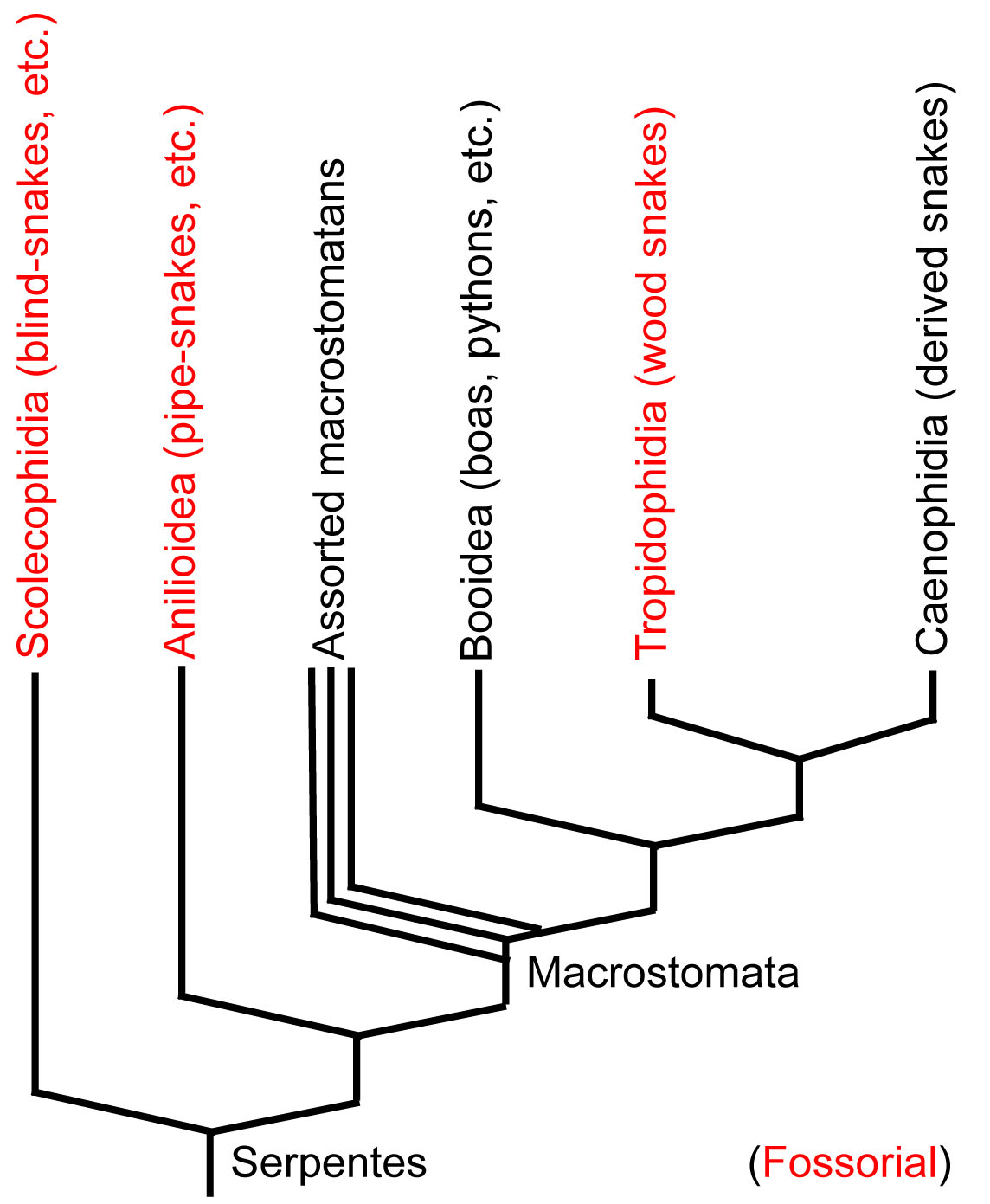 What kind of animal was the first snake?
Two hypotheses have been proposed, both of which address snakes odd sensory systems:
The aquatic hypothesis: The ancestral snake's visual system was modified for the lower lighting underwater. Loss of the tympanum reflects lack of need for impedance-matching ear underwater.
The fossorial (burrowing) hypothesis: The ancestral snake's visual system was reduced in an ancestor that mostly lived underground and had little to see. Reduction of tympanum reflects advantage, underground, of picking up vibrations with jaw.
Systematists are drawn into this debate because the discovery that the sister taxon of Serpentes was either aquatic or fossorial would lend weigh heavily in larger disputes (wait for it).
Basal snakes: Proponents of the fossorial hypothesis derive comfort from the cladogram of living snakes.
Note: both of these groups are ancestral enough that they lack the
broad belly scales
that we typically associate with snakes.
Amphisbaenians and skinks, also with fossorial adaptations, have both been proposed as sister taxa of snakes.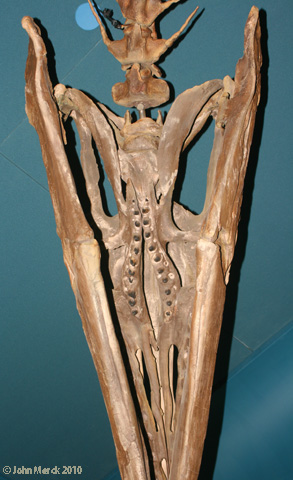 Tylosaurus proriger
, a mosasaur (right);
Python sebae
from
BioLib
(left)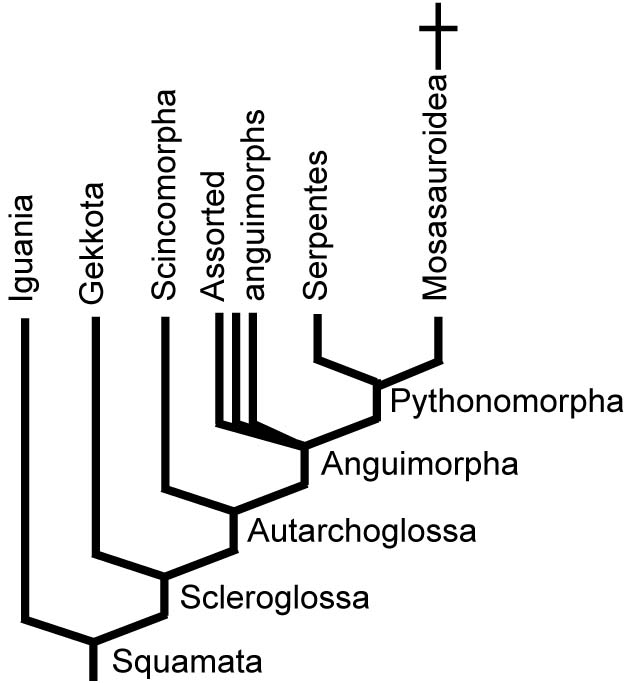 Pythonomorpha hypothesis
: But since the 19th century mosasaurs, and their close relatives the dolichosaurs, have been proposed as sister taxa of snakes based on the morphology of their palate and jaws. Similarities include:
A single row of stout palatal teeth
Mobile joint at the mid-length of the jaw.
Reduction of limbs and limb girdles.
A sister taxon relationship between snakes and mosasaurs was first hypothesized by
Cope, 1869
, who coined the group name Pythonomorpha, and proposed that they belonged to Anguimorpha.
Pachyrachus problematicus
Renewed debate:
In the 1990s, gasoline was thrown onto the issue of snake origins and relationships by a volley of descriptions or redescriptions of primitive snakes from the Cretaceous, including
Pachyrachus problematicus
(
Lee and Caldwell, 1997
),
Haasiophis terrasanctus
, and
Eupodophis descouensis
. Stimulating because:
At first glance, a snake with legs ought to be a basal primitive snake, and a marine basal primitive snake ought to cinch the marine ecology of the ancestral snake, and support the pythonomorph hypothesis.
But not so fast.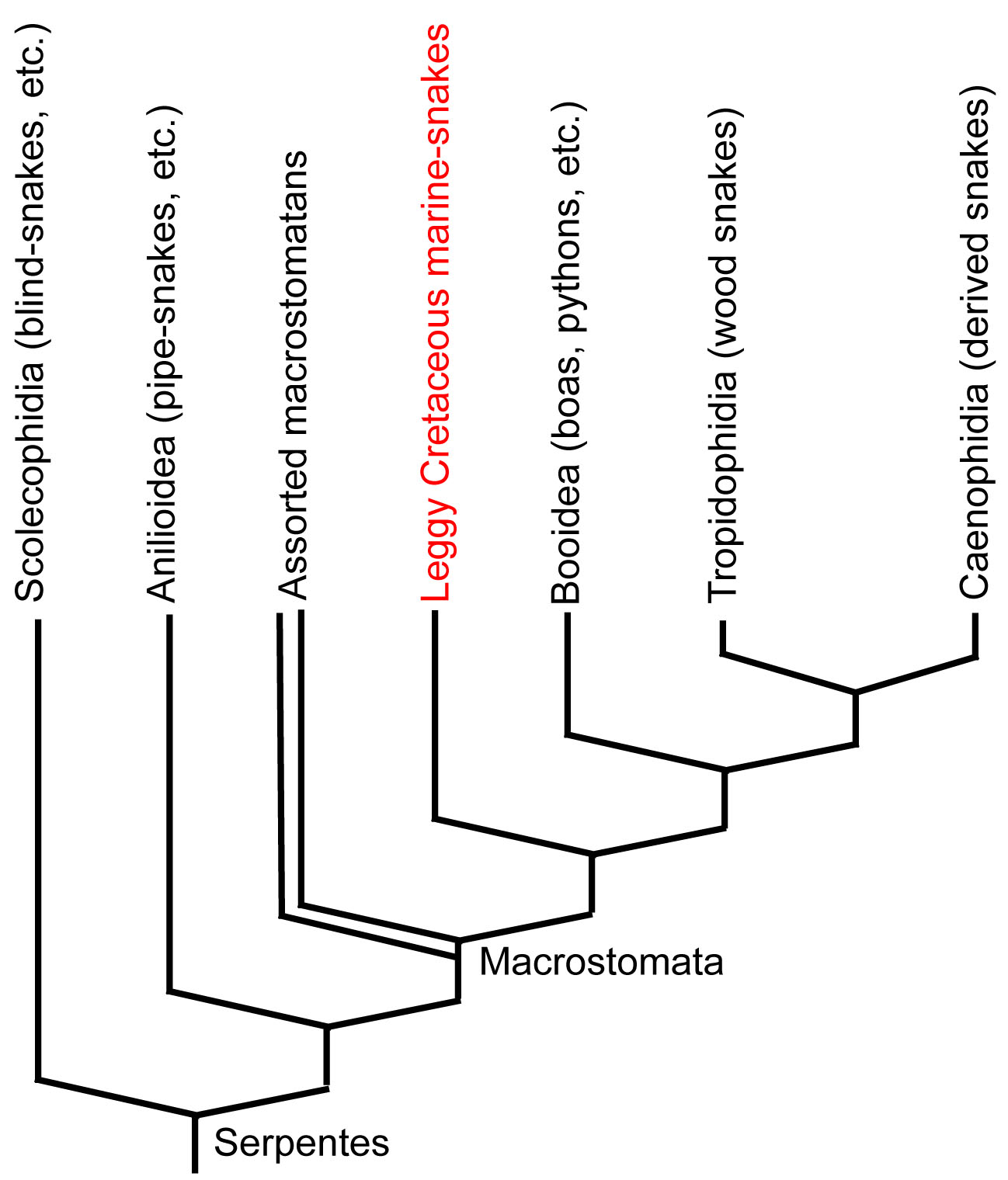 Their skulls proved to have the derived characters of macrostomatan snakes. Thus, despite the presence of legs, most cladistic analyses continue to place them well within the crown of living snakes. Apparently the presence of legs in them is a reversal. Strange! Of course, if they are derived snakes then they do not represent the ancestral condition.
More recently, Caldwell et al., 2015 have revealed leggy snakes from the Late Jurassic. These, in contrast, to Pachyrhachis, occupy a basal position in Serpentes.
The fact that for over a year, the four-legged Early Cretaceous Tetrapodophis amplectus was regarded as a basal snake (Martill et al., 2015) only later to be identified as a dolichosaur (Caldwell et al., 2016) emphasizes the strong similarities between snakes, dolichosaurs, and mosasaurs.
Bitter Realities of Squamate Phylogeny
The debate on the phylogenetic position of snakes has fed a larger controversy that deflates our confidence about squamate phylogeny: