Euryapsida and kin - the reptilian invasion of the seas
We risk neglecting a reptilian radiation that was both:
Ecologically significant: The reptilian conquest of the open oceans
Historically significant as it contained the first fossil reptiles to be scientifically studied, starting in the early 19th century before anyone had heard of a dinosaur,
and are well-known to any child with a book of prehistoric animals:
The marine reptiles of the Mesozoic, including:
Ichthyosaurs
Plesiosaurs
Placodonts
Thalattosaurs
Saurosphargids
other odd-balls
but NOT:

mosasaurs and dolichosaurs, which were squamates
sea turtles, which are (surprise) turtles.
These are a problem because although they are well-studied and known,
their derived condition makes them very difficult to place on the amniote tree.
"euryapsid"
(broad-arched) based on their possession of:
A distinct supratemporal fenestra
A very broad upper temporal arch separating the supratemporal fenestra from a vanishingly shallow, indistinct infratemporal embayment.
We now view this as a derived form of the diapsid condition. In the Linnean system, critters with the euryapsid condition formed the group
Euryapsida
. Is it monophyletic? Stay tuned.
First, we describe the well-known groups whom everyone agrees to be monophyletic:

Eosauropterygia:
Eosauropterygia
: (Early Triassic - terminal Cretaceous) Plesiosaurs, nothosaurs, and relatives. These encompass an outstanding size range from the 20 cm. Triassic pachypleurosaurs to plesiosaurs the size of sperm-whales. Their general characteristics:
Marine predators
Limb-propelled swimmers with relatively stiff torsos
Typically with necks elongated by the multiplication of cervical vertebrae
It's been suggested that they had horizontal tail-flukes (Sennikov, 2019) Maybe.
Premaxillae that extend far posteriorly between...
Greatly reduced nasals
Paroccipital processes that are directed ventrolaterally
Derived palates in which the pterygoids meet on the midline, closing the interpterygoid vacuity and forming a ventral floor to the neurocranium (right) enclosing a distinct cranioquadrate canal.
The suborbital fenestrae are secondarily closed
The ectopterygoids are very long
At least fifteen cervical vertebrae,
Dorsal neural arches with accessory intervertebral articulations (dissimilar to those of squamates.)
Transformed pectoral girdles in which the (anterior) coracoids meet in a broad symphysis that extends far posteriorly.
Robust pubes and ischia that enclose a large thyroid fenestra.
Eosauropterygian diversity:
"Pachypleurosauria":
(Early - Middle Triassic) Small (20 - 100 cm) near-shore creatures of the Triassic Tethys Sea. Recent analyses (E.G.
Shang et al., 2020
) recover these as a paraphyletic grade-group of basal eosauropterygians.
Inhabited shallow marine environments and shoreline. Ballast provided by pachyostotic ribs and vertebrae. Skulls characterized by:
Could they walk on land? Probably. In many we see sexual dimorphism in which one gender has robust forelimbs and other has slender ones. Could this distinguish females coming ashore to lay eggs? Maybe, however close relatives practice ovovivipary - retaining eggs until hatching then "giving live birth". This is done by some squamates and we have fossils of small nothosaurs with large embryos (Cheng et al, 2004).

Nothosauria
: (Middle - Late Triassic) Small to large predators, inhabiting near-shore waters and shorelines. Their skulls display adaptations to the capture of large prey, captured by movement of the entire head on the end of the neck (head hunter). As in other predators of this sort:
Derived features include:
fusion of the parietals
extreme narrowing of the skull table
reinforcement of the braincase in the temporal region by the widening of the epipterygoid. (Compare with alternate strategies in Aistopoda and Serpentes.)
Occipital elements (supratemporal, opisthotic) strongly sutured to adjacent skull roof.
This year's nothosaurian poster-child: Brevicaudosaurus jiyangshanensis with its improbably short fat tail.

Pistosauroidea: (Early Triassic - terminal Cretaceous)
Pistosauroids, including the classic plesiosaurs were the only Eosauropterygians to invade the open ocean, but they did it in stages: Earliest known members of the plesiosaur lineage were nothosaur-like in general form, but by the Late Triassic, forms like Pistosaurus were finally invading the open oceans.
Neck elongation achieved by increase in number of vertebrae.
Seal-like flippers retain distinct elbow, wrist, and fingers (enclosed in mitten of flesh). Hard to see how it could have come onto the beach.
Osteological trends: Among pistosauroids, we see:
Extreme reduction of the nasals
Nares retracted to being closer to orbit than to tip os snout.
Braincase exposed ventrally and not concealed by pterygoids. (Contrast to Nothosauria.)
In occipital view, the braincase is loosely connected to the skull roof (in contrast to Nothosauria.)
Plesiosauria
: (Latest Triassic - terminal Cretaceous) The classic eosauropterygians of the mid Mesozoic. These experienced their primary radiation at the beginning of the Jurassic, and represent the second amniote radiation of the open oceans. Characterized by:
Thus, fully dependent on flippers for locomotion.
Rieppel, 1997
):
Pistosaurus
, with a moderately long head on a moderately long neck (E.G.
Rhomaleosaurus
- right). From this beginning, plesiosaurs diversified into forms that were:
very long-necked
short necked with large heads - the "pliosaur" morph.
Plesiosaur diversity:
Rhomaleosauridae: (Jurassic) Relatively unspecialized with robust skulls. Synapomorphies include:
Minimal contact bewtwen premaxillae and nares.
Neoplesiosauria: (Jurassic - Cretaceous) All other plesiosaurs, including Pliosauridae and Plesiosauroidea. These encompass short-necked and long-necked forms respectively:
Pliosauridae: (Jurassic - Cretaceous) Short-necked forms with large heads, including the largest plesiosaurs, with skulls up to 3 m. (E.G. Pliosaurus kevani). Note, though, that the earliest known plesiosaur - Rhaeticosaurus martens from the Late Triassic:
Plesiosauroidea
: (Jurassic - Cretaceous) Long-necked forms with small heads. Among them,
Plesiosaurus
itself is relatively primitive. Osteological trends include:
Elongation of the neck with over 28 cervicals
Forelimbs larger than hindlimbs
Premaxillae extend posteriorly separating prefrontals
Plesiosauroid include superlatives such as:
Elasmosauridae: (Cretaceous) who took the elongation of the neck to the greatest extreme (E.G. Elasmosaurus)

Cryptoclididae: (Jurassic - Cretaceous(?)) With moderately long necks. Skulls display:

Rod-shaped jugal
Deep infratemporal embayment

(E.G. Cryptoclidus)

Polycotylidae: (Cretaceous) An independent evolution of the "pliosaur morph" among medium-sized Cretaceous plesiosauroids. (E.G. Dolichorhynchops). Interesting in part because of documented viviparity (O'Keefe and Chiappe, 2011). In this case, however, a single large fetus was observed.
Plesiosaur Ecology: Long-necked plesiosauroids seem to have exploited a hybrid predation strategy combining elements of pursuit and ambush predation, however there were variations. O'Keefe et al., 2017 describe the elasmosaurid Morturneria saymourensis as a suspension or deposit feeder, on the basis of its dentition.
Criteria of bone histology similar to those applied to terrestrial sauropsids, suggest that plesiosaurs may have had elevated body temperature and metabolic rate:
Krahl et al., 2013 found fibrolamellar bone (more typical of endotherms) to be present in Pistosaurus but absent in Nothosaurus, suggesting that the shift from near-shore to pelagic ecology was accompanied by a metabolic shift.
Fleischle et al., 2018 builds on this result with a survey of plesiosaur taxa, revealing bone histology indicative of endothermy and rapid growth throughout the group.
Placodontia:
(Middle - Late Triassic) including
Placodus
pictured here was restricted to shallow marine environments of the middle and late Triassic. They probably swam clumsily or walked on the bottom in the manner of a snapping turtle. In contrast to their locomotor apparatus, their skulls were intensely modified for withstanding terrific biting forces. The dorsal view at right shows the great size of the muscles mass that closed the jaw. The palatal view shows the transformation of the teeth (marginal and palatal) into a pavement of button-like teeth with which they presumably crushed hard-bodied invertebrates.
Placodus
is among the more basal (and less weird) placodonts. Distinctive features include:
The presence of button-shaped marginal and palatal teeth
Differentiation between premaxillary and maxillary teeth
Pterygoids that meet, obliterating the interpterygoid vacuity and forming a floor to the braincase.
Significant reinforcement of the occipital region by suturing of elements
Presence of an anterior element of the braincase similar to the laterosphenoid of snakes
Pachostotic ribs and gastralia give trunk a boxy look.
Cyamodontoidea
Many developed extensive
dermal armor
reminiscent of that of turtles. At least one member,
Henodus chelyops
has been recovered from lagoonal/estuarine environments. How it fed is enigmatic, but it does not seem to have been crushing hard shelled prey as the others did. Grazing and suspension feeding have been proposed.
Ichthyopterygia:
(Early Triassic - beginning of Late Cretaceous)
Included many ecologically shark or dolphin-like pelagic predators. Initially near-shore creatures, ichthyosaurs were the first marine reptiles to invade the open oceans, doing so during the Late Triassic.
Ichthyosaurs appear in the fossil record highly modified for marine life, with:
limbs modified as flippers
a distinct tail bend supporting a caudal fin
greatly enlarged eyes
no obvious means of coming ashore to lay eggs. For decades we have known that in derived forms, ichthyosaurs clearly gave live birth. Recently it has come to light that the very primitive ichthyosaur Chaohusaurus also did so.
Motani 1999
basically wrote the book on ichthyosaur plylogeny (synopsis at right). Ichthyosaurs represent a pectinate tree with early, morphologically primitive members at the base and derived versions at the crown. Some landmarks:
Utatsusaurus hataii
(Early Triassic) Among the first ichthyosaurs and phylogenetically most primitive. Roughly the size of an otter, it nevertheless was unable to come onto land, and shows the general synapomorphies of Ichthyopterygia, including:
Postfrontal with posterior process
Anterior terrace of supratemporal fenestra
Closure of interpterygoid vacuity
Loss of ectopterygoid
Integration of digits into paddles
A peak in height of the caudal neural spines with spines on either side inclined toward one another (the precursor of a proper tail-bend)
Chaohusaurus:
(Early Triassic) reflects the synapomorphies of Eoichthyosauria including:
Manus is longer than the remainder of the forelimb.
Although as the image indicates, it is noteworthy for giving live birth, according to
Motani et al. 2014
.
Cymbospondylus:
(Late Triassic) The above were medium-sized animals. From such beginnings we get, by the Late Triassic, s whale-sized ichthyosaurs like
Cymbospondylus
. This was, nevertheless, an elongate eel-shaped creature.
Motani 1999
defines Ichthyosauria as the last common ancestor of
Cympospondylus
and more derived ichthyosaurs. The synapomorphies:
Lateral orientation of the naris
Exclusion of the postorbital from the supratemporal fenestra
Prefrontals and postfrontals meet, excluding frontal from orbit margin
Pineal foramen on the fronto-parietal suture.
Ulna lacks a post-axial shaft (i.e. perichondral ossification does not occur there.)
Mixosaurus:
(Middle Triassic) small ichthyosaurs representing the first appearance of a more compact body form and distinctly larger forelimbs. A strange autapomorphy: the
anterior terrace of the supratemporal fenestra
extends far anteriorly past the orbits.
Mixosaurus
preserves the oldest evidence for a proper dorsal fin. (
Renesto et al., 2020
)
Euichthyosauria
: (Late Triassic - beginning of Late Cretaceous). The Late Triassic saw the radiation of ichthyosaurs that were derived in the possession of:
These included the the "shastasaurid" grade some of whose members included the largest marine reptiles on record (See
Shonisaurus sikanniensis
from
Nicholls and Manabe, 2004
.)
Parvipelvia
: (Early Jurassic - beginning of Late Cretaceous). More primitive ichthyosaurs were extinguished by the Triassic/Jurassic extinction event, however ichthyosaurs roared back in the early Jurassic in the form of Parviplevia, the ichthyosaurs with reduced pelves and hindlimbs. This is also the time of the rise of plesiosaurs. Plesiosauria and Parvipelvia have in common their invasion of the open oceans. This is also the interval in which we have
soft-tissue impressions
that reveal the dorsal and caudal fins of these animals. (Note: a few of these seem completely genuine but many were "improved" by 19th century preparators.) Most preyed on small fish and cephalopods, but some were
orca-sized macropredators
.
Lacrimal contacts margin of nares
Large supratemporal extends forward to the postfrontal
Nasals enlarge, overlapping frontals and prefrontals
The scapular blade is rectangular
Pelvis significantly reduced
Limb elements:
With
eosauropterygians
, the homology of limb elements, even in highly derived taxa, is reasonably clear. The only issue is
hyperphalangy
, the their tendency to add phalanges to each finger. With ichthyosaurs, however, the identity of limb elements is difficult to assess, in part, because of
hyperdactyly
, their tendency to add extra fingers, as well. No surprise that a
volume on homology
would use an ichthyosaur paddle in its cover design.
Thalattosauria
(Middle - Late Triassic) A final group of well-known marine saurians. Thalattosaurs were medium - medium-large animals capable of movement on land or in water. Edennasaurus (right), a more basal form is roughly the size and proportions of the Early Permian Mesosaurus (remember?) Ancestrally, however, thalattosaurs were neither head-hunters nor snout-hunters but a little of each. The thalattosaurian radiation encompassed larger predators like Askeptosaurus and shell-crushing forms like Clarazia

Thalattosaurian synapomrphies
:
Elongate rostrum formed by premaxillae
Posterior median process of premaxillae extends posteriorly past nares
Nasals reduced
Elongate posterior processes of jugals nearly close infratemporal embayment
Supratemporal fenestrae reduced to narrow slits or closed
Squamosals reduced
Supratemporals large
In the last two characters, along with their nearly detached quadrates, they are reminiscent of squamates. Convergence or synapomorphy?
Indeed, what do these animals have to do with one another phylogenetically? Only one answer emerged clearly from the early days of cladistics:
Sauropterygia
(Early Triassic to Late Cretaceous)
Storrs, 1991
clearly found Placodontia and Eosauropterygia to be sister taxa. Their synapomorphies include:
Closure of pterygoids beneath neurocranium
The clavicles rest against the medial surfaces of the coracoids and scapulae.
Beyond this no clear consensus exists regarding their positions. Some suggestions:
Sauropterygia
as sister taxon to Claudiosaurus (Carroll, 1981) within Lepidosauria
Cladiosaurus (and by extension Sauropterygia) as stem saurian(Carroll, 1981)
as sister taxon to Ichthyopterygia within Archosauromorpha (Merck, 1997)
Ichthyopterygia

Recent Arrivals: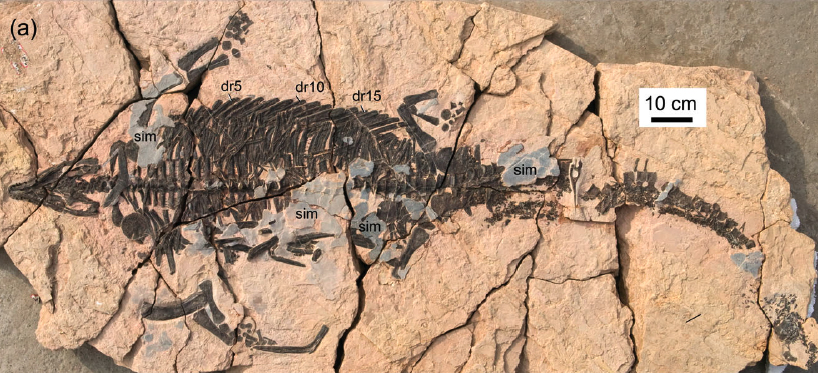 Largocephalosaurus polycarpon
from
Li et al., 2014
Saurosphargidae
(Middle Triassic) Burst onto the scene as well-described taxa only in the last decade. Characteristics include:
Trunk skeleton in which ribs form a flattened "basket" covered with small osteoderms, forming a superficially (?) turtle-like shell, closed ventrally by robust gastralia. (Note: this pattern differs in detail from that of armored placodonts)
Vaguely sauropterygian-like skulls in which the nares are retracted and the supratemporal fenestra is small or closed
Palates in which the interpterygoid vacuity remains open.
Pectoral girdles in which the clavicle is applied to the medial surface of the scapula and coracoid.
The last item, of course, is a potential synapomorphy with Sauropterygia.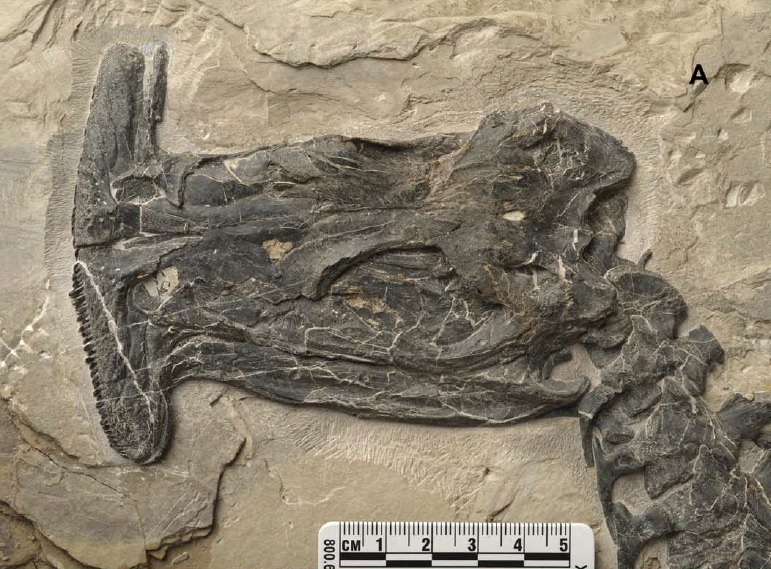 Atopodentatus unicus

(Middle Triassic) New from Cheng at al., 2014, a 3 m. grazing herbivore (?):
Originally described based on badly deformed skull. Chun et al., 2016 illuminated true head shape as resembling floor sweeper with cropping teeth anteriorly and, possibly, suspension feeding teeth posteriorly.
Emerges tentatively as basal sauropterygian in polytomy with Placodontia and Eosauropterygia.
Hupehsuchus nanchangensis
from
Wikipedia
Hupehsuchia
(Early Triassic) A small group from the Early Triassic of China, broadly reminiscent of ichthyosaurs in general proportions. The first described was Hupehsuchus, impishly employed by Carroll and Dong 1991 to demonstrate the perils of cladistic analysis. Hupehsuchians are characterized by:
spatula-shaped toothless rostrum
trunk skeleton characterized by: Resulting in a relatively immobile trunk.

Wumengosaurus delicatomandibularis
from
Wu et al., 2011
Wumengosaurus
(Early Triassic) Originaly described as a largish pachypleurosaurid, this animal now emerges from phylogenetic analyses as a basal stem eosauropterygian or just outside of Eosauropterygia. It's conspicuous difference from other eosauropterygians is its head, which more closely resembles that of an ichthyosaur or hupehsuchian.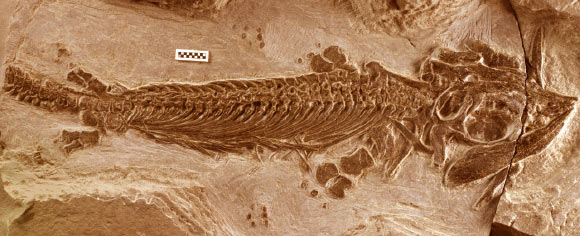 Cartorhynchus lenticarpus
from
Tetrapod Zoology
Cartorhynchus
And the latest addition from Motani et al., 2015, Cartorhynchus, a basal ichthyosaur with:
a short snout
flexible flippers with wrists and ankles
Unlike proper ichthyopterygians or hupehsuchians, Cartorhynchus could come out of the water, and was apparently specialized for suction feeding (in manner of snapping turtle).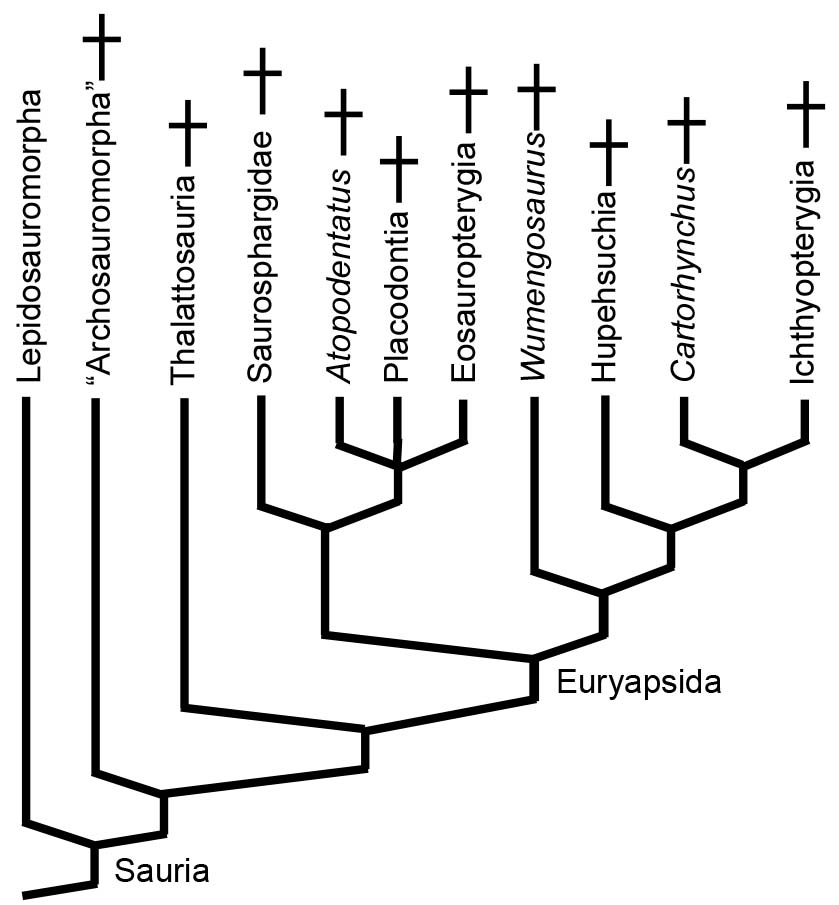 Synopsis of

Motani et al., 2015

with

Atopodentatus

interpolated.

The real fun: Motani et al., 2015. phylogenetically analyzed representatives of the above taxa to obtain the result at right, finding an aquatic clade containing all of them (Corresponding to the Traditional "Euryapsida." When characters deemed potentially convergent because they related to aquatic specializations were removed, this large clade broke into two distinct clades:
Sauropterygia and Saurosphargidae
The remaining aquatic taxa
None of this is crazy. It has been noted previously that although they differ in many ways (E.G. in Ichthyopterygia the supratemporals are very large), various of these groups display similarities:
In Ichthyopterygia, the pterygoids lap beneath the braincase in a manner suggestive of sauropterygians.
At least one specimen of the parvipelvian ichthyosaur Stenopterygius has cartilagenous accessory supraspinous elements suggestive of hupehsuchians.
In one sense, this result is fragile and in another it is robust:
Fragile:
Robust:

The marine euryapsids almost always appear as a clade
That clades branches from very near the common ancestor of Sauria.

Additional reading:
Roger Benson, Mark Evans, Patrick Druckenmiller. 2012. High Diversity, Low Disparity and Small Body Size in Plesiosaurs (Reptilia, Sauropterygia) from the Triassic–Jurassic Boundary. PLosOne 7(3).
Magdalena Borsuk-Bialynicka and Susan Evans. 2009. A long-necked archosauromorph from the Early Triassic of Poland. Paleontologica Polonica 65: 203–234.
Roger Benson, Mark Evans, Patrick Druckenmiller. 2012. High Diversity, Low Disparity and Small Body Size in Plesiosaurs (Reptilia, Sauropterygia) from the Triassic–Jurassic Boundary. PLosOne 7(3).
Robert Carroll, 1985. Plesiosaur ancestors from the Upper Permian of Madagascar. Philosophical Transactions of the Royal Society of London B 293: 315-383
Robert Carroll and Z-M Dong, 1991. Hupehsuchus, an enigmatic reptile from the Triassic of China, and the problem of establishing relationships. Philosophical Transactions of the Royal Society of London B 331:131-153.
Yen-nien Cheng, Xiao-chun Wu, and Qiang Ji, 2004. Triassic marine reptiles gave birth to live young. Nature 432, 383-386.
Cheng, L.; Chen, X. H.; Shang, Q. H.; Wu, X. C. 2014. A new marine reptile from the Triassic of China, with a highly specialized feeding adaptation. Naturwissenschaften. 101, 3.
Chun Li, Da-Young Jiang, Long Cheng, Xiao-Chun Wu, Olivier Rieppel, 2014. A new species of Largocephalosaurus (Diapsida: Saurosphargidae), with implications for the morphological diversity and phylogeny of the group. Geological Magazine 151(1) 100-120.
Chun, Li; Rieppel, Olivier; Long, Cheng; Fraser, Nicholas C, 2016. The earliest herbivorous marine reptile and its remarkable jaw apparatus. Science Advances. 2, 5.
C. V. Fleischle, T. Wintrich, P. M. Sander, 2018. Quantitative histological models suggest endothermy in plesiosaurs. BMC Evol Biol. 2013; 13: 123 name="krahl2013">
A Krahl, N. Klein, P. M. Sander, 2013. Evolutionary implications of the divergent long bone histologies of Nothosaurus and Pistosaurus (Sauropterygia, Triassic). PeerJ. 2018; 6: e4955.
Michael Maisch. 1997. Phylogeny, systematics, and origin of the Ichthyosauria - the state of the art. Palaeodiversity 3: 151-214
John Merck. 1997. A phylogenetic analysis of the euryapsid reptiles. PhD Dissertation. University of Texas at Austin. 708 pp.
Ryosuke Motani. 1999. Phylogeny of the Ichthyopterygia. Journal of Vertebrate Paleontology 19: 472 - 495
Ryosuke Motani, Nachio Minoura, Tatsuro Ando. 1998. Ichthyosaurian relationships illuminated by new primitive skeletons from Japan. Nature 393, 255 - 257
Ryosuke Motani, Da-yong Jiang, Andrea Tintori, Olivier Rieppel, Guan-bao Chen. 2014. Terrestrial Origin of Viviparity in Mesozoic Marine Reptiles Indicated by Early Triassic Embryonic Fossils. PLoS ONE 9(2): e88640. doi:10.1371/journal.pone.0088640, 255 - 257
Ryosuke Motani, Da-Yong Jiang, Guan-Bao Chen, Andrea Tintori, Olivier Rieppel, Cheng Ji, and Jian-Dong Huang. 2015. A basal ichthyosauriform with a short snout from the Lower Triassic of China. Nature 517, 485-488.
Elizabeth Nicholls and Makoto Manabe. 2004. Giant ichthyosaurs of the Triassic—a new species of Shonisaurus from the Pardonet Formation (Norian: Late Triassic) of British Columbia. Journal of Vertebrate Paleontology, 24(4): 838-849.
F. R. O'Keefe, L. M. Chiappe, 2011. Viviparity and K-Selected Life History in a Mesozoic Marine Plesiosaur (Reptilia, Sauropterygia). Science 333(6044), 870-873.
F. R. O'Keefe, R. A. Otero, S. Soto-Acuna, J. P. O'gorman, S. J. Godfrey, and S. Chatterjee, 2017. Cranial anatomy of Morturneria seymourensis from Antarctica, and the evolution of filter feeding in plesiosaurs of the Austral Late Cretaceous. Journal of Vertebrate Paleontology 37(4).
Christiano Renesto, Cristiano dal Sasso, Fabio Fogliazza, and Cinzia Ragni. 2020. New findings reveal that the Middle Triassic ichthyosaur Mixosaurus cornalianus is the oldest amniote with a dorsal fin. Acta Palaeontologica Polonica 65(3): 511–522
Olivier Rieppel. 1997. Part 2: Sauropterygia. Introduction. In Callaway, J. M and Nicholls, E.L. (eds). Ancient Marine Reptiles. Academic press. London. 107-119.
A. G. Sennikov. 2019. Peculiarities of the Structure and Locomotor Function of the Tail in Sauropterygia. Biology Bulletin volume 46, pages751-762
Qing-Hua Shang, Xiao-Chun Wu, Chun Li. 2020. New Ladinian Nothosauroid (Sauropterygia) from Fuyuan Yunnan Province, China. Journal of Vertebrate Paleontology 40(3) e1789651-2.
Tiago Simões, Michael Caldwell, Mateusz Talanda, Massimo Bernardi, Alessandro Palci, Oksana Vernygora, Federico Bernardini, Lucia Mancini, and Randall L. Nydam. 2018. The origin of squamates revealed by a Middle Triassic lizard from the Italian Alps. Nature volume 557, pages706–709.
Tiago Simões, Oksana Vernygora, Michael W. Caldwell & Stephanie E. Pierce . 2020. Megaevolutionary dynamics and the timing of evolutionary innovation in reptiles. Nature Communications volume 11, Article number: 3322 (2020).
Glenn Storrs. 1991. Anatomy and Relationships of Corosaurus alcovensis (Diapsida: Sauropterygia) and the Triassic Alcove Limestone of Wyoming. Bulletin 44. Peabody Museum of Natural History, Yale University. 141 pp.
Tanja Wintrich, Shoji Hayashi, Alexandra Houssaye, Yasuhisa Nakajima, and P. Martin Sander. 2017. A Triassic plesiosaurian skeleton and bone histology inform on evolution of a unique body plan. Science Advances 3(12)
Xiao-Chun Wu, Yen-Nien Cheng, Chun Li, Li-Jun Zhao, and Tamaki Sato. 2011. New information on Wumengosaurus delicatomandibularis Jiang et al. 2008 (Diapsida: Sauropterygia) with a revision of the morphology and phylogeny of the taxon. Journal of Vertebrate Paleontology 31(1):70-83,